Annual
Awards
The Grove Farm Scholars Program is one of the largest scholarships within the State of Hawaiʻi. This merit-based scholarship is offered to local high school seniors graduating from one of Kauaʻi's three public high schools -- Kapa'a High, Kaua'i High, or Waimea High -- who will be attending a four-year university or college.  Each year, three scholarships are awarded, each valued at $20,000.  Since the program's inception, Grove Farm has awarded $660,000 in scholarships.
Grove Farm
Scholarship Criteria
To be selected as a Grove Farm Scholar, students are evaluated on their excellence in community service, citizenship, academic accomplishments, and quality of character. In order to maintain their scholarship, each Scholar is required to do ongoing community service work on an annual basis.
Students interested in applying may download the Grove Farm Scholarship criteria and application in the links below. Questions should be directed to your school's counselor. 
The application deadline for the Class of 2023 is  Friday, February 10, 2023.  Please be aware that all applications must be fully completed in order to be reviewed and must be  turned in directly to the high school counseling office  by the deadline.


Downloadable Forms:
2023 Scholarship Criteria
Scholarship Selection Matrix
2023 Scholarship Application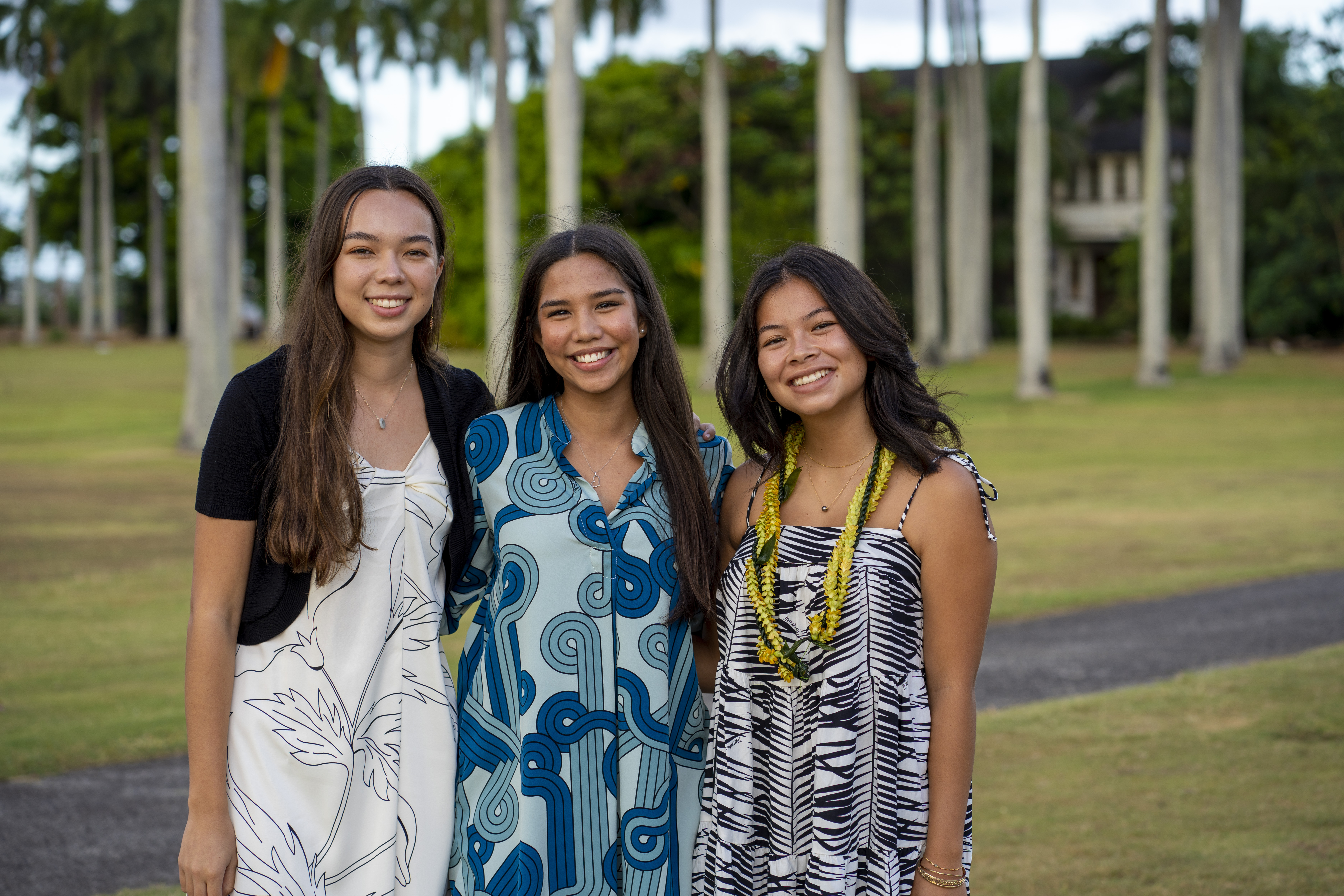 Hope Newton - Waimea High School

Hope Newton, a Waimea High School graduate, plans to attend the University of Texas, Austin, where she has been accepted into their aerospace engineering program.
Hope's inspiration to pursue this field of study stems from her lifelong interest in astronomy and her involvement with robotics since elementary school. She attended Space Camp in Huntsville, Alabama, during eighth grade, which further fueled her passion for space exploration. She envisions making a positive impact in her chosen profession by becoming a role model for other girls aspiring to pursue STEM fields.
Hope's favorite quote, courtesy of artist Nicki Minaj, resonates deeply with her: "I am not a word, I am not a line. I am not a girl that can ever be defined." Hope has many ambitions and shared that this quote empowers her to embrace her individuality, reject societal labels, and cultivate a sense of independence and confidence.
To fellow students striving to achieve their academic and personal goals, Hope advises pursuing things that ignite a profound sense of excitement and motivation. She believes that investing time in interests that keep one engaged and inspired will drive success. Furthermore, Hope emphasizes the importance of maintaining a healthy balance between school and personal life.
Hope's ambition and drive to follow her passion in a field where women are underrepresented confirms how hard work and grit make dreams become reality!
Haley Zina - Waimea High School
Haley Zina, a graduate of Waimea High School, has big dreams and aspirations for making a positive impact in the field of medical imaging technology.
This fall, Haley will be attending the Oregon Institute of Technology to pursue her studies. Inspired by her grandfather, Dr. Nicholas Zina, who was an emergency room physician, and her mother, who is a registered nurse, Haley chose to go into the healthcare field. Her goal is to become an MRI technologist or an interventional radiologist and return to Kaua'i after completing her degree.
Haley lives by the motto, "Play every point like it's the championship point." This saying, introduced to her by her high school volleyball coaches, inspires her to give her utmost in everything she does and reminds her to approach every opportunity with dedication and determination.
In addition to her academic achievements, Haley has a passion for fishing. With the help of her fourth grade teacher, she made her first fishing pole and would go fishing every week during elementary school. Today, she enjoys fishing with her uncle and loves being out on the water.
Haley's story is a testament to her resolve and commitment to making a difference. Her desire to make healthcare more accessible and give back to her community is admirable, and we are eager to see her future successes.
Madison Doo - Kauaʻi High School
Madison Doo, a graduate of Kapa'a High School, has chosen to pursue her studies at Western Washington University in Bellingham, Washington, where she plans to focus on Elementary Education. Inspired by her second grade teacher, Mrs. Barcial, who instilled a love for learning within her, Madison hopes to follow in her footsteps and show students that education is not only essential but can also be enjoyable.

She believes education is the path to communal success and aims to make a lasting positive impact in the lives of her future students. In both her academic and personal life, Madison has faced numerous challenges, which she has overcome with hard work and perseverance. In her scholarship application, she bravely shared her experience of battling depression and recognizing the pressure she put on herself to achieve perfection.
Attending therapy helped her develop strategies to cope as well as learn the importance of self-acceptance so that she has been able to thrive and grow.Madison's favorite quote is, "Live, laugh, love," which she says may sound cliché, but holds great significance for her. The expression captures the essence of her approach to life: focusing on positivity, avoiding negativity, and embracing joyful experiences.
Despite the trials she has faced, Madison's resilience and self-growth mindset have propelled her forward, enabling her to overcome the obstacles that have crowded her path. We are confident that Madison's unwavering dedication and zeal for education will shape the lives of countless students.