David Ochoco
2011 Grove Farm Scholar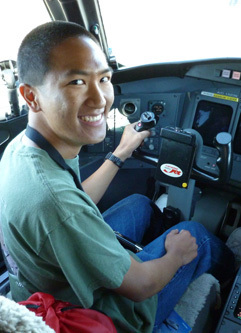 David Ochoco
Embry-Riddle Aeronautical University, Prescott, AZ
Bachelor of Science in Aeronautical Science (Airline Pilot), minor in Aviation Safety
What motto best describes your outlook on life?
Do what you enjoy and enjoy what you do. I enjoy flying and anything to do with aviation, which is one of the reasons why I'm studying to be a pilot. I enjoy being happy, and I will continue to do things in life that will keep me happy.
What has being awarded the Grove Farm Scholarship meant to you?
Receiving the Grove Farm Scholarship has helped me tremendously in funding my education and flight training, which is not included in tuition. Especially nowadays, any little bit helps, and with Grove Farm's help, I have been able to fulfill my lifelong goal of becoming a pilot. I will be graduating a semester early with a commercial pilot certificate and multi-engine, single-engine, and instrument ratings.
What have you learned about yourself while you've been away?
Aside from becoming more independent and having to support myself, I have learned how much home means to me. Life in Arizona is very different than life on Kauai. While I'm at school, I miss the easy-going lifestyle and the Aloha spirit that everyone shows on Kauai. People back home complain about being "stuck on the rock" and wanting to leave and explore opportunities elsewhere. I do agree that there is more out there, but Kauai will always be my home, and I long to return and give back to the community that helped make me the person I am today.
What drives you?
Making the most out of every single day. Just about everything I do has some purpose – studying to gain knowledge, volunteering to help others, hiking for exercise, or even cleaning the dorm for the satisfaction of being tidy. I don't enjoy sitting idly with nothing to do, so I try to always keep myself busy.
What gives you hope for the future?
The children of Kauai give me hope for the future. I've worked for the County's summer enrichment program for two years; their winter program for one year. Though in my early 20s, I still learn things from five to eleven-year-olds. As I watch some of the children grow older, I can see the making of the next athletes and scholars. Being able to see the values that they're brought up on also gives me hope that the lifestyle and Aloha spirit will still be present on Kauai years down the road.