Perfect for
Healthy Activities
Kauaʻi's climate, beautiful beaches, outdoor recreational areas, and mountains lend itself to events such as the Kauaʻi Marathon and the stand-up paddling Nā Pali Race, while also offering many opportunities for hiking and ocean sports – all of which encourages a healthy lifestyle.

Kauaʻi's
Coastal Path
The Kaua'i Coastal Path, part of former Mayors Bryan Baptiste's and Bernard Carvalho's vision, is part of a multimodal plan which takes into account public transit, walking, and bicycling. The Ke Ala Hele Makalae multimodal path runs along the Kapaʻa and Wailua coastline, with further plans to extend it even further. Future plans have the Ke Ala Hele Makalae connecting through Grove Farm's Wailani development near the Lihuʻe Airport.
Sustainable Health Projects
Grove Farm's vision is to promote a healthy lifestyle by developing communities, such as the future Wailani, which follow Smart Growth principles – walkable communities that encourage mixed-use, multi-generational living, cultural gathering areas, music, and sports – all components of a holistic approach to well-being.

Grove Farm's Puhi Park is utilized as a place of leisure and fitness by local residents looking to relax and exercise as well as an area for youth sports teams to practice. It also hosts various events like dog training classes and community swap meets.
Due to the COVID-19 pandemic, Grove Farm brought together the island's farmers and fishermen by offering fresh produce, fish, and other food products at our Puhi Park Produce site every Saturday starting at 10 am. Click here to learn more about Puhi Park Produce!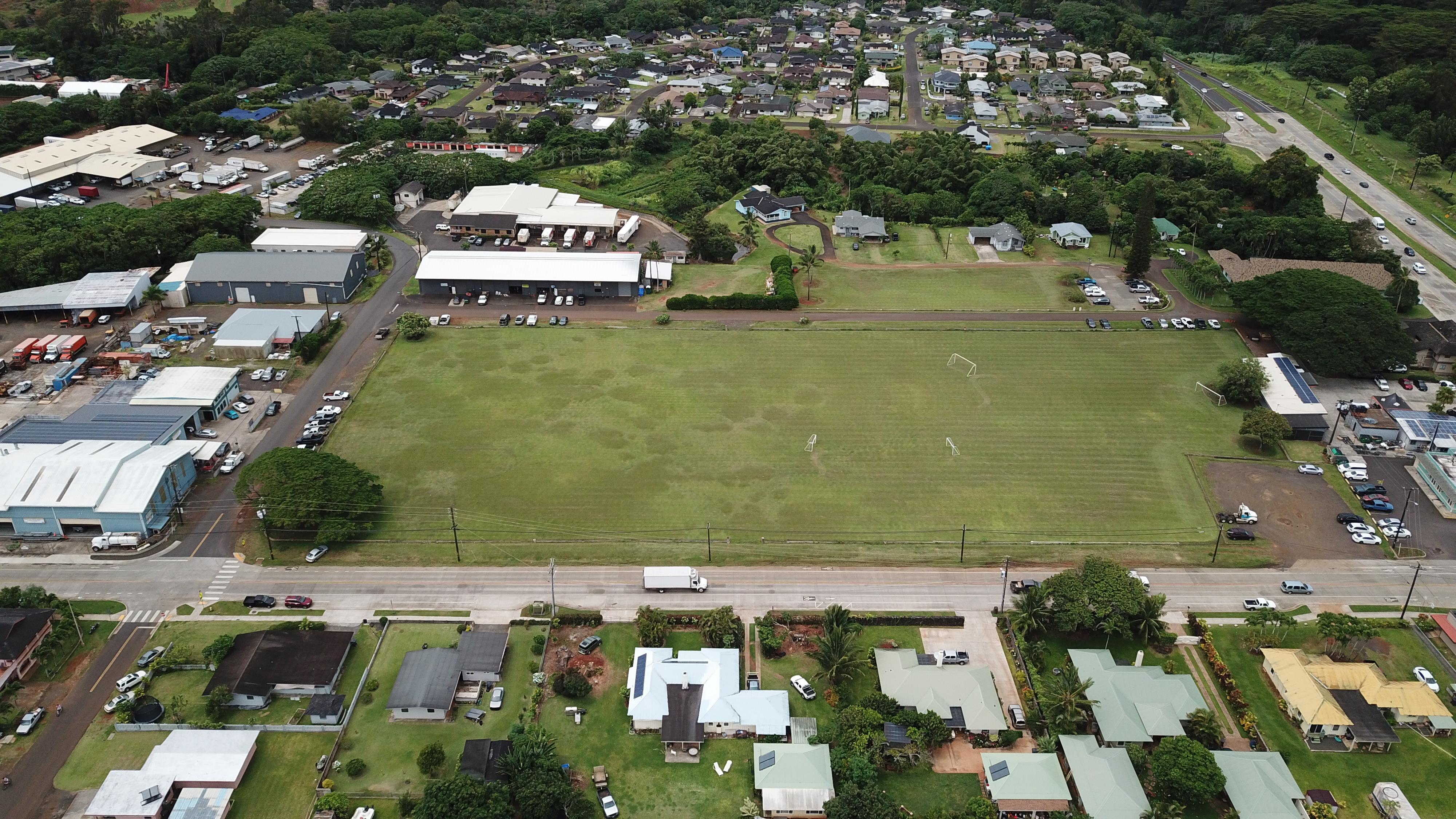 Waikomo Park is tucked away in a quiet Kōloa neighborhood with views of the Haupu mountain range. It is commonly used for youth soccer practices and competitions.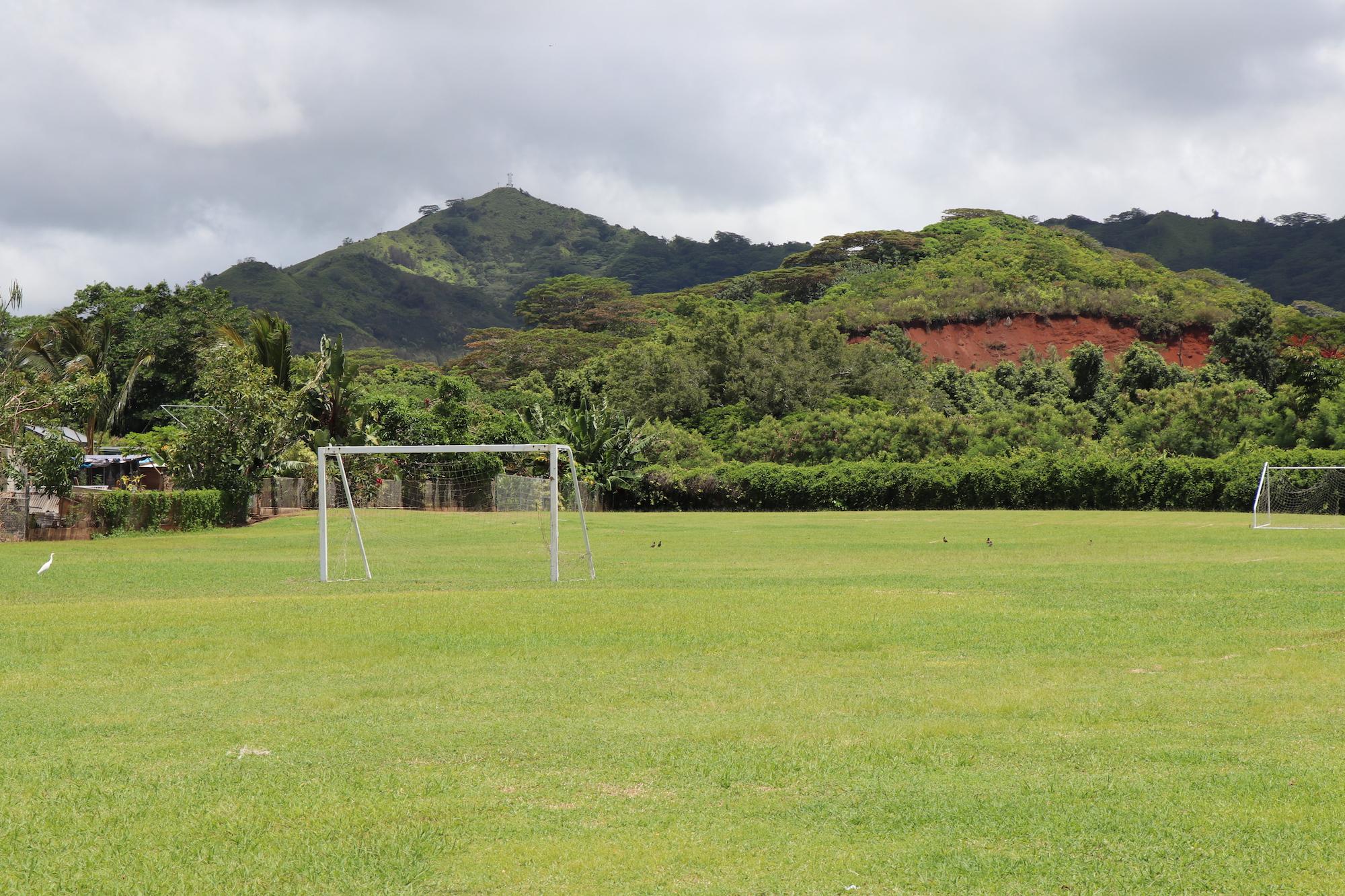 Adolescent Treatment and Healing Center
After 14 years, the vision of the late Mayor Bryan Baptiste of a treatment and healing center for Kaua'i's youth has come to fruition. Under the leadership of former Mayor Bernard Carvalho and his administration, the Adolescent Treatment and Healing Center was blessed in December 2019. The facility stands on the slopes of a beautiful Kapaia hillside on 5.8 acres of land donated by Grove Farm Company.
Adolescent Treatment and Healing Center open-air lobby

"The vision of this adolescent treatment & healing facility was to provide a safe and healthy facility where our youth of Kaua'i can heal at home with their families," said former Mayor Bernard Carvalho. "The choice of having our youth being sent away and separated from their families during this very challenging time in their lives was not an option."


"We were searching for a central location close to town, near the hospital, and easily accessible to the airport," Carvalho said. "A big Mahalo to Mr. Warren Haruki and his team from Grove Farm Company. The gift and location of 5.8 acres of land fit perfectly within the vision and purpose of this facility. The partnership with the Grove Farm Company team was indeed a blessing, for without the right location to 'build it,' the faith and hope for this facility would not have been possible."
"Grove Farm committed to donating this 5+ acre parcel because of the dire need for a facility like this and the fact that it is our kuleana to care for our youth – our ʻohana," said Warren Haruki, President & CEO of Grove Farm Company Incorporated. "This was a great public-private partnership project, and we hope that this model can be used for future projects."

The Adolescent Treatment and Healing Center will have eight total bedrooms to house up to 16 patients. It will also partner with the Department of Education to offer services to youth facing challenges in the conventional school setting.

"The County of Kaua'i was blessed with the opportunity to work with Grove Farm on obtaining a property to build this treatment center on," said Theresa Koki, Life's Choices Kauaʻi Coordinator. "We searched for the perfect piece of property for a while. The biggest hurdle was finding a property that would be close enough to emergency services such as police, fire, and hospital, located within a community that could accept it in their backyard."

The center, built by Layton Construction, is 16,000 square feet and has two wings — one for residential patients and the other for classrooms with space for parents to be involved in the rehabilitation process. Connecting the two sides is an open-air lobby and a certified kitchen. It cost $7 million to build with funding from the State and County.


The Adolescent Treatment and Healing Center is a shining example of Building a Sustainable Kaua'i -- a happy and healthy island for all.

A plaque to commemorate Grove Farm's commitment to Sustainable Communities
COVID-19 Mask Distribution
As our island continues to deal with the coronavirus pandemic, we at Grove Farm applaud and support the collective efforts being made to flatten the curve, with outstanding success to date. Even so, it is still vital that we continue the necessary precautions to keep everyone safe.

Since our State and County requirements are for masks to be worn when in public, Grove Farm will donate 15,000 masks to anyone who is in need of this personal protective equipment (PPE). We have partnered with three local elementary schools – Kōloa Elementary, King Kaumuali'i Elementary, and Wilcox Elementary School to assist in this free giveaway. In addition, the Kauaʻi Police Department (KPD) will assist with traffic control when these masks are passed out.

Grove Farm has chosen to distribute the masks through these schools because they continue to be in communications with their students, families, and surrounding residents. Grab-and-Go meals and lesson plan pickups already bring student families to these campuses, so we felt it was an ideal way to get the masks out in the community.

Wilcox Elementary School was the first to hand out the masks. Volunteers of the PTSA, lead by Jojo Kawamura, prepackaged the masks and faculty members were present to greet drivers and pass out the masks. They also collected library books that students had checked out before distance learning was implemented. Principal Corey Nakamura just started to eat his lunch when the first person arrived, an hour early! He happily put down his apple pie to greet the early bird. The Kauaʻi Police Department was also present with four officers lending a hand with the distribution.
| | |
| --- | --- |
| | |
King Kaumualiʻi Elementary's mask distribution saw a steady flow of cars from start to finish. Principal Jason Yoshida and staff enthusiastically handed out masks and waved at vehicles passing by. The scattered showers didn't dampened the spirits of people stopping by in their cars, mopeds, bikes, and on foot!


Kōloa Elementary School held 5th-grade graduation and returned school supplies with masks to students last Thursday. On Friday, Principal Leila Kobayashi and Monica Bunk stood along Kōloa Road to hand out masks with help from two officers from the Kauaʻi Police Department to control the traffic.

Photo courtesy of Dennis Fujimoto/The Garden Island
| | |
| --- | --- |
| Photo courtesy of Dennis Fujimoto/The Garden Island | Photo courtesy of Dennis Fujimoto/The Garden Island |
We want to extend a thank you to Principals Corey Nakamura, Leila Kobayashi, and Jason Yoshida for their willingness to coordinate these mask distributions for the community. Thank you to Dennis Fujimoto for the photos as well! Also, thank you to the Kaua'i Police Department for their help in keeping the volunteers and community members safe!

Other Sustainability Initiatives
Grove Farm's vision is to build a sustainable Kauaʻi by being a leader in social entrepreneurship and island-enhancing activities while remaining deeply committed to preserving the island's cultural and historical linkages - whether it be through the preservation of historic sites, promoting alternative energy sources, supporting agriculture and food production, education and propagation of plants, encouraging a healthy lifestyle or protecting water sources.
Learn about other initiatives