Water is
Integral
From the days of the ahupuaʻa to the present, we all agree that water is sacred and essential to life. Grove Farm is committed to building a sustainable Kauaʻi and promoting island-enhancing initiatives. In order to have a sustainable island, water is an integral component.

Water has literally flowed through centuries of transition -- from ancient Hawaiʻi, where water provided for farming and family needs, to serving a thriving sugar industry, and to the present where there are many diverse needs. When sugar cane crops were introduced, many changes occurred, all of which shaped the Kauaʻi that exists today.
Maintaining a
Legacy
Sugar and pineapple plantations brought in labor from all parts of the world to our island state. As the population grew, it necessitated the need for housing, commerce, education, and other developments. Today, our islands' basic needs are no different from ancient Hawai'i, where farming and gathering are still paramount to our existence.
For well over 150 years, Grove Farm has operated, maintained, and enhanced a series of legacy water infrastructure that serves the Kaua'i community. Given the central location of the Grove Farm lands, this water infrastructure is critical to the island's sustainability.
The legacy water systems were designed primarily for sugar production by Lihu'e Plantation, Grove Farm, and Kōloa Plantation. In addition to the agricultural uses, it has also provided drinking water, hydro-electric power production, and irrigation for small farms, biomass producers, the Lihue Airport gateway, commercial areas, and ranching. All of these activities are protected uses under the state Water Code and are also important components in building a sustainable Kauaʻi.

Despite the end of both the pineapple industry and the sugar industry, our island continues to rely on these plantation-era water infrastructure systems to provide for the many needs of today. For that reason, Grove Farm has continued to maintain its valuable water assets, such as reservoirs, streams, tunnels, and other water-related infrastructure.

After the sugar industry closed down, less water was used for agricultural uses and sugar was a "thirsty" crop to grow. Because thousands of acres of sugar cane fields were no longer irrigated, we, unfortunately, lost a great source to recharge our aquifers. Wells did not recharge as they did in the past and sources of potable water literally "dried up."
In order to further the state's goals of food sustainability, Grove Farm has dedicated a total of over 10,500 acres for agricultural use, which means that agriculture is the only use permitted for these lands. By continuing to utilize these arable lands for agricultural purposes, it will recharge our groundwater sources and help prevent unnecessary run-off. It will also move the island toward a more sustainable food future, rather than relying so heavily on importing most of what we eat.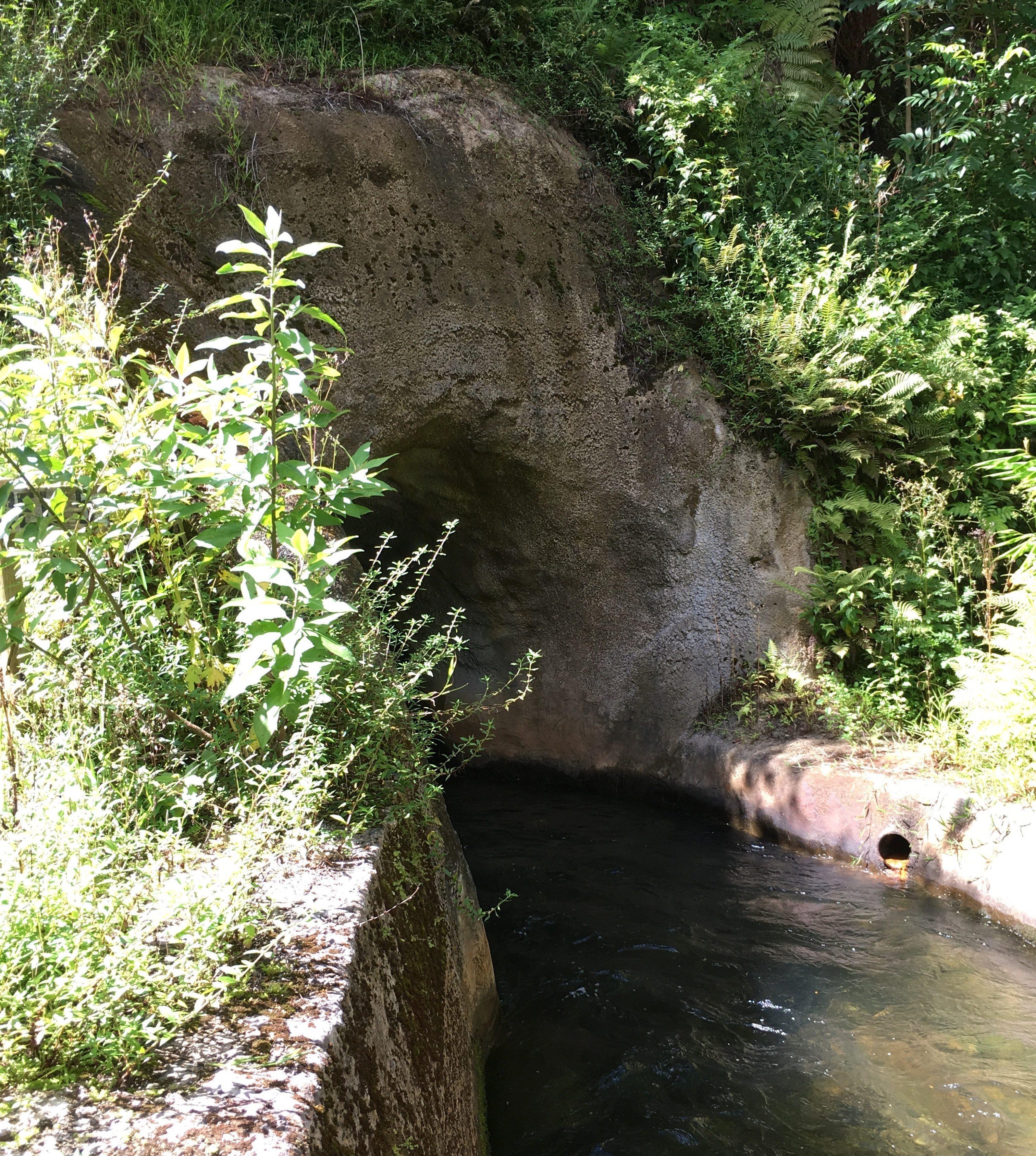 Beneficial Public Uses of
Surface Water
For the East Kaua'i community – whose water comes from the Waiahi and Hanamaʻulu streams – water is critically important to achieve our state goal of increasing local food production and growing what the island eats. In the Lihu'e area alone, we currently have 3,800 acres in productive agriculture uses. Water is delivered to over 50 tenants, including:
Ranchers who raise cattle and sheep
Farmers who raise fruit crops like papaya, lychee, dragon fruit, breadfruit, and mango.
Farmers who produce a range of vegetables for on-island use as well as export, including ginger, taro, mixed greens
Firms that grow landscape plants like native species, decorative plants, cut flowers for lei and other uses, and sod for commercial and residential landscaping uses.

Waiahi Surface Water Treatment Plant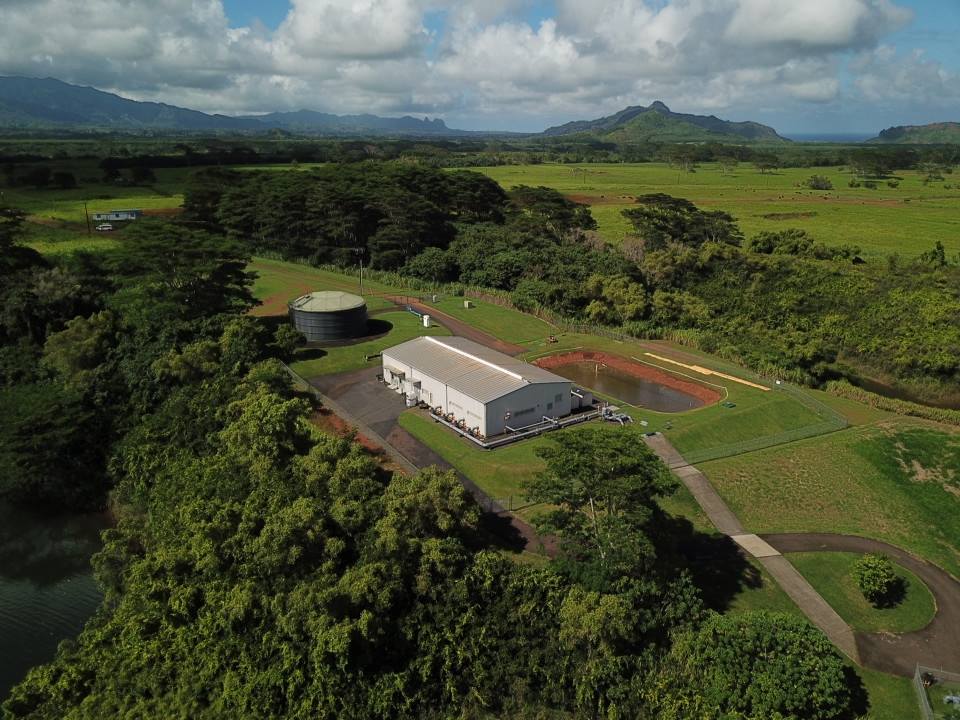 Because of the limited production and questionable reliability of traditional wells, Kauaʻi's sources of potable water dramatically diminished. Back in the late 1990s and early 2000s, Grove Farm began to develop plans, in conjunction with the Kaua'i Department of Water, to develop the state's first surface treatment plant. Opened in late 2005, the Waiahi Surface Water Treatment Plant is the island's most important source of potable water. To date, Grove Farm has invested over $11 million of capital, and the annual operating expenses to run this facility is approximately $1.6 million. The plant currently produces an average of 2.4 million gallons of water daily. The terms of this facility were reviewed and approved by the Board of the Kaua'i Department of Water in 2004.
Today, 20% of the island's residents obtain their drinking water from Waiahi. This facility benefits residents in the Hanamaʻulu – Lihuʻe – Puhi – Wailua, and Kapa'a areas and the businesses and visitor establishments located there.
After the water is processed, extensive testing for water quality is conducted, and the drinking water exceeds all water quality standards parameters. Interestingly, because of Kaua'i's geological age – being the oldest of the main Hawaiian Islands -- we have a naturally high level of bauxite in our soils. Bauxite is a source of aluminum, and in the mid-1900s, several businessmen looked into the feasibility of creating an aluminum processing business.
| | |
| --- | --- |
| Constant coordination, communication, cooperation, and oversight by the State Department of Health's Safe Drinking Water Branch and Clean Water Branch, the Kauaʻi Department of Water, and other regulatory oversight departments with Grove Farm is required to deliver safe and quality water from the Waihi Surface Water Treatment Plant. | |
Besides the potable water produced, these water systems also provide non-potable water for irrigation water for many diverse uses and users. Some of the applications are irrigation for the County of Kauaʻi Adolescent Treatment and Healing Center, the State of Hawaiʻi Lihuʻe Gateway Beautification project, the Kauaʻi Community College's taro loʻi and the Go Farm program, the Vidinha Soccer Fields, the Judiciary Complex, the Kauaʻi Police Department and the State Agribusiness Development Corporation. Water was also provided to the Wailua lands owned by the Department of Hawaiian Home Lands and is available when water flows through the plantation irrigation systems.
Socio-Economic
Ripple Effect of Water
The direct impact of water to all living things is not as evident as its impact on the socio-economic welfare of the people. But if you look closer, there is a ripple effect when businesses are impacted. These water systems are used by entities such as the KIUC Kapaia Power Station and for Global Algae Innovations. Water in the irrigation ditch system is essential for ecotourism activities for Kaua'i Backcountry Adventures. These entities employ many residents. These businesses have met the public use needs of our island, have positively contributed to sustainable water for Kaua'i, and have met the demands of tourists for activities that combine sustainable practices with our island's rich culture and history.
Many State, County, and private businesses are jointly working to provide our island's potable and non-potable water requirements. This joint public-private partnership is working well and should be perpetuated, with the proper oversight that exists today.
Other Sustainability Initiatives
Grove Farm's vision is to build a sustainable Kauaʻi by being a leader in social entrepreneurship and island-enhancing activities while remaining deeply committed to preserving the island's cultural and historical linkages - whether it be through the preservation of historic sites, promoting alternative energy sources, supporting agriculture and food production, education and propagation of plants, encouraging a healthy lifestyle or protecting water sources.
Learn about other initiatives