Trevor McCracken
2013 Grove Farm Scholar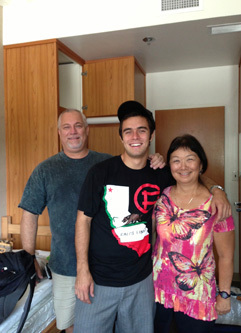 Trevor McCracken
University of California, Los Angeles (UCLA)
Psychobiology (Pre-Med)
What motto best describes your outlook on life?
"Too blessed to be stressed."
What has being awarded the Grove Farm Scholarship meant to you?
It has relieved some of the stress that comes with the financial burden of attending an out-of-state university. It has helped, and is helping, me reach my goal of getting the best education I can in order to become a doctor one day.
What have you learned about yourself while you've been away?
I've learned that I truly love Kaua`i and it will always be my home.
What drives you?
Passion. Whether it's something I'm passionate about or someone else. Just to see another person do what they love is enough to inspire me to try my best in all that I do.
What gives you hope for the future?
While in college, I have hope that my generation, and the ones after me, are noticing that we must care for our planet as well as those around us. The idea that society is constructed around competitiveness is being replaced by cooperation and compassion.