Abigail Iloreta
2010 Grove Farm Scholar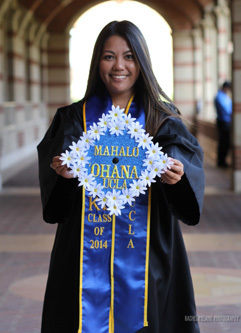 Abigail Iloreta
University of California at Los Angeles
Biology
What motto best describes your outlook on life?
I have learned and gained so much from being a part of a sorority such as the Kappa Delta organization. One of our mottos is to strive to be the best version of ourselves every day, and I encourage others to be the best versions of themselves all days of their lives.
What has being awarded the Grove Farm Scholarship meant to you?
There are no words to express the gratitude I have for Grove Farm and the support I have received these past four years. Not only has this scholarship allowed me to attend a prestigious university, it has humbled me as I experienced an entire new world outside of Kaua`i. Although it has allowed me have an unforgettable college experience, I have never been so grateful to live the life I have on this beautiful island. I met the most driven individuals, joined organizations which strive to improve campus diversity, experienced thriller football and basketball games, and helped to make a difference in the lives of people living on Skid Row in Los Angeles. The experiences I have are so different, but I have made lasting memories. I am indebted to Grove Farm for allowing me to experience these great opportunities.
What have you learned about yourself while you've been away?
The first quarter at UCLA was a difficult experience. I was yet to find my niche at UCLA, and I missed being with family (and eating rice, most especially). Through joining clubs and meeting new people every day, I learned that there was more to college than I was making it out to be. During my second quarter of my first year at UCLA, I met one of my first positive role models after joining a service organization. She was a powerful speaker, and I have never been so inspired. I realized for the first time that I could be confident, stand up and share a message to inspire others. I began to see my entire future and myself differently. Being away helped me shy away from my old thoughts of "you can't," to "you can!" I became an inspired individual, no longer trapped with the stigma of being a homesick out-of-state student.
What are you doing now?
Currently, I am working as a Dental Assistant at Kauai Endodontics, as well as a Registrar at the Imaging Department at Wilcox Memorial Hospital. Within the next year or two, I hope to take the MCAT and begin applying for Medical Schools.
What gives you hope for the future? What drives you?
Having the support of my parents, family, and friends give me hope and continuously drives me to be a better individual than I was the day before. The people who I have met in college and whom I have built lifelong friendships with also encourage my personal development, whether its in the workplace or when I am volunteering.