Juliana Tampus
2019 Grove Farm Scholar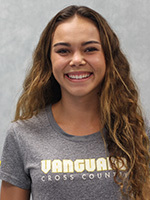 Juliana Tampus
Vanguard University of Southern California
Engineering Physics
What motto best describes your outlook on life?
In times of uncertainty cling to what we know is certain; community, responsibility, and respect.
What has being awarded the Grove Farm Scholarship meant to you?
Apart from the significant financial support I receive from Grove Farm, I also attend school knowing there is a group of people back home who support and believe in me. My relationship with Grove Farm gives me confidence that will undoubtedly aid in my success.
What have you learned about yourself while you've been away?
I have found personal independence and new inspiration to continue to work hard and find personal success. I also found how crucial it is to stay in contact with friends and family who were newly distant.
What drives you?
In addition to the yearn of career success, each new step completed is one step pushing me further away from my starting point. Now in my second year, I have completed around 30 classes, as this number grows it shows the work I have put in to achieve my goals. I am driven in knowing how frustrating it would be if all of this work was wasted.
What gives you hope for the future?
In the midst of the current circumstances I look unto our island, a community flourishing under such grim circumstances. A time when all hope seems to be lost, yet everyone still embodies the aloha spirit. COVID-19 has proven that one cannot begin to map out the future… with this, Kaua'i will give me hope for later times. On an island focused on generations of success, I can confidently believe our island hones the hope for the future.