Dawn Mones
2013 Grove Farm Scholar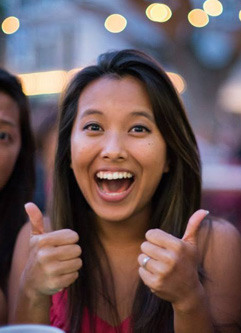 Dawn Mones
California Polytechnic State University, SLO
Agriculture and Environmental Plant Science
What motto best describes your outlook on life?
"Bloom where you are planted."
What has being awarded the Grove Farm Scholarship meant to you?
This scholarship was the deciding factor on whether I could afford to attend the school of my dreams, and I am incredibly blessed to have received it.
What have you learned about yourself while you've been away?
I've learned that I am much more passionate about my major than I initially thought. College also provided the opportunity to develop my individuality and character.
What drives you?
In all honesty, the fear of failure is what motivates me. I have the support of my family and friends back home on Kauai, and I don't want to disappoint them.
What gives you hope for the future?
I feel most hopeful when I look at my peers. It's very encouraging to be surrounded by hundreds of people of the same age who collectively get excited about learning, self-improvement, and are preparing to go out and make a difference in the world.