Geneva Therese Dela Cruz
2017 Grove Farm Scholar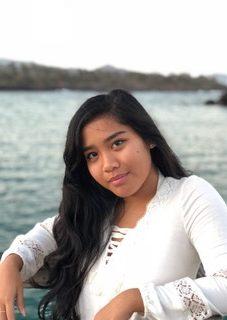 Geneva Therese Dela Cruz
University of Hawaii at Manoa
Psychology with emphasis on Pre-Med
What motto best describes your outlook on life?
Since beginning high school I've always followed the motto, "No one can lose by giving." So far, it has provided me with opportunities I never would have found and people that I will cherish forever.
What has being awarded the Grove Farm Scholarship meant to you?
It serves as not only motivation and inspiration to reach my dreams, but a constant reminder that I have people in my community who care for young people and see potential in us to better our community. It also helps me truly delve into my studies, since I don't have to think about my parents working extra hard to pay for college.
What have you learned about yourself while you've been away?
I've learned about how independent I truly am and that although I may be able to complete things by myself, there is nothing wrong with having to rely on others. Also, everyone I meet and interact with has contributed to helping me find myself. Whether they left a negative or positive impact on my life, God placed them into my life for a reason, so I'll just follow his plan for me.
What drives you?
The goals and aspirations I've set for myself. I never make promises I can't keep, and one of the biggest promises I've made with myself and my loved ones is that I will become a Pediatrician. I want to serve my community and help the children of Kauai and Hawaii in general realize their full potential. I know I can achieve this by being an advocate for a holistic well-being that not only focuses on physical health, but emotional, spiritual, and mental health as well.
What gives you hope for the future?
Knowing that the children of this generation are very aware of the struggles and inequalities that are going on in this day in age and that if we give them the proper tools and guidance they can help make this a world worth living in.