Travis Navarro
2012 Grove Farm Scholar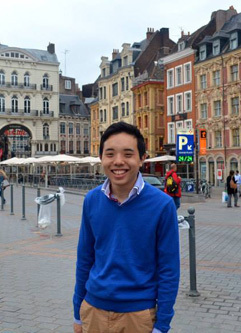 Travis Navarro
Fordham University – Rose Hill
Business Administration with concentrations in Business Economics and Finance
What service projects have you been active with while at school?
I have been involved with several different service projects through my involvement with various organizations at my university. The most significant project that I have worked on is to plan and execute my campus' Relay For Life through our on campus chapter of the Aerican Cancer Society. I am also very involved with a service organization, Circle K, that takes part in many different service projects that range in impact and type. With Circle K, I am most involved in an event where our members serve Thanksgiving Dinner and Easter Brunch to residents of a retirement home located next to our campus. Lastly, I have also worked with my school's administration to volunteer in various social justice projects and facilitating conferences and workshops regarding a broad range of issues.
What have you learned about yourself while you've been away?
The most important thing that I have learned about myself while in college is how I can be self-determinate and fully responsible for my own actions. A large contribution to this is the fact that I am studying very far away from home, thus I no longer have the supportive network that existed on Kauai. Therefore, I must be able to act decisively, of my own accord, and live with whatever consequences the said actions might bring.
Why did you decide to volunteer with the non-profit organization(s) you chose?
I decided to volunteer with the American Cancer Society, because I have a history with it and I believed that it was a good match of my skills. I have been participating in Relay For Life ever since elementary school and knew that it was something that I was going to continue to do throughout college. Also, with my increased abilities and skills I decided to experience a different side of the event by helping to plan and execute it, instead of just participating in it.
What are you doing now?
I am studying abroad in London, UK, which is half-way around the world from Hawaii. I am having an amazing time learning about the UK and its literature, theatre, business, and culture.
How do you think Kauai and Hawaii will change over the next 5 years?
I'm really not sure how Kauai and Hawaii will change in 5 years; however, I do hope that the islands move further into sustainability, environmental and economic. I think there have been some signs of this, such as the rapid take up of PV power generation and increased awareness of the need for resource stewardship. If Hawaii can continue on a path sustainability I believe that it will have a more stable future and become even more attractive to people from around the world.