Regina Miner
2014 Grove Farm Scholar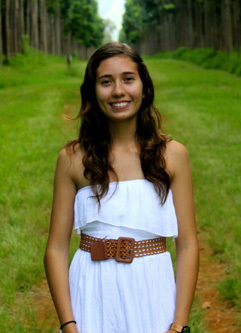 Regina Miner
Point Loma Nazarene University
Biology-Chemistry (Pre-Med)
What motto best describes your outlook on life?
"Try your best and let God do the rest". I believe in doing my best at all times, and trusting that all will work out with God working out the little details that I cannot control.
What has being awarded the Grove Farm Scholarship meant to you?
The Grove Farm Scholarship has given me confidence and boldness to pursue my dream to one day be a cardiologist. Receiving this scholarship has made me feel that the island of Kauai is supporting me as I pursue my dream to one day offer cardiac services on the island.
What have you learned about yourself while you've been away?
I've learned many things about myself. I have learned how much I treasure the aloha spirit and the wide range of ethnic foods back at home.
Through being an Army ROTC cadet under a Biology-Chemistry major, I have also learned that I really enjoy challenges and high stress situations.
What drives you?
Brokenness and need drives me. I am a very mindful person that looks to help people in every way possible. Seeing the hurt motivates me to do my best so that I can be an effective person to help them.
What gives you hope for the future?
My relationship with Christ gives me hope for the future. All I need to do is look at my past, and see the great blessings that I have received. I know that the hope will continue in my life.