Grove Farm Newsletter - October Edition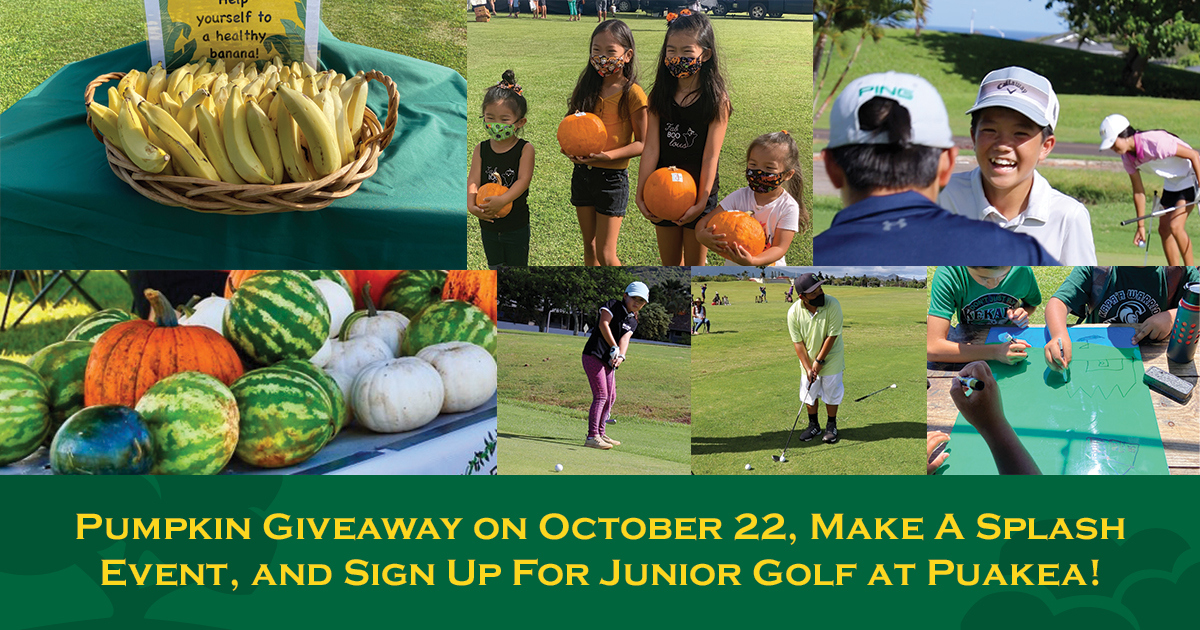 ---
Pumpkin Giveaway - October 22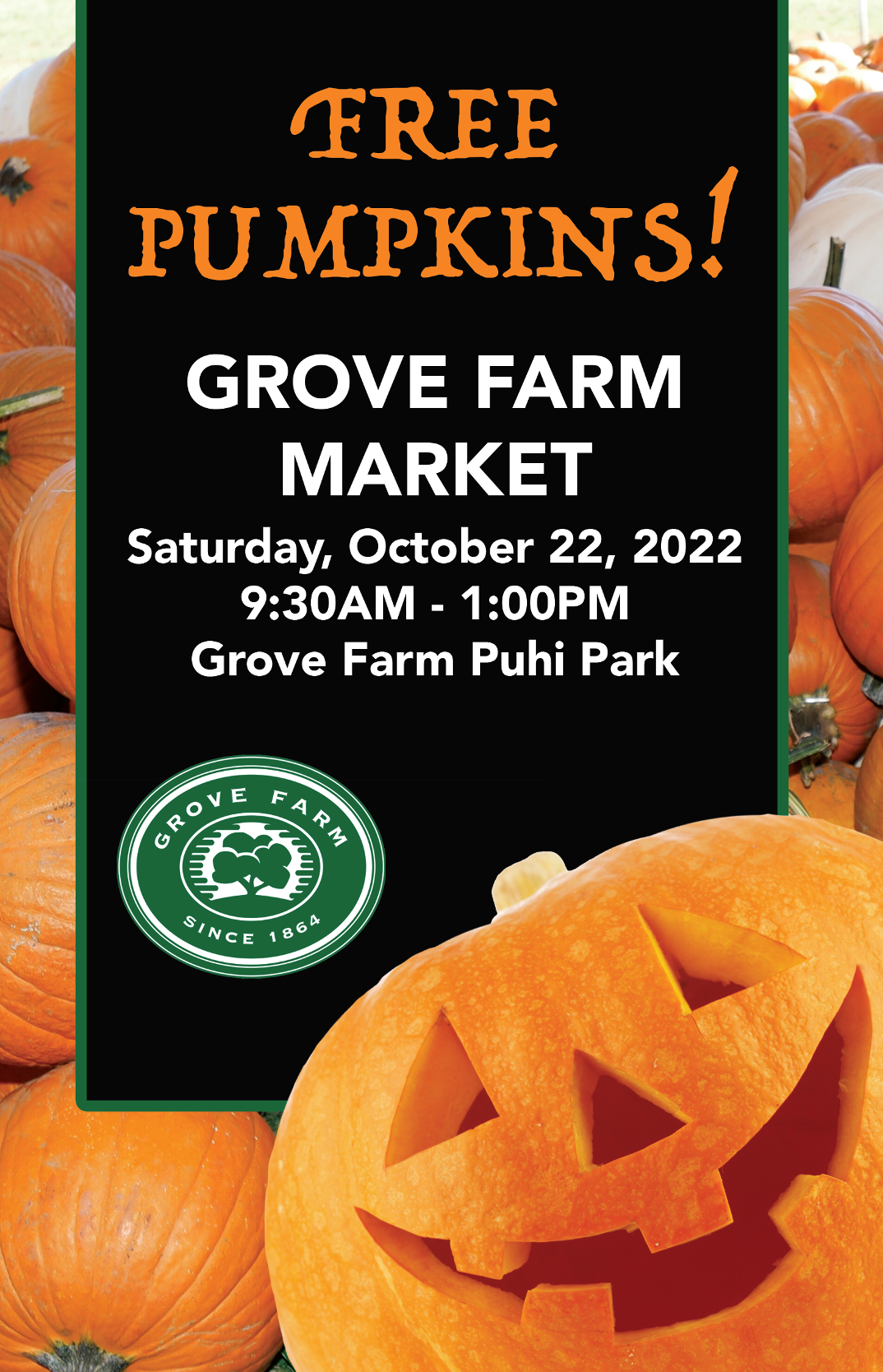 The Hawai'i Crop Improvement Association is hosting its 9th Annual Harvest Festival by once again giving away hundreds of locally grown pumpkins to Kaua'i's keiki. One of the distribution sites is the Grove Farm Market at Puhi Park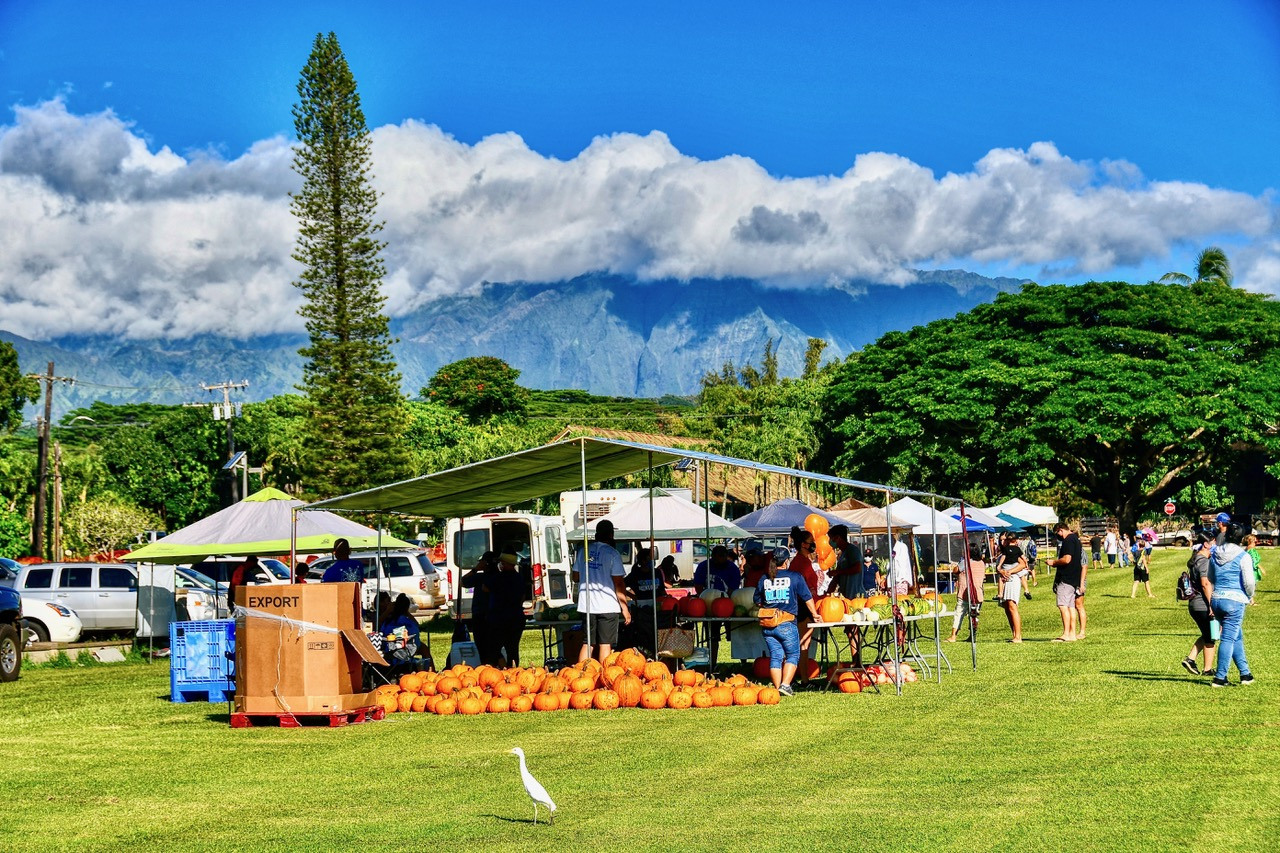 Please come early for a free pumpkin on Saturday, October 22 from 9:30 a.m. until the pumpkins are gone.
---
Youth Golfers at Puakea Golf Course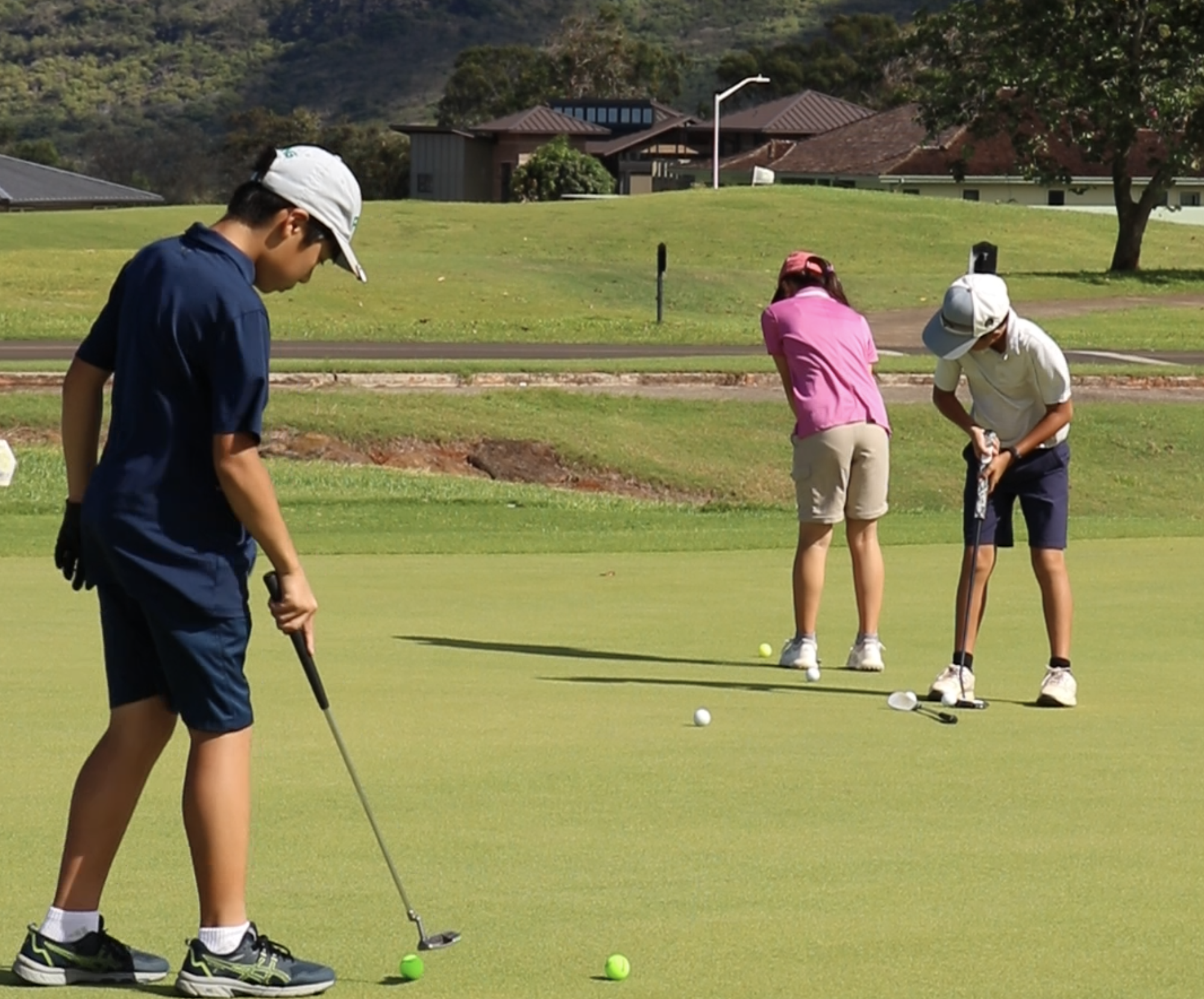 What could top the tranquility of being out on a golf course? The sound of children's laughter as they enjoy the game of golf! Recently, Kaua'i's young golfers assembled after school for a a fun practice session to hone their putting skills at the island's largest outdoor practice facility, located at Puakea Golf Course. See their joy in the game of golf and being outdoors.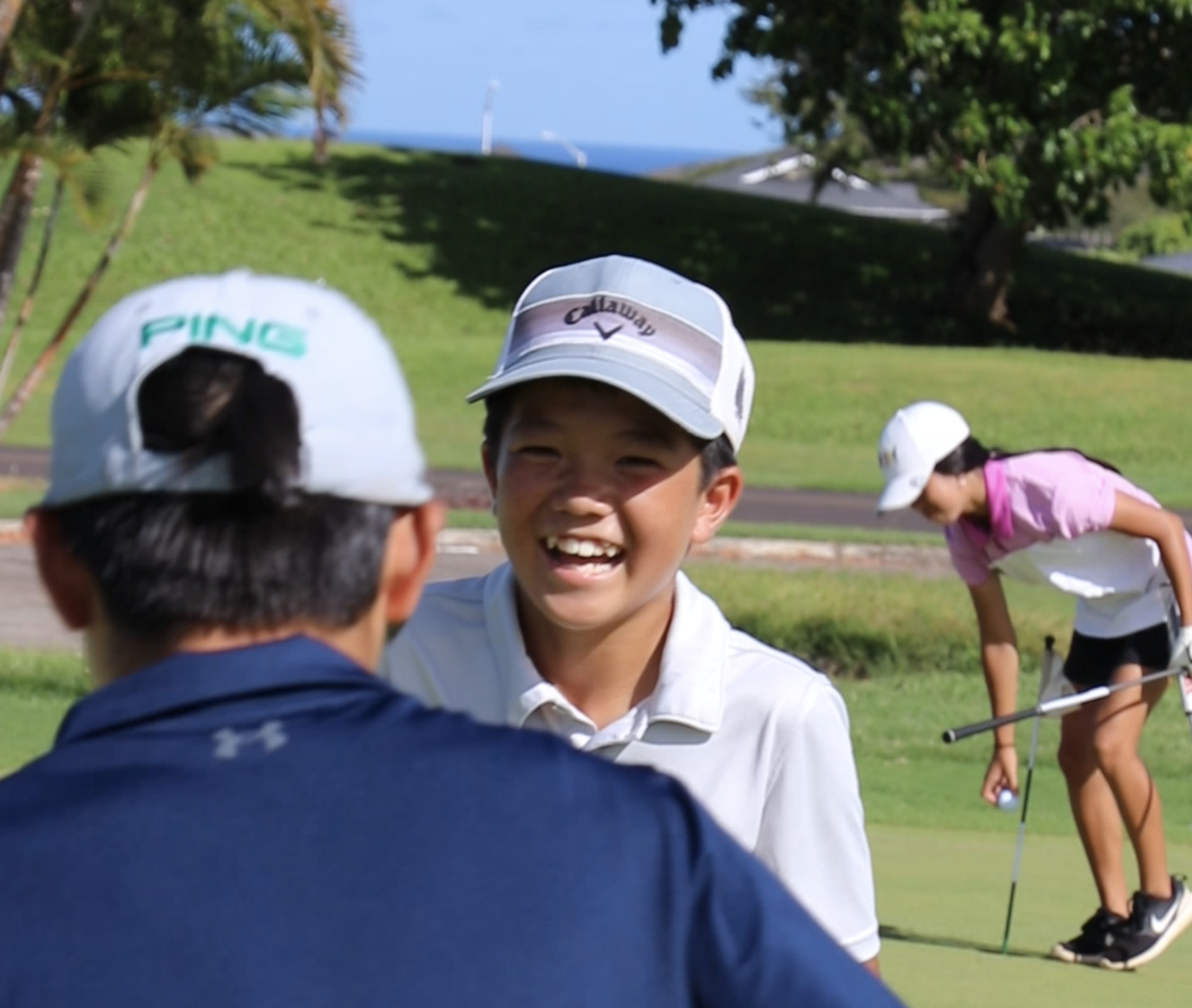 If you are interested in golf lessons for your child, please contact the Puakea Golf Course at (808) 977-3777.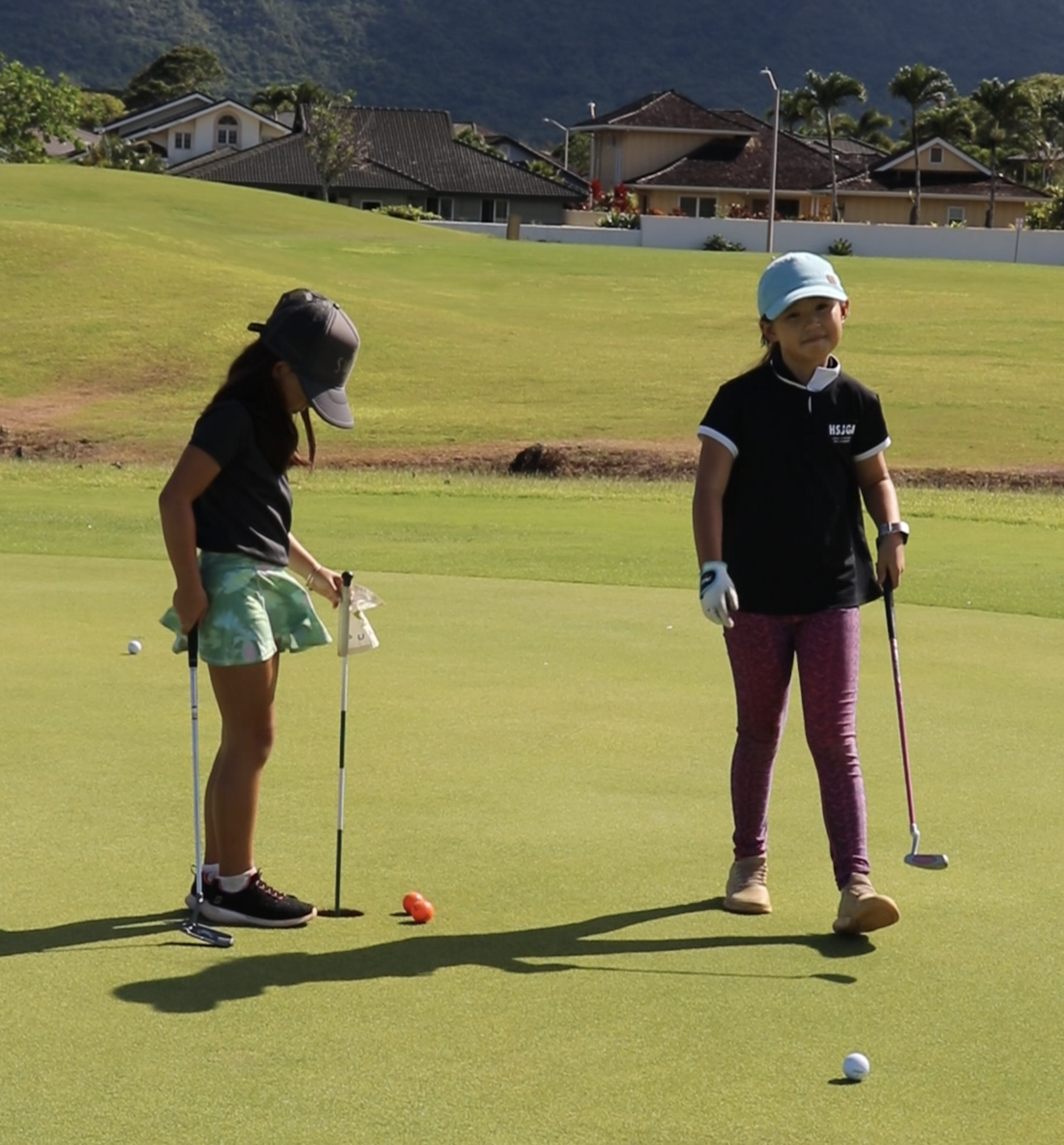 ---
Department of Water Make-a-Splash Festival
Congratulations to the Kaua'i Department of Water (DOW) on hosting their 17th year of the Make a Splash with Project WET Festival. The DOW welcomed more than 750 of Kaua'i's 5th graders to a fun-filled day of educational and interactive activities. As always, the event was well organized, and the Grove Farm team was happy to help with the Sum of the Parts activity that demonstrated how everyone contributes to water quality and what we can do to reduce pollution.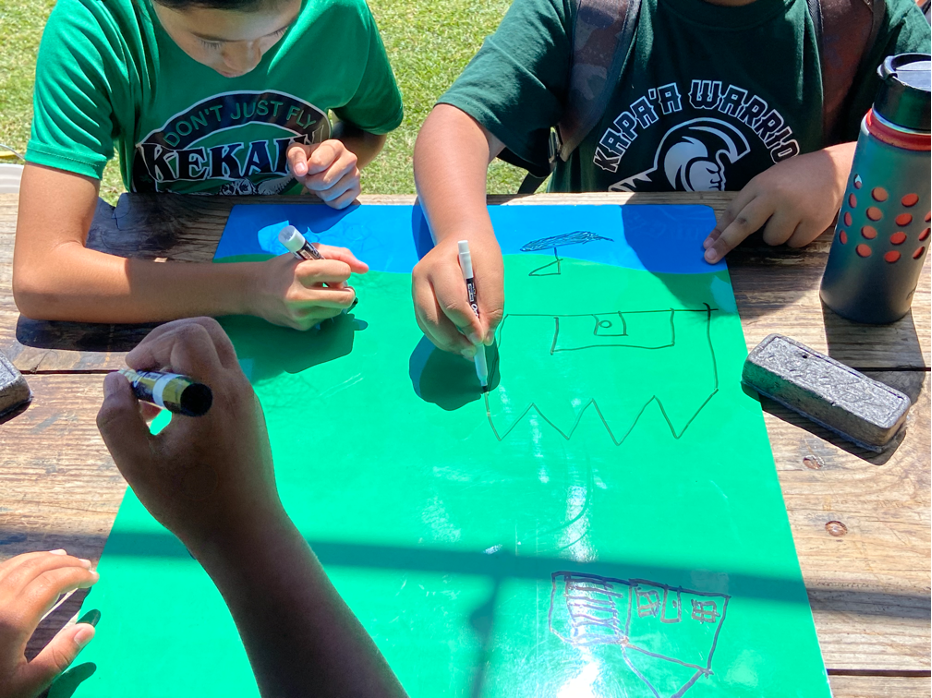 It was nice to see students from across the island working together – a future Menehune and a Warrior imagined what they would do with $10 million to help create a more sustainable Kaua'i!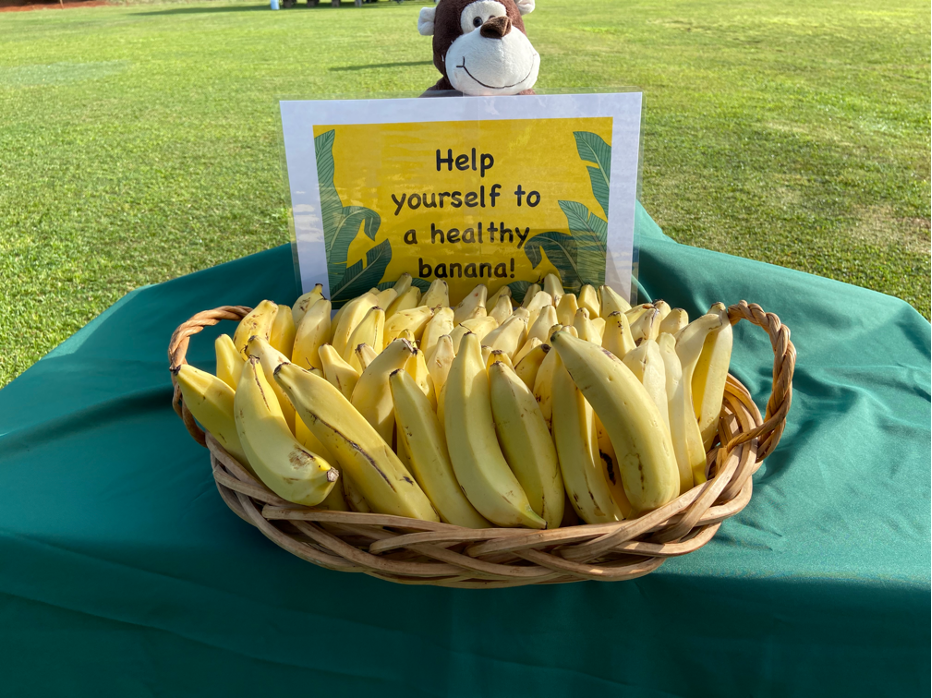 Students participating in the Sum of the Parts activity also enjoyed a healthy snack from Sakda Farms.
---
Recipe Roundup – Pumpkin Scones
Christy Nii is a teacher at Wilcox Elementary School and is known to make delicious and beautifully decorated pastries. Here, Christy shares with us her Pumpkin Scones – a delicious treat as we head into the Fall season!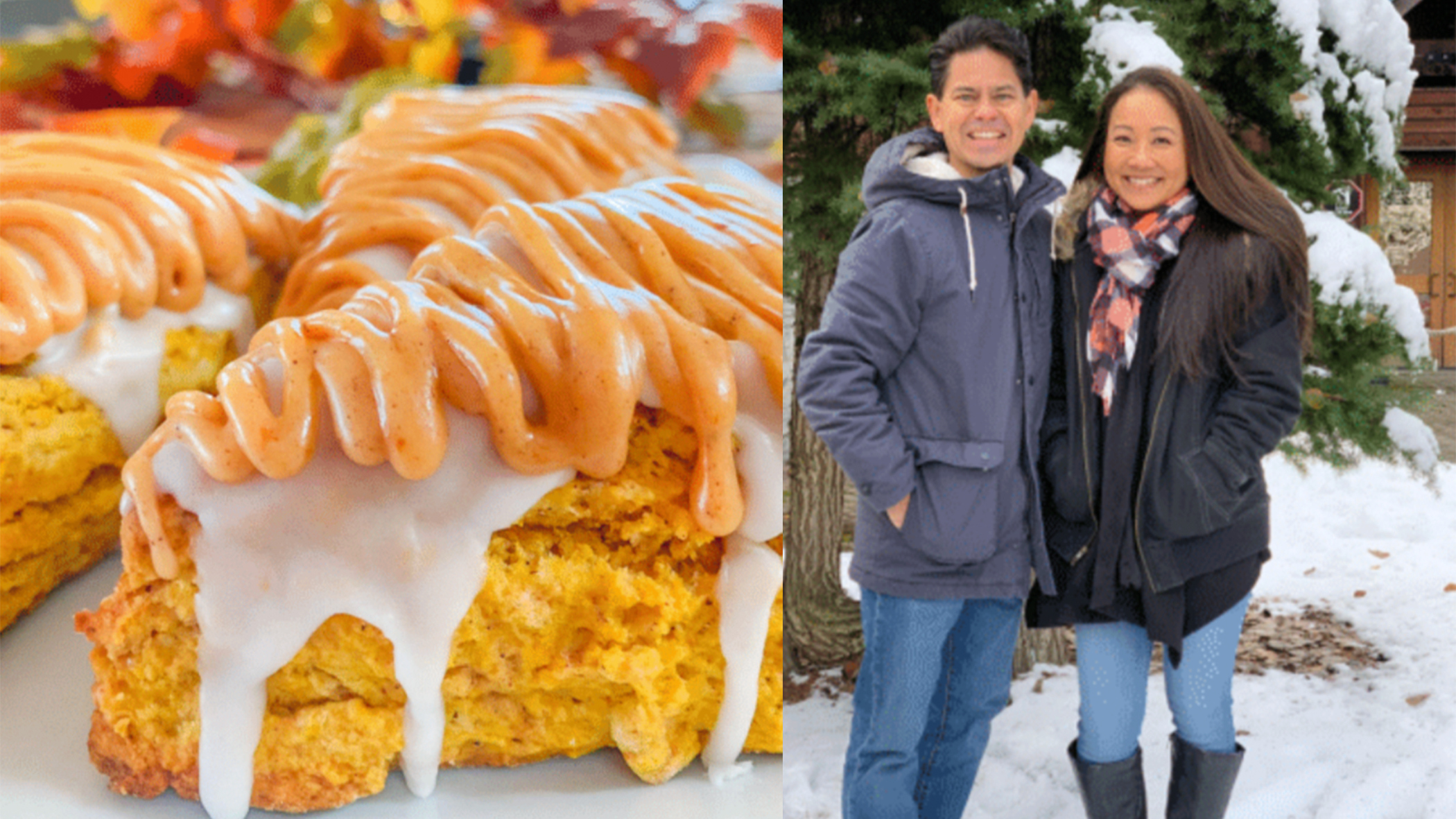 Ingredients:
| | |
| --- | --- |
| 2-1/4 cups | all-purpose flour |
| 2 tsp | baking powder |
| 1/4 tsp | baking soda |
| 1/2 tsp | salt |
| 1 tsp | ground cinnamon |
| 1/2 tsp | nutmeg |
| 1/4 tsp | ground ginger |
| 1/8 tsp | ground cloves |
| 1/4 cup | packed light brown sugar |
| 3 tbsp | granulated sugar |
| 1 stick | unsalted butter, cold and diced into 1/2 inch pieces |
| 1/2 cup + 1 tbsp | canned pumpkin puree, chilled -- do not chill in can |
| 3-1/2 tbsp | buttermilk |
| 1 | large egg |
| 1 tsp | vanilla extract |
| 1 tbsp | honey |
| 1 tbsp | half and half |
| Glaze: | |
| 1 cup | powdered sugar |
| 2 tbsp | half and half, add more if needed |
| Pumpkin Icing: | |
| 3/4 cup | powdered sugar |
| 1 tbsp | pumpkin puree |
| 1/4 tsp | ground cinnamon |
| 1/8 tsp | ground nutmeg |
| 1/8 tsp | ground ginger |
| 1 tbsp | half and half |
Instructions:
Scones:
Preheat oven to 425 degrees
In a food processor, pulse together flour, baking powder, baking soda, salt, cinnamon, nutmeg, ginger, cloves, brown sugar and granulated sugar until well blended
Add butter and pulse several times until the mixture is crumbly. You can also whisk the ingredients by hand and use a pastry blender to cut in the butter. You should not be able to see large pieces of butter. Pour mixture into a large bowl and create a well in the center.
In a separate bowl, mix chilled pumpkin puree, buttermilk, egg, vanilla extract, and honey. Pour the mixture into the well of the flour/butter mixture. Stir with a wooden spoon to incorporate, then knead in the bowl by hand to bring the mixture together.
Dust a work surface with flour and invert the dough onto the surface. Pat and shape the dough into an even 8 inch round. Using a large knife, slice the round into 8 equal wedges. Dust the knife with flour as needed while cutting.
Place the scones on a silipat or parchment lined baking sheet. Brush the tops with half and half and bake in a preheated oven for 13 - 15 minutes or until the tops are golden brown and a toothpick comes out clean. Transfer to a wire rack to cool for no longer than 10 minutes before spreading with glaze.
Glaze:
Whisk together powdered sugar and half and half, adding more half and half as needed to reach the desired consistency. It should be fairly thick and not runny. Spread glaze evenly to coat the tops of the scones. Let the glaze set at room temperature
Pumpkin Glaze:
Whisk powdered sugar, pumpkin puree, cinnamon, ginger, nutmeg and half and half. Pour mixture into a small Ziploc bag, seal the bag, cut a small tip from the corner. Drizzle the mixture over the tops of the scones. Allow icing to set.
---
Recipe Roundup – The "BES" Goteborg Musubi
Fall also means it's football season! And while we may not be able to "tailgate" at football games here on Kaua'i, we can still watch the games and enjoy our favorite tailgating pupus.
And now that we can all breathe a sigh of relief knowing that Goteborg will still be produced, we can make Clyde Kodani's The "BES" Goteborg Musubis. He made these "engineered perfect" Goteborg musubis for the Grove Farm team, and we can all attest that they deserved two thumbs up!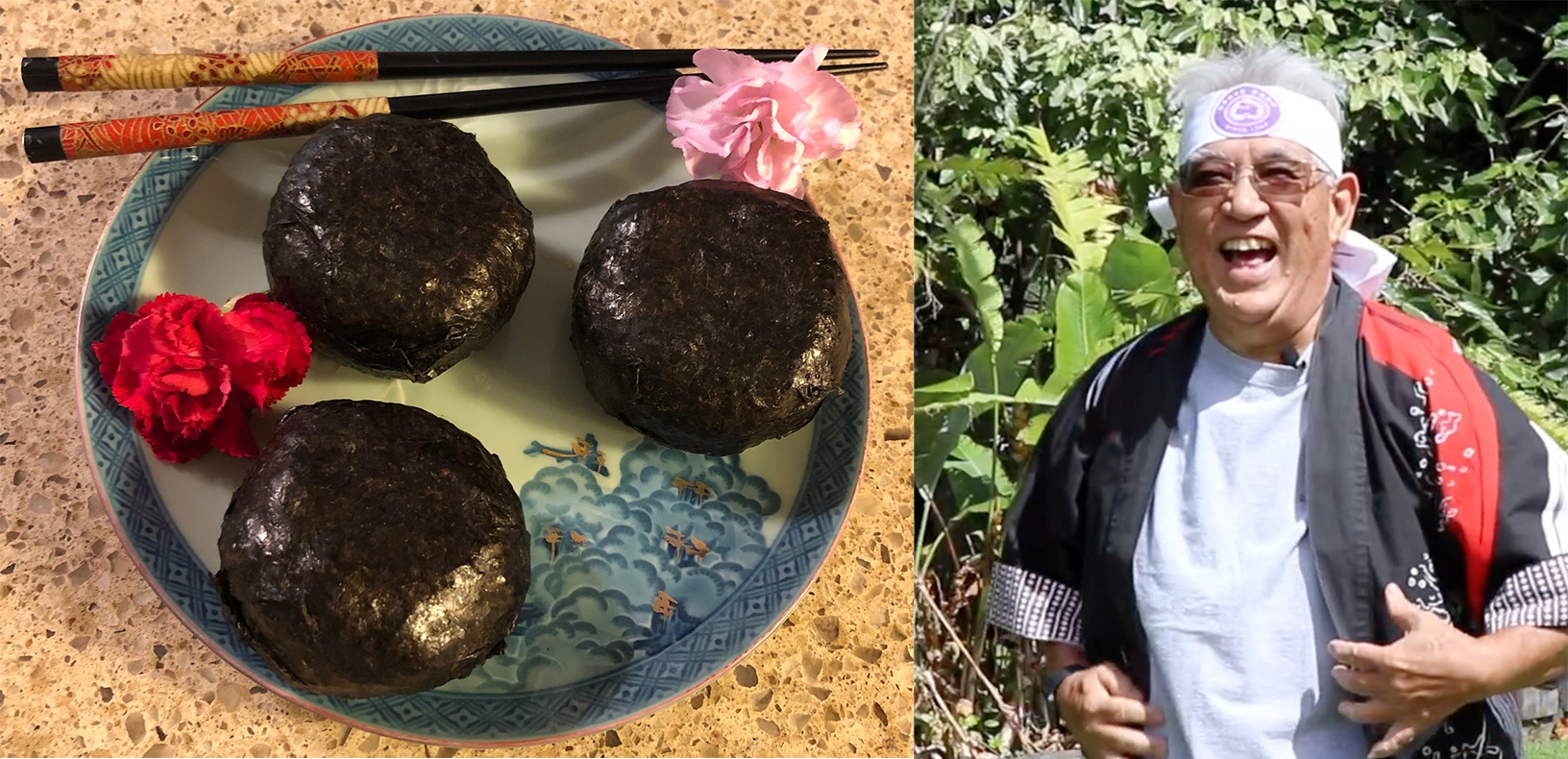 Ingredients:
| | |
| --- | --- |
| 1 | sheet nori package |
| 4 cups | cooked white rice |
| 8 | ¼ inch slices Goteborg, Senator Schatz prefers it sliced ¼ inch thick |
| To taste | bonito-flavored furikake |
Instructions:
Pan fry the sliced Goteborg to your liking
Mix bonito-flavored furikake with rice -- use your discretion on amount
Wet hands throughout process as needed to make it easier to handle ingredients
Put a ¼ cup scoop of rice, packed lightly, in palm of hand -- flatten a little
Place cooked goteburg on top of rice
Put another ¼ cup scoop of rice on top of Goteborg
Squeeze together to form a hockey puck-shaped musubi
Wrap with half sheet of nori
Recipe submitted by Clyde Kodani -- Kapaʻa High School graduate, Professional Engineer, Accomplished Chef, Storyteller, and Senator Schatz' Kaua'i Island Representative