Dustin "Bubba" Leach
A wide-open field full of guinea grass and albizia trees could be seen as an eyesore to some, but for ranchers like Dustin Leach, it's home for his 100+ head of cattle. Dustin, or "Bubba" as he is called, has been a rancher on 132 acres of Grove Farm lands in Kōloa since 2009. He got the nickname "Bubba" from his sister when he was younger and was known as that ever since. Not many people on this island even know that his name is Dustin.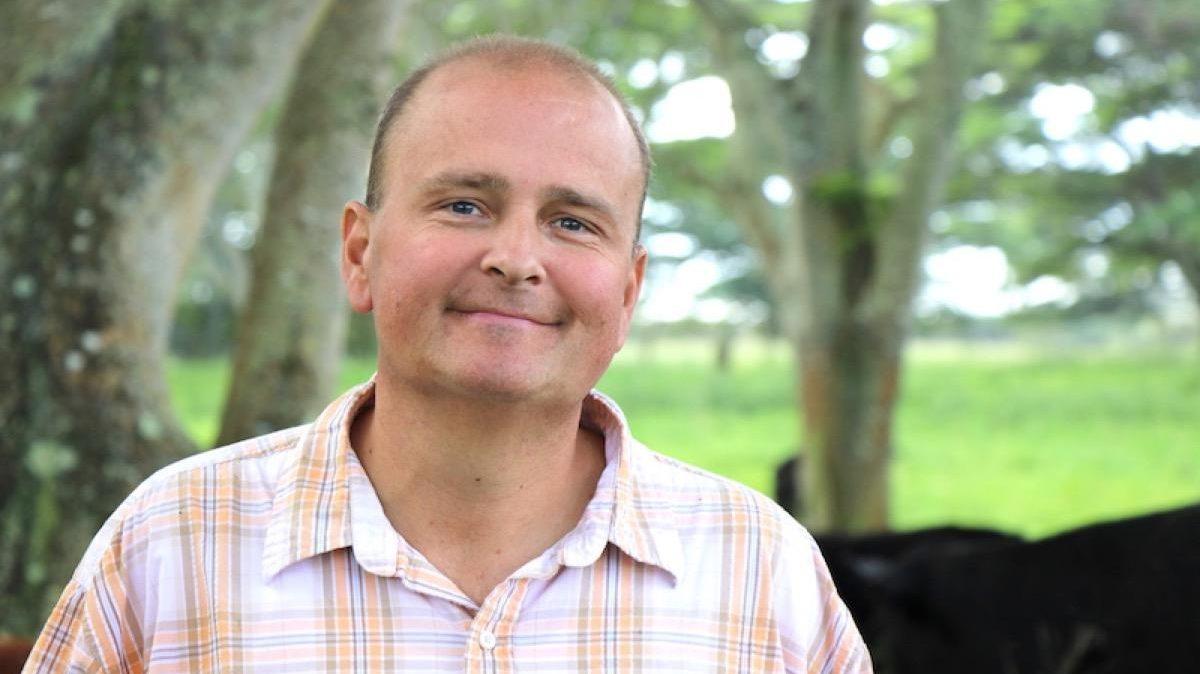 As a kid growing up in Danville, Illinois, Bubba was no stranger to agriculture. His grandparents on both sides of the family were cattle ranchers so he was always around horses, cows, pigs, sheep, and chickens. Even when he and his family moved away from Danville to Lafayette, Indiana where they got into the hearing care and hearing aid business. When he's not servicing or fitting hearing aids, he does hearing conservation programs for the Occupational Safety and Health Administration. There was a market for his venture in the islands, so he moved to Oʻahu in '89 and hopped over to Kauaʻi after Hurricane Iniki.
An interest was sparked for team roping by local north shore legend Uncle Pat Kelekoma. After winning several buckles, it helped open the door a little wider. He started his ranching career here on Kauaʻi working with Rick Garcia, T. Low and always available helping fellow cattleman. He then ended up working and gaining wisdom from such long-time ranchers like Jerry Sanchez.

Bubba has quite the journey to where he is today. One summer, he started to feel very sick and slowed down almost to a halt. Desperate for answers, he wasn't able to receive a diagnosis from any medical professional here but was referred to one of the leading doctors in the country at Stanford Hospital in Palo Alto, California. He was diagnosed with terminal liver disease and was living with a liver functioning at only 20%. Bubba needed a liver transplant just to survive longer than 2-12 months. The total cost of the operation and post-op care totaled over $1 million. Thankfully, his insurance covered 90% of that.

Bubba roping

About a year after his original consultation appointment, Bubba went in for a liver transplant at the Mayo Clinic in Jacksonville, Florida. The surgery was a success, but the healing process was anything but easy. He dealt with intense mood swings, hallucinations, and taking about 30 pills a day. Today, he takes just two. "It costs about $3,000 a month," he said. "Thank goodness my insurance covers some, but it still costs me more than my rent and power bill."
Each cattle has a special place in Bubba's heart. He can recognize the mooing from each individual cattle and what the moo means. A bit of him is sad to see the calves be shipped out, but at least they're leaving in the best health they can be in. "I hate when people say we ranchers mistreat our animals," Bubba said. "We want to ship out the best product we can. With all the USDA rules, it's impossible to cut corners. Sure, these animals are money, but they mean much more to me than that."