Charles Reid
Looking through his family car's window, Charles Reid grew up admiring the seemingly endless farmlands of San Joaquin Valley, California. Earning its nickname for good reason, "The Food Basket of the World" boasts over 250 different crops and is the United States' leader in agricultural production. It seems only appropriate for Charles' journey to include a life of farming – after all, it's in his blood.
While in California, Charles worked in restaurants, pizza parlors, and even had a stint in car sales. Tired of unfulfilling work with 50+ hour weeks, he decided to pack up and move to Kauaʻi in 1991 with his parents and sister.

On Kauaʻi, Charles and his family opened a bed and breakfast. They added revenue using a newfound passion for astronomy. Sky Tours, offered customers detailed guides of Kauaʻi's night sky by viewing stars through a telescope. After only a year, new County of Kauaʻi regulations forced Sky Tours and the bed and breakfast to close.

Though Charles was out of work and needing to support his family, the closures were blessings in disguise. He would soon tap into his family roots and discover his true calling.
He found himself walking into the Grove Farm office to inquire about leasing land. Although Charles' father was an electrical engineer and his mother a nurse, his grandparents, on one side, were walnut farmers, and so were his great grandparents on the other.

In October of 1992, Charles secured a 12-acre plot between Sueoka's Ti Leaf Farm and the cane fields. He has since learned to make a living growing tropical flowers, trees, and foliage, and has expanded his farm to 80 acres on Grove Farm's Haikū Mauka lands.

After a five-minute drive on cane haul roads – which required a 4-Wheel drive vehicle – we arrive at the farm. Charles walks us through a maze of ginger and costus, and we can't help but notice several bags filled with empty cans of Dr. Pepper. He jokingly calls them his "coolant."

Raspberry ginger

Under the shady canopy provided by albizia, tropical cedar, and cocobolo trees, a gentle stream flowing nearby provides a soothing, ambient noise. As we talk to Charles, his love of tropical flowers – and Dr. Pepper – is easily apparent. He guides us through his 25-years of hard work, naming every plant and flower along the way – scientific name first, then English.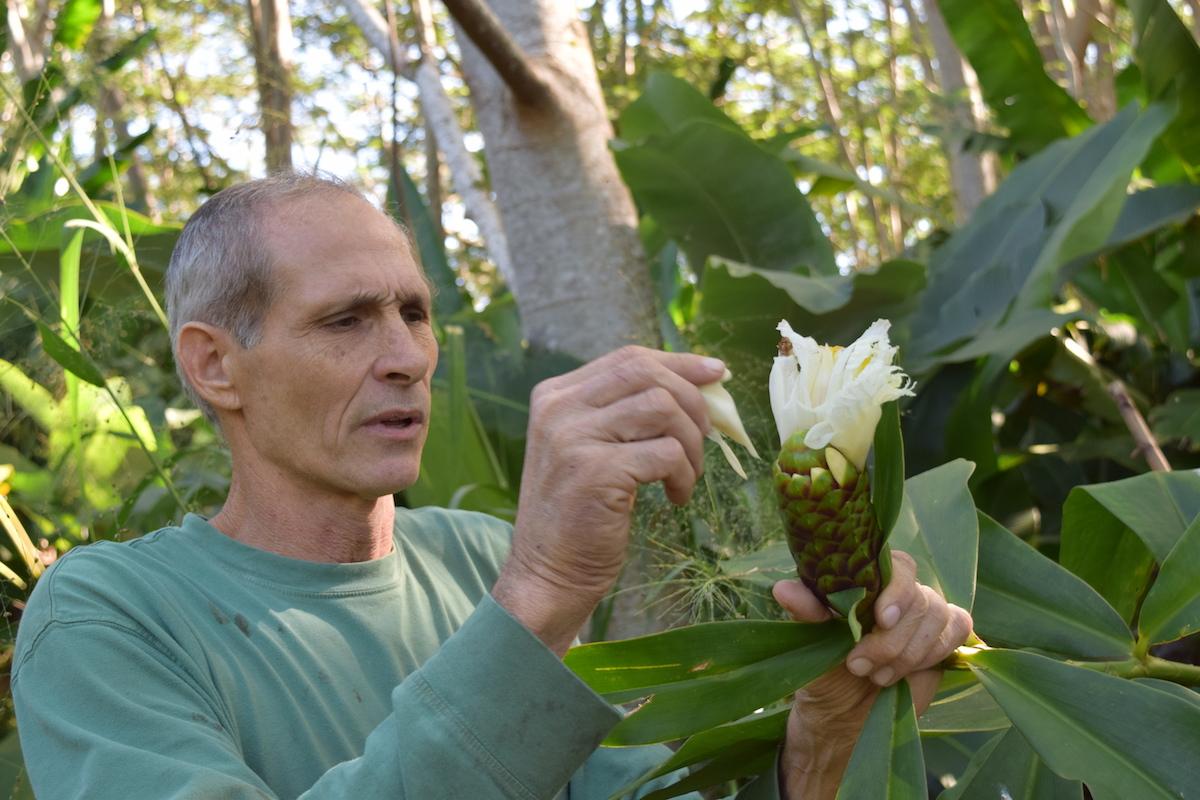 His favorite is the fragrant and delicate Alpinia Purpurea, white ginger. Its seedlings are so rare, he hopes to raise more in the future. The tropical garden is covered with heliconia, costus, anthurium, and calathea. Foliage plants like ti leaf, palm, philodendron, dracaena, monstera, and croton are also being grown.

The rows of beautiful tropical flowers and plants weren't always this way. To start, countless hours were spent clearing the thick, invasive guava and albizia trees. He required time to learn about his flowers, and what they each needed to flourish. "I never knew farmers had it so tough until I did it," Charles said.
| | |
| --- | --- |
| Yellow heliconia | Fuzzy heliconia |
Today, Charles manages all the aspects of the 80-acre farm by himself. At the start of his farming venture, his mother and father helped with weeding, answering phones, taking orders, and cutting and shipping flowers. In 1995, he remembers after several rounds of trial and error, his father encouraged the use of something called the "Internet" to conduct research – it proved rather useful.
As with many farmers on Kauaʻi, feral pigs are a constant battle. They roam and feed on roots, stalks, and seeds, many of which took hours to cultivate. Fencing is now used to keep them out, but the biggest disaster came in 1998 when a sounder of swine entered the farm. Indonesian wax ginger, countless seedlings, and rare heliconia were wiped out – a two-year setback, overnight! "Chasing after the pigs takes a lot of time out of a day," he said after a deep sigh.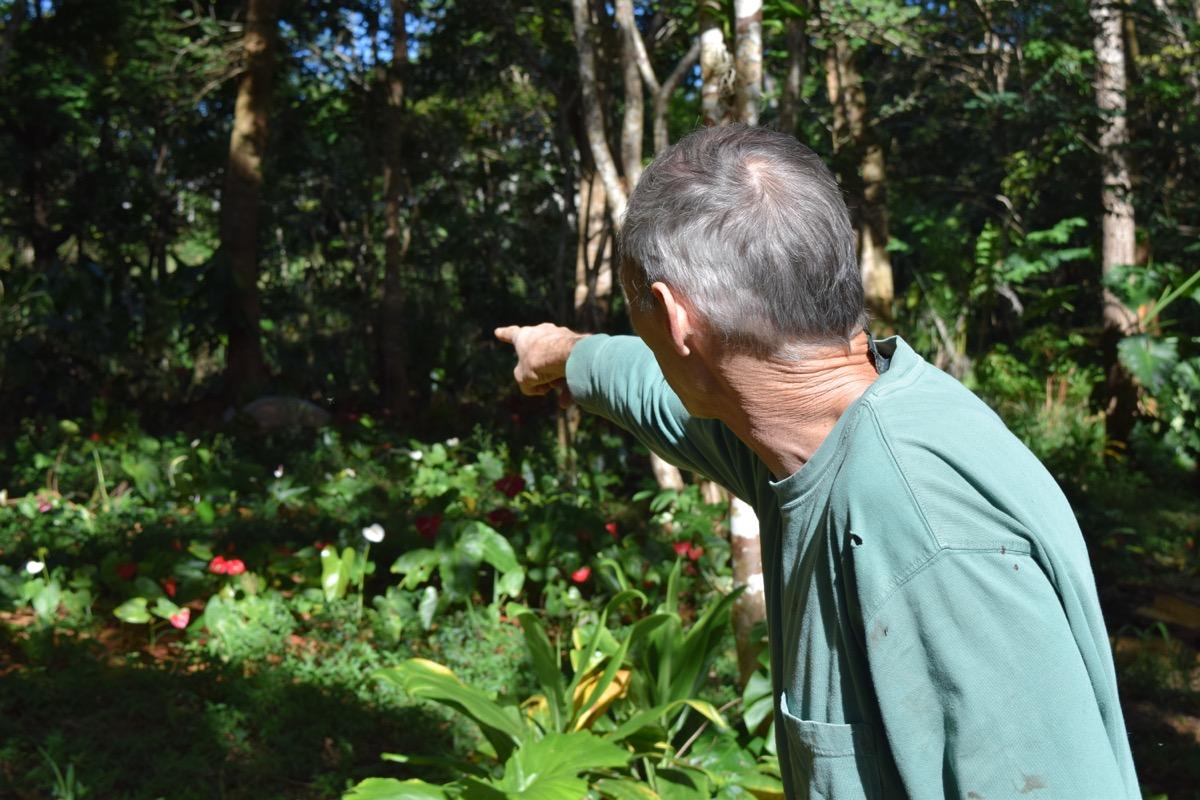 Today, the farm is thriving thanks to Charles' once-found passion of the stars that have transcended to a love of agriculture. With the farming blood of his ancestors, that Internet thing, and daily visits with his 12-ounce doctor, his already impressive knowledge and expertise continues to grow. "I'm the youngest, and only one in the family without a degree," Charles chuckles.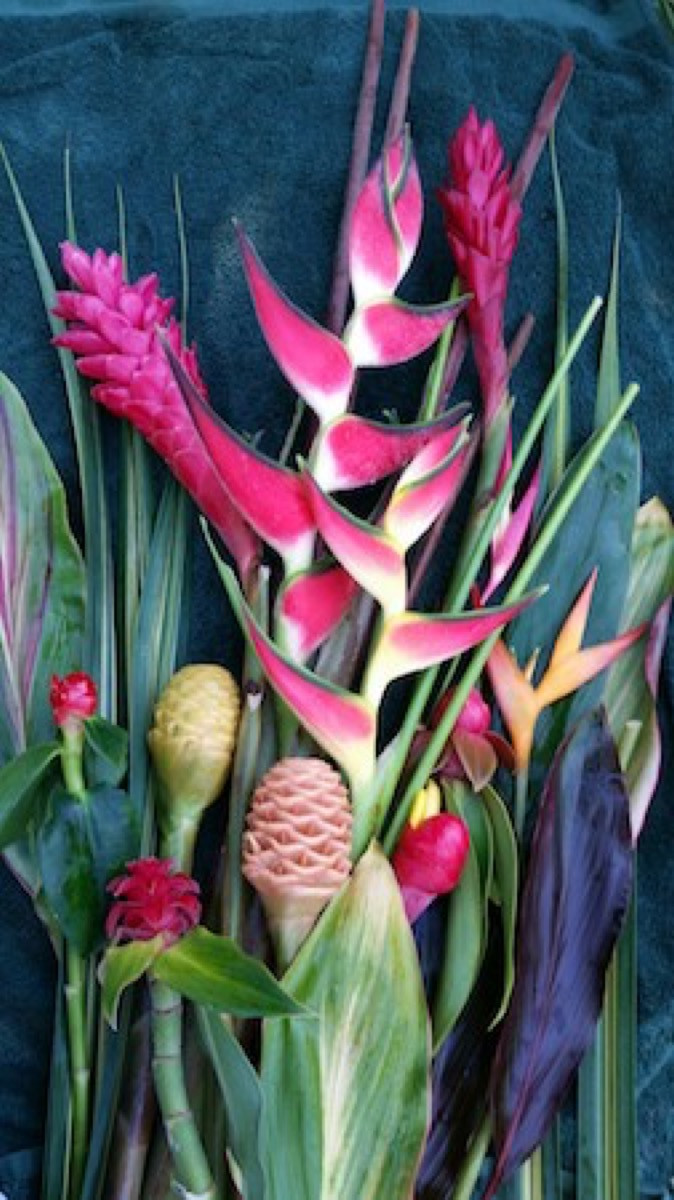 Arrangements that used his flowers can be seen at the Grand Hyatt Hotel in Poʻipū and The St. Regis Princeville Resort. Arrangements for any occasion are available for purchase. For more information, please contact Grove Farm at (808) 245-3678, and we can put you in touch with him.