Rat Gang, Three Plantations, Wilcox Tunnel, Sabidong Knapsacks, Picking-up Fresh Milk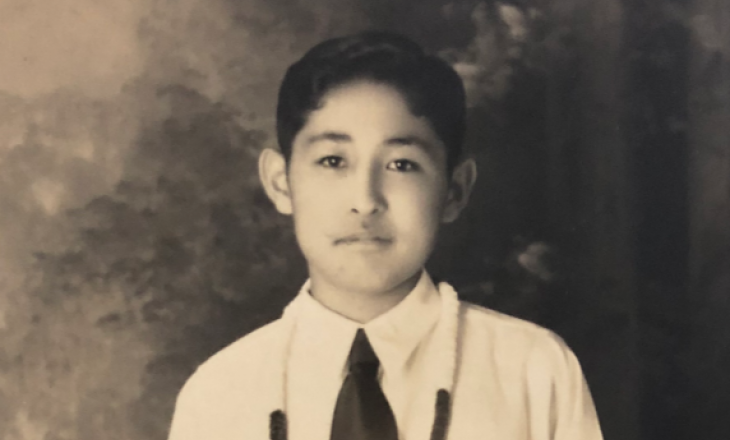 ---
Yasuo "Paco" Ishiyama, or "Grandpa Yasuo" worked for nearly 50 years for three sugar plantations on Kaua'i. He has many wonderful stories of life on the sugar plantation and we wish we could capture it all! Here are a few of his recollections.
Three Plantations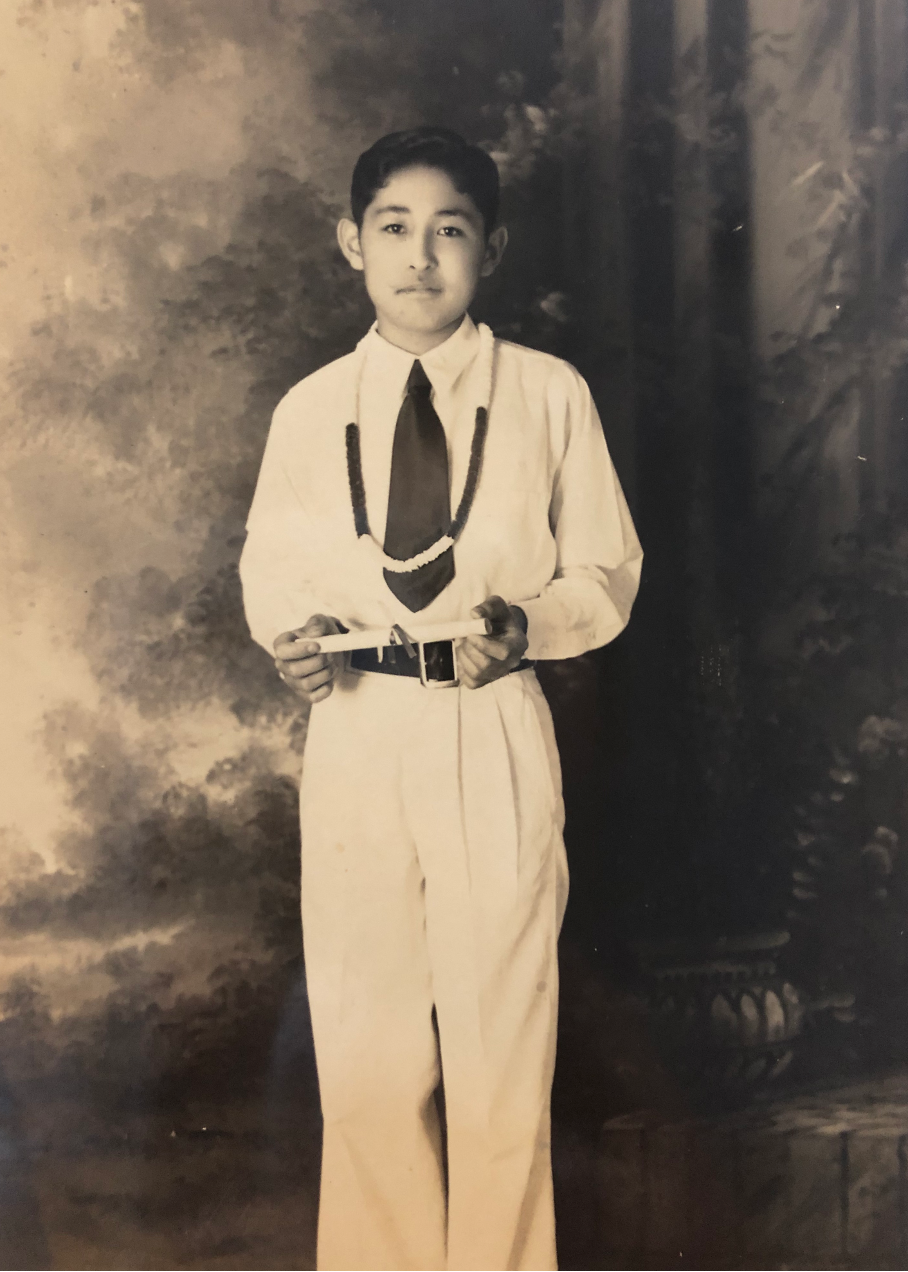 When Grove Farm Company purchased Kōloa Sugar Company, Grandpa Yasuo transferred to Grove Farm. He was later drafted into the military and after serving he returned home and continued working for Grove Farm. When Grove Farm closed its sugar operations, Grandpa Yasuo spent the last ten years of his working career with Līhu'e Plantation Company at the Fabrication Shop in Hanama'ulu.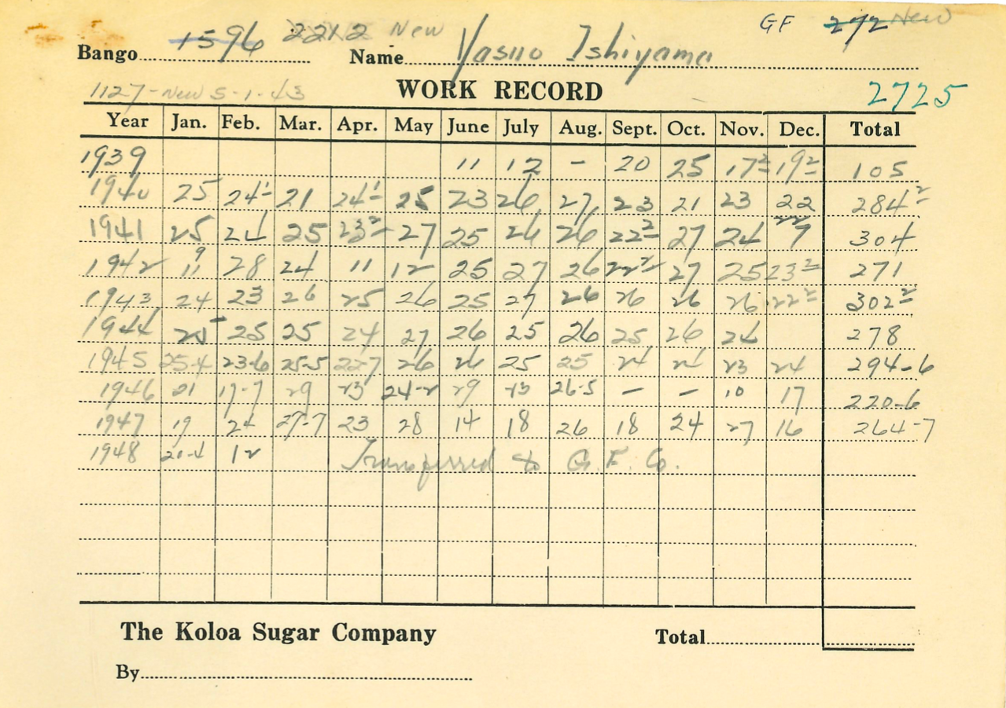 Rat Gang:
"We built galvanized boxes – about 18 inches long -- with a cover and openings on each end so the rats could go through," recalled Grandpa Yasuo at 97 years old. Grandpa Yasuo remembers with such clarity how as a young boy he was part of the rat eradication unit. "We mixed barley and coconut oil as the bait for the rats. Then, about three or four days later you mix the bait with the poison. The rats would take the bait and go somewhere else to die."
Grandpa Yasuo remembers that each station was placed about 20 footsteps apart. "The galvanized boxes were so heavy with sharp edges," he recalls "we carried about 20 boxes at a time in a bag."
The rats caused heavy damage to the sugarcane as they gnawed through the rind of the stalks. There were various methods for controlling the rats, and as you can see from the 1945 Grove Farm Company contract rates, laborers in the Rat Extermination unit was paid 1.3 cents per station.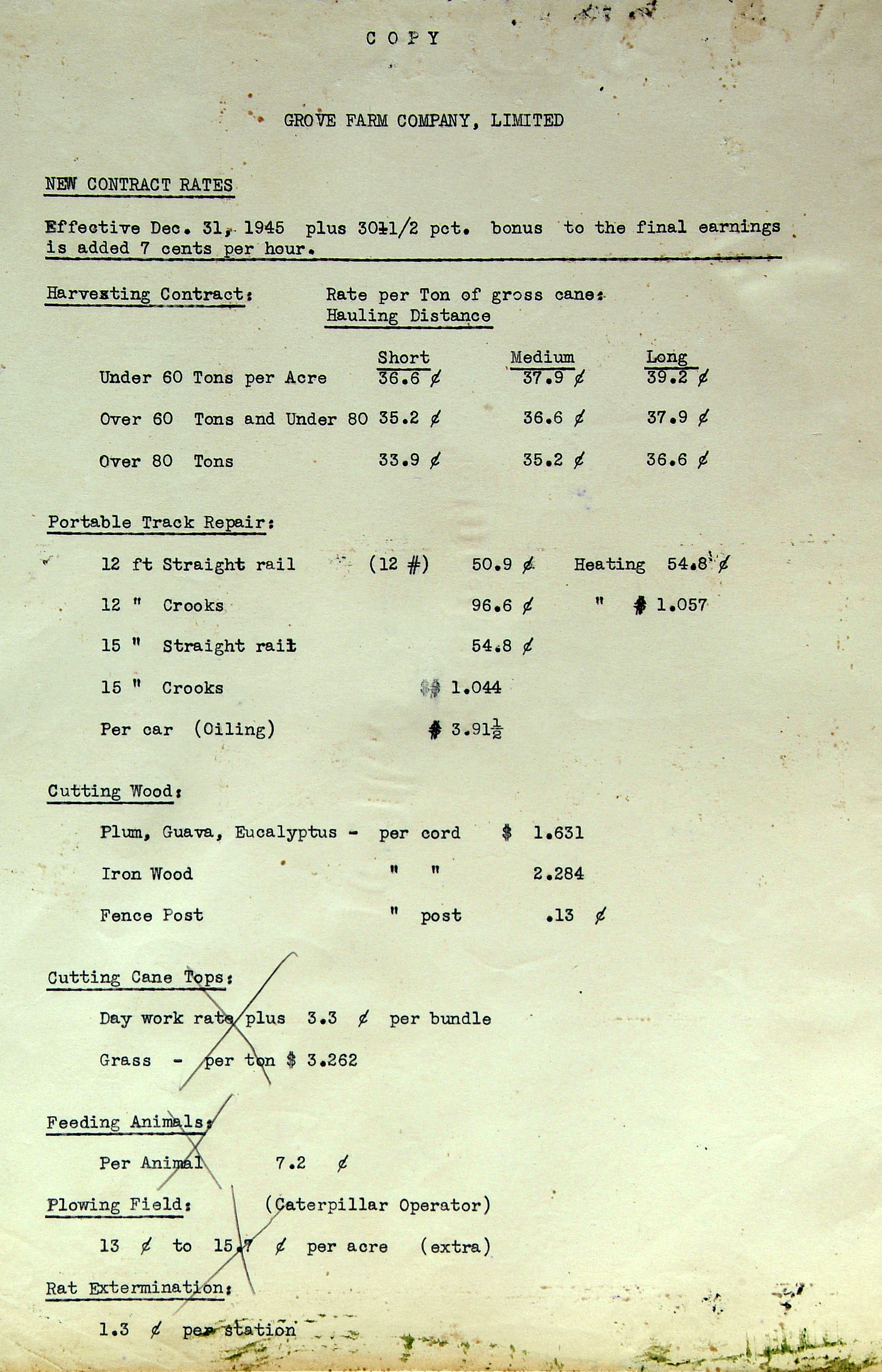 Wilcox Tunnel:
Grandpa Yasuo recalls when the Wilcox Tunnel was built. This tunnel was completed in 1949 and runs through the Haupu Mountains. The intent was to efficiently transport sugar cane to the Kōloa Mill for processing and transport raw sugar to the Nawiliwili Harbor for shipping.
By this time Grandpa Yasuo had honed his skills and worked in Puhi where carpentry, mechanics, welding and other trades were housed. He remembers when the Wilcox Tunnel was being constructed "You cannot use anything electric – only air pumps," recalls Grandpa Yasuo. "You didn't want any sparks in the tunnel to ignite with the gas, so it was only air pumps." It is over 70 years ago and Grandpa Yasuo can still recall "Mr. Carl Minium would pick me up. I would take my bandit clamp and fittings to the tunnel to repair the hoses."
Sabidong knapsacks and other tools:
With a talent for welding, Grandpa Yasuo used his skills to repair the sabidong knapsacks and pumps that were used to irradicate weeds in the fields. His talent for welding was recognized by Mr. Moragne, former Grove Farm Manager. Being a gifted engineer and inventor, Mr. Moragne would ask Grandpa Yasuo to weld implements he designed. Grandpa was skilled using a silver solder that allowed him to weld two different metals together – such as stainless steel to brass. "I made baskets to pick fruits, attaching the metal basket to a long piece of bamboo for the handle," Grandpa Yasuo recalls, "I welded a spray pump backpack for Mr. Moragne with a long nozzle on a swivel that he could control to spray his plants."
And then there was Fresh Milk:
When Grandpa Yasuo was a young boy he would be sent by his mom to pick-up the family's stipend of milk and meats. He recalls having to walk quite a distance from his Kōloa camp home to the dairy to get his family's allotment of fresh milk. To ease his journey, he built a wagon with supplies he found and put on "extra-large wheels." The wheels were made from covers of the shoyu barrels. Grandpa Yasuo recalls "shoyu use to come in these big wooden barrels. I would look for the covers to make wheels for my wagon." Such cleverness at a young age to make gathering his fresh milk much easier.
There are so many of these amazing stories of life on the plantation and we wish we could capture it all -- for as the generations pass, we don't want these wonderful stories to be forgotten.