Brief history of Kauaʻi's Waita Reservoir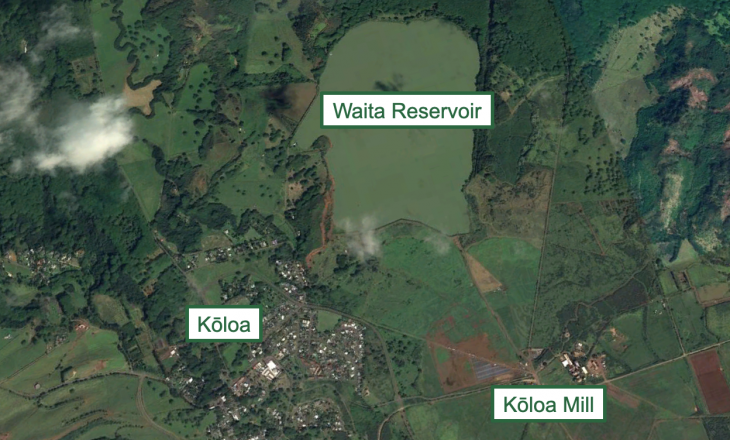 ---
Waita Reservoir, with an area of 425 acres located on a site overlooking Koloa and bound on three sides by hills and a 28-foot-high dam on the fourth, is second in size in the state of Hawai'i only to Halaliʻi Lake on Ni'ihau with its 841 acres of area.
Lake Wilson on O'ahu, at 422 acres, is slightly smaller than Waita, but is deeper and therefore holds a larger volume of water.
The derivation of the word "waita" is half-Hawaiian and half-Japanese — "wai' for water in Hawaiian, and "ta" in Japanese when used as an adjective means much or many.
However, Waita Reservoir's first name was Marsh Reservoir after the original marshland condition of the area.
In 1840, Kōloa Plantation made plans to drain the marsh, which was unsuitable for agriculture, in order to plant sugarcane there, and by 1856 drainage work was finally underway.
Interestingly, a prehistoric forest was discovered buried within the marsh that supplied Kōloa Plantation with 200 to 300 cords of wood annually for quite some time.
But, Kōloa Plantation's effort to drain the marsh, which went on for about 20 years, ultimately proved unsuccessful.
Consequently, a proposal was made in 1900 to turn the marshland into a reservoir under the direction of J. S. Maloney.
Six years later, in 1906, when Pat McLane was manager of Kōloa Plantation, Waita Reservoir was completed with a capacity of about 1 ½ billion gallons, and at an estimated cost of $25,000 (roughly $747,000 in 2021 dollars).
Then in 1909, the Waita dam was raised another five feet to increase the capacity to slightly more than two billion gallons.
Its volume was later increased again by another 72,000,000 gallons.
Inflow comes from as far away as the Wailua River and drains the Mount Wai'ale'ale watershed.
The reservoir supplied irrigation water for cane fields and the Koloa mill for Kōloa Plantation 1906 to 1948, Grove Farm 1948 to 974, and McBryde Sugar Co. 1974 to 1996.
Waita Reservoir currently serves farming tenants of Grove Farm, a golf course, and the Makauwahi Cave Reserve, and has long been a haven for native birds and migratory fowl.