Grove Farm Newsletter – September 2021 Edition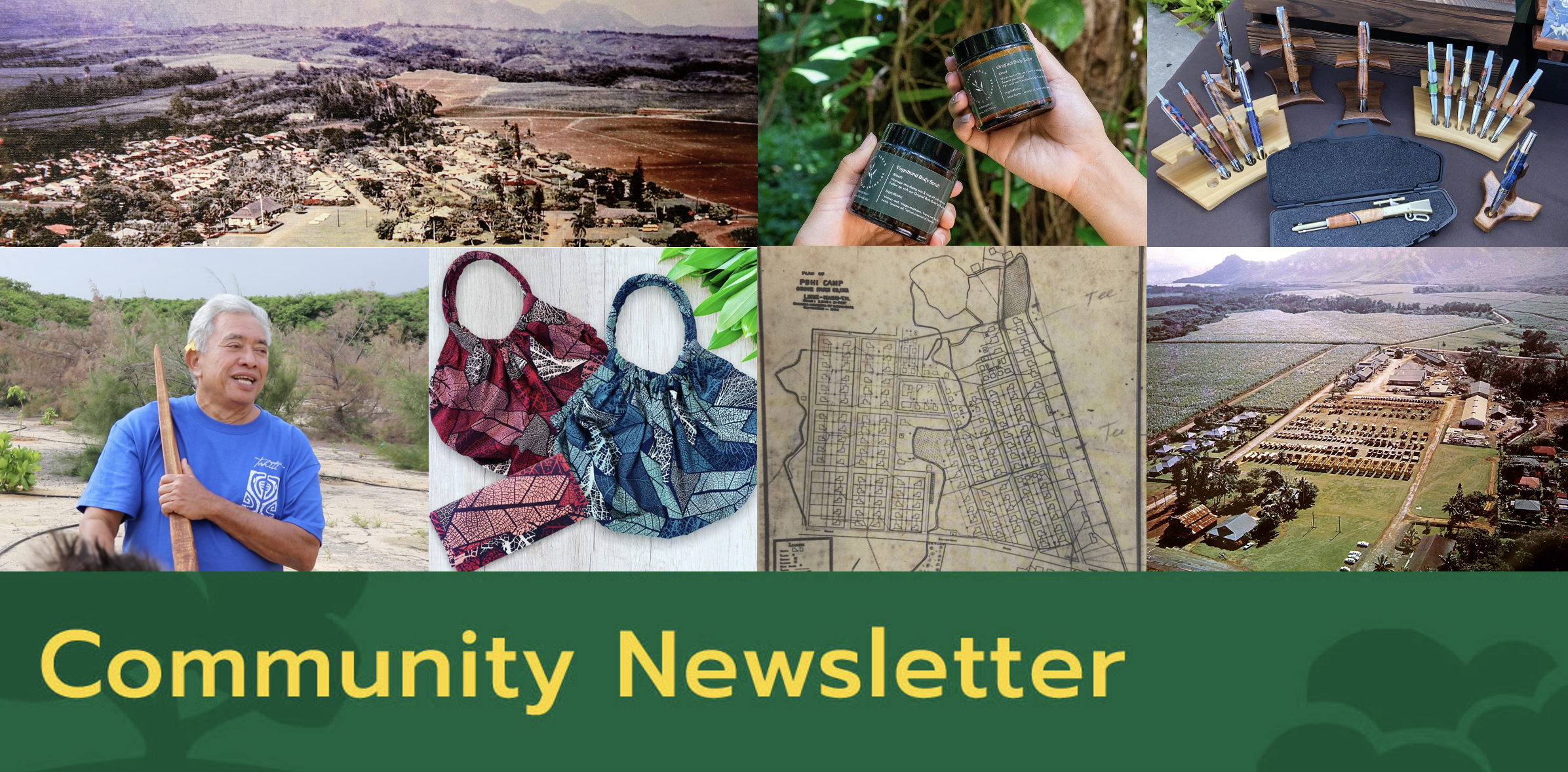 Learn about the history of Grove Farm's Puhi Park and the surrounding area. Farewell to Kōloa and Native Hawaiian Historian Teddy Blake – who passed away early last month.

Mark your calenders for the Craft Fair at Puhi Park happening at 9:30 a.m. on September 25th!
Grove Farm's Puhi Park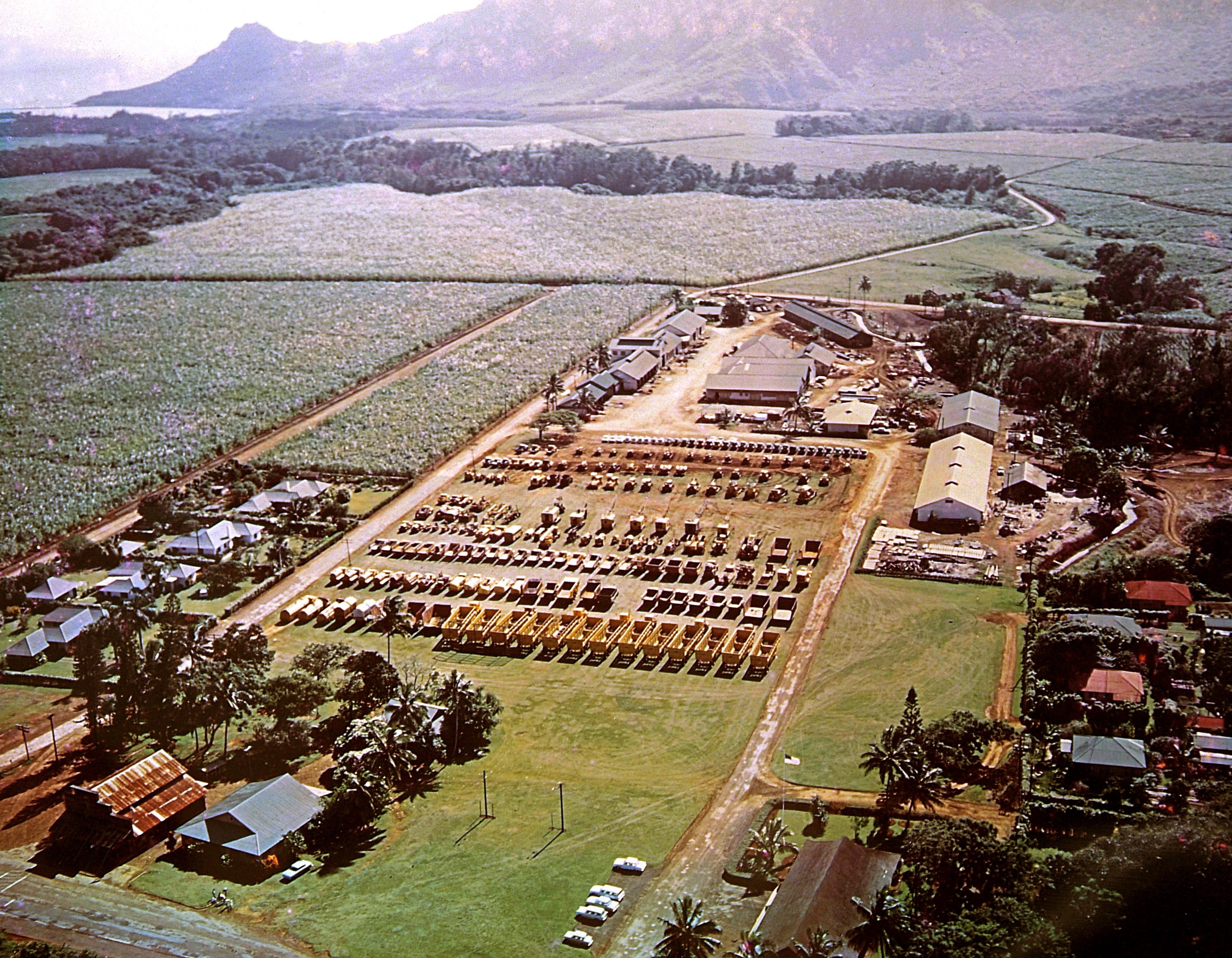 During the heyday of the sugar industry, Grove Farm's Puhi Park served as the plantation's lot for its impressive fleet of field equipment. The areas surrounding the park had many important components of plantation operations, including the many "shops" that housed specialty trades such as carpentry, machinery, fabrication, and auto repair. There was also an icehouse and stables. Adjacent to the park, along Kaumuali'i Highway, was Puhi Store and heading west was the Grove Farm headquarters office.

The hand-drawn sketch below depicts the former industrial area where many of the structures are still standing today, including our Grove Farm office.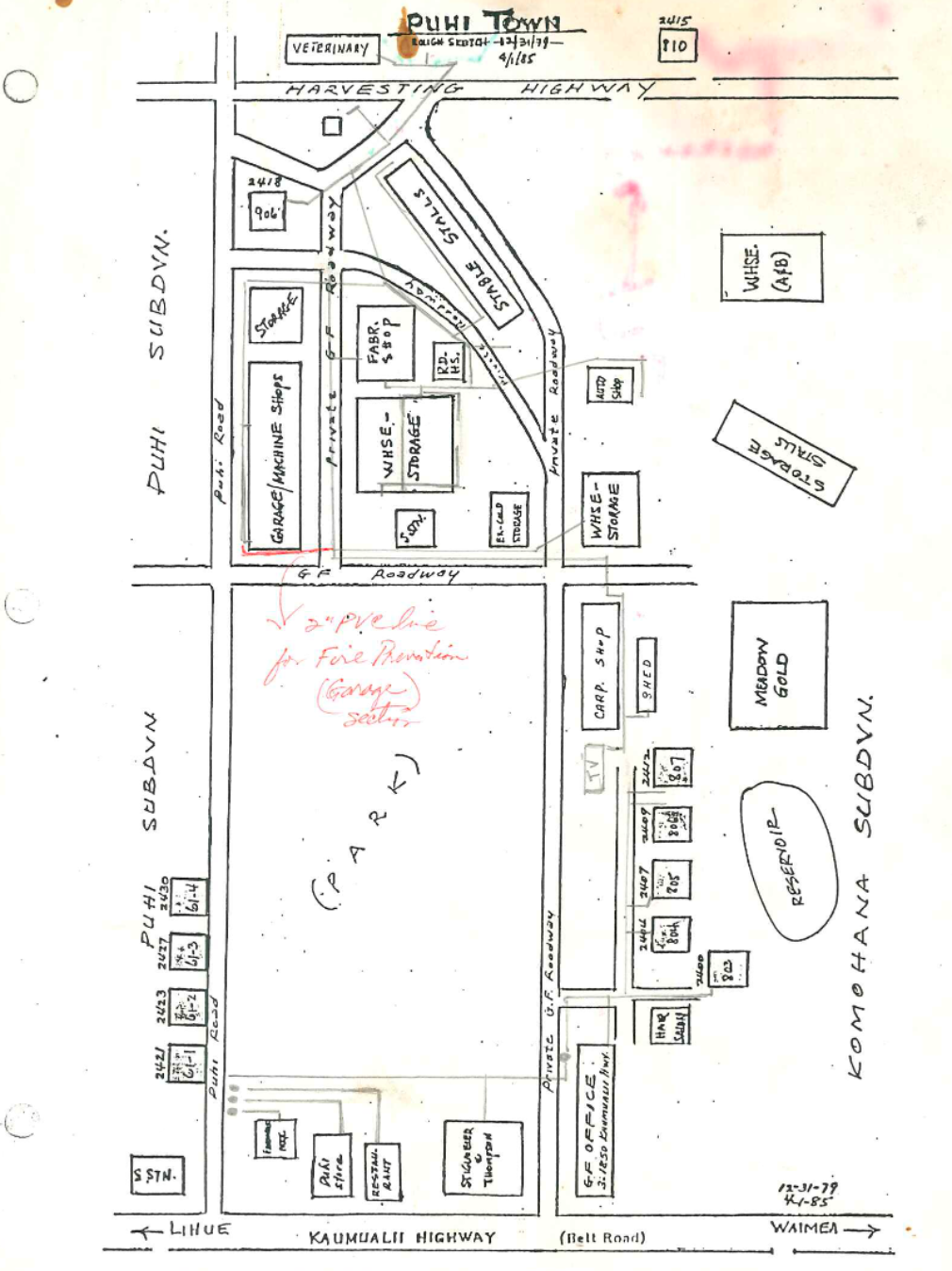 Many of the plantation's laborers and their families lived in Puhi Camp, which was located mauka of Kaumualiʻi Highway. Families were eventually given the opportunity to own their own homes, and plantation camp life, as they knew it, was replaced by educational centers such as the Kauaʻi Community College, Kawaikini, Pūnana Leo and Island School.

The center of plantation operations was surrounded by acres of sugarcane fields. In the 1970's, Grove Farm converted former sugar cane fields adjacent to Puhi Road with fee simple house and lot packages that were prioritized for its employees. In fact, Grove Farm was the first plantation in the state to allow employees to buy their own homes!

As the sugar industry slowly faded, so did the fleet of heavy equipment and trucks that once served Grove Farm. Today's Puhi Park is a green space surrounded by a community of homes, businesses, and schools. A low hollow tile wall surrounds the perimeter of the park – and Grove Farm keeps the park regularly maintained.

Puhi Park has been actively used for youth sports practices and a host of community activities. The Park is bustling with activity on Saturday mornings with the farmers' market. The Grove Farm Market started with the island-wide shut-down at the start of the pandemic. The five-acre park provides our farmers a venue to sell their produce, while offering the community a safe place to purchase fresh produce in an outdoor setting where adequate social distancing is possible.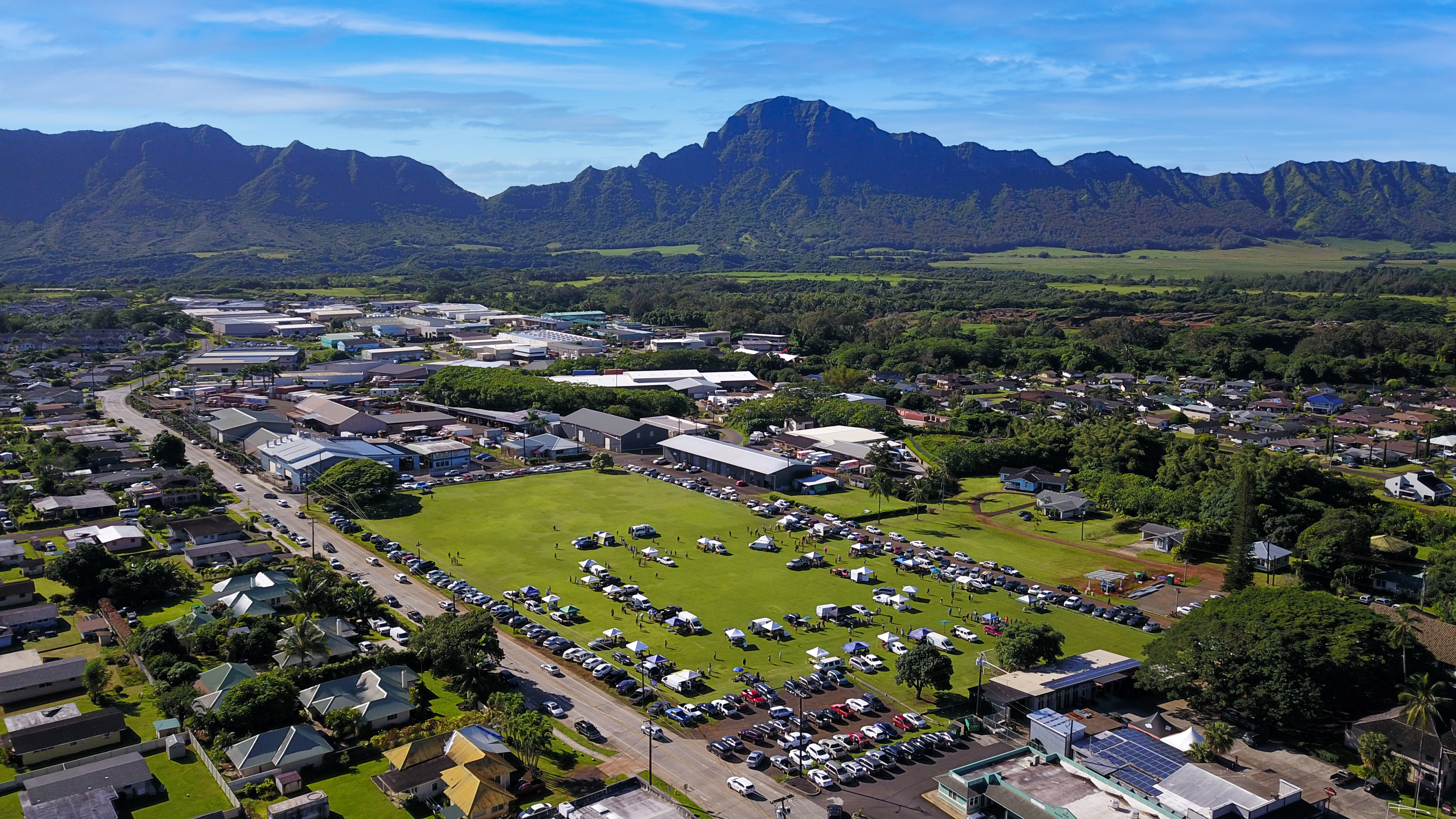 There is an ever-growing diversity of vendors on Saturday mornings, including value-added producers and food trucks. We've been told that in this time of social distancing, the Puhi Park also serves as a safe place to meet up with old acquaintances in an open-air setting – just as long as all required protocols are followed!
---
Aloha Teddy Blake

Earlier this month, Kauaʻi lost a man who was a passionate advocate and native Hawaiian historian. We mourn the passing of "the Puakenikeni Lei Man," Teddy Blake. Teddy was a pioneer in making his hometown of Kōloa a better place -- not only in his lifetime, but for the future of all generations to enjoy. Teddy was an encyclopedia of native Hawaiian and Tahitian culture, historical sites, and history.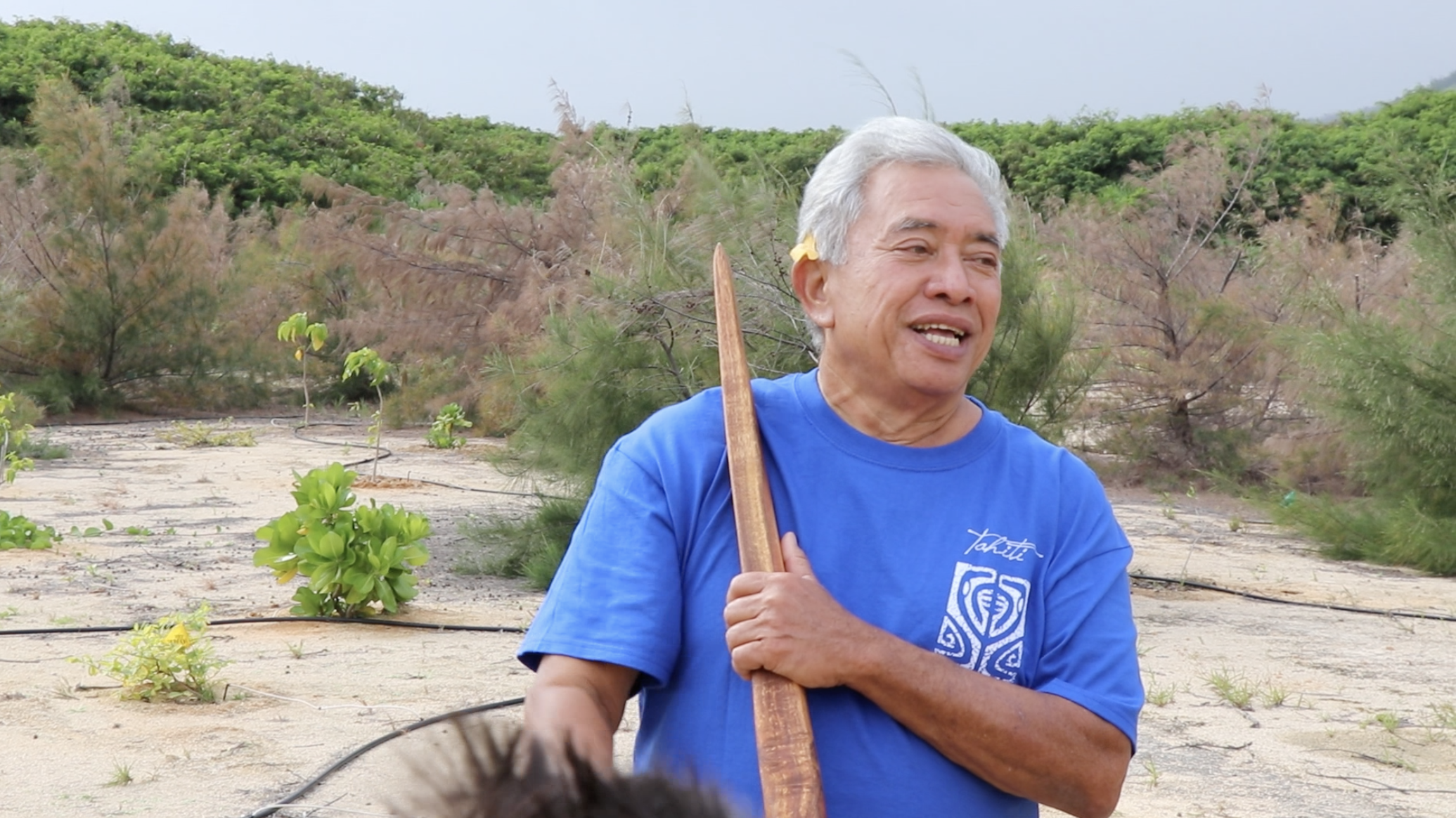 Grove Farm had the privilege of working with Teddy who graciously volunteered as a kupuna for our Educational Modules program. Whenever schools visited Makauwahi Cave Reserve, Teddy was always willing to take the time to share with the students the history of Kōloa and native Hawaiian life. He taught the students that the ahupuaʻa system was a sign of respect for one another's space and their resources -- where sharing and trading were a way of life. He also had a fascinating story about how Hawaiians moved water to irrigate Kōloa before modern day instruments, by simply using two people of the same height and the horizon to determine elevations.

Teddy Blake was also an advocate of sustainability. His dad was a tomato and watermelon farmer, and his property had many different fruit trees which was always shared with neighboring families. Teddy believed that we could get back to the ways of our kupuna and make Kauaʻi more sustainable. We will miss Teddy!
---
September 25 Craft Fair at Puhi Park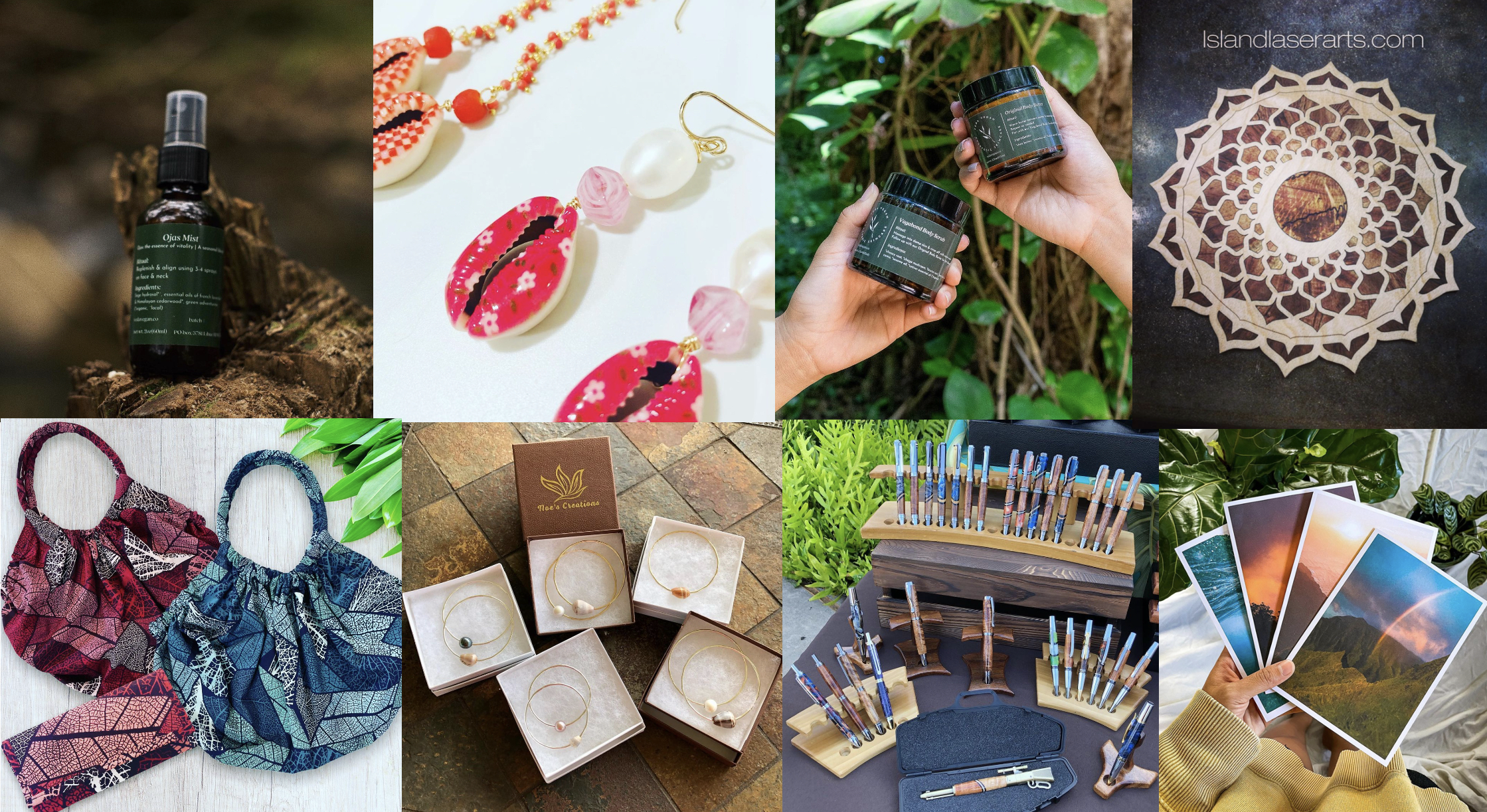 To celebrate local artists and entrepreneurs, quarterly craft fairs will be held in conjunction with the Grove Farm Market on the makai side of Puhi Park. Various locally made products will be showcased at each event, highlighting the talents and creativity of the people of Kaua'i.

Interested vendors should fill out a Vendor Application form by Friday, September 3rd. Completed applications may be emailed to Nikki Ige at nige@grovefarm.com or mailed/dropped off to the Grove Farm Office at 3-1850 Kaumuali'i Highway, Līhu'e, Hawai'i 96766.

Your application will be reviewed by our market committee, and we will let you know whether you are approved to sell. The submission of an application serves as your agreement to abide by the Craft Fair Rules, which can also be downloaded here.

Please visit our inaugural Grove Farm Craft Fair at Puhi Park on September 25th, starting at 9:30 a.m. Please wear a mask and be safe!