From Farming to Philanthropy: Sakda and Usa's Journey of Sacrifice, Success, and Giving Back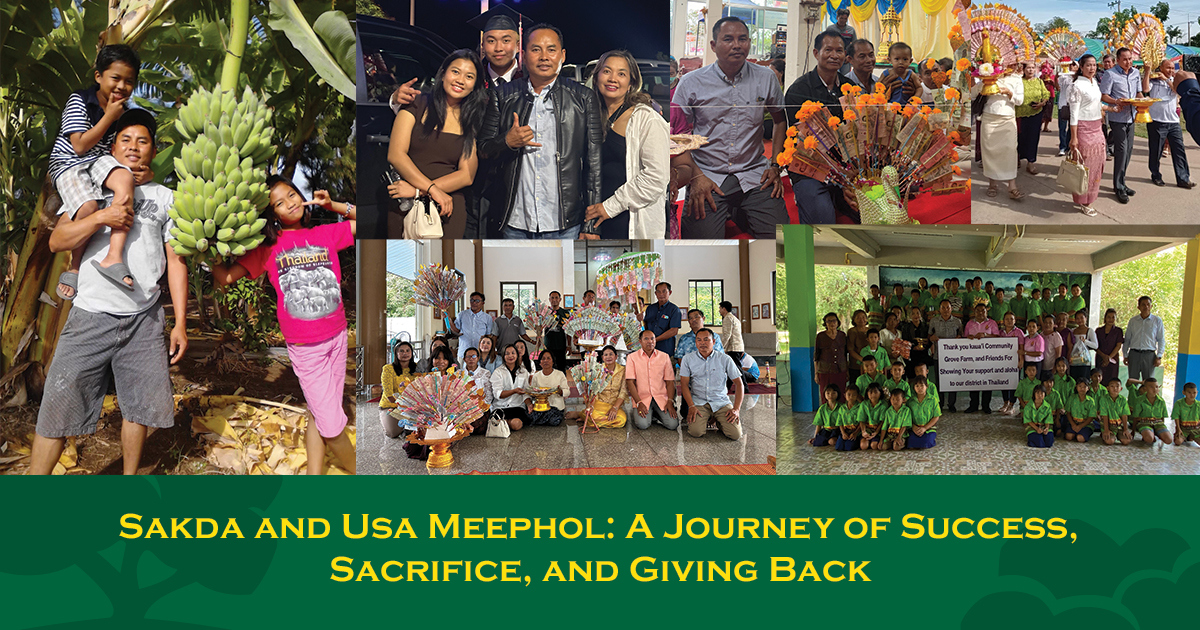 Sakda and Usa Meephol: A Journey of Success, Sacrifice, and Giving Back

The years have flown by since we first shared the incredible journey of Grove Farm farmers Sakda and Usa Meephol and their family's move to Hawai'i from Thailand. Back then, their daughter, Tunyarut, affectionately known as "Bee," was attending Kaua'i High School, while their son, "Book," went to Kōloa Elementary School. Both children had been born in Thailand, and spent their early years apart from their father, who had ventured to Hawai'i in search of a better life for his family.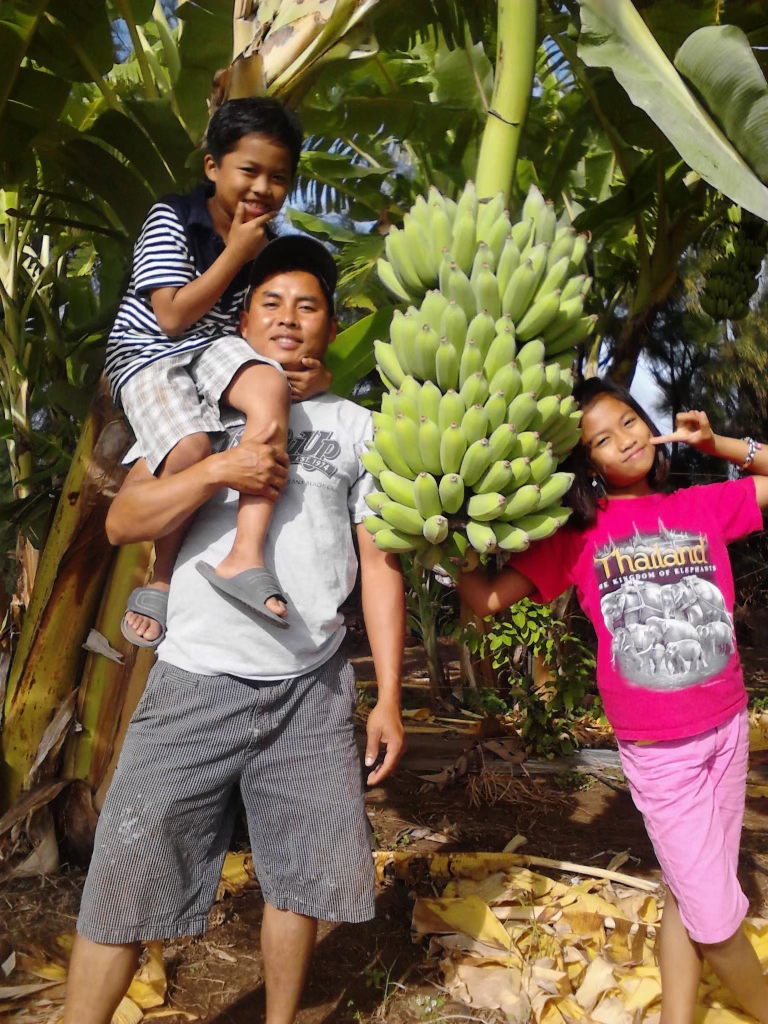 Venturing Out into the World
Sakda came to Hawai'i in 2004, and was able to bring Usa, Bee, and Book to Hawai'i in 2012. Now, Bee is in her third year at Washington State University in Pullman, Washington, while Book has just begun his first year at Colorado Mesa University in Grand Junction, Colorado.
Embracing the Empty Nest
As both children venture out into the world, spreading their wings, Sakda and Usa find themselves embracing the "empty nest" phase. They truly miss Bee and Book, who used to help out on the farm and could frequently be seen lending a hand at the Farmers Markets and Kōloa Produce Stand.
The cost of sending both children to mainland universities seemed unimaginable, but Sakda and Usa were willing to work long, grueling hours and make sacrifices to ensure that their children could thrive in America. And here's some wonderful news: The entire family became U.S. citizens this year!
Never Forget Your Roots
Sakda has sage advice to offer his children. He often tells them, "It's good to look forward, but always remember to look back too – remember where you came from. Don't forget." As they navigate their own paths, Bee and Book can always count on their parents to serve as living reminders of their roots.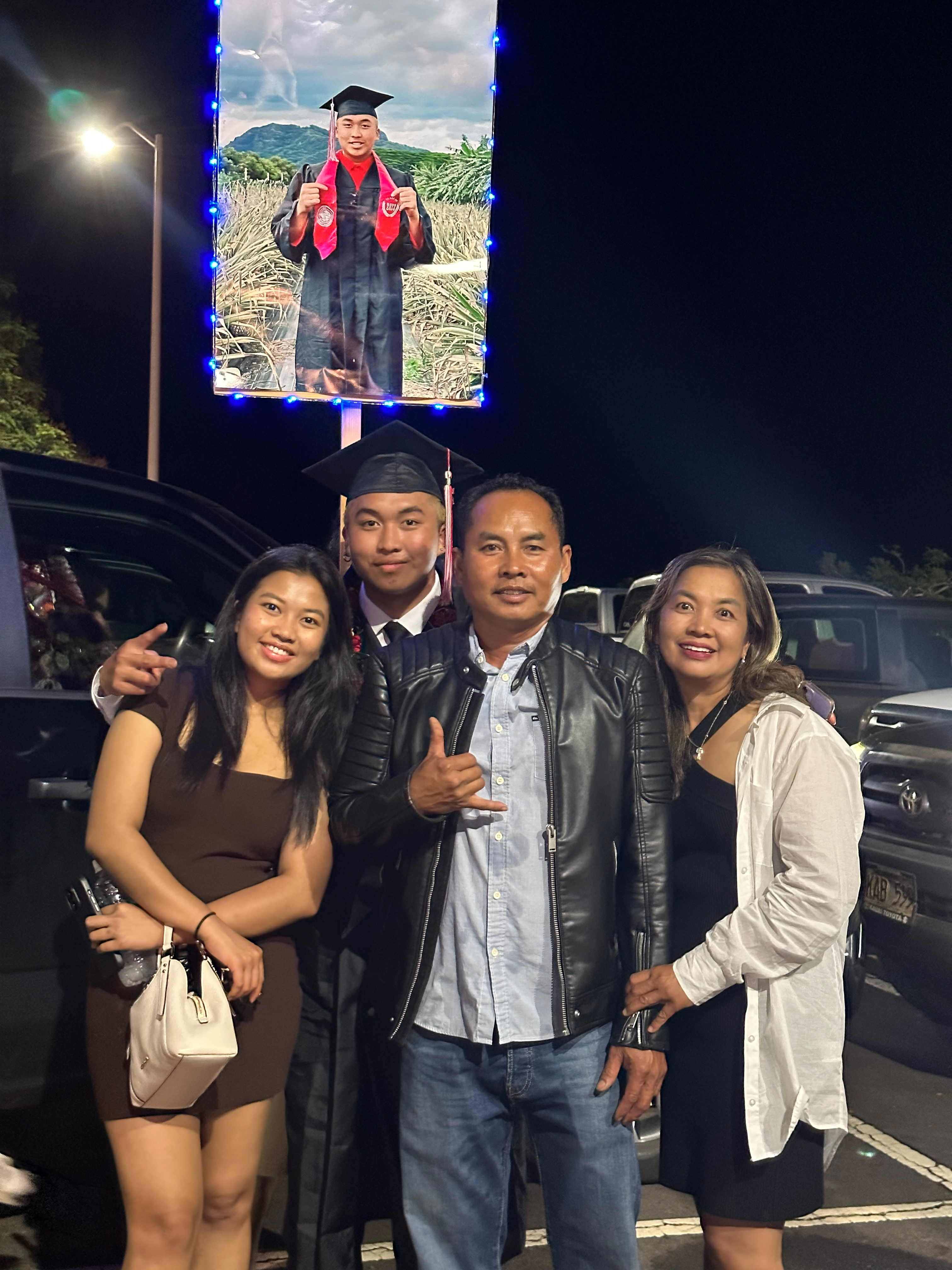 Pay it Forward
Sakda has built a successful life as a farmer in Kōloa and Māhā'ulepū, receiving acclaim for his outstanding produce including honey watermelons. This past summer, Sakda, Usa, and other Thai farmers decided to return to Thailand to provide aid and support to their hometowns. The Thai custom is for the husband to move in with his wife's family, and so Sakda and Usa journeyed to reconnect with Usa's family in Ban Thaen for the first time in a few years.
Giving Back to Ban Thaen
Located in Northeast Thailand, Ban Thaen is a rural district with limited medical resources – only a hospital offering primary care operates there, without any emergency response services. Due to its remote location and sparse population, this region receives little to no government support.
Seeing this pressing need, a group of dedicated volunteers formed an organization to fill the gap between emergencies and hospital care. Compromised of adults and high school students, they function as a mobile response unit. Sakda and his family rallied other farmers and raised funds to make generous donations to this volunteer organization, going above and beyond to purchase neck braces, AEDs, and other essential equipment to improve the effectiveness of their ambulance.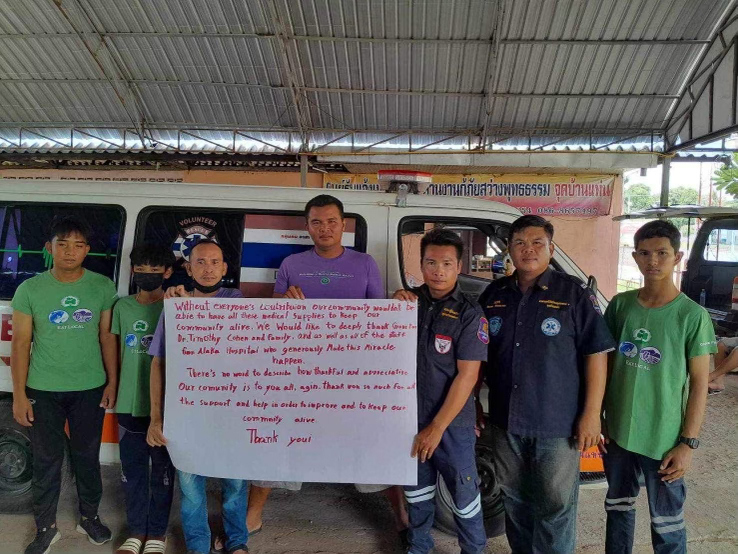 Sakda, his family and his fellow farmers also donated to Usa's old elementary school, a humble institution serving approximately 49 students across all grade levels. Unfortunately, the government doesn't provide significant financial assistance for maintenance and renovations due to the school's small size. The donation from Sakda's family and his fellow Thai-immigrant farmers will play a significant role in constructing the long-awaited cafeteria. Soon, students and faculty will have a dedicated space to prepare and enjoy their meals.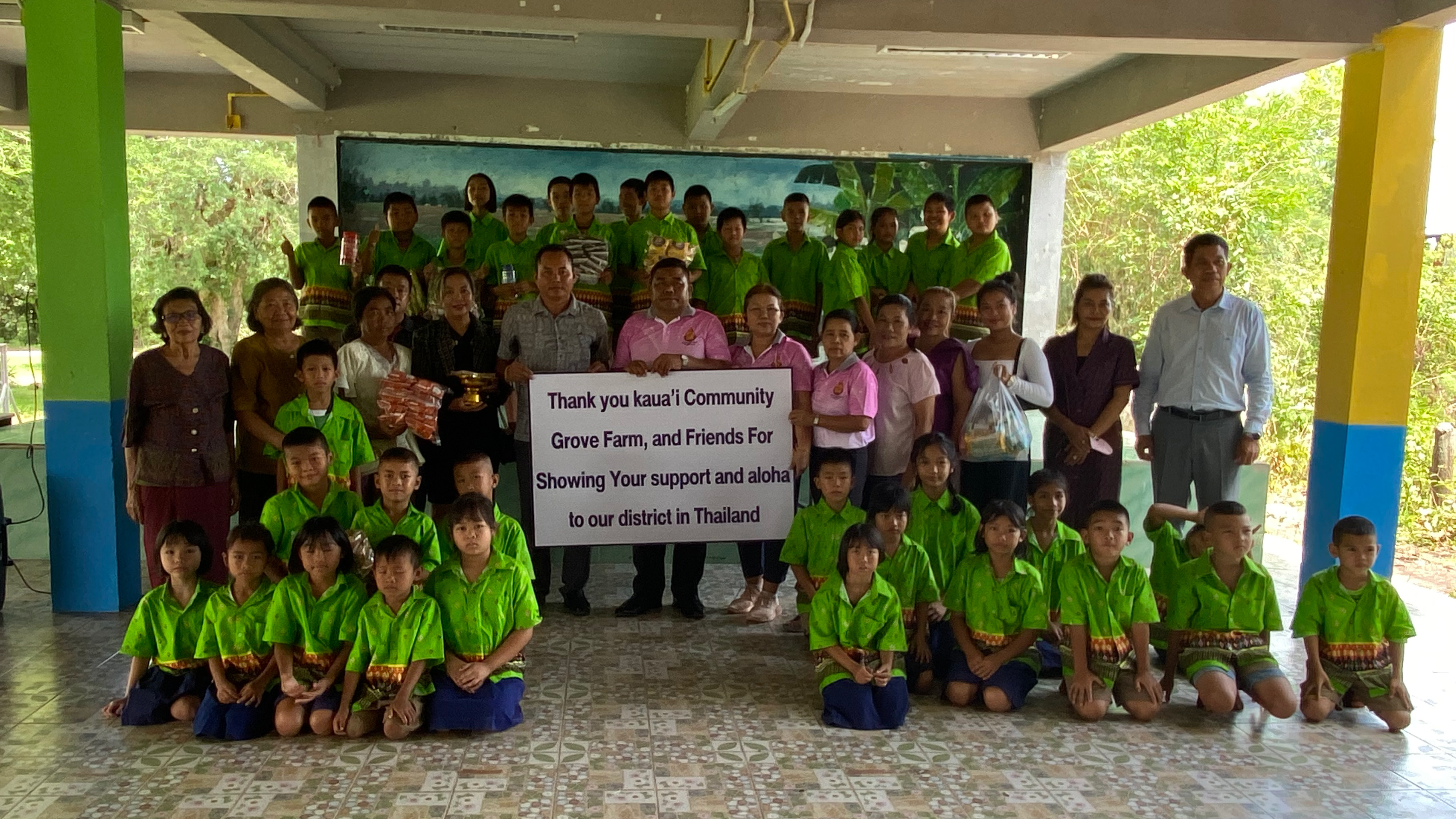 As a final stop, Sakda and Usa joined a two-hour ceremony and dinner at the town's central temple. Sakda and Usa firmly believe that leading a good life requires a strong foundation in faith, cleansing the heart and intentions. By combining their efforts with other Thai farmers on Kaua'i, Sakda and his family contributed to the temple's ongoing renovations.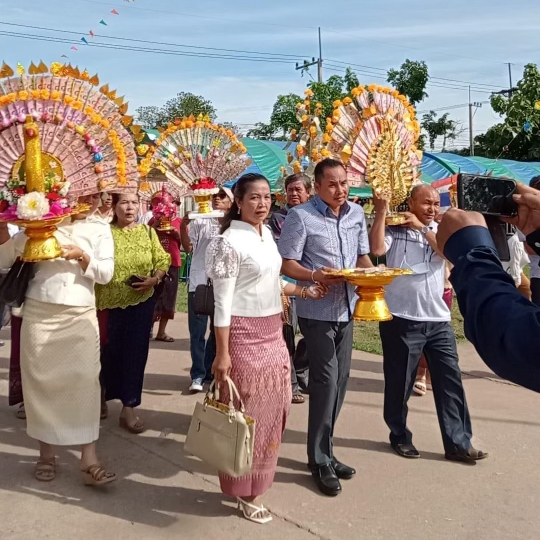 Spreading Hope
The dedication and generosity of Sakda, Usa and the entire Thai Farming community from Kauaʻi are truly inspiring. And this past summer was just the beginning. They plan to assist more hospitals, schools, and temples in Thailand, and their hope is to visit their homeland once again soon. To explore more captivating stories about our incredible farmers, click the link below!
---
Department of Water Make a Splash
On Sept. 15, the County of Kaua'i Department of Water (DOW) organized the state's largest and only water festival, the 18th Annual Make a Splash with Project WET (Water Education Today) Festival, at the Vidinha Stadium soccer field in Līhu'e. More than 500 fifth graders spent the day discovering where their water comes from and learning about the importance of protecting this precious resource. The event was a great success, thanks to the efforts of dedicated volunteers from across the state.
Caring for Kaua'i's water resources is a crucial part of Grove Farm's operations as the provider of 20% of the island's drinking water and steward of 38,000 acres of land. From operating the Waiahi Surface Water Treatment Plant and maintaining historic water systems to ensuring a stable water supply for residents, agriculture and businesses, Grove Farm is committed to building a sustainable Kaua'i.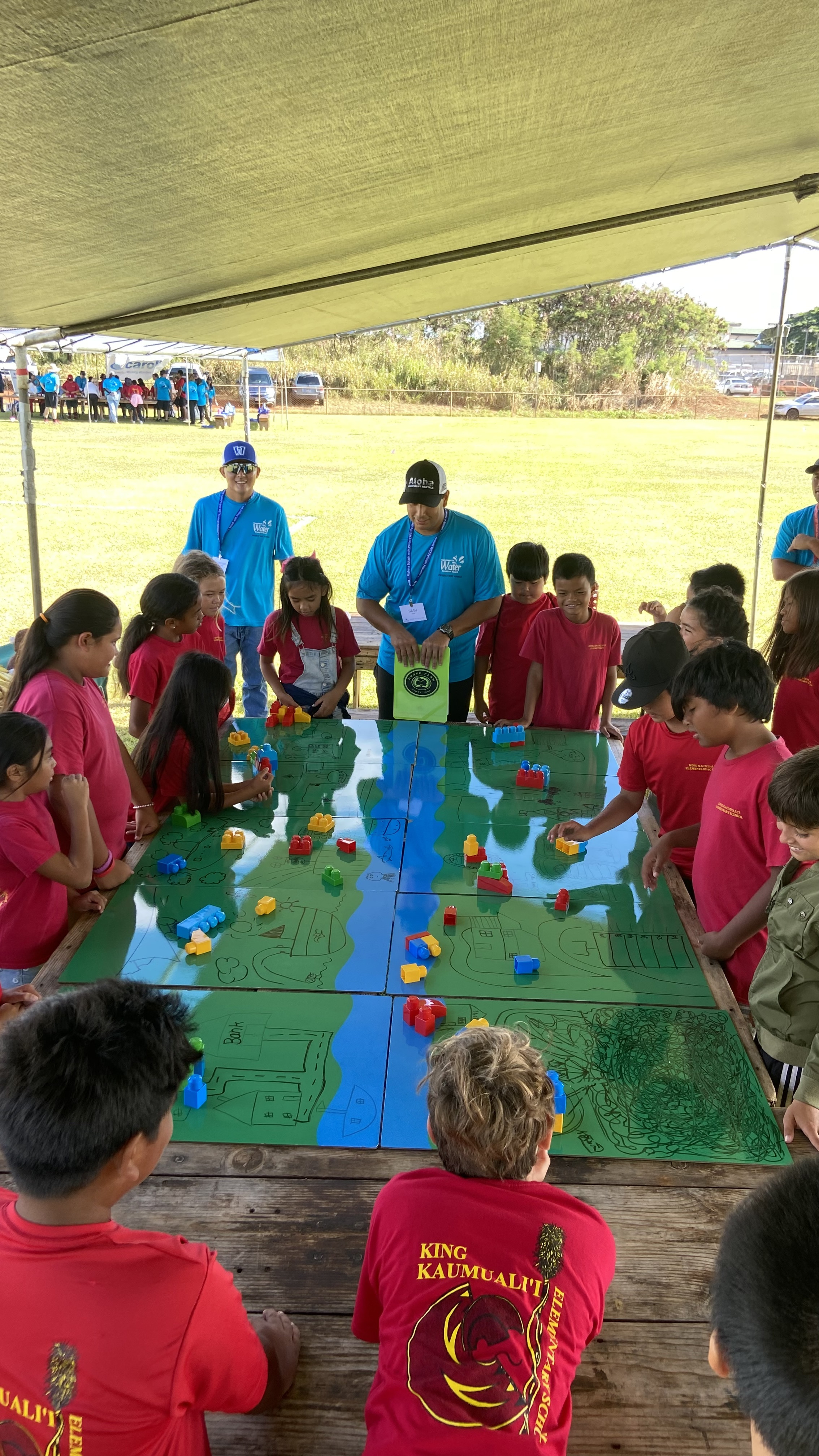 At Make a Splash, volunteers from Grove Farm including Sharyl Lam Yuen, Beau Acoba, Kevin Reyes, Sunee Putisan, Marleen Duarte, Justin Uegawa, and Braden Kobayashi, facilitated a fun exercise for the students called "Sum of the Parts." The students were asked to draw their own "developments" along a river while being mindful of the waste that those developments could generate. The main message was to take responsibility for our ʻopala and avoid letting it end up downstream. It was a valuable lesson in caring for our environment.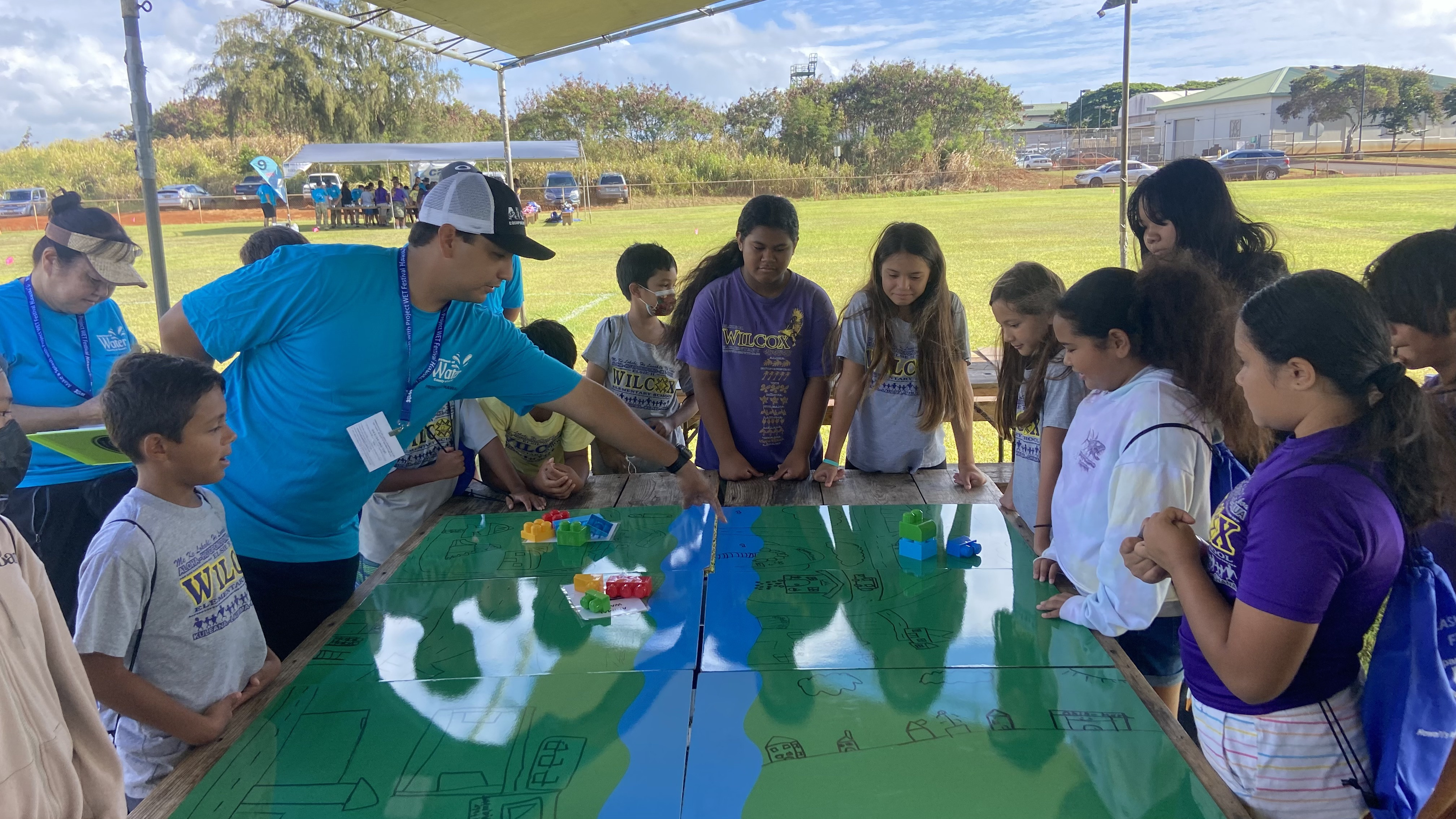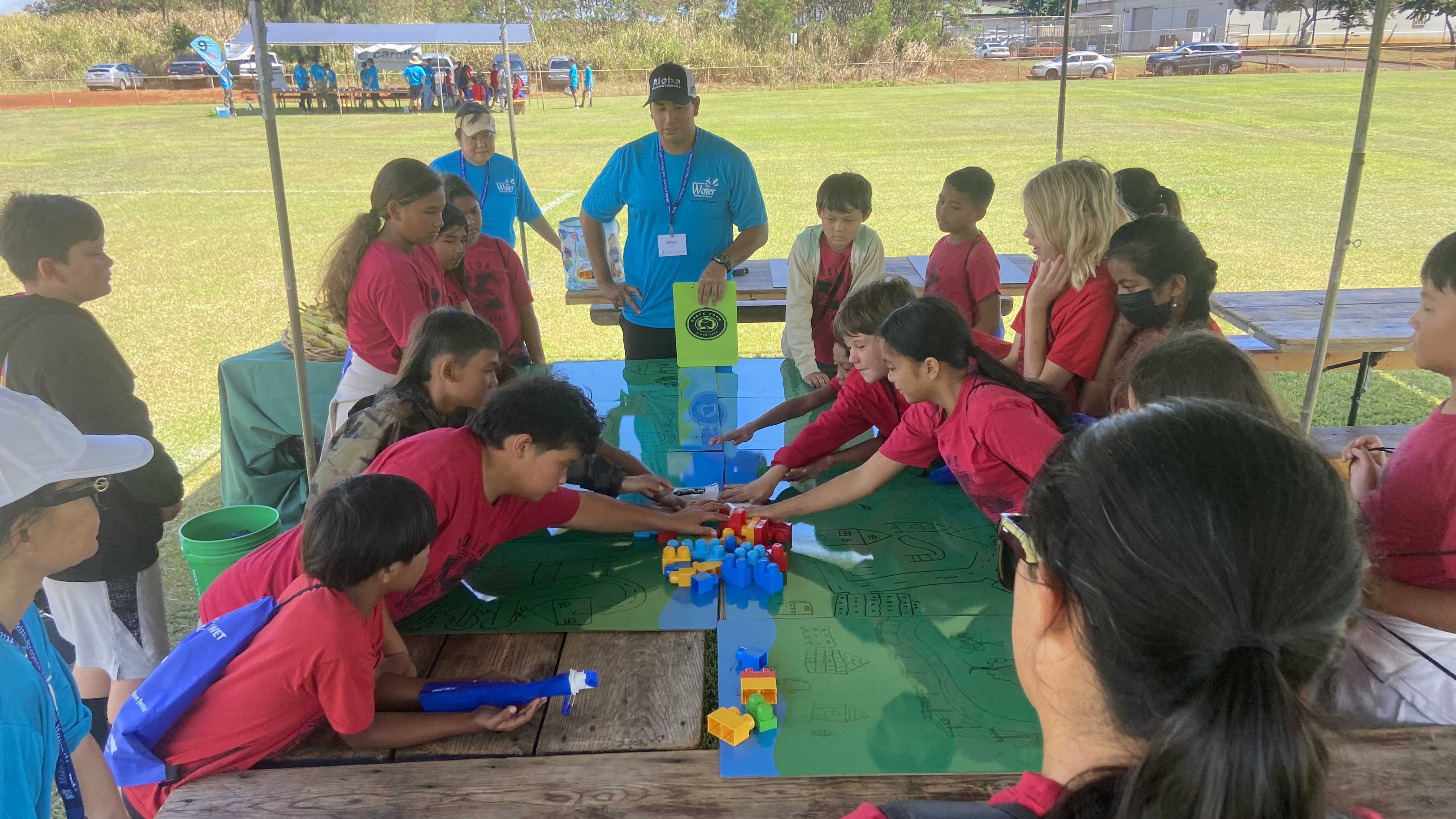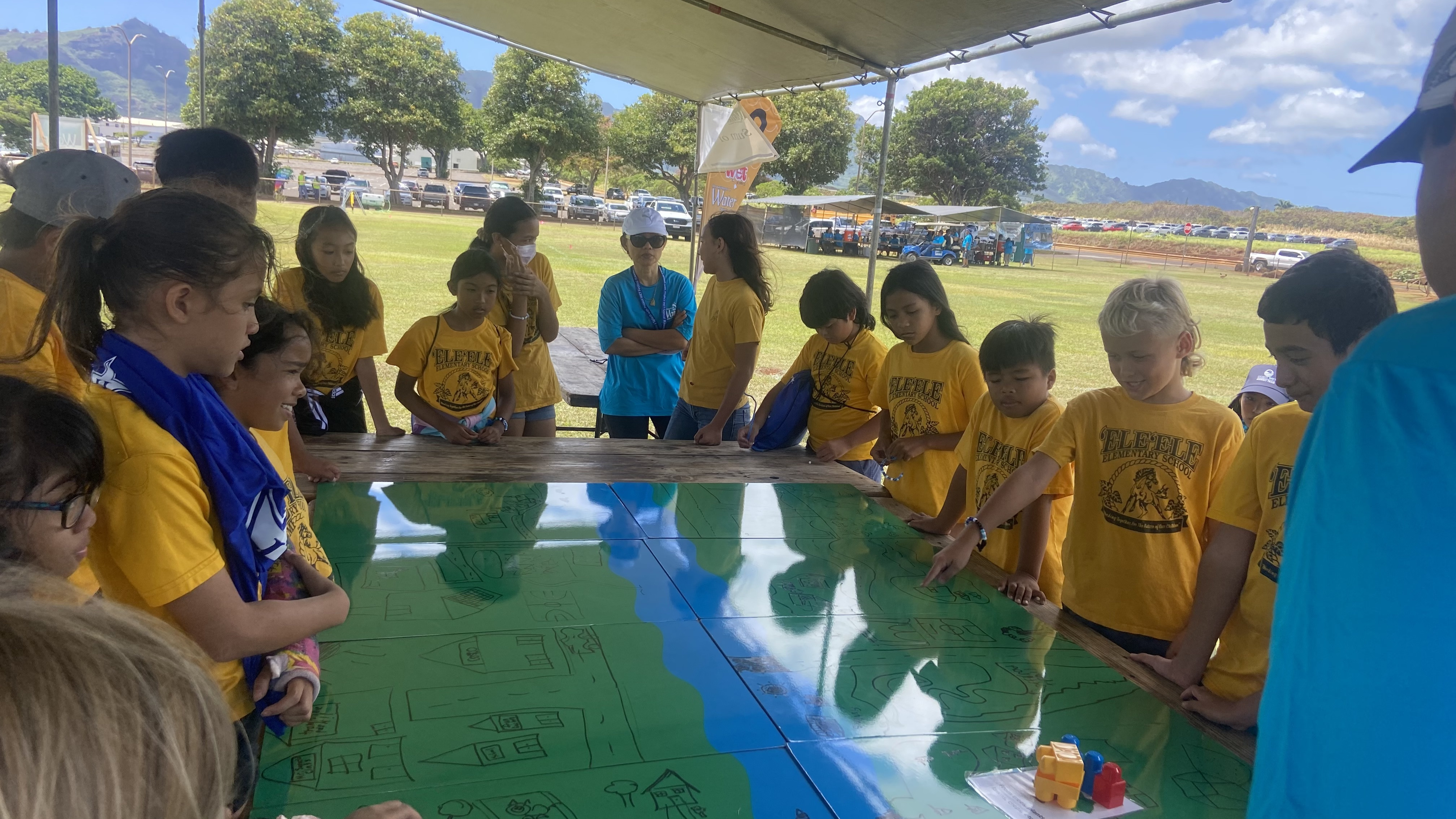 Mahalo to the hardworking DOW staff and the volunteers from all islands for providing such a wonderful event for the students!
---
Learn About Sustainable Water
In honor of the national "Imagine a Day Without Water" observance, the Department of Water will join us at the upcoming Grove Farm Market on Saturday, October 21st! Make sure to drop by their booth to learn about Kaua'i's water infrastructure and water management and receive a free collapsible 1-gallon water jug.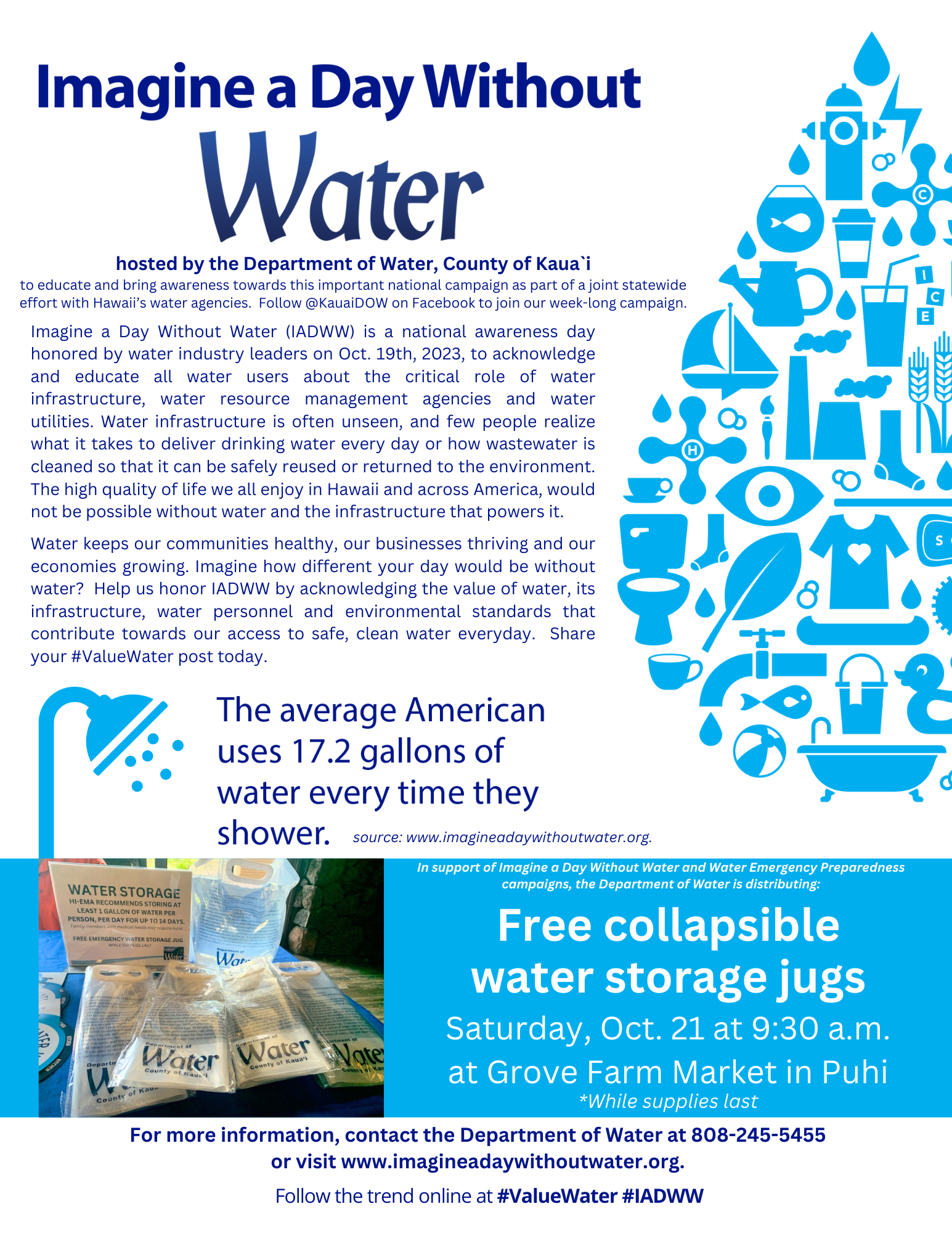 ---
Mark Your Calendar for Back-to-Back Fall Fairs
Grove Farm Market and Craft Fair
Saturday, October 7
9:30 a.m. - 12:30 p.m.
Come out and show some love for our amazing local artists and entrepreneurs at the fall edition of the Grove Farm Market and Craft Fair. Vendors set up shop alongside the lively Grove Farm Market, on the far side of the Puhi Park field, every first Saturday of every even month.
Harvest Festival
Saturday, October 7
11 a.m. - 5 p.m.
After the craft fair, head out to the 10th annual Harvest Festival on the sunny West Side. There will be entertainment, food booths, rides, and free locally grown pumpkins for Kaua'i's keiki! Mahalo to the Kekaha Agriculture Association and the supporters of agriculture for putting this fun event on!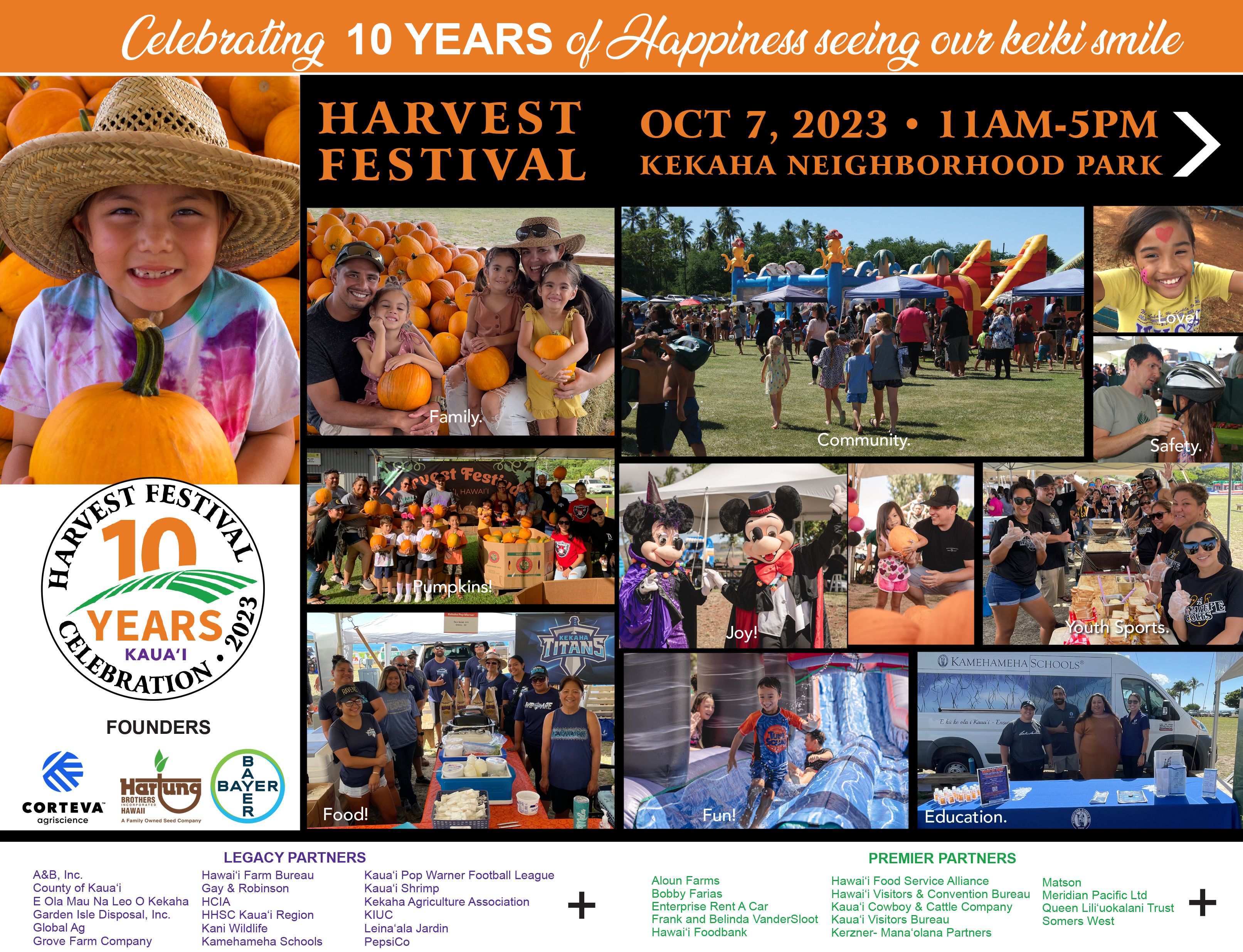 Free Pumpkins
Saturday, October 28
9:30 a.m. until supplies last
Free pumpkins will also be given out at the October 28 Grove Farm Market by the Kekaha Agriculture Association and supporters of agriculture. The Market opens at 9:30 a.m. so come to the park early to pick-up your free pumpkin!