Ron Ota
Malumalu Farm's lush, ten-acre plot is located on Grove Farm lands in Puhi. Although the feral pig population no longer allows taro to be grown, the area is carved for agriculture and continues to flourish with some of nature's most breathtaking gems growing from stalk to stem. Rich in history, family tradition, and even buried treasure, Malumalu Farm rests solidly on the shoulders of a third-generation farmer, Ron Ota.


As a child, while other kids his age were out playing and you know, being kids, Ron found his fun at the farm, tending to various crops with his father and eight aunties and uncles. Summers, winter breaks, and every day after school, Ron thinks he spent 350 days out of the year at the farm.
Ron retired from his day job in 2003. Every day since he's cared for the farm his grandparents started in 1910. Dedication and integrity are values that have transcended through the Ota family. "My father would never sell a soybean that had less than three beans inside of a three-bean-pod. He always made sure," Ron says. During the plantation era, it's no surprise his family was chosen to supply strawberries and other produce to the Wilcox family.
"Hard work" will always find its way into farming conversations. In addition to the farm, Ron's grandfather worked for the Lihue Ice Company and delivered ice by horse-and-buggy to the north shore. Ron jokes how the once 100-pound block would be nearly 50-pounds by the time it was delivered.

Today at Malumalu Farm, you'll find the Kaua'i Morning Sun, Polynesian Princess, and Sexy Pink – 3 of the 50-plus varieties of heliconia that Ron grows. You'll also find several varieties of ginger, fruit trees, and quite frankly, too many other plants to name. As Ron points to a mango tree in the distance, he warns us, "Before you try my Piree Mango, you have to write your name on a paper...because you might forget it."

Ron also owns and operates a floral design business called Ota-Bana. He doesn't do it for the money, but rather for his love of tropical flowers and learning new things.
His passion of gems growing from the soil extends to the gems hidden within it. Collected for decades, Ron shows off unburied ancient Hawaiian tools, coins, bottles dating back to the 1850s, and even Chinese opium containers. He enjoys researching the artifacts and often wonders what stories lay behind them. If feral pigs are good for anything at the farm, they loosen the soil, revealing more buried treasure for Ron to find.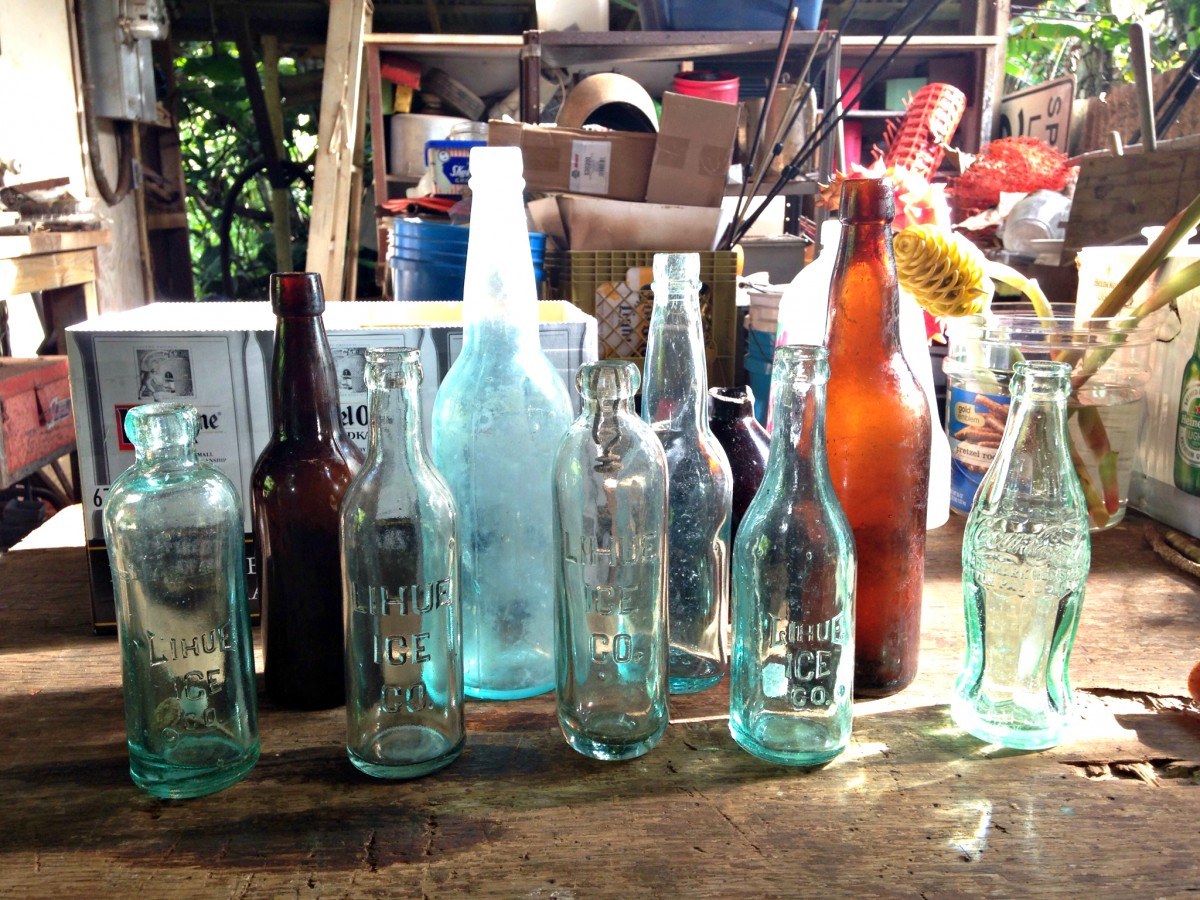 At the end of the day, Ron considers all of his struggles and sacrifices to be rewarding. Growing up on a farm may have been a burden on anyone else, but he says it was a joy, and it prepared him for what he does now. Named fittingly after the area itself, Ron explains that Malumalu means shade, protection, and safety. "I was honored and blessed to grow up here…" Ron says, "…and I am very happy to be able to continue it."
Ron's flowers can be found in arrangements at Flowers Forever, Kauaʻi Tropicals, and his own company, Ota-Bana. If you are interested in purchasing Ron's tropical flowers or floral designs, you can reach Ota-Bana directly at (808) 652-2191, or call the Grove Farm Office at (808) 245-3678.