Grove Farm Manager William Middleton Moragne, Sr.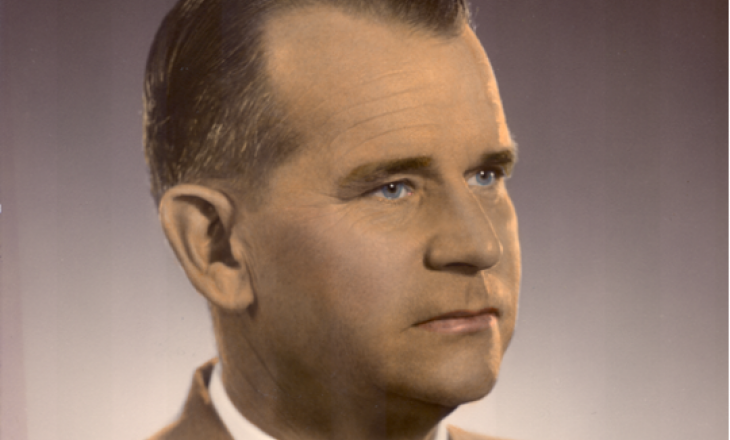 ---
Born in Hilo, Hawai'i, the son of engineer Joseph Hughes Moragne and Mary Chalmers Moragne, William Middleton Moragne Sr. (1905-1983) graduated from the University of Hawai'i and joined Grove Farm Plantation on Kaua'i as an engineer in 1928.
Grove Farm owner George Norton Wilcox then put him to work modernizing the plantation's irrigation system, a task he successfully completed in 1934. A few years later, during World War II, Moragne served as assistant director of Kaua'i's Office of Civilian Defense. After an enemy Japanese submarine shelled Nawiliwili Harbor on the night of Dec. 30, 1941, Moragne directed firefighters in putting out a blaze started by a star shell in a cane field, then located where the bulk sugar storage warehouse stands today.
Moragne also mechanized Grove Farm's harvesting operation during the war years. Along the way, he invented a "liliko rake," which, when mounted on a tractor, gathered up valuable small pieces of sugar cane missed by push rakes during harvesting. In 1948, when Grove Farm acquired Koloa Plantation, Moragne integrated the operations of the two plantations.
That same year, he led a Grove Farm team that built the Ha'upu Range Tunnel. Work began on the half-mile long tunnel in September of 1948 and was finished in April of 1949. Moragne was promoted to vice president and manager of Grove Farm in 1953, positions he held until his retirement in 1969.
In 1955, he and mechanical engineer Victor Vargas combined their engineering talents to design a new factory sugarcane cleaning system. Cane field rocks removed in the process were then used to build roads. Likewise, mud and cane trash were utilized to create new acres of productive cane land. William Middleton Moragne Sr. was also an expert amateur horticulturist — one of the first to hybridize plumeria.
He and his wife, Jean, had four children: Bill, Mary, Sally and Katie.