George Norton Wilcox: Sugar Pioneer and Philanthropist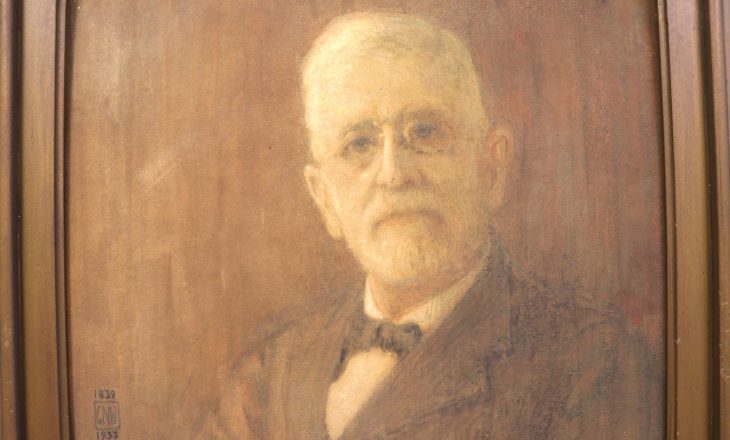 ---
George Norton Wilcox was born in Hilo in 1839 of missionary parents, raised at Waioli Mission on Kauai, and earned a fortune as a sugar planter and owner of Grove Farm Plantation. Yet, his reputation was based on what he gave, not on what he gained.
Throughout his life he was generous to his family, friends, workers, and the community.
Robert Purvis, his meticulous English bookkeeper, once figured on paper that Wilcox had given $1,500,000 to charity by 1915, when a dollar was worth vastly more than it's worth today. By 1920, it's estimated that he'd donated over $3 million.
His business career began at Peirce Plantation (the forerunner of Lihue Plantation) in 1857, when he took a job as store clerk and bookkeeper for manager William Harrison Rice. There, George saw Rice's irrigation ditch, the first auwai dug in the Islands since the ancient Hawaiians had built theirs to irrigate taro. Its source was the Hanaʻmaulu Stream in the hills northwest of Lihue, and it meandered downhill, through forest and fern, to Rice's cane fields in the lowlands.


The ditch sparked George's interest in civil engineering, which found him sailing, on a day's notice in 1859, to Jarvis Island near the Equator, where he spent six months supervising the digging of a seafowl fertilizer called guano to earn money for college. George studied engineering at Yale, returned to Kauai, and in 1864, Judge Herman Widemann, a German by birth who'd married Mary Kaumana, leased him Grove Farm, then comprising about 400 acres of cane land, 500 acres of pasture, and a homestead adjoining Nawiliwili Road.

Hard work continued and profits lay ahead. In 1870, George bought Grove Farm from Judge Widemann for $12,000, with $3,000 down, Widemann's personal note for $3,000, and a $6,000 mortgage held by Paul lsenberg. By 1874, it was paid for in full. In 1881, George increased Grove Farm's size ten-fold, when he and William Hyde Rice purchased royal estates from Princess Ruth Keelikolani for $27,500.

George retained a 10,500-acre tract called Haiku that begins near Mount Kahili above Knudsen's Gap and extends toward Nawiliwili and Niumalu. Rice kept Kipu and Kipu Kai. Away from Grove Farm, George N. Wilcox took delight hiking in the mountains on the ancient trails of the Hawaiians, and in 1870, he climbed to the summit of Kauai's greatest mountain, Mt. Waialeale, by following the ancient trail that Hawaiians had climbed annually in earlier times to make offerings to their god, Kane, on the summit.
The Hawaiian's trail ascended Waialeale's forbidding eastern face, and when George climbed it, the trail was overgrown and rarely used. With George were four Hawaiian men, one Hawaiian woman (their names are not known) and Heinrich Wawra, an Austrian botanist.
If you look carefully at Waialeale's northeastern face on a clear day, you can see their route. It followed the sharp spine of a long ridge that rises steadily upward from northeast to southwest, and then turns more steeply westward toward the summit. The route was and is terribly steep, narrow and slippery, with fearsome drop offs on either side. Plants uproot when they're grasped, and pitons will not hold in the crumbly soil.
Courage not withstanding, it can't be climbed now, for no vestige remains of the rope ladders, secured at the summit and set in place by the old Hawaiians, that were still there and climbable when George made his ascent.
George repeated the climb in 1874 with George Dole and Fred Smith. About 100 years later, Valdemar Knudsen (the grandson of Valdemar "Kanuka" Knudsen), with helicopter pilot Jack Harter aloft in radio contact, made a dauntless attempt, but was turned back at 3,000 feet by impassable terrain.
Years later, George was also primarily responsible for establishing a safe harbor at Nawiliwili. The breakwater, constructed in 1921, was largely financed by him, and in 1927, when he was 88, he directed building of the seawall that was completed in 1928. Fill was dumped in the bay behind the seawall, and the original shoreline, which ran directly between Kalapaki Beach and the pali separating Nawiliwili from Niumalu, vanished.
George N. Wilcox also represented Kauai in the Hawaiian Legislature for many years and was Queen Liliuokalani's Prime Minister. On January 21, 1933, George N. Wilcox died and is buried in the cemetery on the bluff above the Lihue Plantation mill. He never married and left no descendants, but three of his brothers did, and they continued the Wilcox family.