American Protestant missionaries Abner and Lucy Wilcox of Waioli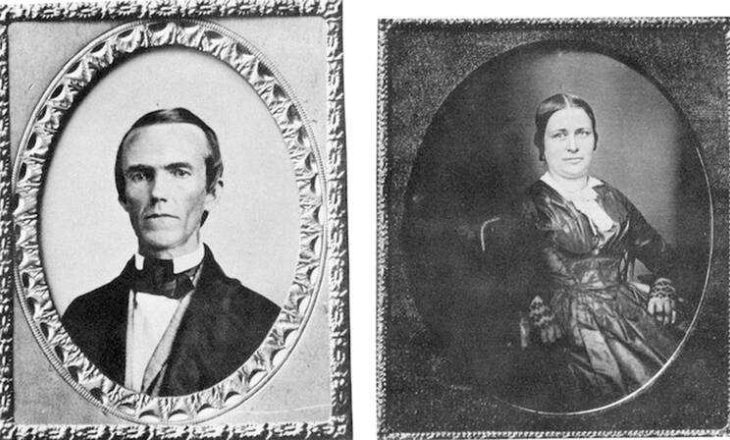 ---
Missionary teacher Abner Wilcox was born in Harwinton, Connecticut, in 1808, and wasraised there on a farm in a colonial-stvle house that still stands. His wife, Lucy Eliza Hart Wilcox, was born on Nov. 17, 1814, in Cairo, New York. Both had served as district school teachers in rural Connecticut before volunteering for missionary work with the American Board of Commissioners for Foreign Missions.
The Wilcoxes departed for Hawaii from Boston Harbor on Dec. 14, 1836 aboard the barque "Mary Frazier," and during their voyage, two Native Hawaiian seamen named Joseph and Levi instructed them in the Hawaiian language. Following their arrival in Honolulu on April 9, 1837, they were assigned to the Hilo mission, where they taught school. As a lay preacher, Abner Wilcox also gave sermons there on the Sabbath. Then, in 1844, they were transferred to Waialua, O'ahu.
At Waialua, Abner had charge of the Manual Labor Boarding School and Lucy conducted the weekly female prayer meetings. Two years later, on July 15, 1846, they were transferred again, this time to the mission station at Waioli, Kaua'i. Mr. Wilcox's first day of school began the following Monday in a thatched schoolhouse, where 48 Native Hawaiian students sat before him on lauhala mats, with boards placed on blocks used as desks.

The school's curriculum was demanding, with reading, writing, composition, geography, arithmetic, geometry, algebra, moral philosophy and church history being taught in the Hawaiian language. Waioli was a Select School, where the brightest and most-promising students fromthe Common Schools on Kauai and Ni'ihau were sent to further their education. Of these, only the most exceptional would be sent to the Lahainaluna Seminary to train as ministers and teachers. Besides teaching and preaching the gospel, Abner Wilcox also superintended the mission farm, which produced taro, yams, potatoes, beans, corn, and bananas for the mission and for sale to whaling ships stopping at Hanalei for provisions.
The Wilcoxes had eight sons: Charles, George, Edward, Albert, Samuel, William, Clarence and Henry. In 1869, while visiting Connecticut, Abner and Lucy Wilcox became sick and died in Colebrook, Connecticut.