The Gift of Water Infrastructure from Our Ancestors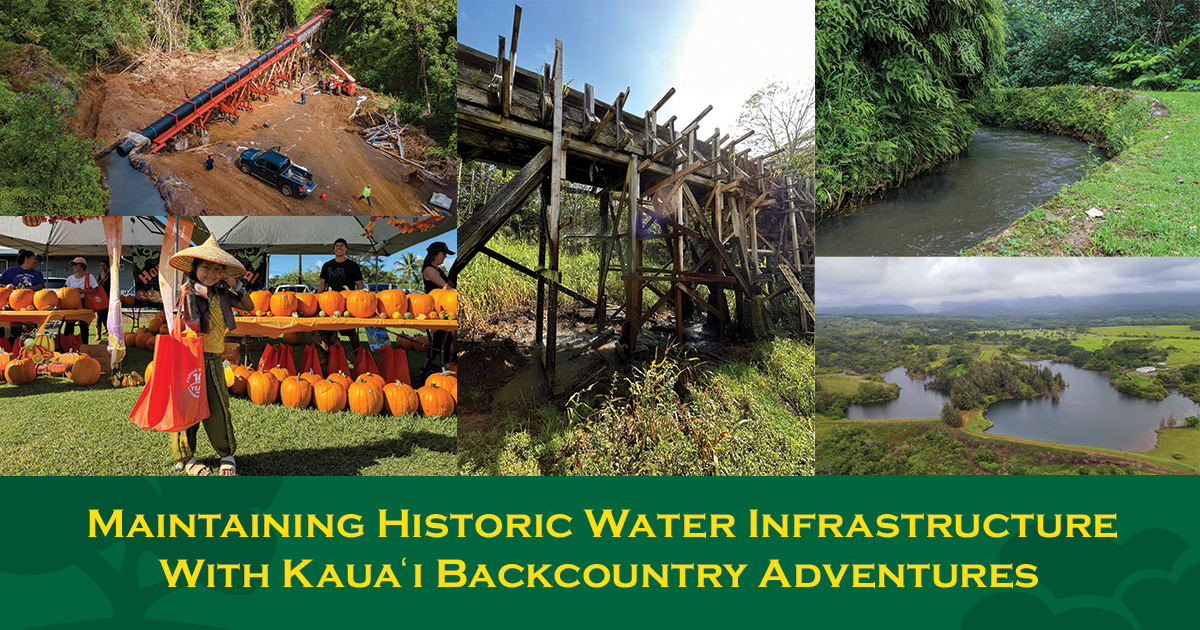 Maintaining Historic Water Infrastructure With Kaua'i Backcountry Adventures
Did you know that there are over 40 miles of legacy water infrastructure on Grove Farm lands that are critical to our island's sustainability? For nearly 160 years, we have operated, maintained and enhanced these systems — which include reservoirs, dams, flumes and a variety of waterways — to ensure an ample supply of clean, fresh water for our community. The Līhuʻe water system provides potable drinking water to roughly 20% of the island's residents and delivers irrigation water for agriculture and public uses.

A Major Project Completed
As part of our ongoing maintenance, we recently repaired a wooden flume that spans across a valley, delivering water from the Hanamaʻulu system to Līhuʻe. This 150-foot wooden structure required extensive work, including shoring up the foundation, replacing braces, and implementing high-density tubing to ensure a smooth flow of debris-free water.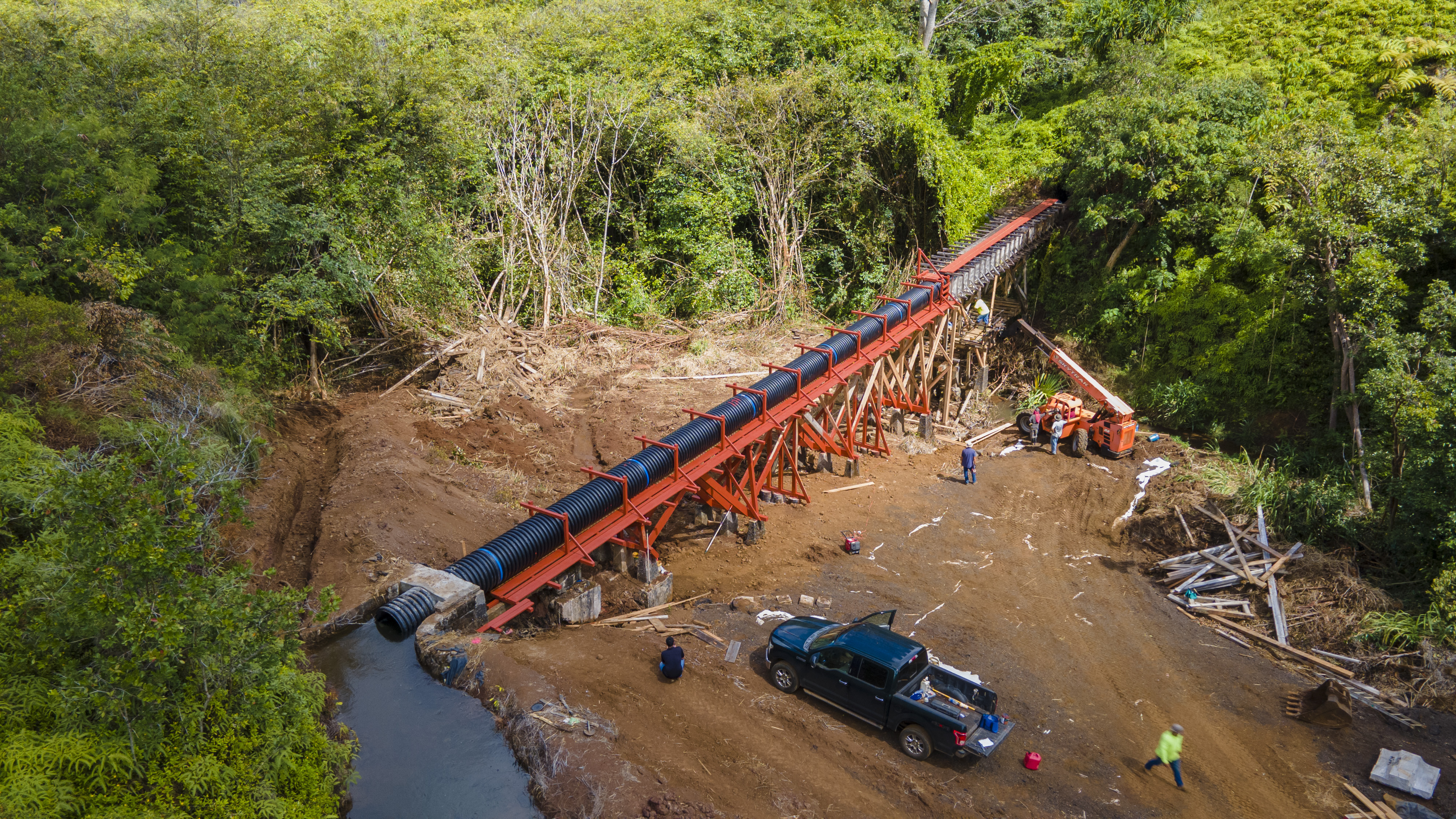 Mahalo to Adam Killermann and his team at AJAR Inc. for their expertise and dedication in completing the repairs to the flume and for continuing to manage our water systems from mauka to makai.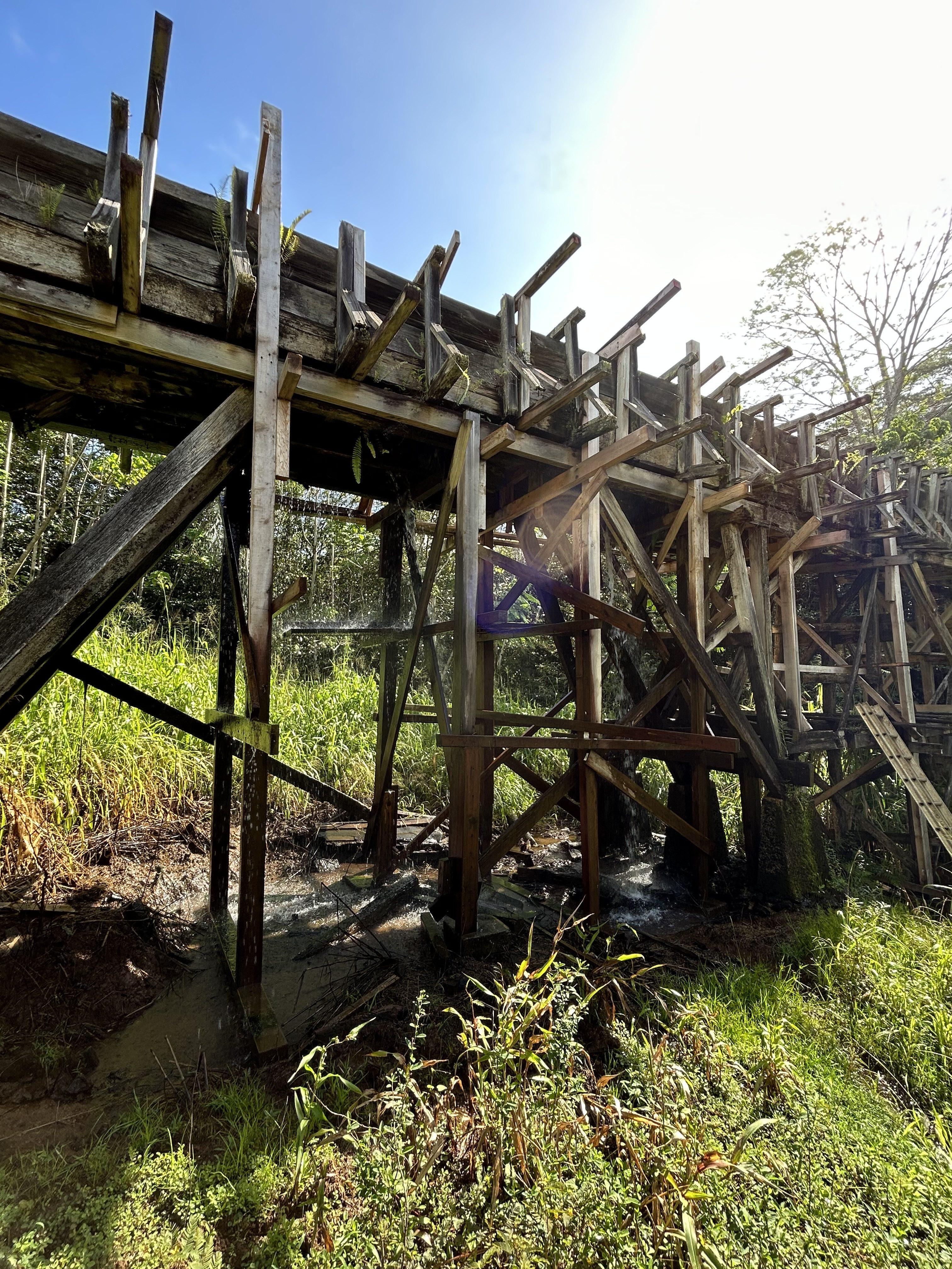 A Unique Eco-Tourism Experience

As we preserve our plantation-era water systems, we are fortunate to partner with Kauaʻi Backcountry Adventures (KBA), a locally owned zipline and mountain tubing tour company. During KBA's water tubing activity through the open canals, tunnels and trenches of the water system, visitors learn about the rich history of the island and the importance of environmental stewardship.

Partnering for a Sustainable Future

Annually, KBA dedicates a week to helping Grove Farm with water systems maintenance. Their landscapers, tour guides, drivers and warehouse workers trim back invasive guinea grass, reinforce tunnel systems, and remove infant albizia trees, ensuring an uninterrupted supply of water to downstream users such as our Waiahi Surface Water Treatment Plant and our agricultural lessees.

KBA's commitment to the community extends beyond their tours, as they employ more than a hundred residents and support Kaua'i's economic growth by sourcing tour supplies and refreshments from other local businesses.

To learn more about Kauaʻi Backcountry Adventures and their invaluable contributions, watch this video.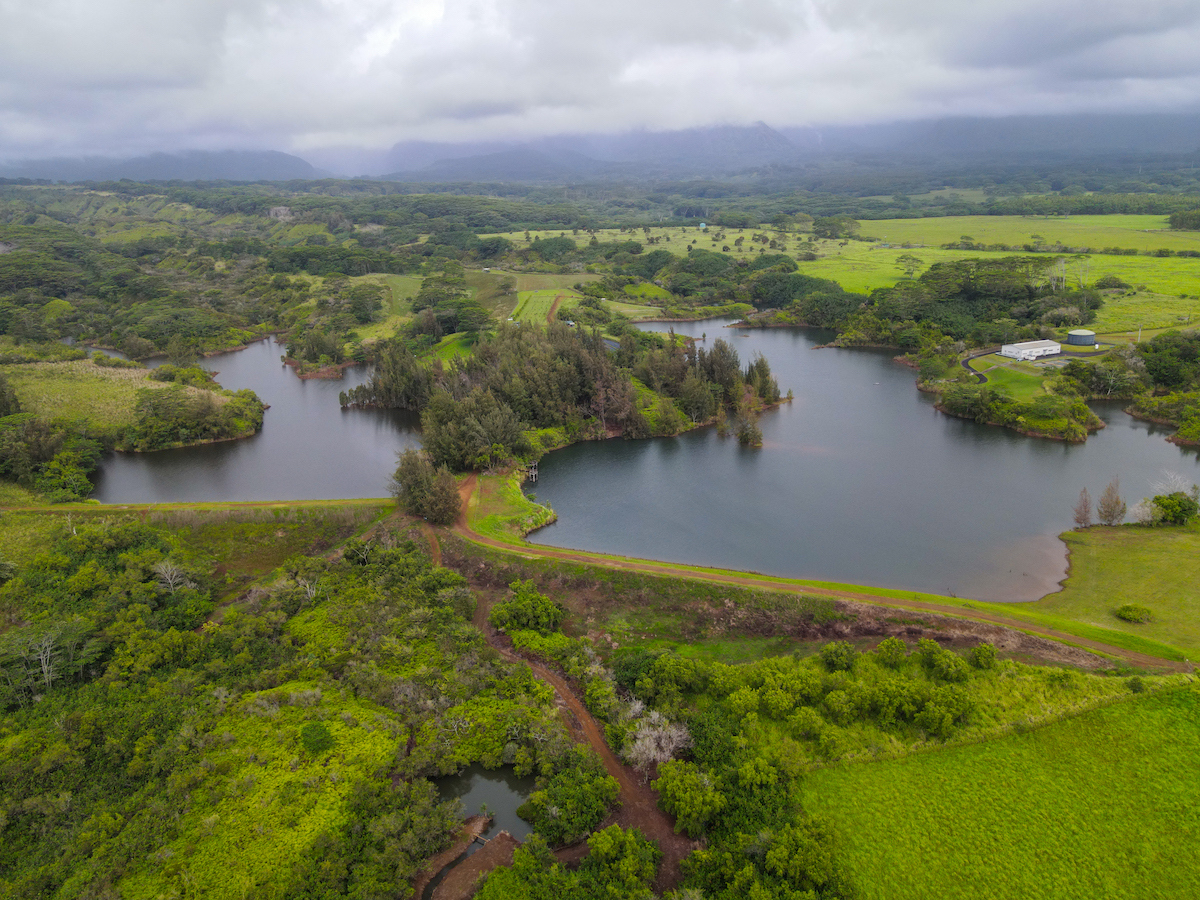 ---
Grove Farm Market: Best of Kauaʻi 2023 Winner!
We humbly say mahalo for voting Grove Farm Market as Kaua'i's Best Farmers Market for the second consecutive year!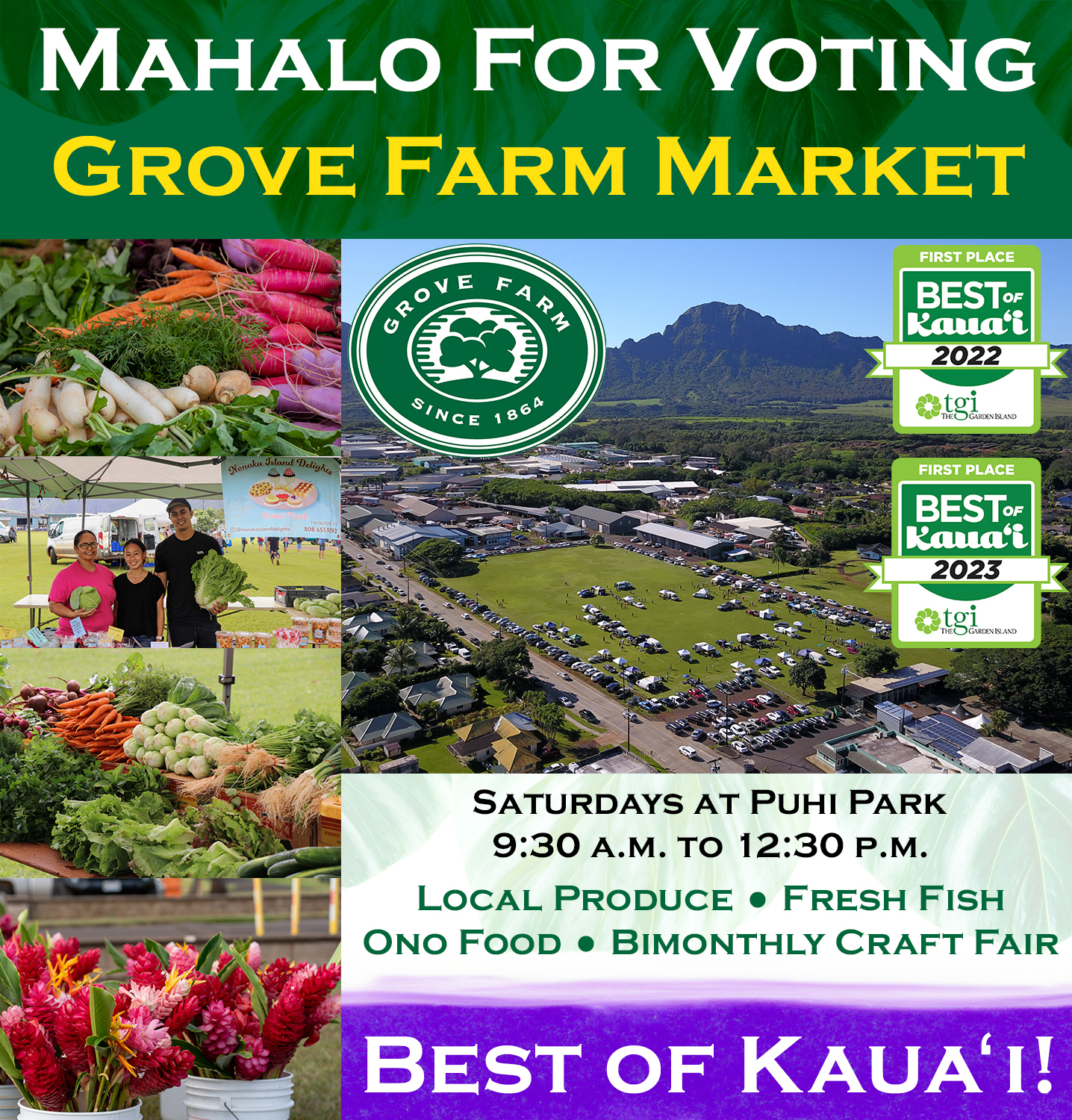 We are grateful to our dedicated farmers, food vendors, and crafters who consistently provide our community with the freshest produce, ʻono food, and locally made gifts.
Another Successful Free Pumpkin Giveaway!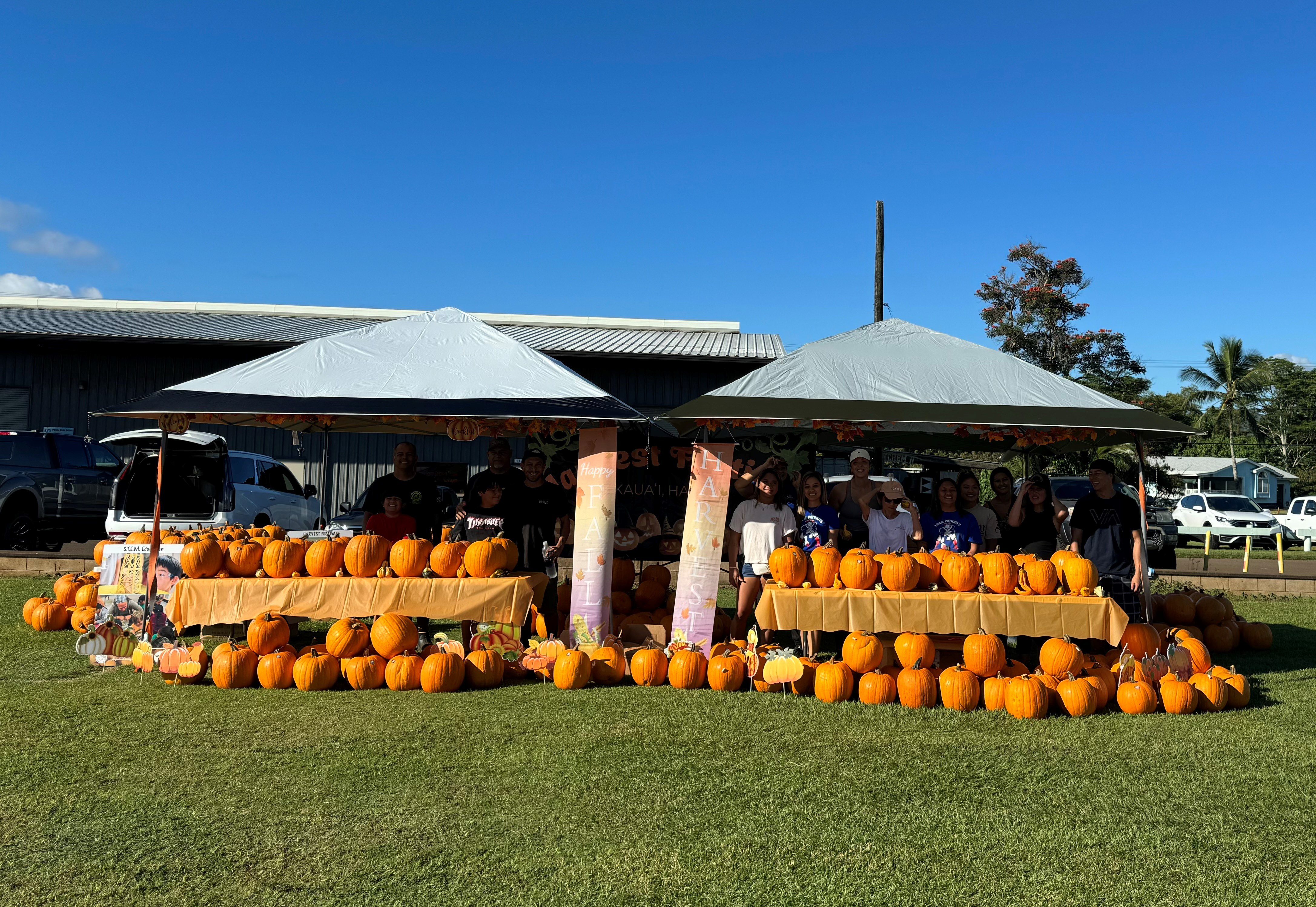 For the 10th straight year, free locally grown pumpkins were distributed to Kaua'i's keiki. Mahalo to all the sponsors who made this giveaway possible!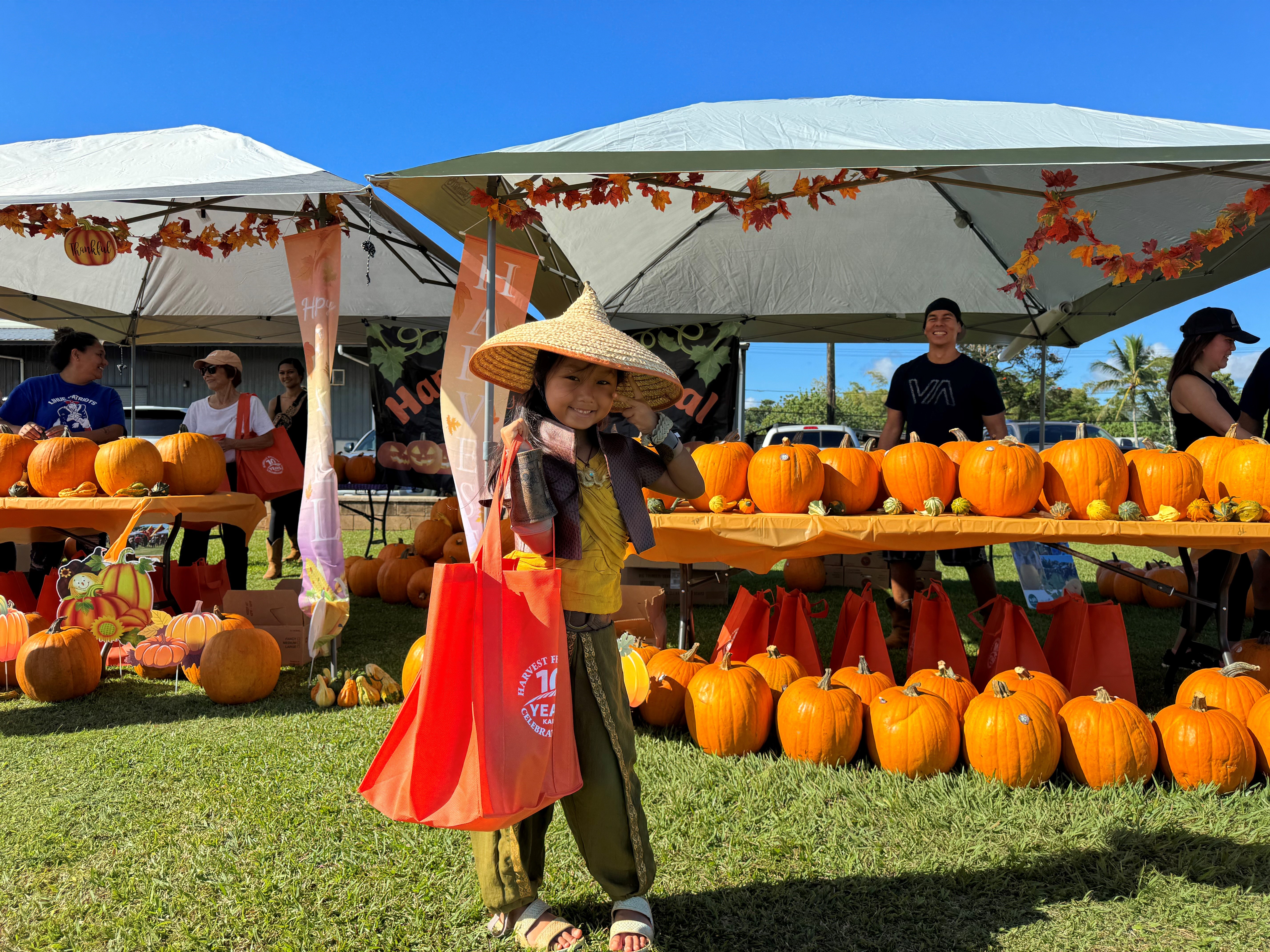 ---
Maple Glazed Pumpkin Pie Cinnamon Rolls
"My father loved anything maple – he used to take me to get maple donuts on our way to school," shares Stephanie Bolton. "This homemade version of the cinnamon frosting combined with the homeyness of the cinnamon roll just feels so cozy and wonderful to me!"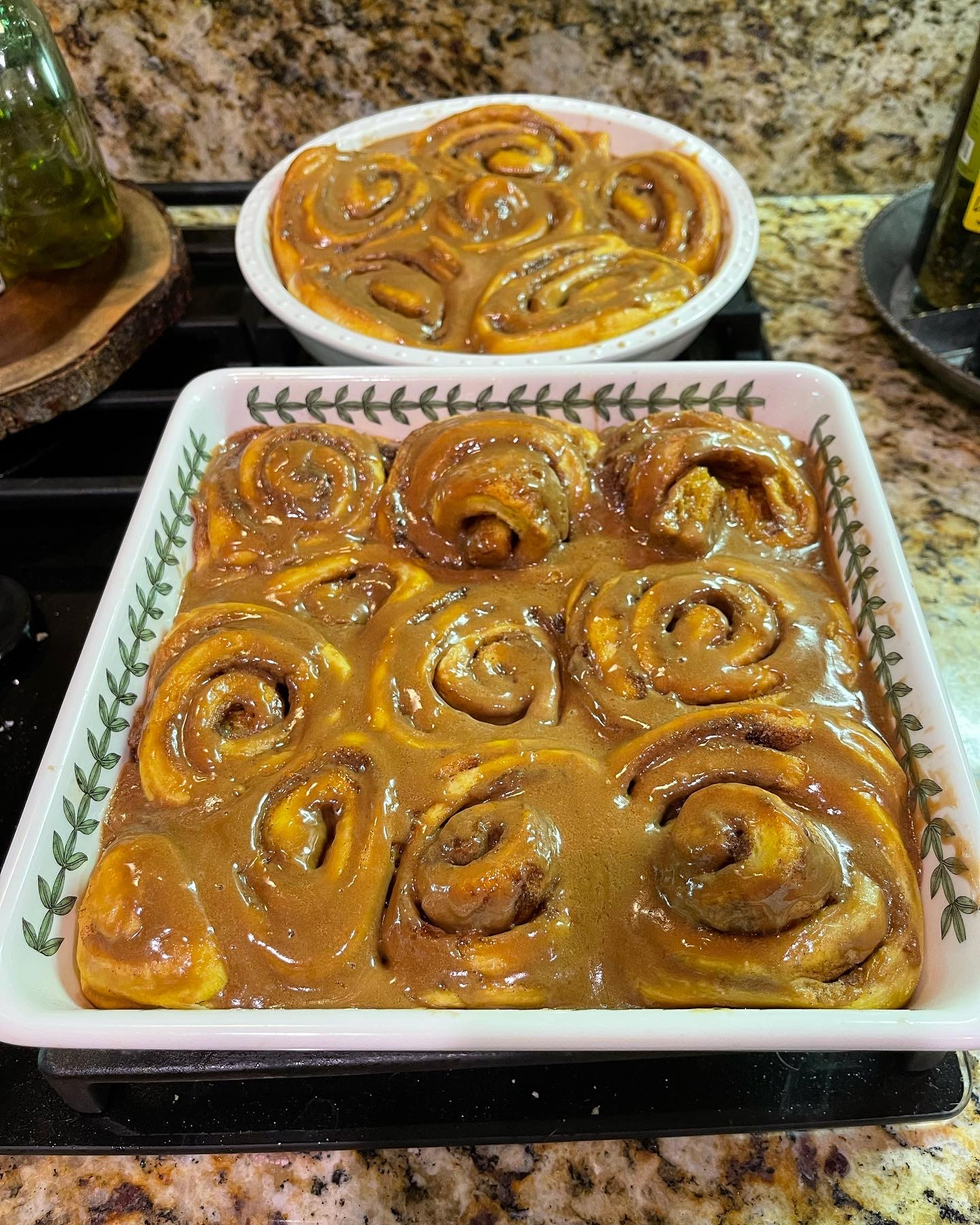 Ingredients:

Cinnamon Rolls:

1 cup warm water
½ cup heavy cream (or half-and-half or milk)
4 ½ tsp instant yeast
1 cup, 2 tsp sugar divided
½ cup buttermilk at room temperature
2 tsp fine-grain sea salt
2 large eggs lightly whisked
1/3 cup coconut oil (may use vegetable oil)
1/3 cup melted butter
1 ¼ cup pumpkin puree
9-10 cups all-purpose flour
1 ½ tsp pumpkin pie spice


Filling:

¾ cup softened butter unsalted
2 cups, 2 tbsp packed brown sugar
½ cup white sugar
5 tbsp ground cinnamon
Pinch nutmeg
Pinch cloves
4 tbsp cornstarch

Glaze:

6 tbsp butter, softened
2 ¼ cup powdered sugar
3 tbsp heavy cream
3 tsp maple extract
1 tsp vanilla extract

Instructions:

Cinnamon Rolls:
In a glass measuring cup, combine the water and cream.
Heat in the microwave until warm, about 30 seconds to 1 minute. Make sure it's warm and not hot.
Add the yeast and 2 teaspoons of sugar. Allow to foam for 5-10 minutes.
In another measuring cup, warm the buttermilk. Making sure it's lukewarm, add it to the yeast mixture.
In another measuring cup, whisk the remaining sugar, salt, oil, butter, and eggs.
Add to the yeast mixture in a standing mixer along with the pumpkin puree.
Stir with a dough hook to combine.
Add the flour and seasonings.
Mix until the dough begins to form a ball, then mix for 3 minutes, adding an additional ¼ cup flour if needed.
Remove the dough hook and place a towel over the bowl to rise for 1-2 hours in a warm spot.
Very lightly flour the counter and roll the dough into a large, even rectangle.
Spread the soft butter all the way to the edges.
Filling:
In a small bowl, mix the brown sugar, sugar, cinnamon and spices with the cornstarch. Sprinkle liberally over the butter, all the way to the edges.
Roll into a tight log, and using floss, slice the rolls by sliding the string under the dough before bringing it upwards. Then make an "x" and pull it tight to cut through. Set on the lightly greased cookie sheet.
Repeat until all of the rolls are in the pan, and then drape with a towel to rise for 1-2 hours.
Heat the oven to 350 degrees and bake for 20-22 minutes. Watch the tops because as soon as they are golden, the rolls are done. You DO NOT want to overbake.
Remove from the oven. Cool for 2 minutes and top with glaze while hot.
Glaze:
In a small bowl, beat together the butter, powdered sugar, cream, and extracts.