Planting the Seeds of Sustainability through Education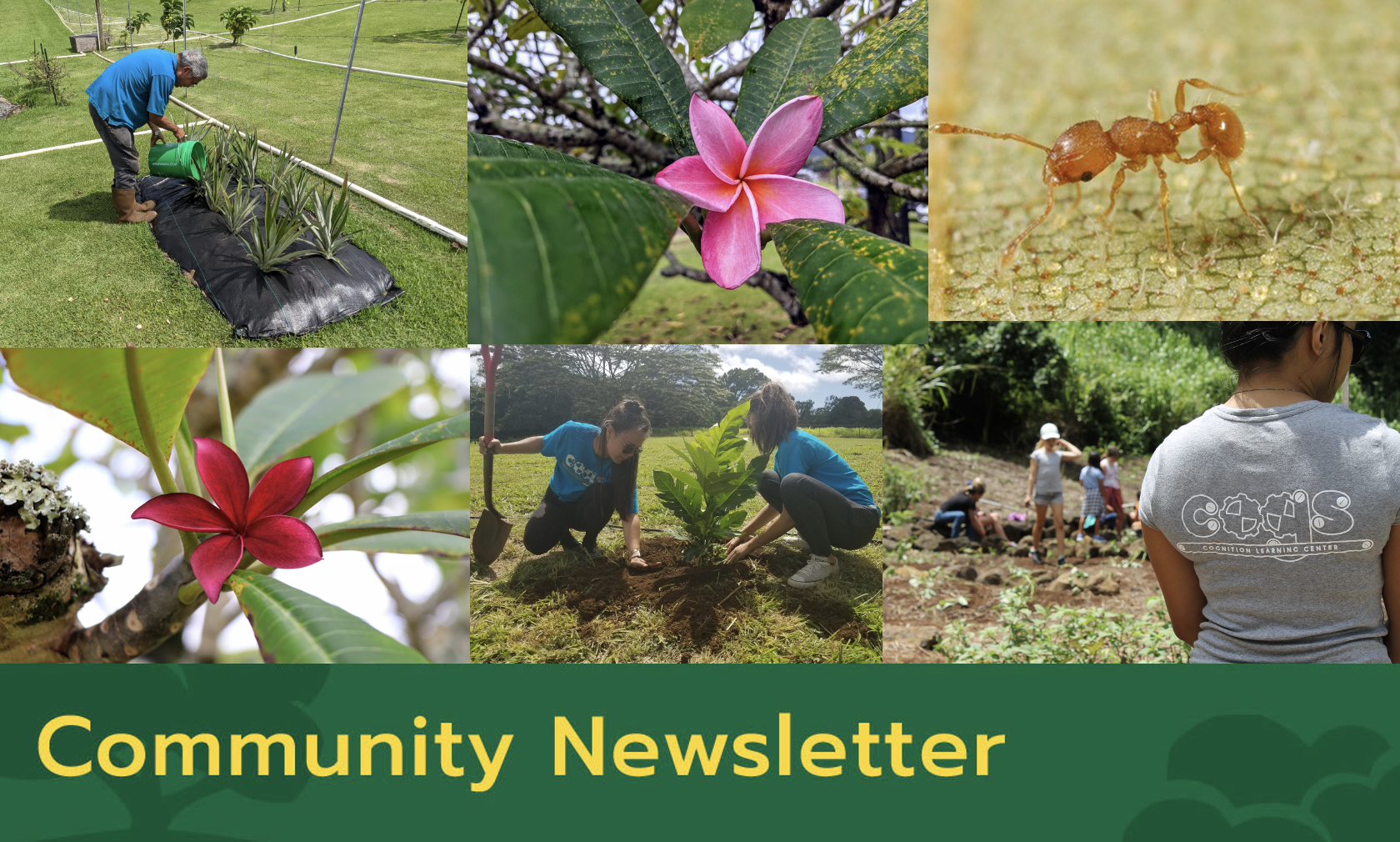 Planting Seeds of Sustainability through Education
October 2021 Edition
· Grove Farm donates to KCC's Cognition Learning Center to support STEM education for Kauaʻi'sstudents for all grade levels.
· Invasive Little Fire Ants (LFA) are here on Kauaʻi! Find out how you can help fight the spread of this pest.
· Did you know that a former Grove Farm Manager, William Moragne Sr., cross pollinated more than 30 different plumeria species?
---
Cognition Learning Center – Bringing STEM Awareness
Grove Farm is driven by initiatives that build a sustainable Kauaʻi. That's why we support the Cognition Learning Center (Cogs) at Kauaʻi Community College (KCC), a program where students and faculty developinnovative projects made from reusable resources. The mission of Cogs is to inspire and encourage inquiry, exploration, and hands-on learning to excite students of all ages. Grove Farm recognizes the good work of Cogs and was pleased to donate a second grant of $5,000 to this program.
Started in 2010 with KCC students and a STEM grant, Cogs has evolved over the years and also works with students from kindergarten through high school (K-12) on Science, Technology, Engineering and Mathematics (STEM) related projects and programs.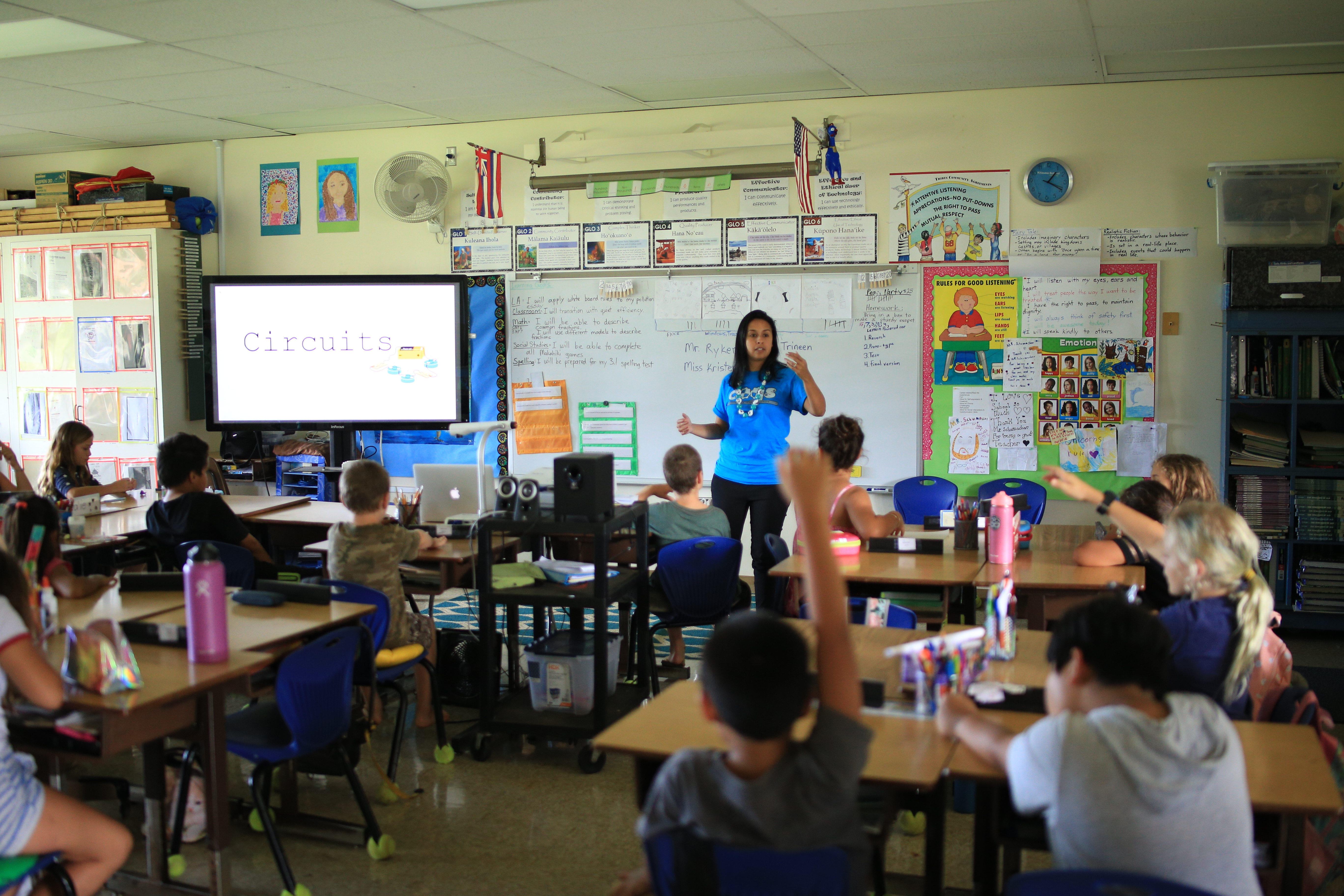 Cogs is involved in hosting and participating in activities such as K-12 field trips to Kauaʻi Community College, K-12 classroom visits and school wide STEM Nights, STEM workshops and summer camps, interactive booths at events, such as: Earth Day, Science Olympiad, Girl Scouts STEM Fest, Comic Con, and Project Grad. Cogs also hosts hybrid interactive lessons for distance learning and events for international education with students in Japan and online videos and activities.
Brian Yamamoto, Professor of Microbiology and Botany at KCC plays a key role with Cogs. "Native plant restoration of habitat is key to preservation of ecosystems," says Brian. "Culturally significant plants that were introduced to Kauaʻi as part of the botanical toolchest of our ancestors need to be preserved to teach future generations and visitors about Ethnobotany: The Science of Survival."
Over the years Brian has shared his knowledge of the sciences as we expand our watershed protection projects and develop our ulu orchard. His team of Cogs volunteers have also volunteered at our watershed restoration project by providing plants, digging holes, and planting different species to enrich the area.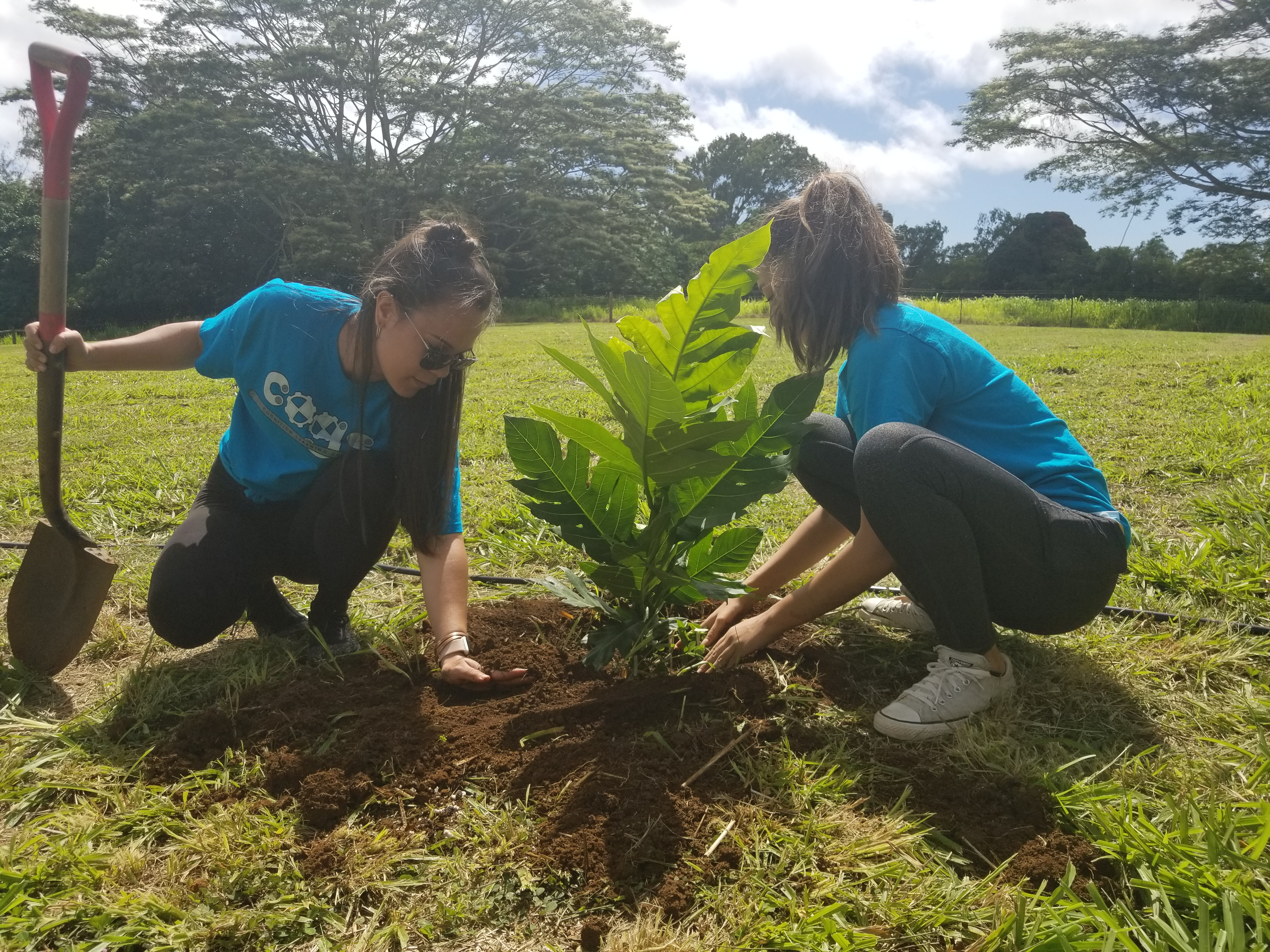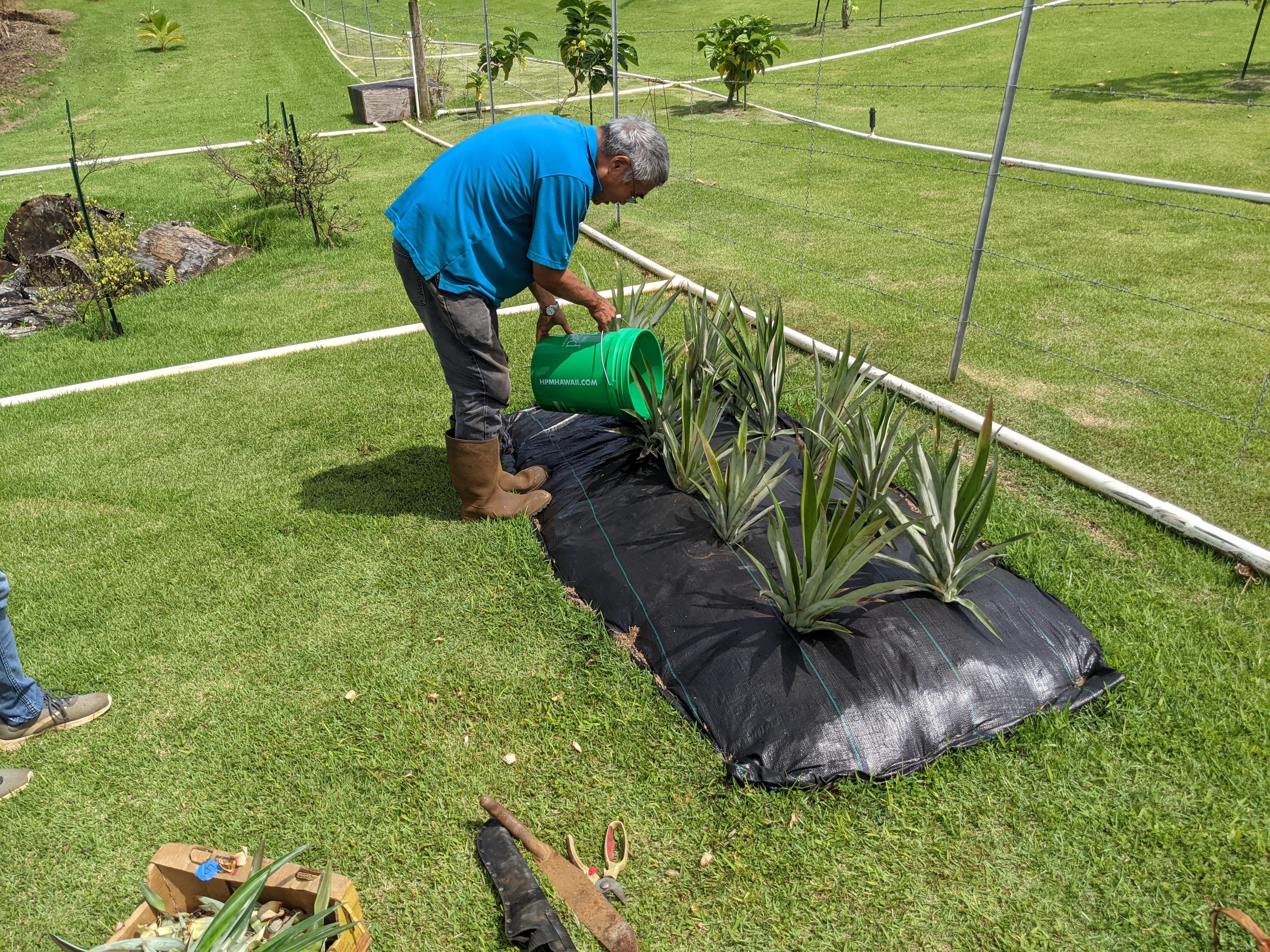 ---
Stop the Ant! Curbing the Little Fire Ant Invasion
Ouch! If you've ever experienced the bite of an ant, you know what nuisances these little bugs can be. But did you know there's a new fire ant species identified on our island? The Kauaʻi Invasive Species Council (KISC) is asking the community to Spot the Ant and Stop the Ant. A recently reported colony was found in the Moloaʻa area and treatment was initiated. Without natural predators here on Kauaʻi, the Little Fire Ant (LFA) has the potential to get out of control if unchecked. The ant itself is tiny and hard to find. They are considered one of the World's 100 Worst Invasive Species due to their ability to multiply and infest areas quickly.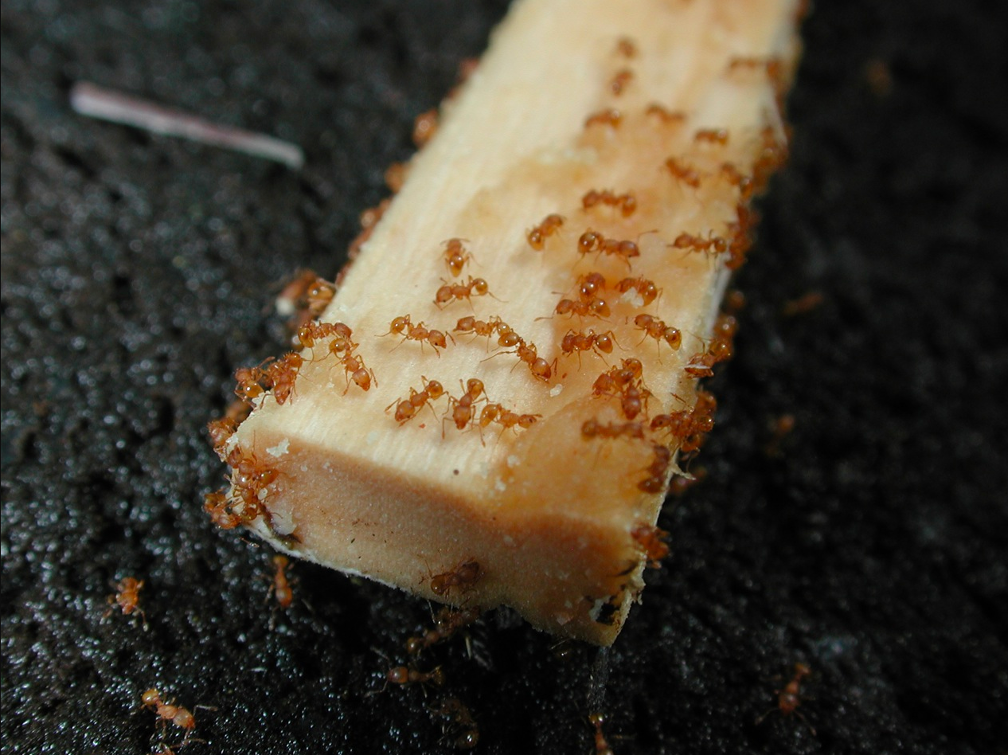 This new infestation is particularly concerning because of the potential impacts to the agricultural community and their operations. LFA can easily infest agricultural fields and farms, where they can damage crops and sting workers. This tiny ant can produce painful stings and large red welts and may cause blindness in pets and livestock. LFA promote plant pests such as aphids, white flies, and scale insects which secrete plant sap that the ants eat. The ants then protect these insects from natural predators and parasites.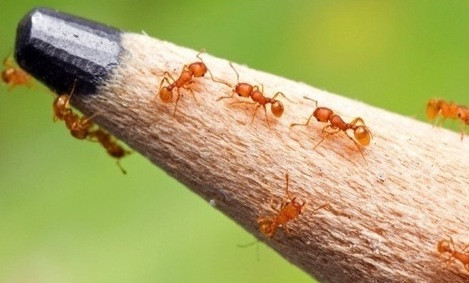 Want to help? Testing kits for LFA are available at any public library or you can contact KISC at 808-821-1490 or kisc@hawaii.edu. If LFA is confirmed, KISC will conduct additional surveys and provide treatment, free of charge. We are dedicated to controlling this pest before it becomes widespread on Kauaʻi. Please kōkua.
---
The Moragne Plumeria
By Hank Soboleski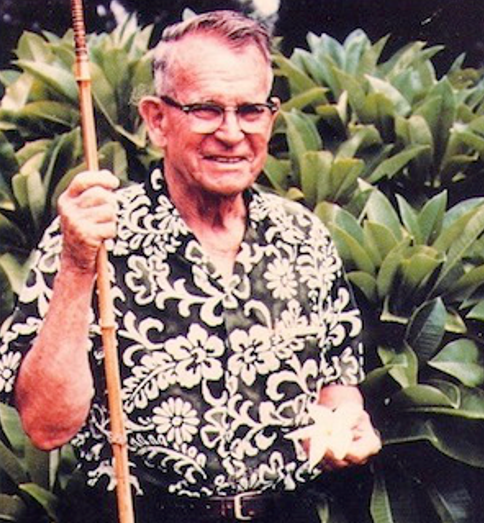 In 1953, at his home in Lihu'e, Grove Farm Manager William Middleton Moragne Sr. (1905-1983) made the first recorded controlled cross-pollinations between plumerias that produced new hybrids. Prior to Moragne's successful cross-pollinations, Hawai'i's introduced plumerias — the yellow, red, and white — had been hybridized naturally by small insects, resulting in many variations.
But, in 1950, when Moragne began his research, there was no literature available on how to cross pollinateplumerias artificially. Undaunted, he began on his own by observing that the plumeria's pistil, which contains the flower's female reproductive parts he would need to pollinate, was located at the base of a deep trumpet ofpetals that was inaccessible from the top of the blossom.
Tearing away petals to reach the pistil only flooded the pistil with milky latex. The solution lay in carefully snipping off the petals at the base of the blossom, which caused the latex to flow away. With the problem of flooding solved, Moragne proceeded to attempt a crosspollination.
He brushed away the existing pollen in the pistil of a mother flower, introduced pollen of a male parent on top of the pistil and covered the pollinated areas with tape to prevent unwanted pollination by insects. However, his attempt failed and other efforts at cross-pollination continued to be unsuccessful until 1953, when he tried introducing pollen, not only on the top of the pistil, as he'd done previously, but also on the pistil's sides and bottom. He achieved success.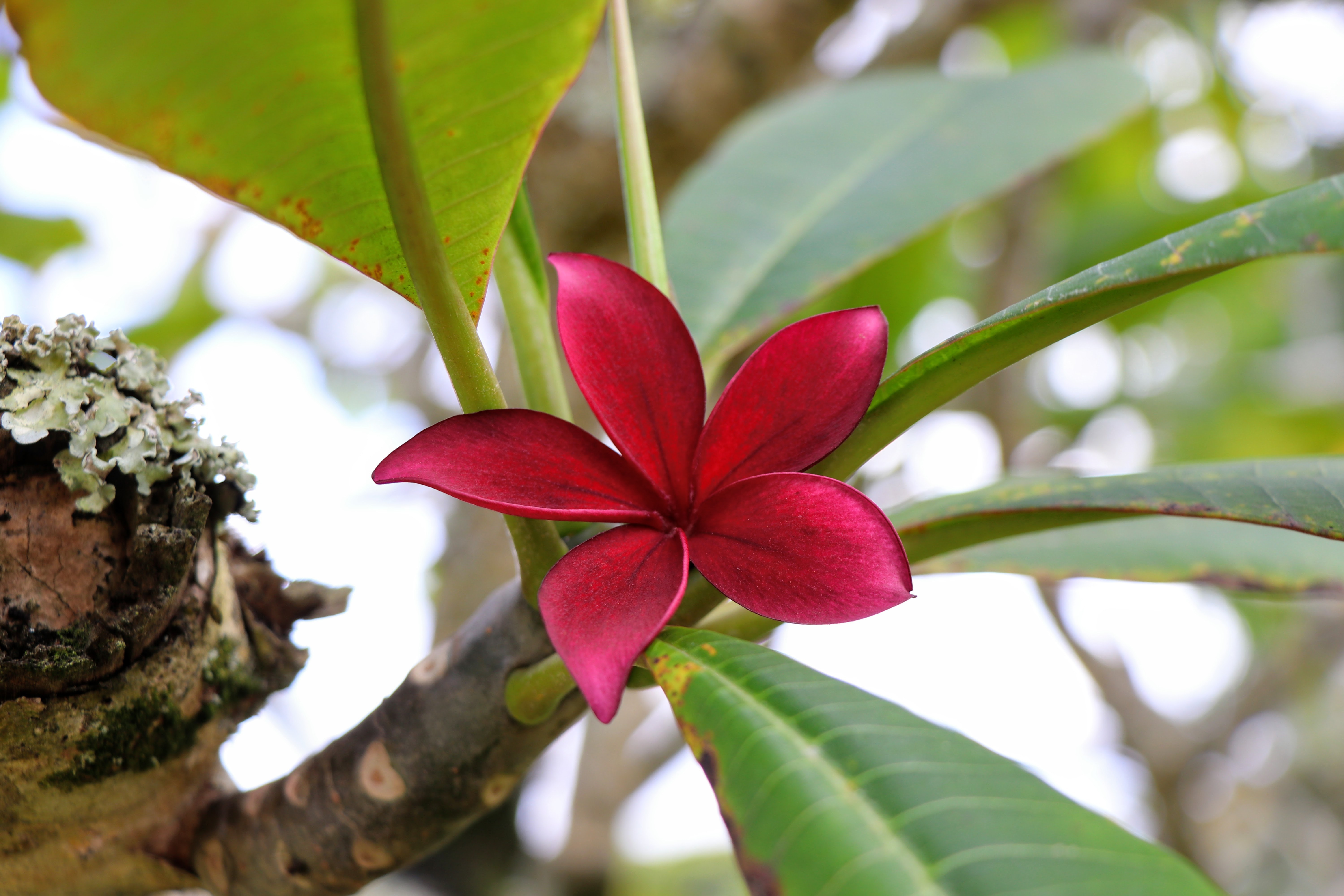 By using a dark red "Scott Pratt" male to pollinate four light pink "Daisy Wilcox" female blossoms, Moragne produced enough seeds to grow 283 hybrid seedlings. Of those, he kept 35 of the best, which grew into flowering trees. From among the 35, he selected and named his favorite blossoms for the women in his family.
His hybrid plumerias can be seen along Nawiliwili Road.