Mahalo for Being Part of the Bon Odori Festival! Join Us Next at the Heart Walk and the Craft Fair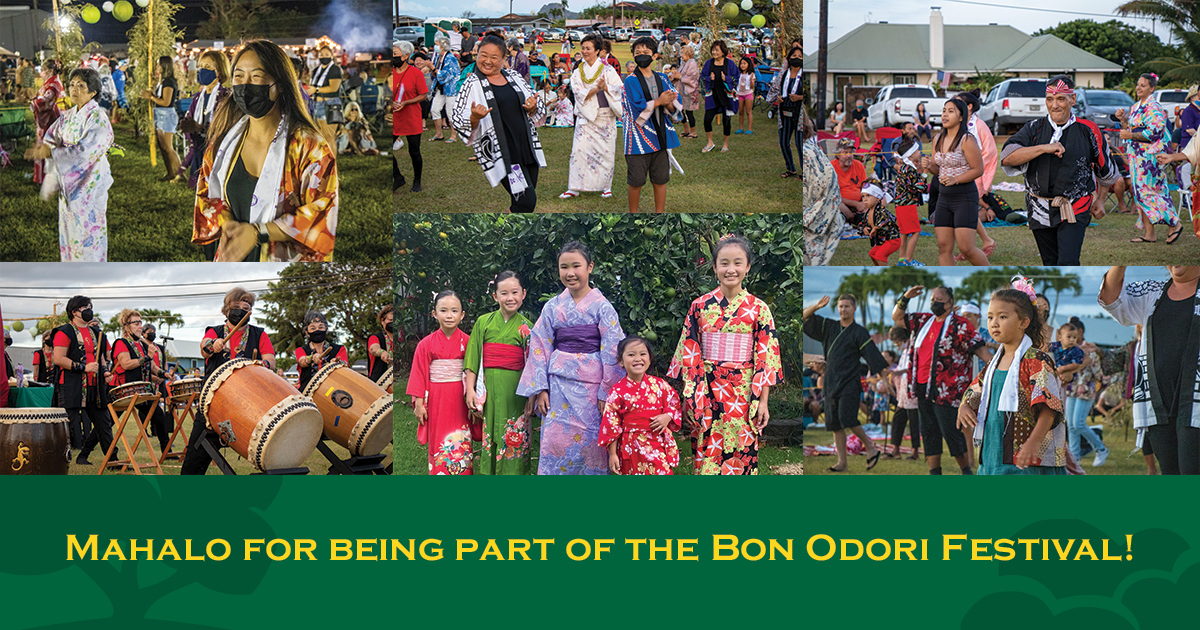 It took a "village" to put on Grove Farm's first Bon Odori Festival this past weekend, July 29 and 30, at Grove Farm's Puhi Park, as our community came together to celebrate this time-honored tradition. Our heartfelt mahalo to the many partners and volunteers who made it such a huge success!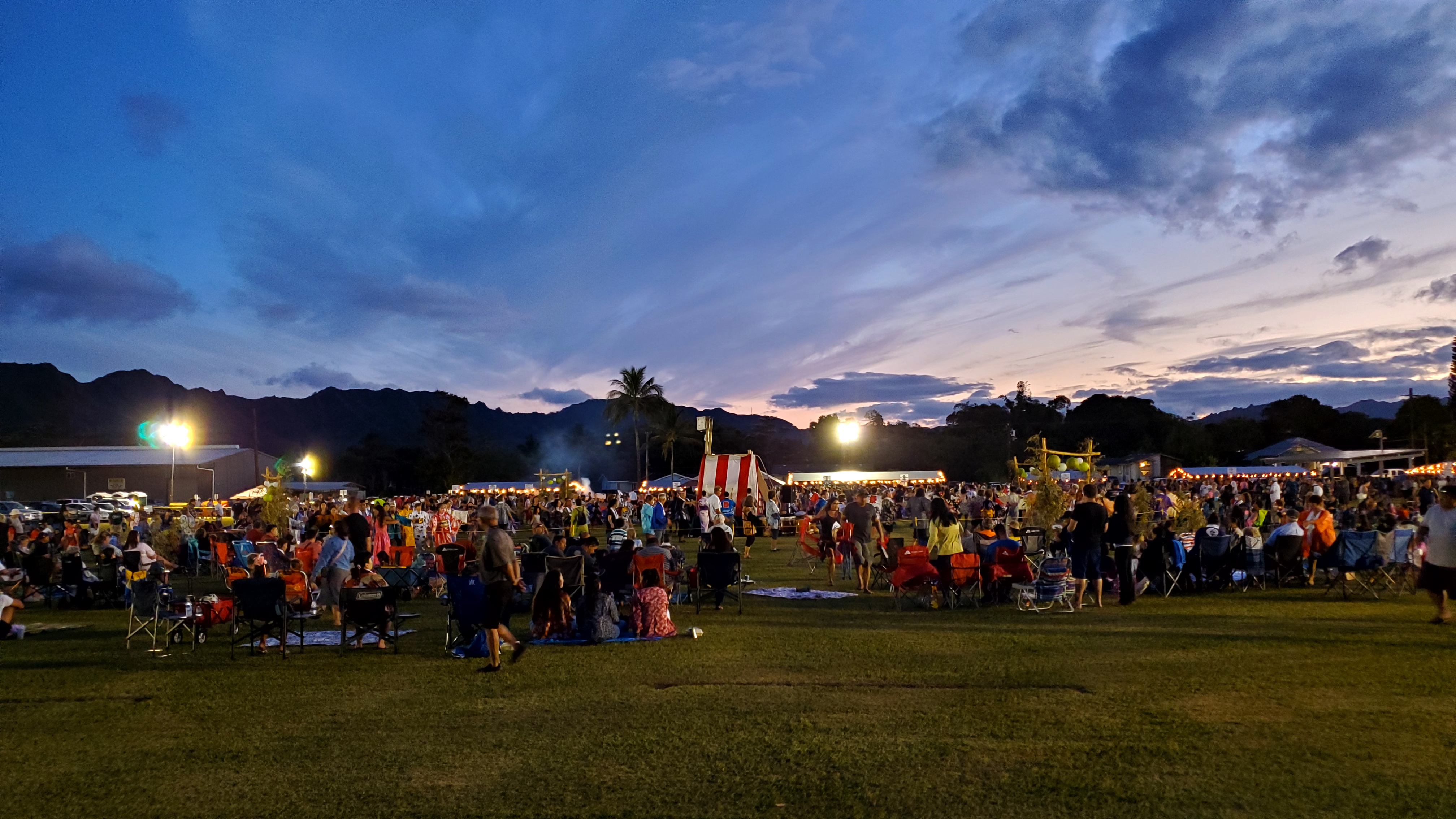 Hundreds of attendees came out to partake in the delicious food, keiki activities, entertainment, and dancing. The blessing and guidance of Bishop Ishikawa and Reverend Hirao were key to embarking on this endeavor. The yagura that sits in the center of the dance ring came from the Līhu'e Hongwanji Mission, who also provided the guidance and oversight in the proper set-up. We are appreciative of Līhu'e Hongwanji Mission and the Kapa'a Hongwanji Mission, who generously loaned their tables, rings, and lights.

We also thank the many dancers who participated and want to extend our appreciation to the entertainment provided by Kaua'i Shinbuyo Kai, Kauaʻi Soto Zen Ondo Dancers, Men of the Koi Dynasty, Taiko Kaua'i, and Tsunami Taiko. Accompanying the dancing was Kaua'i Ondo Drummers.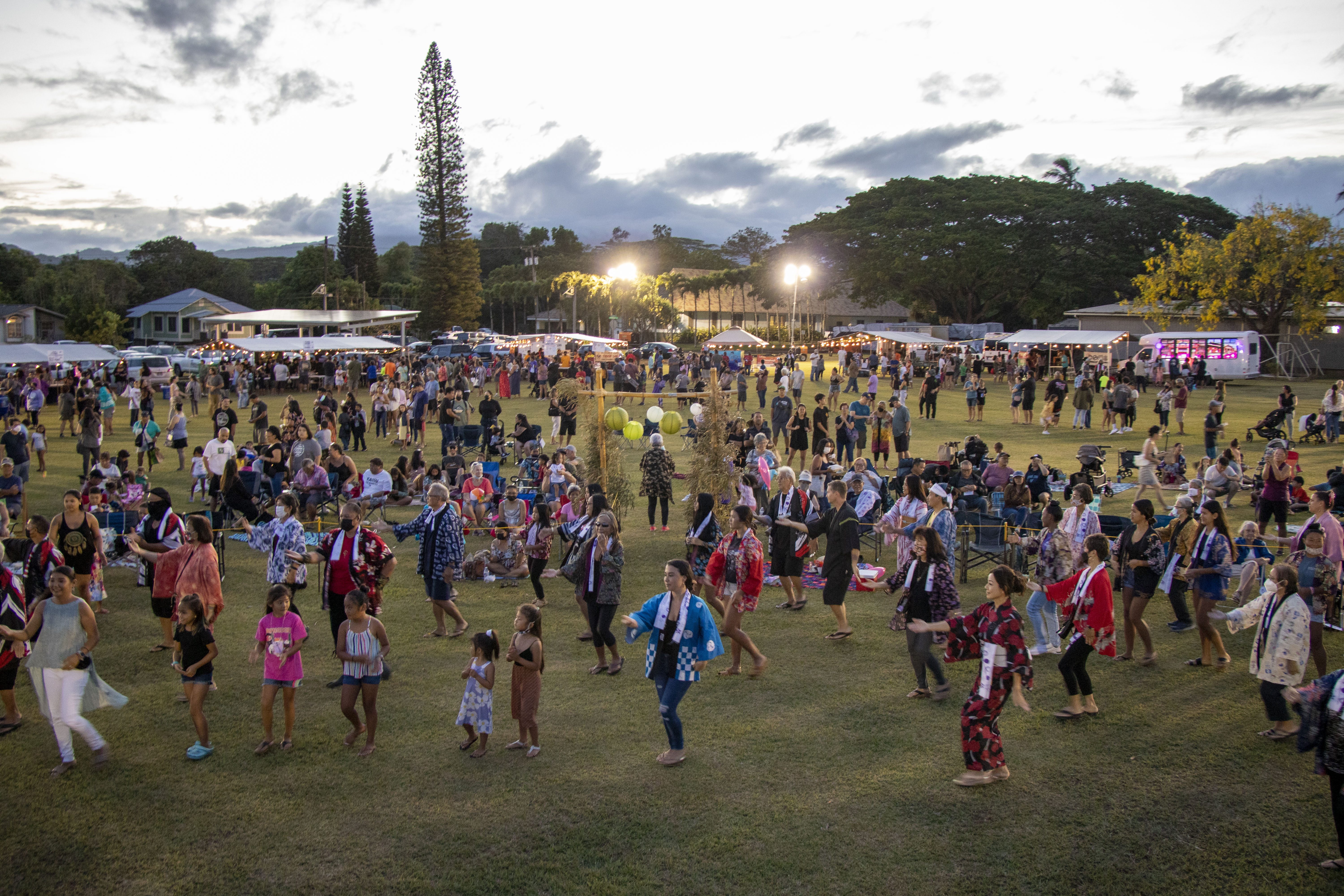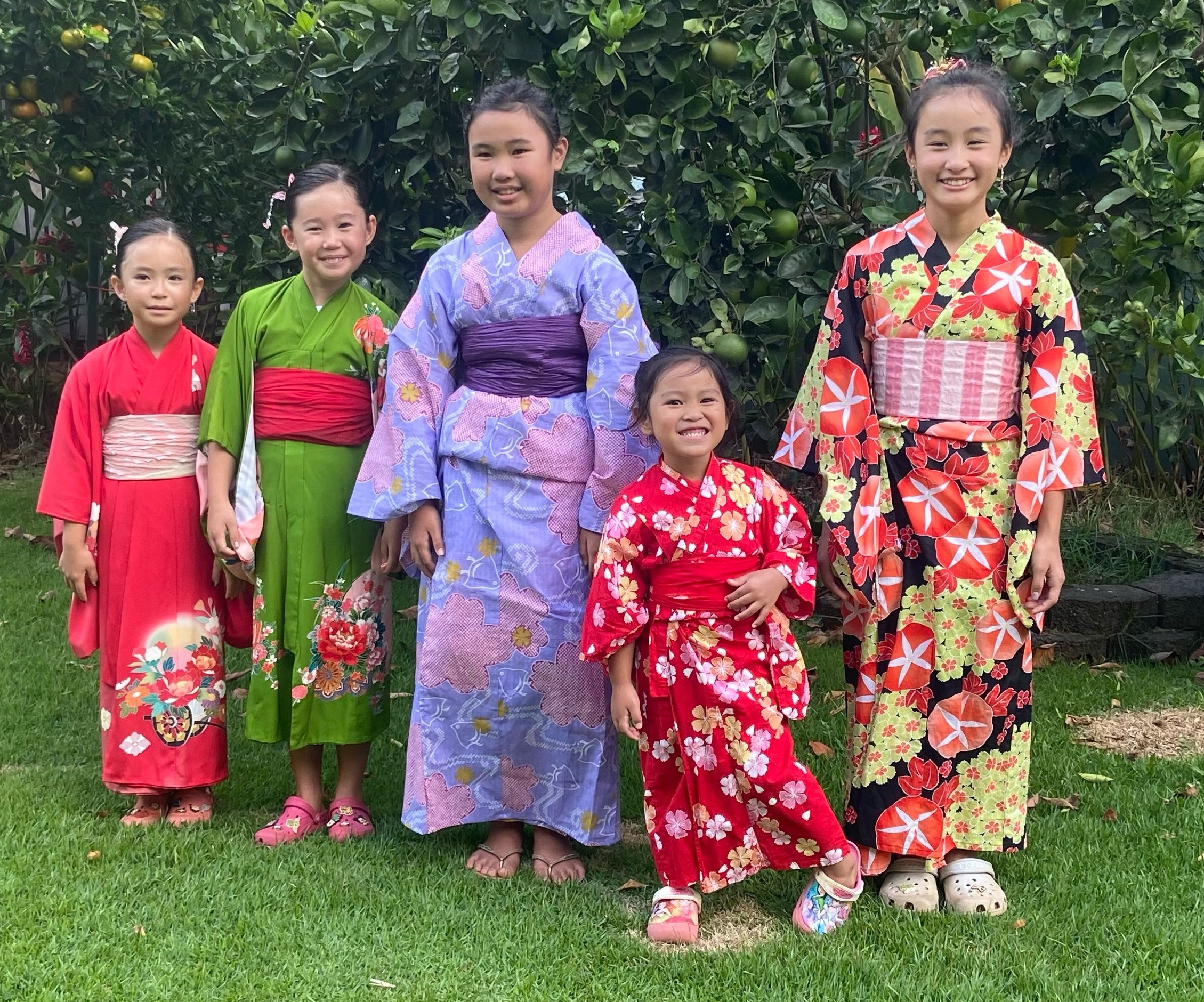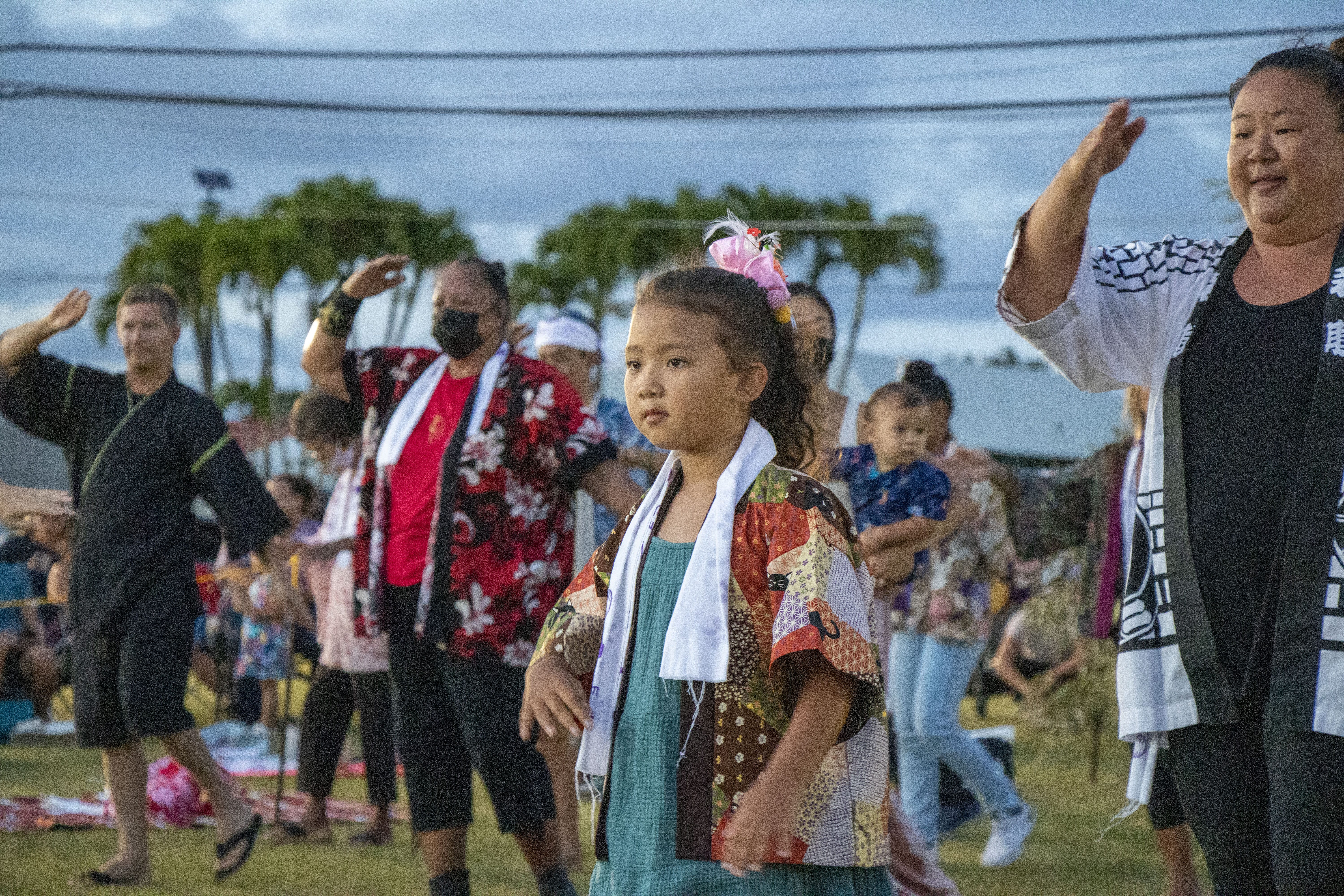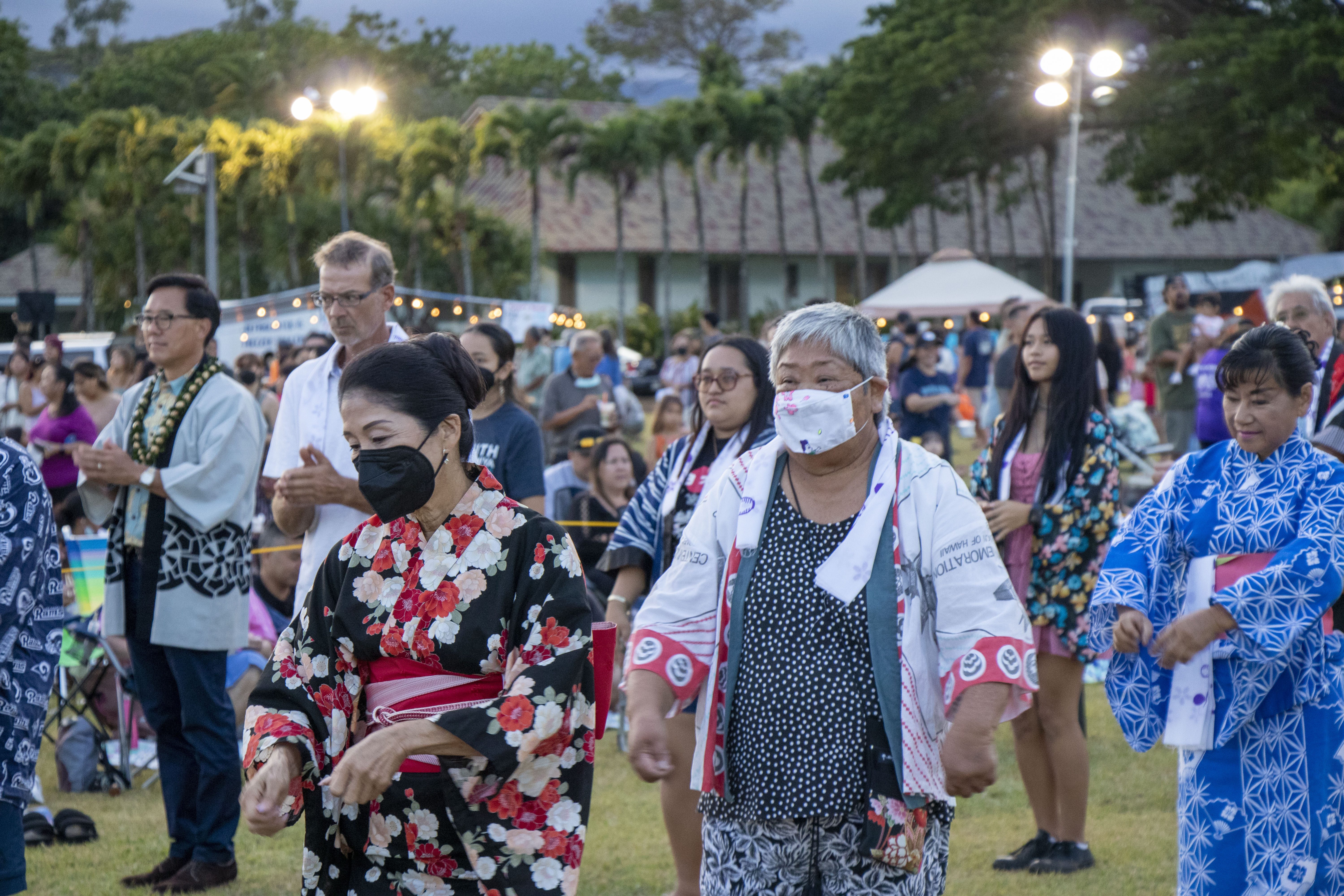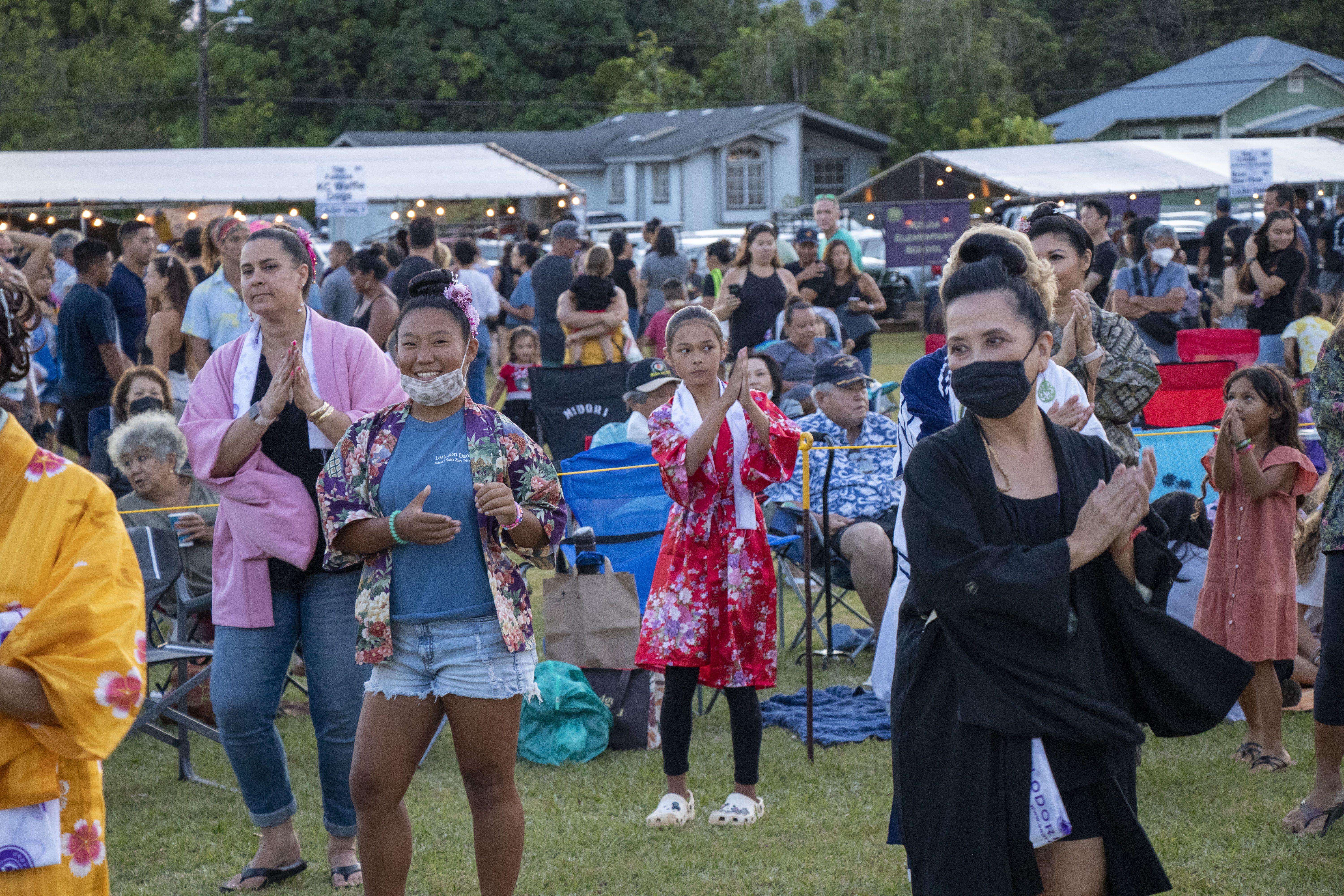 Will Pavao and the Grove Farm ACE team were a tremendous help in the set-up, breakdown, parking, and traffic control. Will's enthusiasm for anything he does is infectious.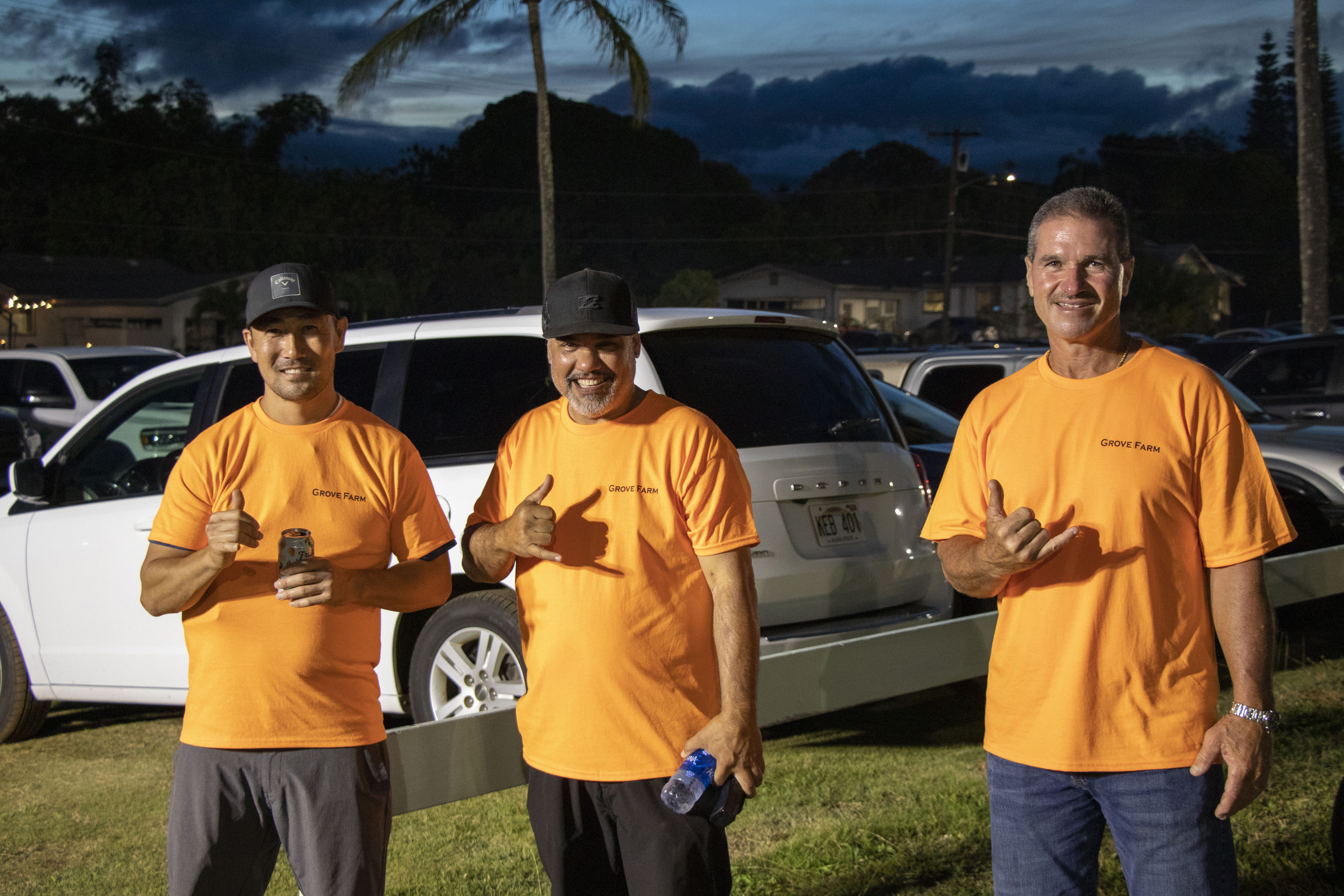 The Kaua'i District Boy Scouts of America set-up and took down the tents, manned the trash and recycling efforts, and sold cold drinks. They truly reflected their scouting values and we appreciate their hard work.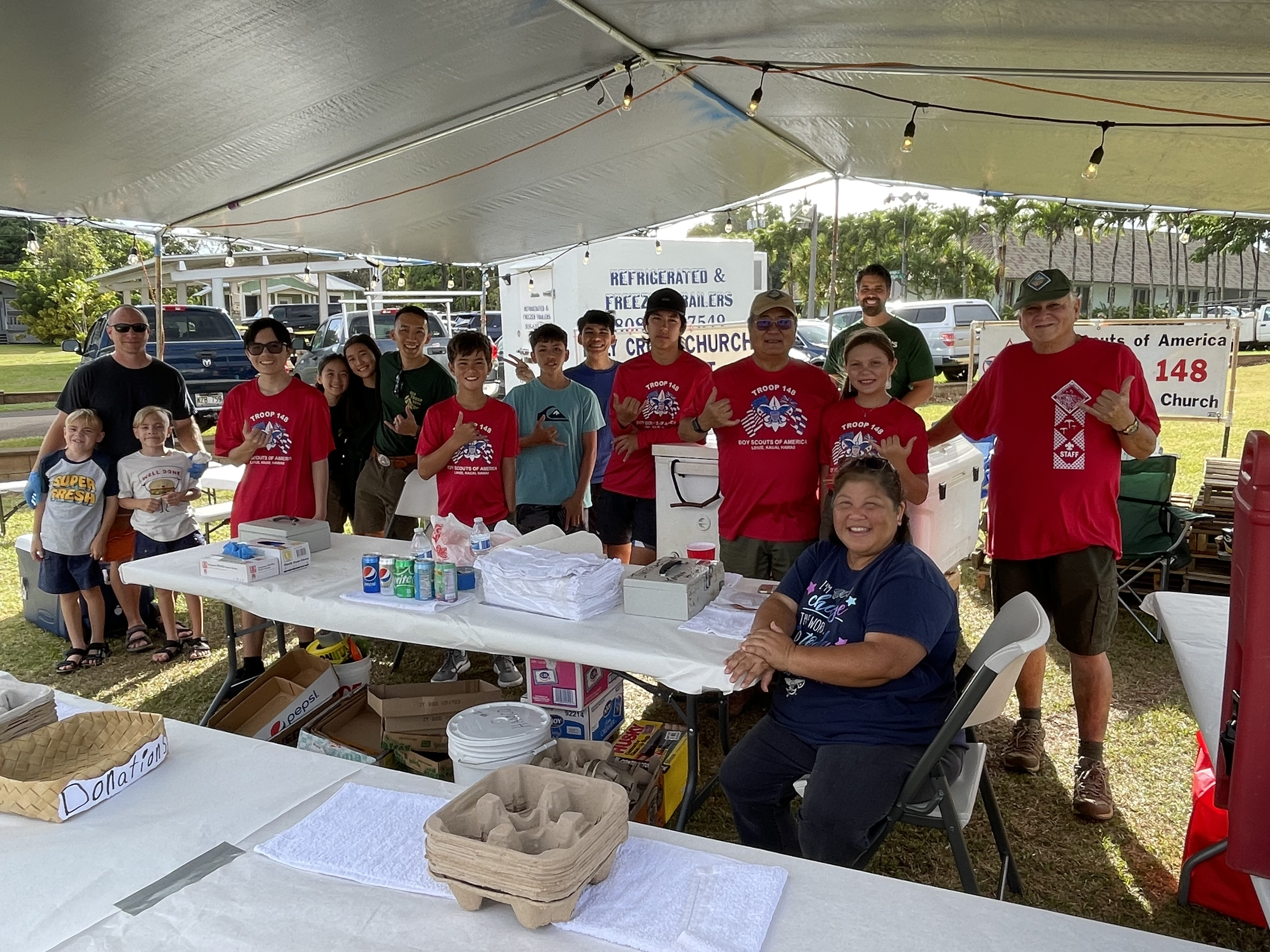 What's a Bon Dance without mouthwatering food? Guests enjoyed the famous KC Waffle Dog by Dayton Asato, flying saucers and saimin by Halau Ka Lei Mokihana O Leinā'ala, Okinawan shoyu pork and stir-fry by Hui Alu, teri beef sticks and an assortment of "plate lunch" offerings from Kaua'i Kim Chee, and poke bowl, nishime, UFO's, ginger fried chicken and andagi from Puakea Grill. To cool off in the warm summer evening, Kōloaand Wilcox Elementary Schools offered Super Duper ice cream and root beer floats.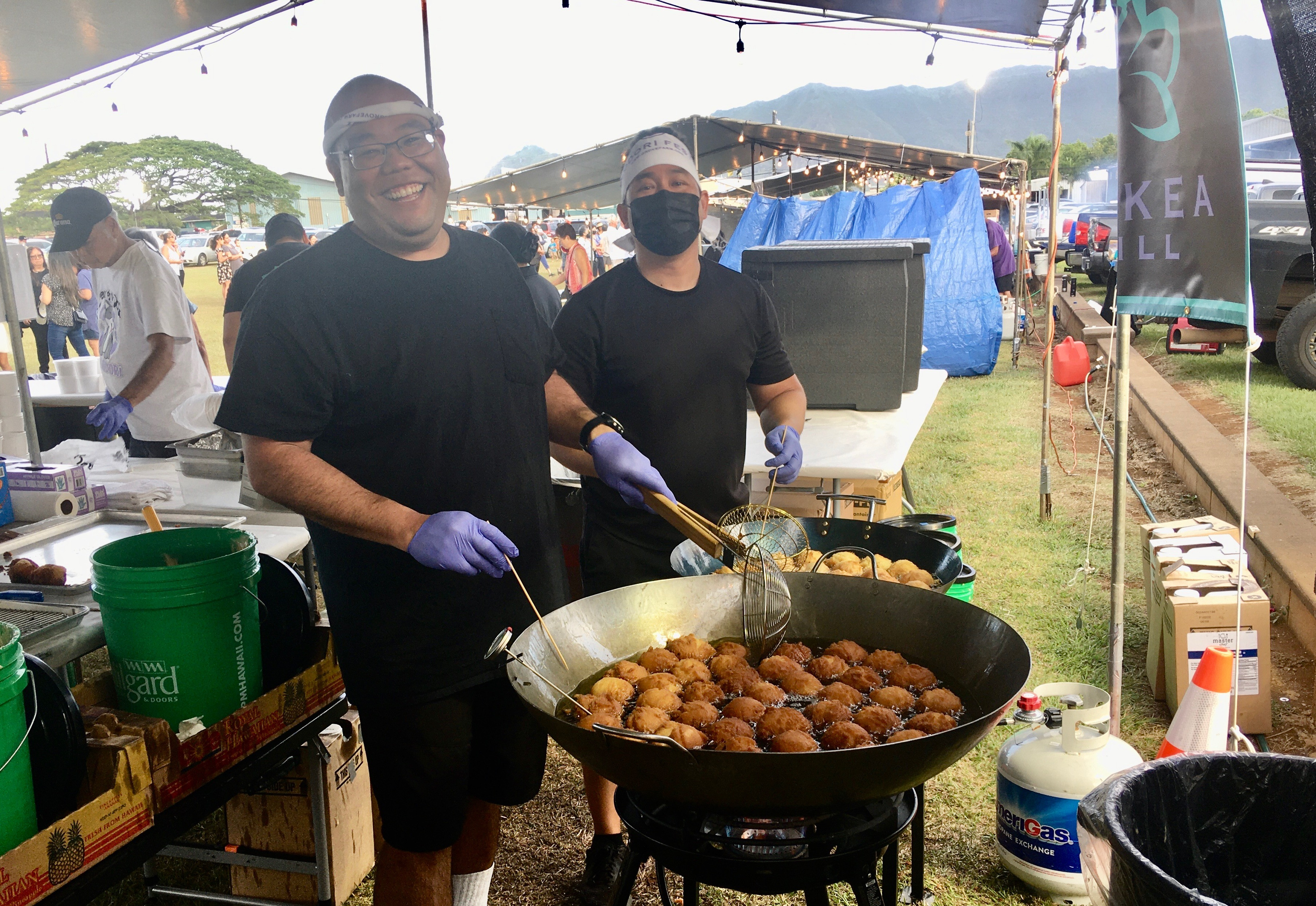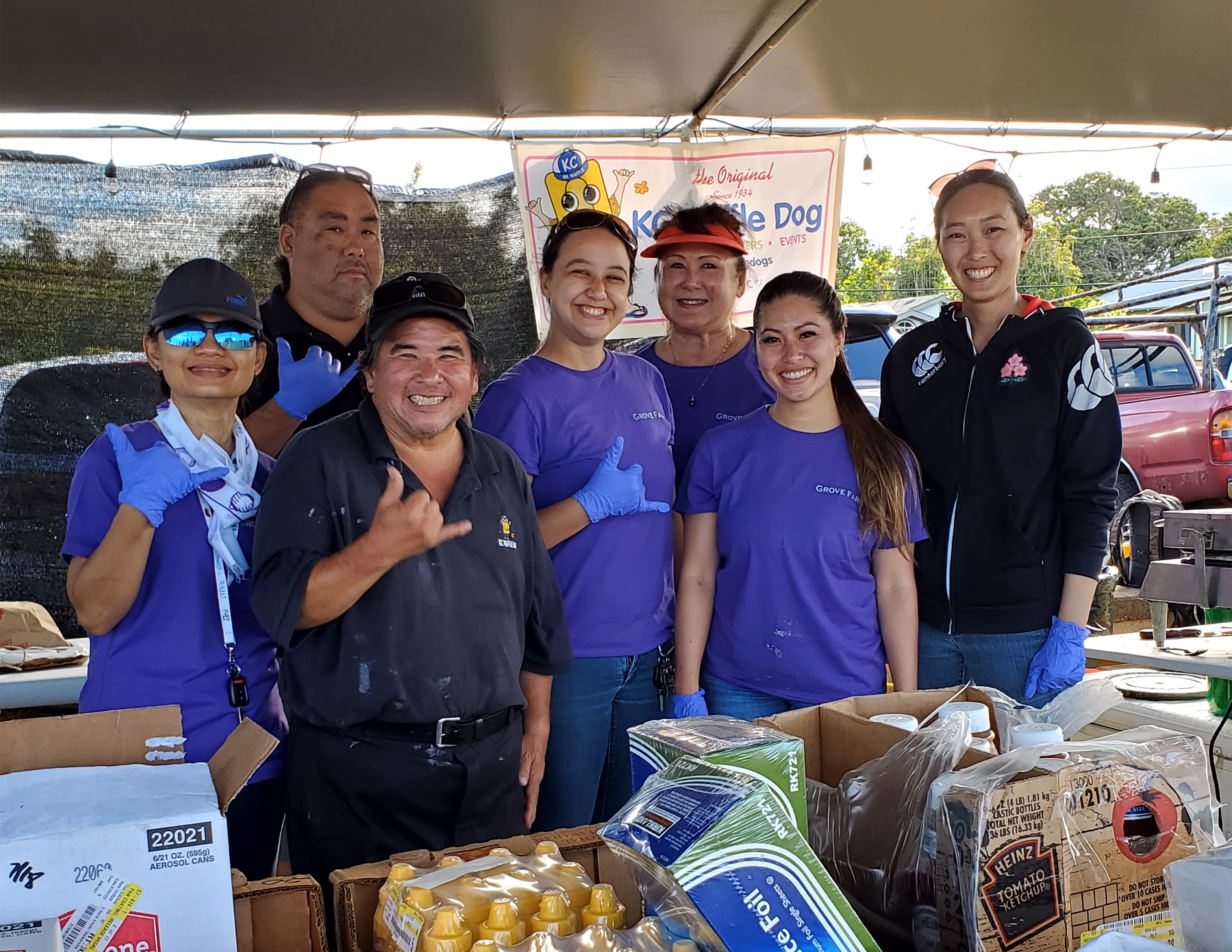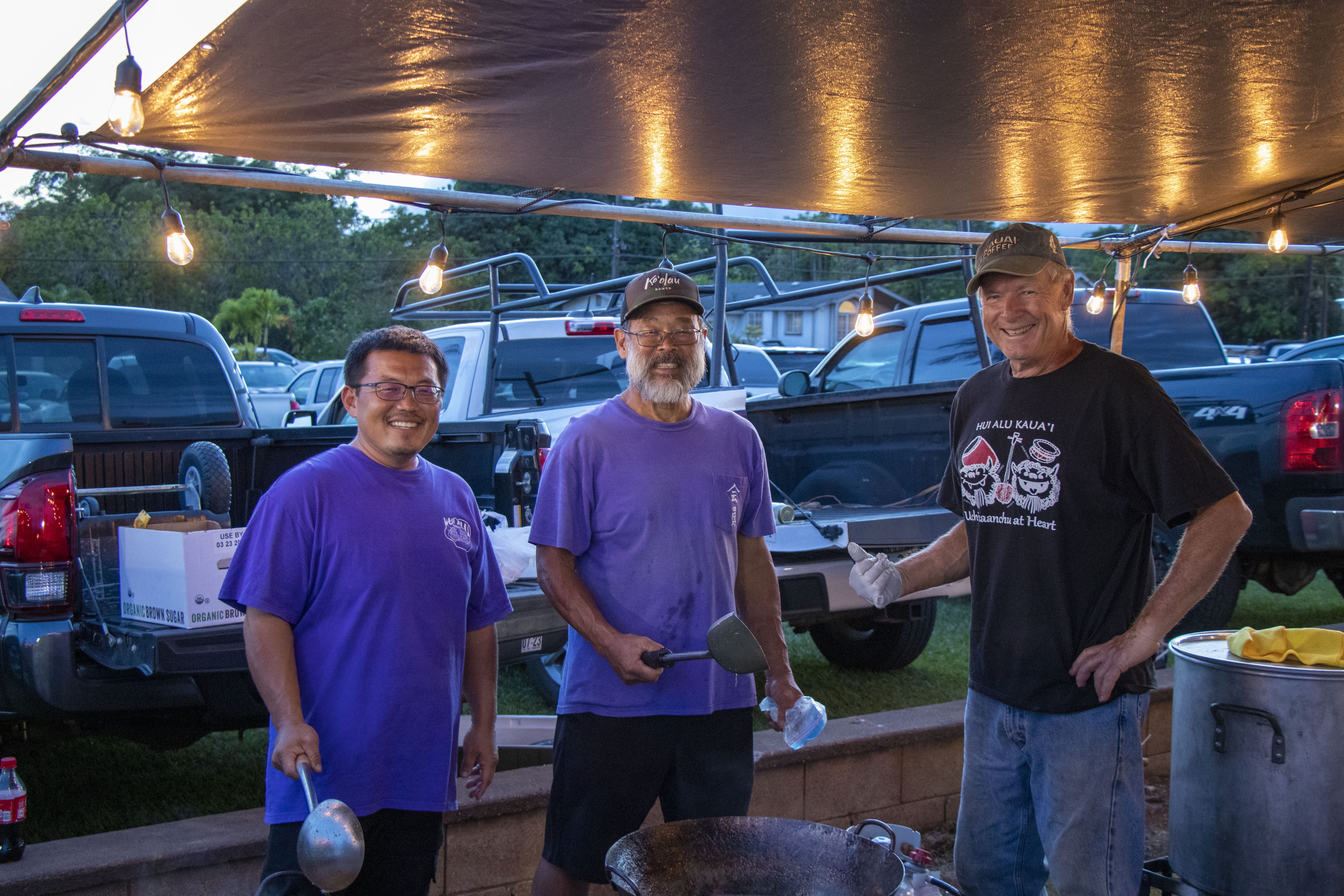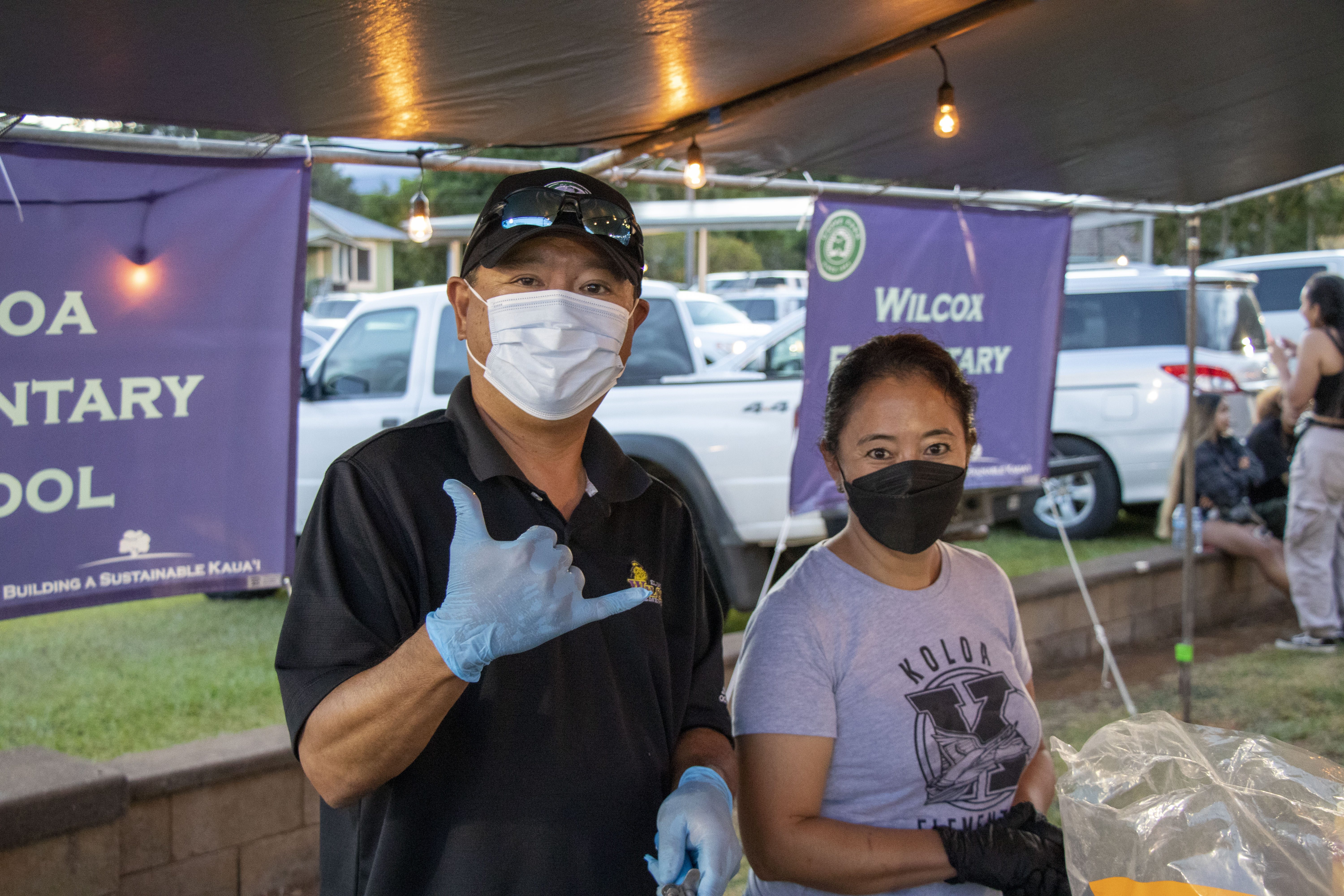 Children enjoyed the Fishpond by the Līhu'e Hongwanji Pre-school and the Kaua'i Community College's Cognition Learning Center offered fun activities for the keiki to enjoy.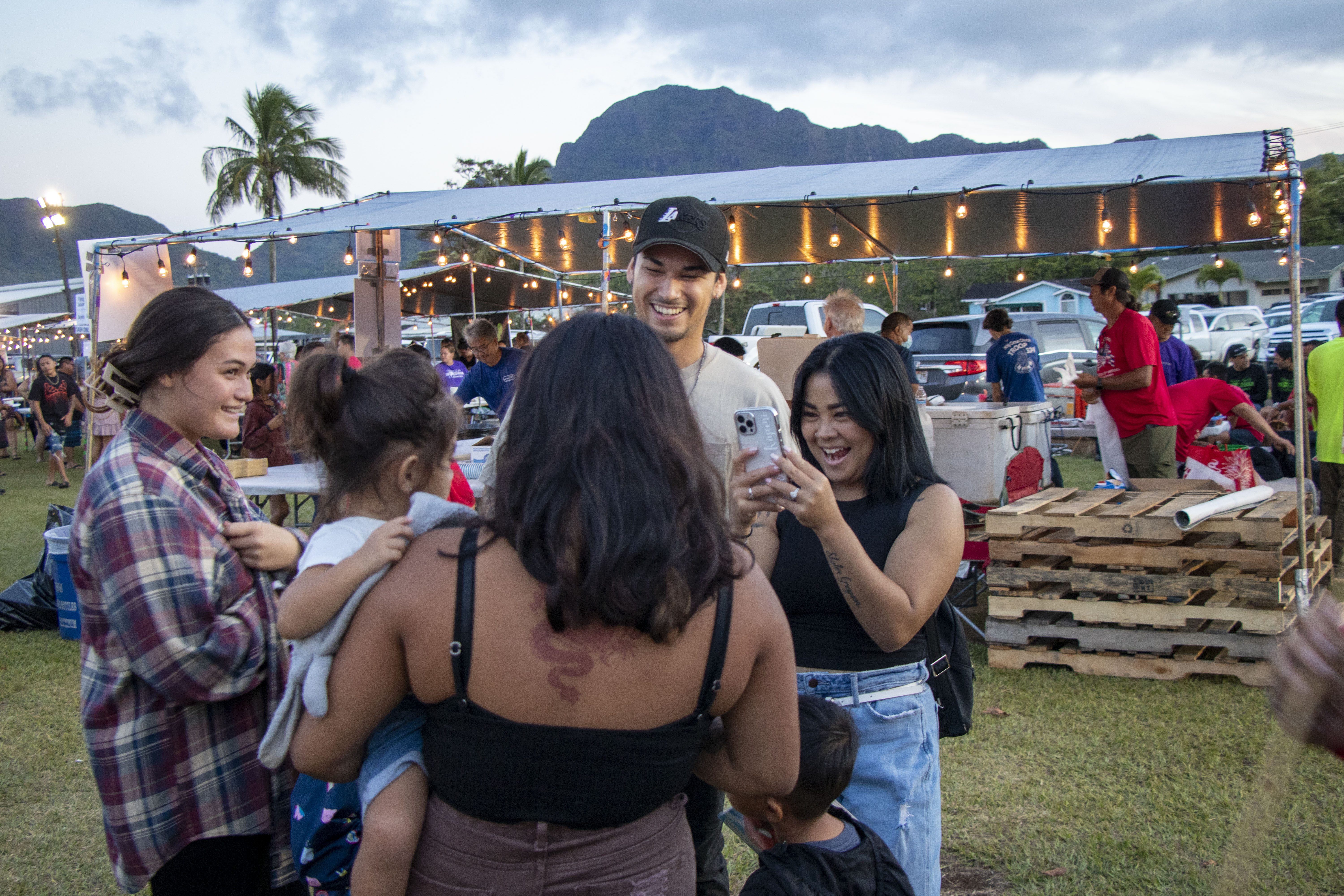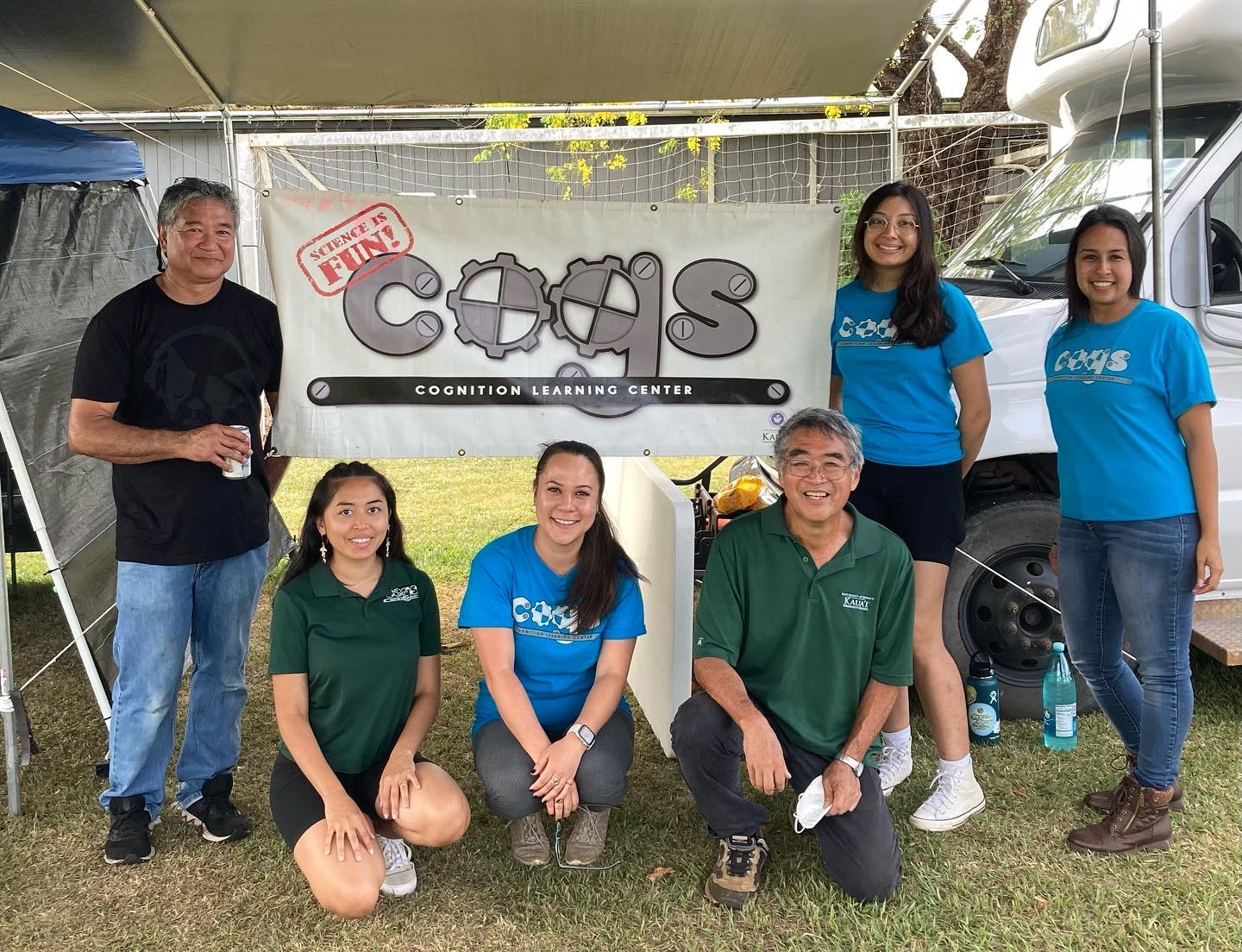 We want to extend our thank you to the team of Olomana Loomis ISC who helped in getting the word out and even traveled to Kaua'i to help us!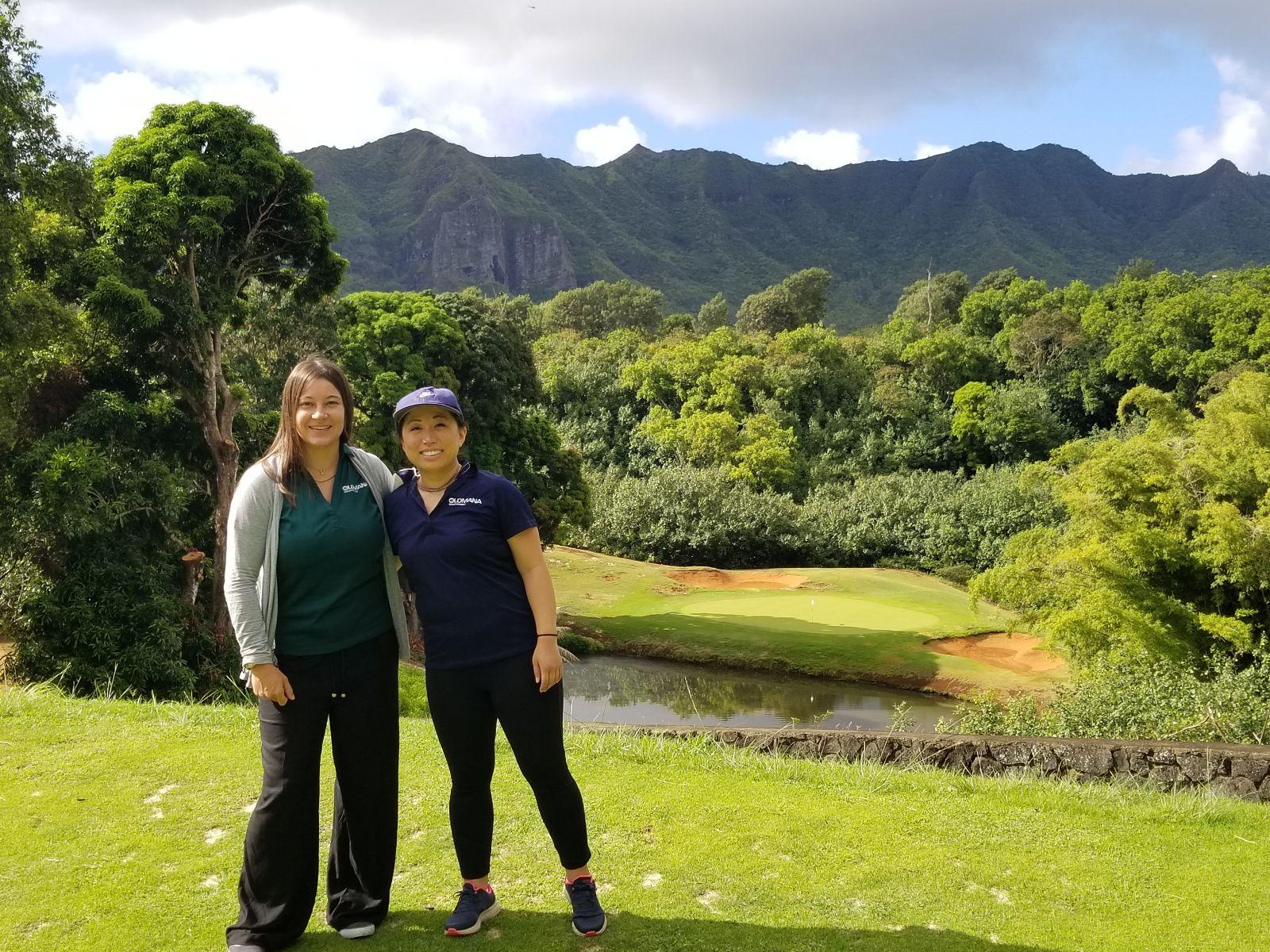 What goes unnoticed, but we cannot do without is the "infrastructure." Thank you to Service Rentals for providing the lighting and to Ron's Electric for their expertise on the power needs. Special shout out to Kaua'i Community College, Konohiki Seafoods, Lee's Rentals, and Garden Isle Portable Toilets who have always been there at our events. And, to the staff at Kodani & Associates Engineers – we appreciate the "brains and the brawn" that you do so willingly contribute for our community events!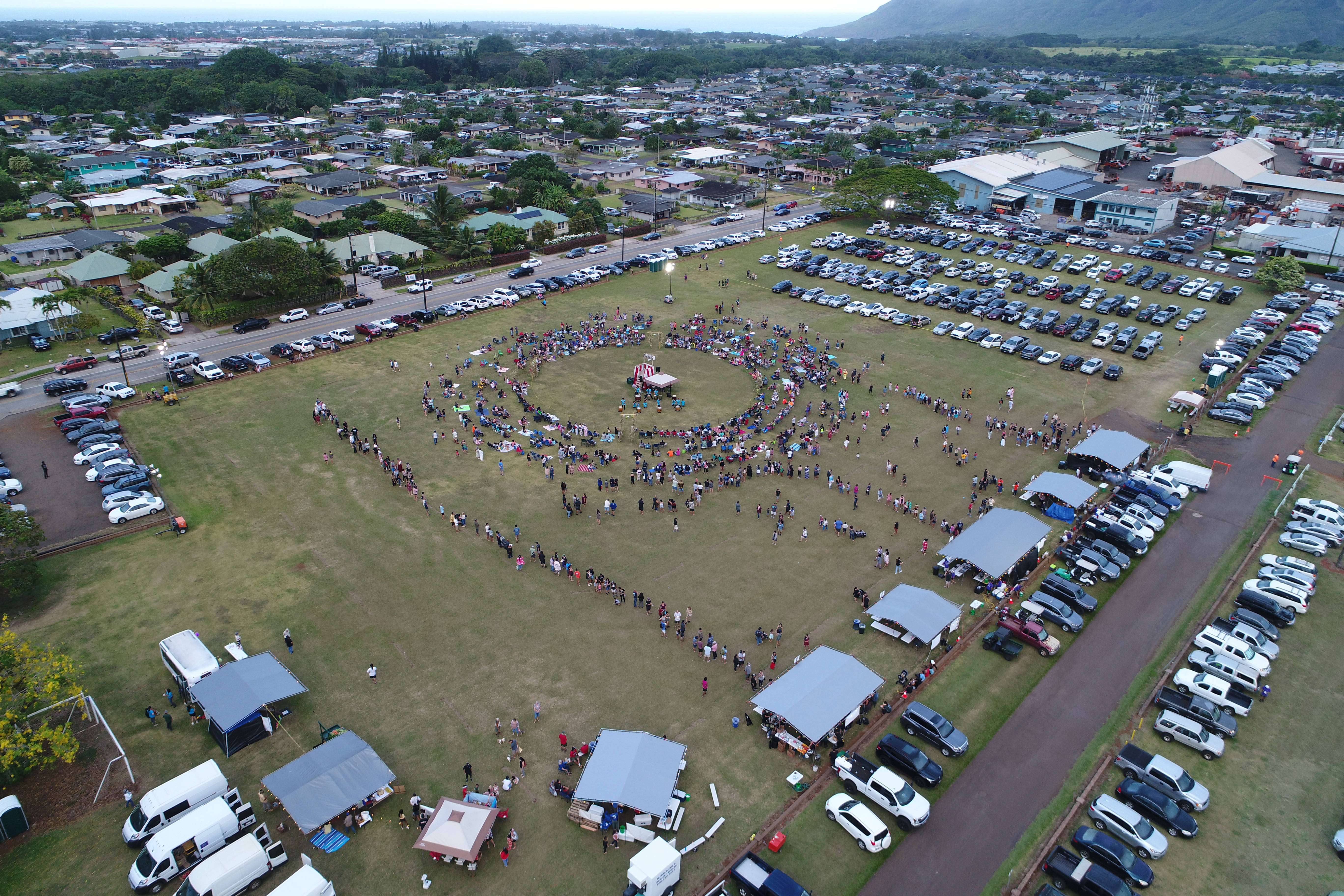 Grove Farm's organizer, Sharyl Lam Yuen said "After three summers without Bon Dances due to COVID we wanted to give the community an opportunity to enjoy the Bon Dance that we all missed." She said, "This was also an opportunity for non-profit organizations to raise funds to support their cause." As you can see, it was a culmination of many to make this Bon Odori Festival a success. Thank you, all!
See More Photos from the 2022 Bon Odori Festival
---
The Return of Kōloa Plantation Days

For the first time since 2019, the 10-day Kōloa Plantation Days events were held in-person to exuberant crowds from July 22nd to July 31st. This year's theme, "Gather Together Again," highlighted the opportunity to attend the festival in-person once again, following two years of solely virtual content. With more than 20 family-friendly events that were inexpensive or entirely free, ranging from the Paniolo Heritage Rodeo to the Old Kōloa Town Walk and the Keiki Miniature Golf Tournament, this year's festival was more exciting than ever.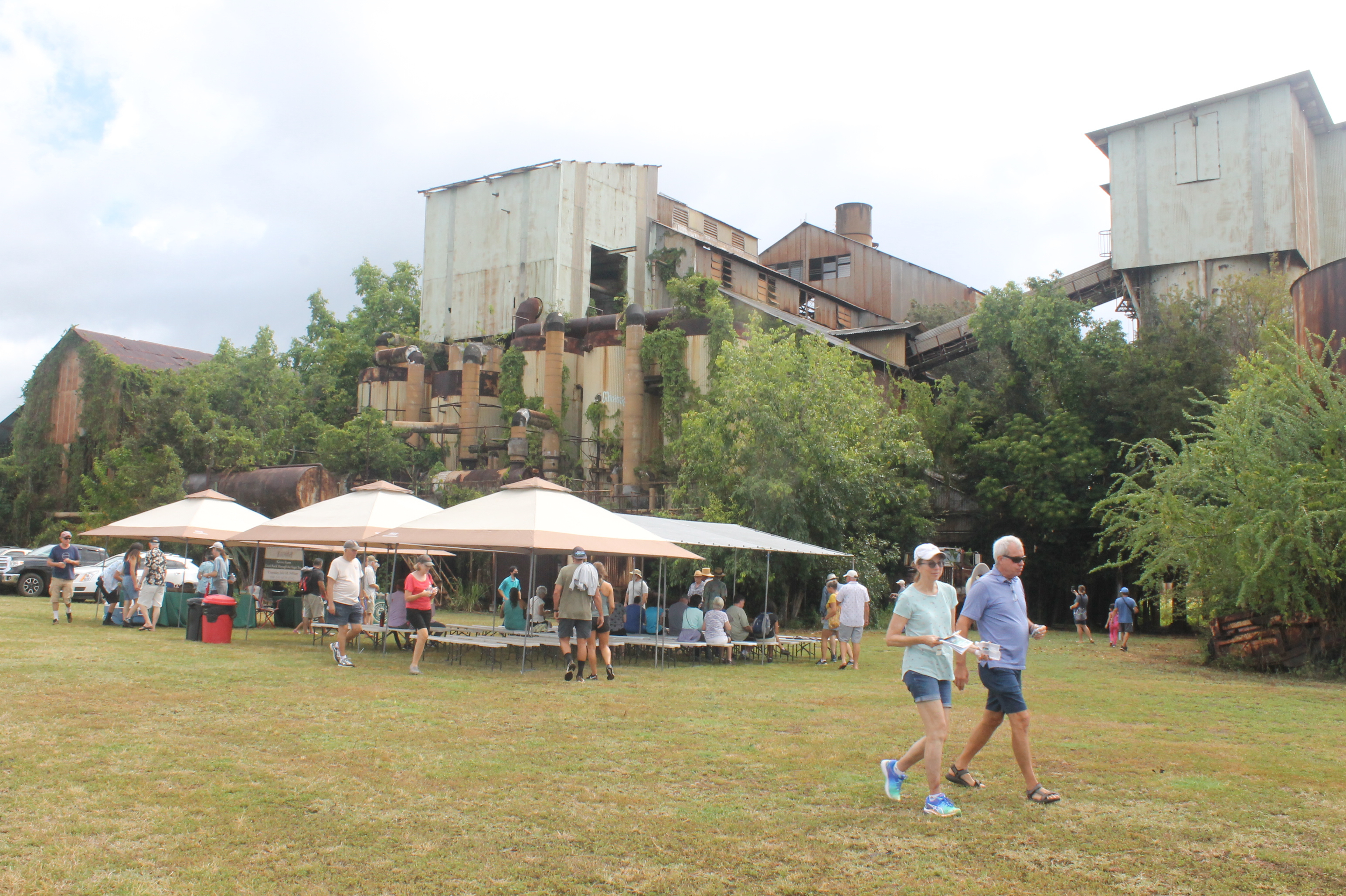 Held annually in July, Kōloa Plantation Days celebrates the plantation roots of the island, its many ethnic groups, and our resulting melting pot of cultures. With an emphasis on Hawaiian history and culture, the Kōloa Plantation Days festival draws support from many community organizations, foundations, businesses, residents, and resorts to honor the history of life in Kōloa, Poʻipū, and the island.

Grove Farm has been a longtime community sponsor of the festival and once again hosted the ever-exciting tour of the Kōloa Mill. Allan Smith and Jan TenBruggencate were present to talk story about plantation life. Allan had served in many leadership positions in the sugar industry. Jan was raised on a pineapple plantation on Moloka'i and has written various books and articles on the sugar plantations of Kaua'i.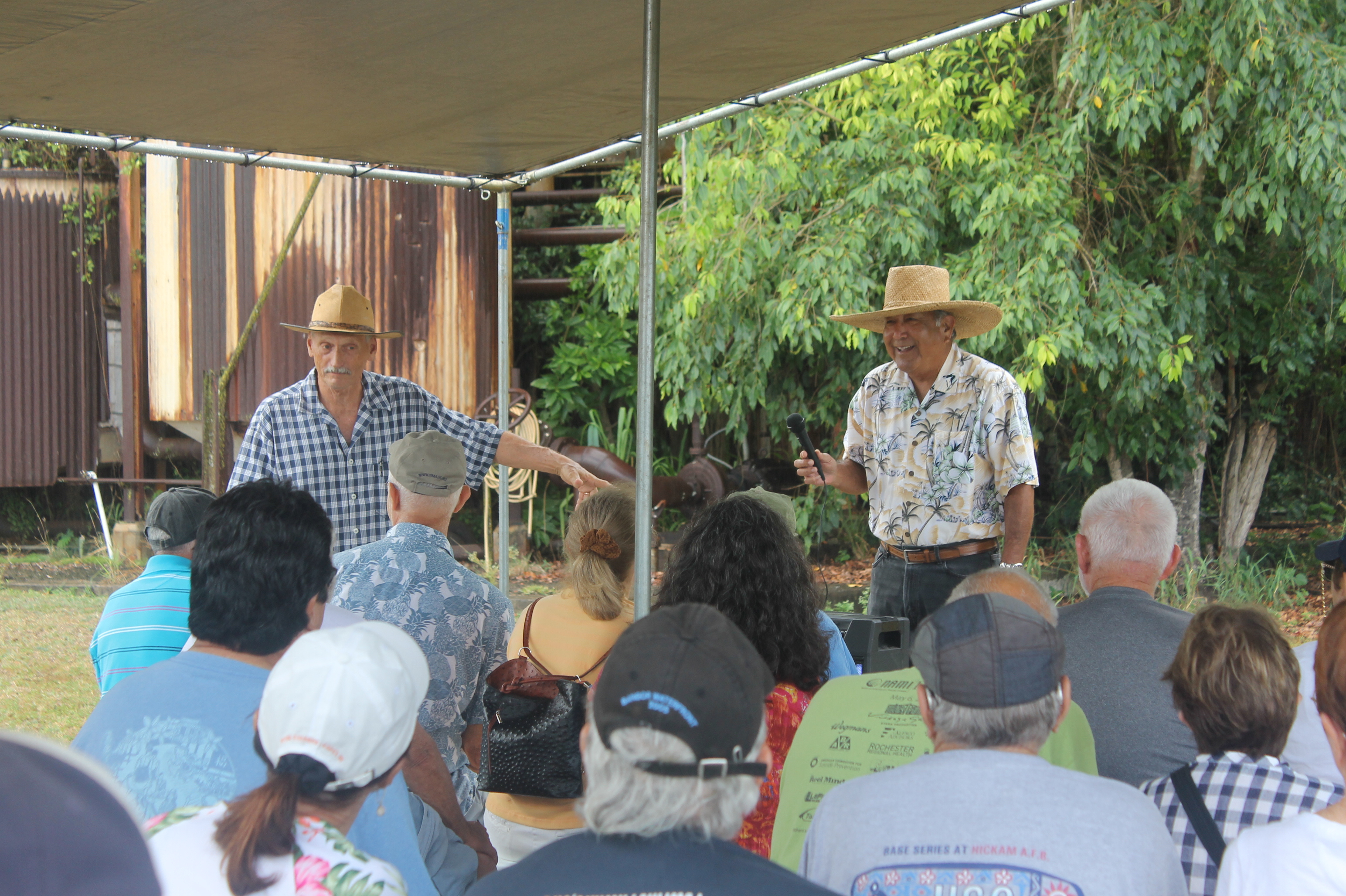 The Kōloa Plantation was the first sugar plantation in the State of Hawai'i, established in 1835. Several smaller sugar mills were constructed, beginning with one in 1836, but the bigger, more efficient Kōloa Mill that we know today began construction in 1912, completed in 1913. In 1899, the company was purchased by the McBryde family, and the Kōloa Plantation merged with Grove Farm in 1948, remaining in our care ever since. In 1996, the Mill finally ceased producing sugar.
Visitors also experienced the Wilcox Tunnel that was built by Grove Farm and provided an efficient means to transport cane to the Mill and sugar to the Nawiliwili Harbor to be shipped.
---
Join Us for the Kaua'i Island Heart Walk – Saturday, August 6 at Puakea Golf Course
Grove Farm is proud to participate in the American Heart Association's
Kaua'i Island Heart Walk
and we invite each of you to register to join us! Get your heart pumping, honor survivors, raise lifesaving funds and have a blast with us on
Saturday, August 6, 2022
at the
Puakea Golf Course
.
Sign up online
or come down and register in person on Saturday starting
at 6:30 a.m
. and be ready for the start of the 1-mile walk around the golf course
at 7:00 a.m.
Check out the Health & Wellness Fair booths from 6:30 a.m. - 9:30 a.m. for resources about healthy living and supporting our community.
Registration is free, and you can choose to make a personal donation and set your own fundraising goal. Get started today by joining
Grove Farm's Company Team
. Click the Join a Team button, select Grove Farm Company, Inc., and complete your registration.
Grove Farm will match the total the team raises up to $5,000!
The funds raised through the Heart Walk will support the American Heart Association's programs to save the lives of kids born with congenital heart defects and adults struggling with heart disease, teach thousands how to save lives through CPR training, and fund the next heart and stroke medical breakthrough.
---
Next Craft Fair – Saturday, August 6 at Grove Farm's Puhi Park
Grove Farm's Puhi Park has been a happening place for fun this Summer! Aside from the weekly Market, the park was the site of our celebration of the UH Men's Volleyball National Champions and our recent Bon Odori Festival. The large open space with lots of parking makes it an ideal location for large events. On Saturday August 6, a craft fair will once again complement the weekly Grove Farm Market. Starting at 9:30 a.m., come and enjoy the amazing work produced by local crafters. It is always amazing to see the talent we have on Kaua'i!