Grove Farm Newsletter - September 2022 Edition
Help Prevent the Spread of Rapid ʻŌhiʻa Death (ROD)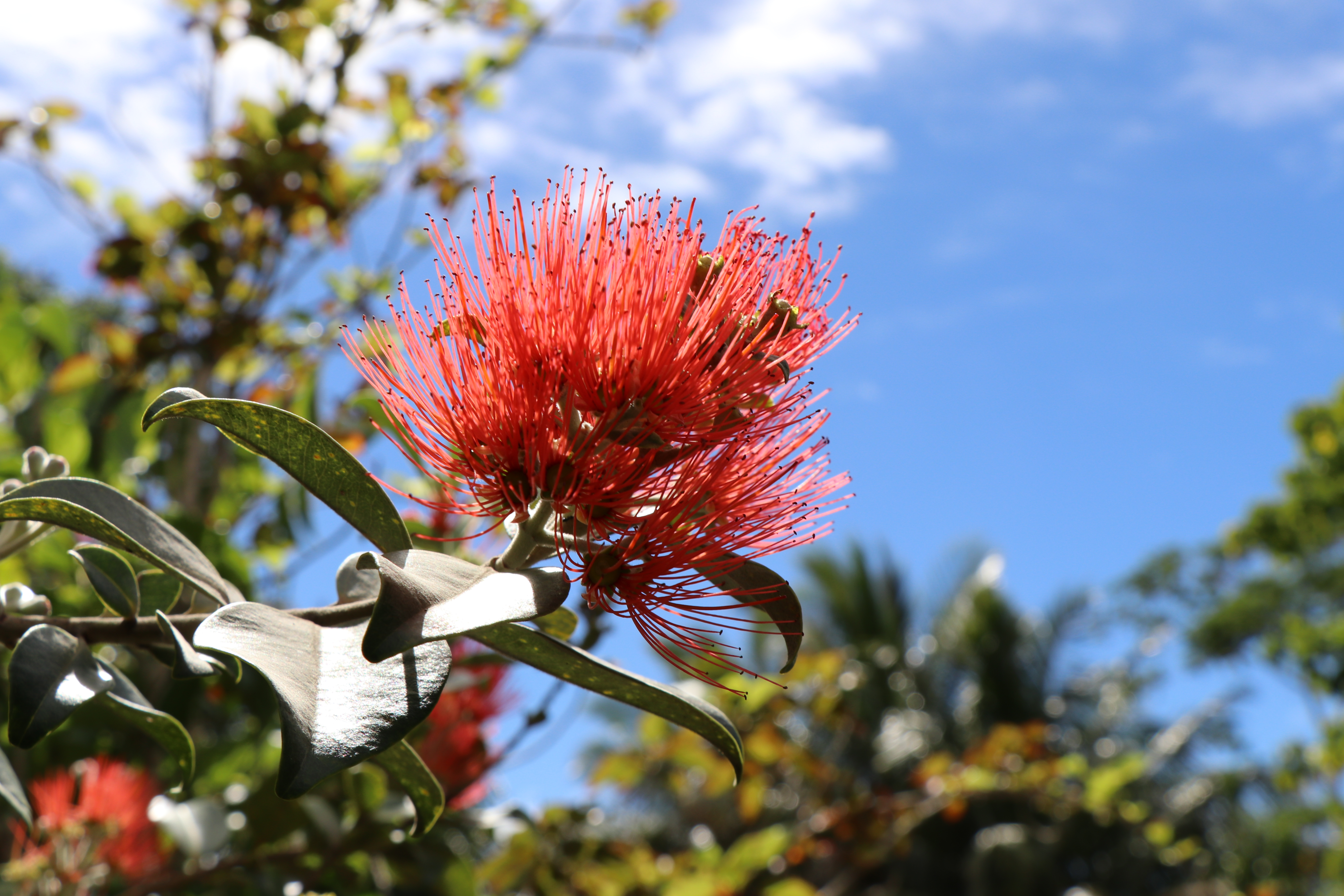 Building a Sustainable Kaua'i means ensuring that our island's unique species can thrive. To protect the ʻŌhiʻa Lehua tree from the Rapid Ohia Death (ROD) fungus, Grove Farm's Tori Kobayashi, Kevin Reyes, and Braden Kobayashi recently installed three Boot Brush Stations throughout our property under the guidance of Kim Rogers, the Kauaʻi Invasive Species Council (KISC)'s ROD outreach specialist, in areas that have higher than average foot traffic.
The Boot Brush Stations and education help prevent the spread of ROD by providing an effective method to clean the bottoms of our shoes before entering pristine areas. These stations and educational signage were installed at the entrances for Kaua'i Backcountry Adventures, Kōloa ATV, and the Kapaia Watershed Preserve.
Learn more about the ʻōhiʻa lehua in this article by Tori Kobayashi, our horticultural specialist, about how this beautiful tree plays an important role in our ecosystem by replenishing our aquifers and its significant in Hawaiian culture.
---
Enhancing Kapaia Watershed Preserve
On Saturday, August 27, the team from Title Guaranty Kaua'i and their families worked at the Kapaia Watershed Preserve, as part of their 'Āina Project about environmental sustainability, to plant native Hawaiian plants and trees and help pull out hila hila, or sleeping grass. They planted 140 native plants including naupaka, 'a'ali'i, ʻūlei, alahe'e, lonomea, kou, milo, hala and much more!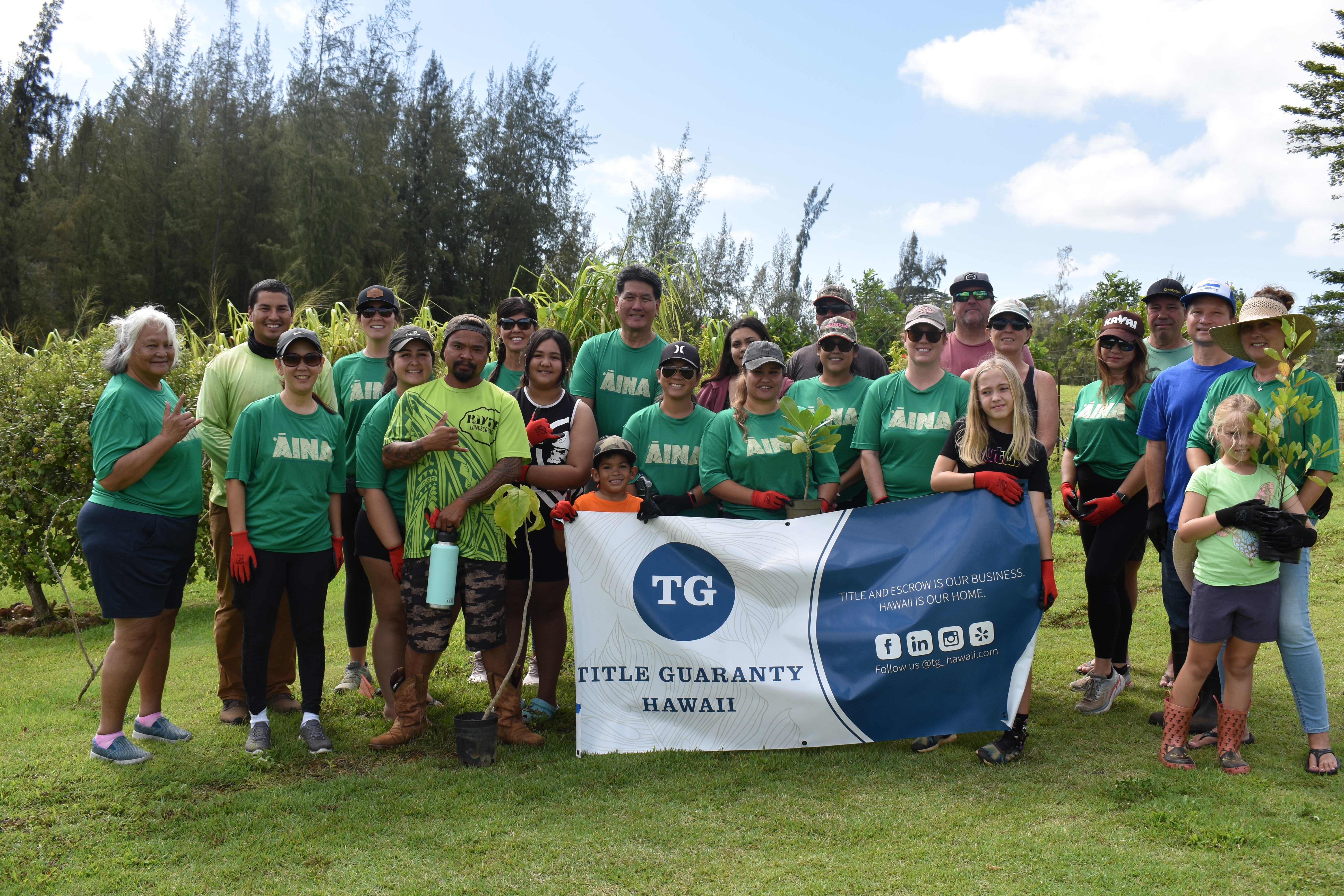 he 'Āina Project is Title Guaranty's commitment to environmental sustainability through eco-friendly projects. This initiative was created by employees to strengthen their connection to the community and to reduce their carbon footprint. The TG 'ohana express a deep kuleana to be stewards of the land. They believe it's important to create an ecosystem that can be enjoyed by many future generations. Each island will conduct a project that will focus on reforestation and planting of native flora and trees. By reforesting using native plants, they will increase soil fertility, remove carbon from the air, and improve biodiversity in habitats – for example, reestablishing our native bird population. TG employees will share their care and love of the land through sustainable actions.
To date, they have completed two projects on Hawai'i island and Kaua'i. On July 23rd, the TG 'ohana on the Big Island gathered in Hāmākua to assist in the reforestation of native trees including ʻiliahi, māmane, koa, and ʻaʻaliʻi. The mountainside area selected was affected by brush fires in recent years and the team spent the morning digging new holes for over 500 seedlings.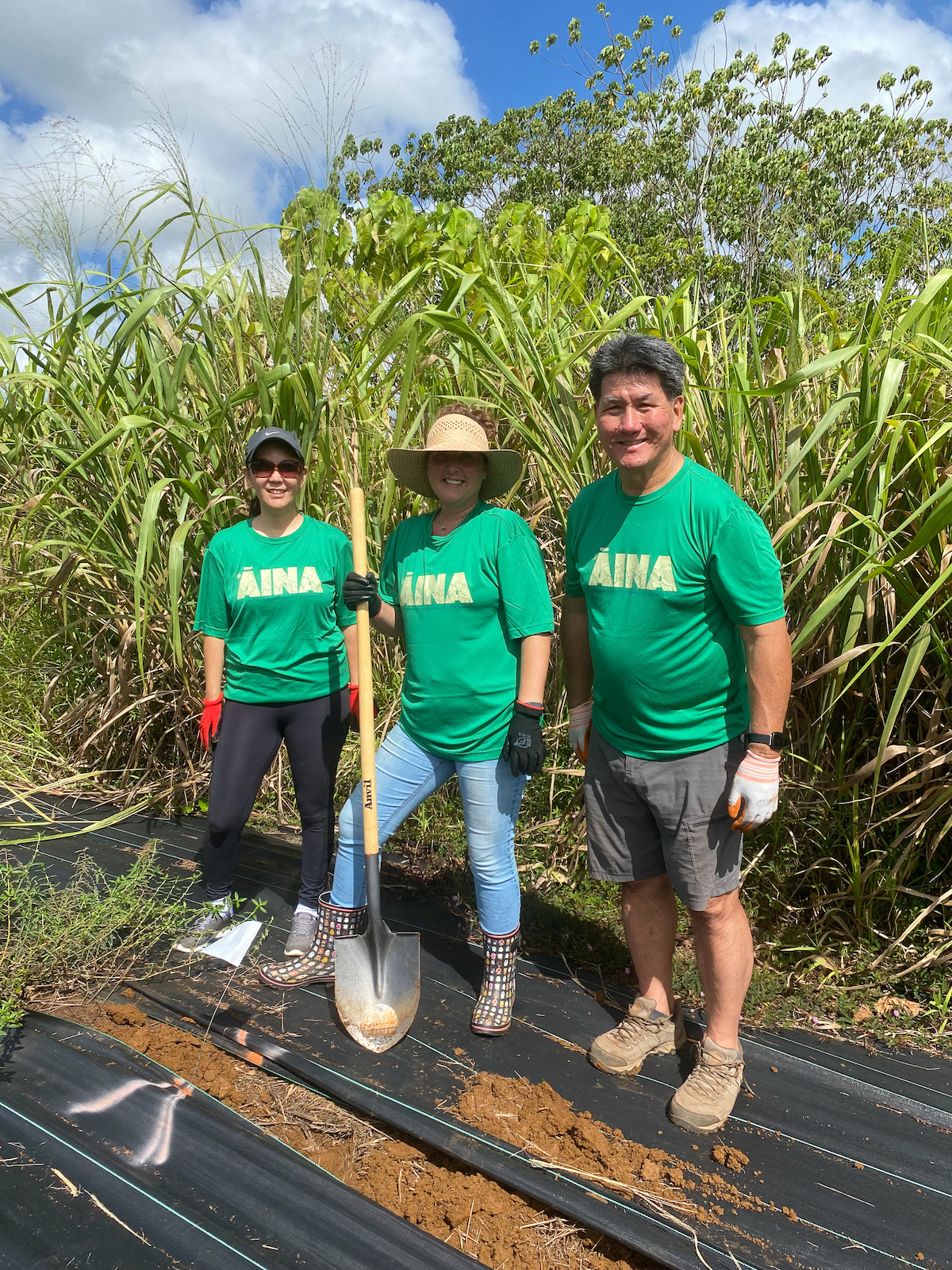 "Grove Farm has been a wonderful organization to partner with for our ʻĀina Project,"
said Matt Takata, Senior Vice President, Escrow State Manager.
"Their mission of sustainability is something we can all get behind. Our employees and their families had a great time working together to plant trees.
Everyone left feeling a great sense of accomplishment and connection to each other and the land.
Mahalo Grove Farm for all that you do!"
The mix of native trees and shrubs will re-establish the Nēnē Habitat at Kapaia Reservoir by providing food, shelter, and nesting materials for the threatened birds.
Thank you, Matt Takata and the team from Title Guaranty, for your hard day's work!
---
Heart Walk at Puakea Golf Course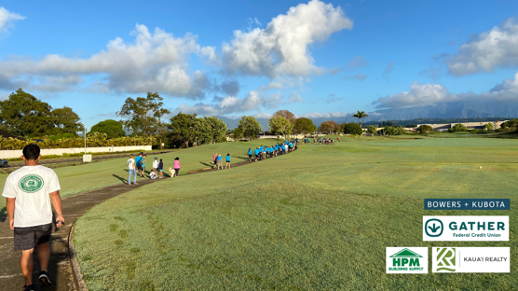 It was a beautiful morning for the Kaua'i Heart Walk on Saturday, Aug. 6, when many corporate teams strolled around the Puakea Golf Course to raise funds and bring awareness to heart disease for the American Heart Association. We would like to thank our partners -- Bowers + Kubota, Gather Federal Credit Union, HPM Building Supply, and Kaua'i Realty -- who joined the walk and raised close to $4,000 on behalf of the Grove Farm team. The Grove Farm Foundation matched the funds raised with an additional contribution of $4,000.

---
Kōloa Elementary School – Kōloa Mill Tour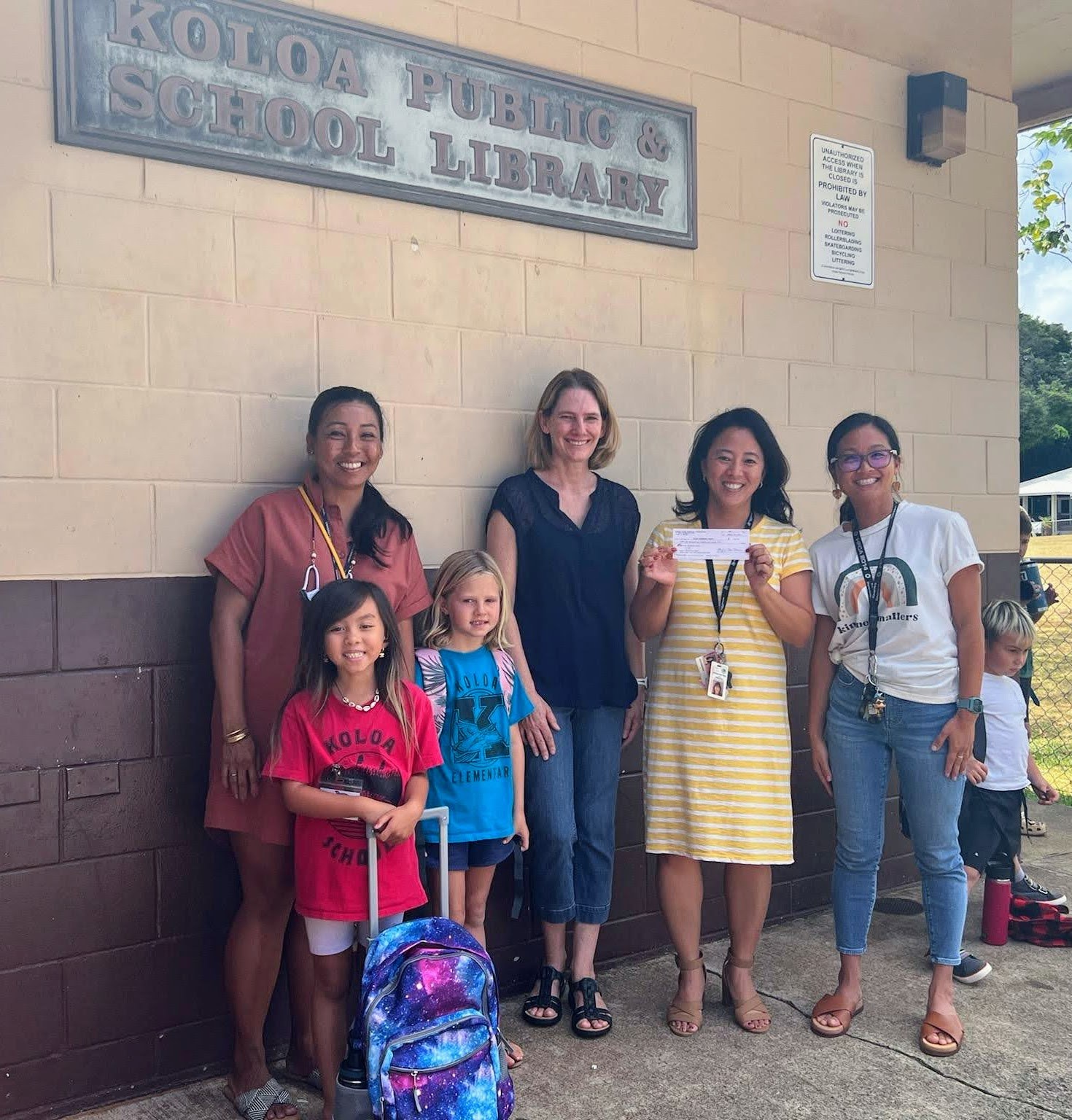 Following a wonderful Kōloa Mill Tour, which was part of the Kōloa Plantation Days festival, the donations from our tour were matched by the Grove Farm Foundation and presented to Kōloa Elementary School. The funds will be used to help with transportation costs for field trips.

---
Recipe Roundup – Ahana Family's Tofu Salad

The Ahana Family uses fresh local ingredients to make this Tofu Salad. Enjoy this heart- healthy and refreshing dish.
Many years ago, the patriarch of the Ahana Family, Chun Lin Hung, was a good friend of Grove Farm's founder, George Norton Wilcox. The two friends communicated in Hawaiian, which Mr. Ahana learned when he immigrated to Hawai'i. Mr. Wilcox grew up in Hawai'i speaking both English and Hawaiian.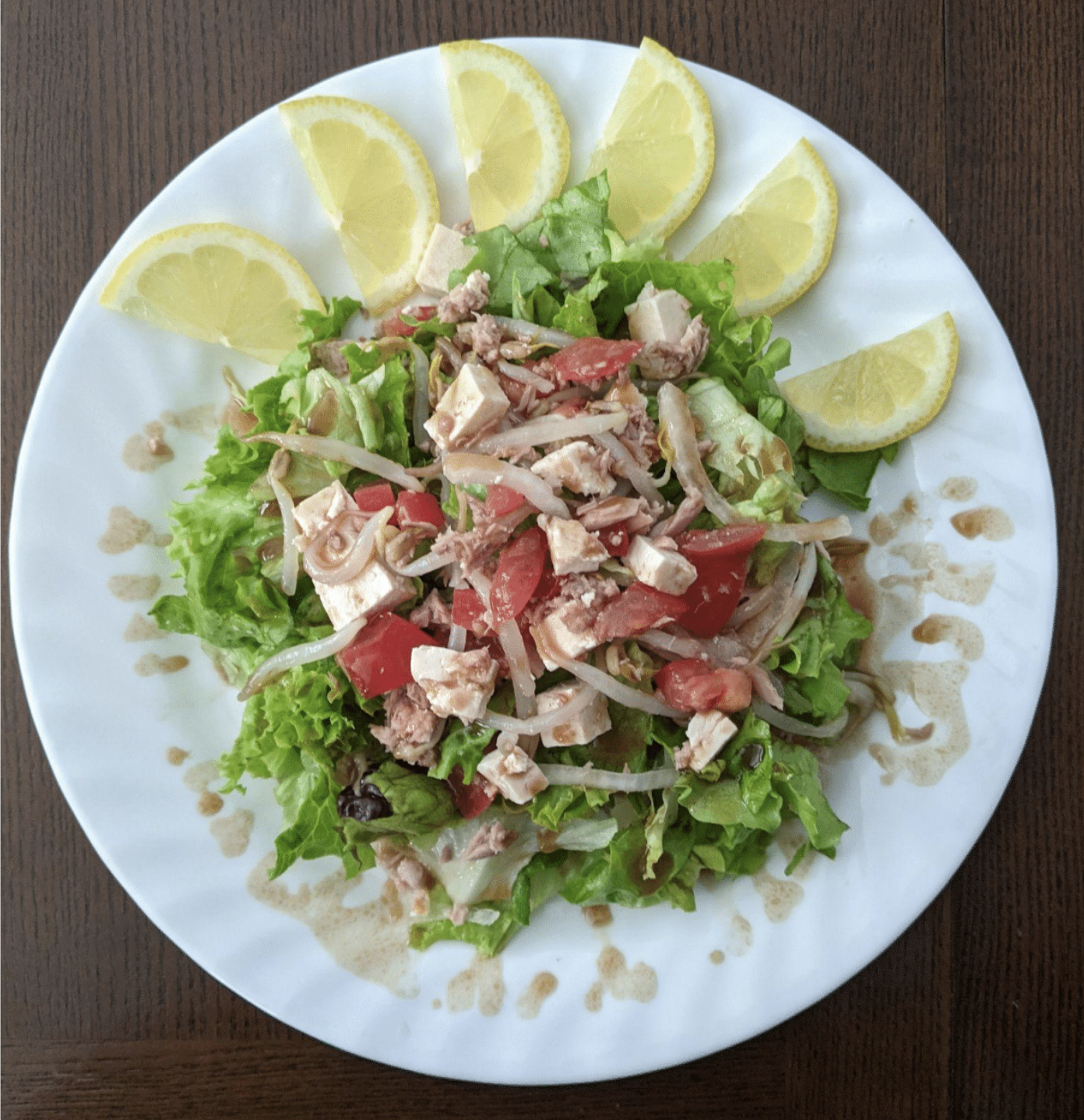 Ingredients:
| | |
| --- | --- |
| 1 block | firm tofu, drained and cubed |
| | lettuce or watercress |
| 1 package | bean sprouts |
| 2 | medium tomatoes, diced |
| | sweet onion, thinly sliced |
| 1 can (7 oz) | tuna, optional |
| 1 | lemon, remove seeds |
| 1/2 cup | oil |
| 2 cloves | garlic |
| 1/2 cup | shoyu |
| | green onion, chopped |
Instructions:
Wash and prepare salad ingredients
Layer salad ingredients in a bowl or pan
For sauce, heat oil and garlic until the garlic turns dark brown. Let cool.
In a bottle, combine oil, shoyu, and green onion. Mix well.
Squeeze lemon juice over salad and pour sauce just before serving