Grove Farm Newsletter - May 2020 Edition
Thank you to our vendors and the community who participated in the opening of Puhi Park Produce on April 11th -- it is a huge success! Puhi Park Produce is open every Wednesday from 2 p.m. and every Saturday from 10 a.m.
During these trying times our island's hardworking farmers and fishermen provide our community with some sense of normalcy by making available fresh items that were once available at Sunshine Markets. To the community who supported these vendors, we thank you for continuing to follow the Market Best Practices so we can continue to bring you the freshest fruits, vegetables and fish.
A special thank you to Dennis Fujimoto of The Garden Island Newspaper, Ron Wiley of KONG Radio and Ron Wood of FM97 for helping us get the word out. Communications is key, especially during these uncertain times, and you went above and beyond to help the island.

Grove Farm's President and CEO, Warren Haruki, saw a need in our community to help all island farmers and fishermen who lost their venues to make their living while the island deals with the coronavirus restrictions. "I am very proud of our team who stepped up to bring together Puhi Park Produce" said Haruki. "It is a commitment we all share in building a sustainable Kaua'i.This event has also made us keenly aware of the need to become more sustainable with our food – we need to grow crops and encourage everyone to eat local!"

Having this large open space made Puhi Park a perfect location for vendors to set-up a good distance away from one another. Ample parking surrounds the perimeter makes it easy to efficiently shop while practicing social distancing.
Many of the farmers grow their crops on Grove Farm land. "Our hardworking farmers take pride in bringing you the freshest produce. Being able to offer them a place to sell the fruits of their labor during these difficult times is important." said Grove Farm Project Manager, Arryl Kaneshiro.
Click here for more information about some of the vendors at Puhi Park Produce!
---
Easiest Soup in the World
Nonaka Family Recipe
"If you cannot make this, I don't know what to say"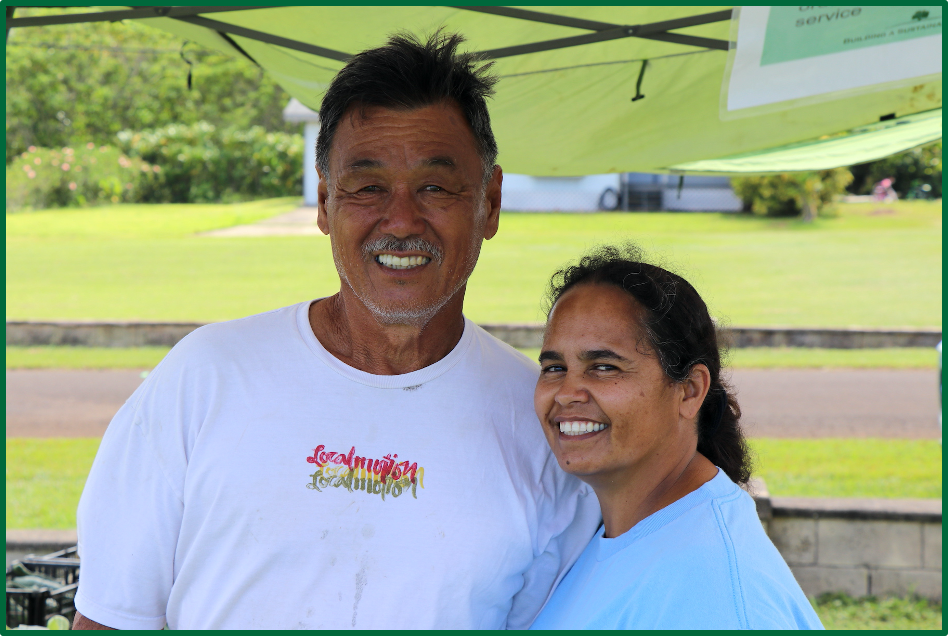 Recipe courtesy of Dean and Nicol Nonaka from Nonaka Farm in Hanapēpē Valley
2 cans of SPAM
3 bunches mustard greens
6 cups of water
Garlic and grated ginger to your liking
Salt and pepper, to taste
Large daikon, peeled and cubed, optional

Directions:

Cut SPAM and daikon (optional) into ½ inch cubes
Rough chop mustard greens
In a large pot, brown SPAM until desired doneness
Add in garlic, ginger, and water
Add in daikon and mustard greens
Boil for 10-15 minutes
Add salt and pepper to taste
Serve over hot rice
---
Have you completed the 2020 Census yet?

Every 10 years, the United States Government takes a count and collects critical data of its residents. Why is this data important and how does it benefit you? The results of the census will determine how billions of federal dollars are used. The information from the census will determine the number of seats each state has in the U. S. House of Representatives and how federal money will be distributed to communities for needs like public transportation, facilities for the elderly and children, and it even determines areas for housing assistance.

It's important for Kauaʻi so be sure to complete and submit the census and be counted! Fill out the 2020 Census at https://2020census.gov.