Grove Farm Newsletter – June 2021 Edition
Celebrating the University of Hawaiʻi Men's Volleyball National Champions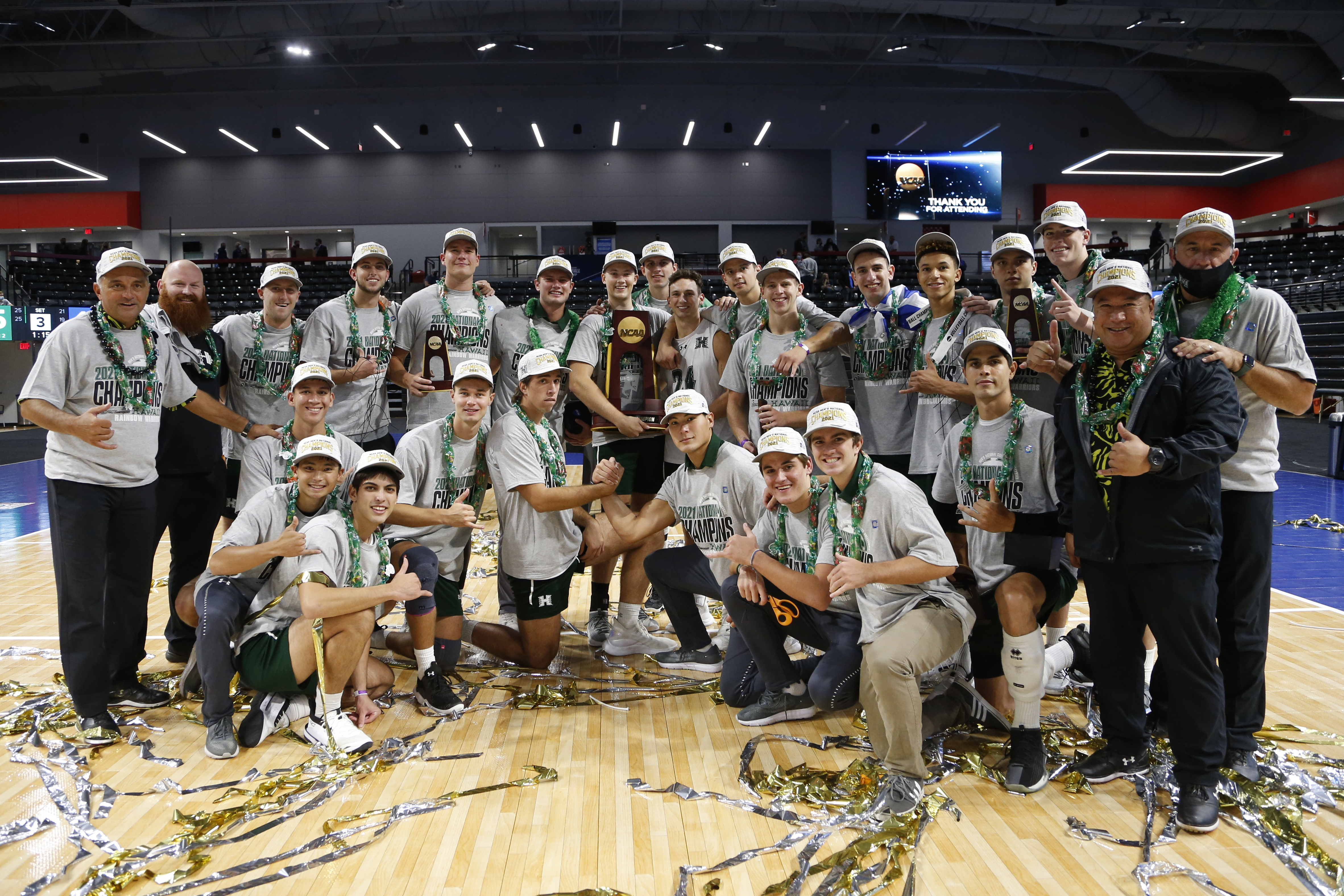 May 8, 2021 was a proud moment in our state's history when the University of Hawai'i Men's Volleyball team won the National Championship in Columbus, Ohio. Their journey to the NCAA Championship began with the 2020 season lost to the pandemic and then returning to the 2021 season with no live fans. Through it all, they persevered and filled all of us with tremendous joy and pride. Kaua'i celebrated their victory on a beautiful Saturday in May – just three weeks following their victory. Grove Farm hosted a community celebration for Kauaʻi to offer their congratulations to the UH Rainbow Warriors.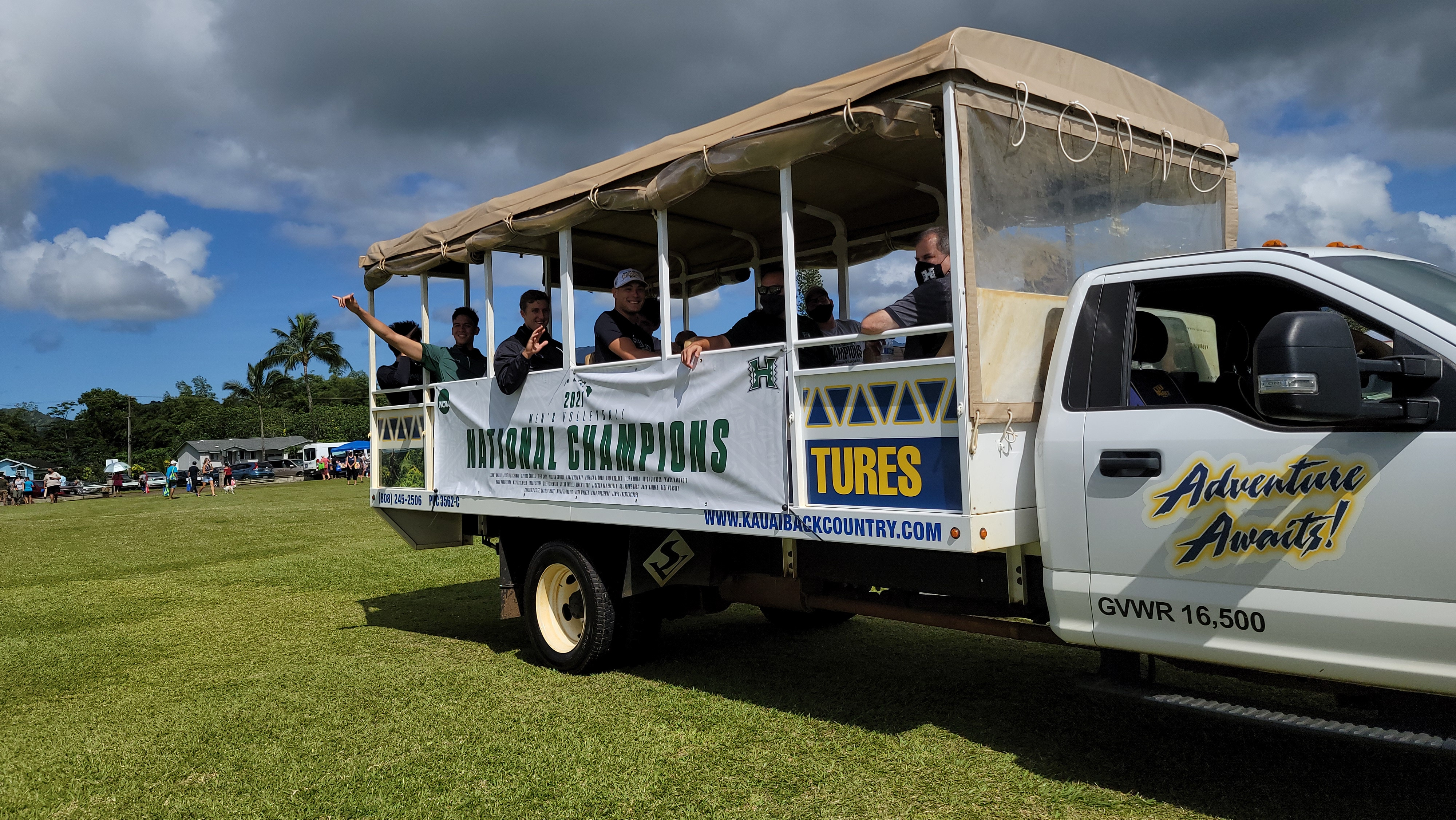 The fanfare began with the team riding into Grove Farm's Puhi Park on the Safari Tram donated by Kaua'i Backcountry Adventures to the tune of Hawai'i 5-0. Coach Charlie Wade and senior players addressed the crowd of well-wishers.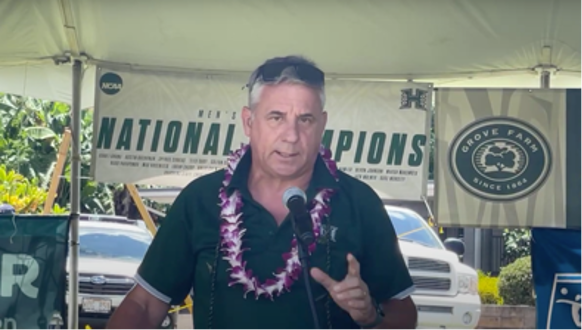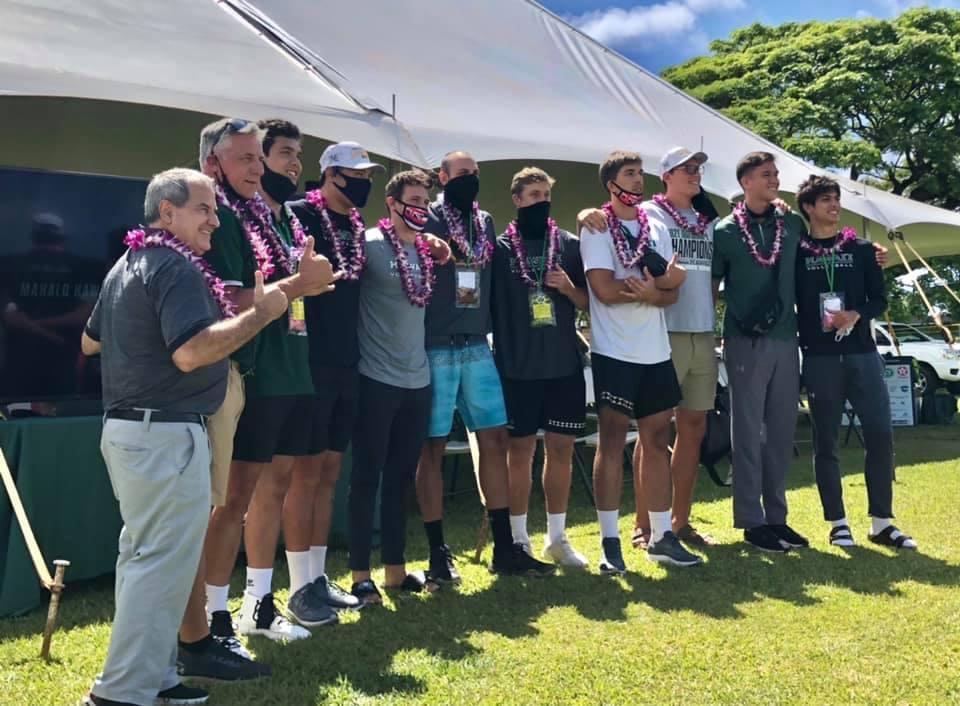 Fans received gifts from generous corporate donors and autographed team photos. Lucky drawings included UH gift packs, HPM Building Supply buckets filled with fresh produce from the Grove Farm Market and Texaco gas cards. The team also brought the National Championship trophy that was on display for fans to take photos with.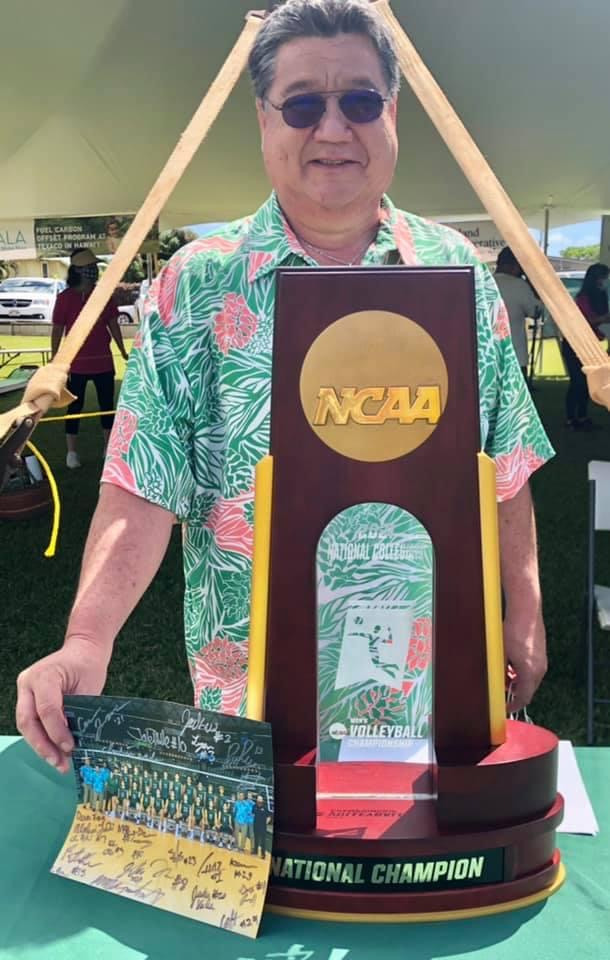 The event was live streamed by Mel Rapozo of the famous Mel and Charlie Show. In case you missed it, you can watch the stream of the event.

Senate President Ron Kouchi, and Reps. Dee Morikawa and Nadine Nakamura, offered their congratulations. Mayor Derek Kawakami and Councilmembers Kipu Kai Kualiʻi and Bernard Carvalho also recognized the National Champions.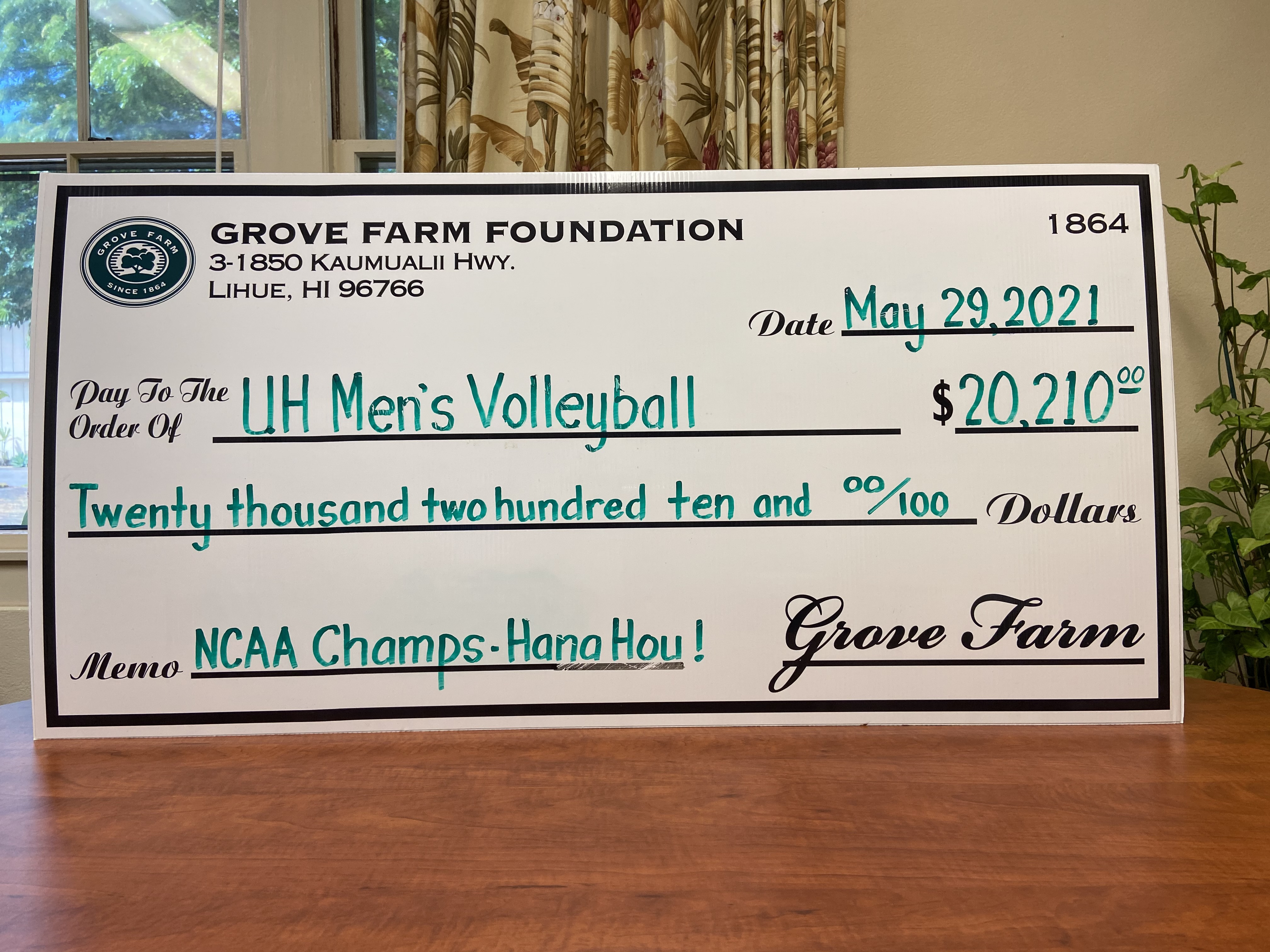 Warren Haruki, President and CEO of Grove Farm Company, Incorporated presented a check to the University of Hawai'i Foundation for the support of Men's Volleyball.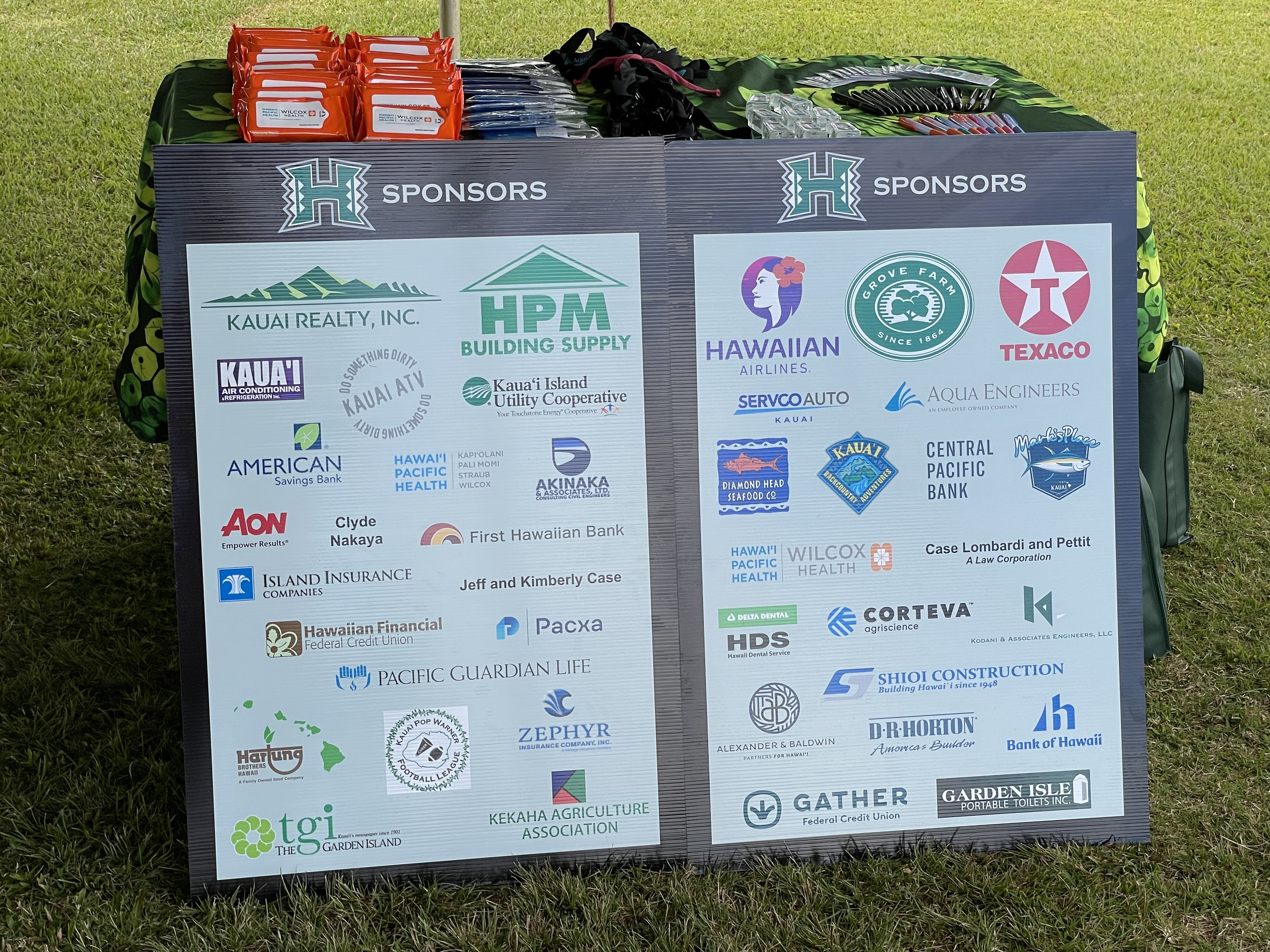 This event was made possible due to the support of many corporate and individual sponsors, including: Alexander & Baldwin, Akinaka & Associates, American Savings Bank, AON, Aqua Engineers, Bank of Hawai'i, Case Lombardi & Pettit, Jeff and Kimberly Case, Central Pacific Bank, Corteva Agriscience, D. R. Horton, Diamond Head Seafood, First Hawaiian Bank, The Garden Island newspaper, Garden Island Portable Toilets, Gather FCU, Grove Farm Foundation, Hawai'i Dental Service, HPM Building Supply, Hartung Brothers, Hawai'i Pacific Health, Hawaiian Airlines, Hawaiian Financial FCU, Island Insurance, Kaua'i Air Conditioning & Refrigeration, Kaua'i ATV, Kaua'i Backcountry Adventures, Kaua'i Community College, Kaua'i Police Department, Kaua'i Pop Warner League, Kaua'i Realty, Kauaʻi Island Utility Cooperative, Kekaha Agriculture Association, Kodani & Associates Engineers, Lee's Rental, Mark's Place & Contemporary Flavors, Pacific Guardian Life, Servco Pacific, Shioi Construction, Star-Advertiser, Pacxa, Texaco, Wilcox Medical Center, and Zephyr Insurance.