Grove Farm Newsletter - August 2020 Edition
Kūkulu Kaiāulu – To Build a Community
Since the coronavirus hit our island in early spring, our team at Grove Farm came up with many ideas "to build a community" – or Kūkulu Kaiāulu. A number of initiatives arose from Kūkulu Kaiāulu, including our latest one, appropriately named "Community Wins! Program."
With many of our island's residents out-of-work and local businesses suffering, Grove Farm wanted to continue to help our community – and what better win-win program than to support both those in need plus local businesses at the same time. The Community Wins! Program starts off with Grove Farm purchasing $50,000 in gift certificates from local food establishments and vendors. Then, we partnered with five local agencies to identify those who are most in need. These recipients will receive the gift certificates, thus creating the double win – first, by helping those in need and second, by helping local businesses during these tough times.
The five agencies distributing the $50,000 worth of gift cards to help our island's youth, families, kupuna and caregivers are -- Big Brothers Big Sisters, Child and Family Service, Kaua'i Agency on Elderly Affairs, Kaua'i Habitat for Humanity, and Kaua'i Hospice.
Big Brothers Big Sisters (BBBS) supports youth who have faced adversity in their young lives and experienced the loss of a valuable connection. The youth-centered program helps children create goals, and mentors are provided to help them achieve their dreams. Nicole Cowan, Kaua'i Regional Director said, "partners like Grove Farm continue to support our programs and generously allow our participants to have experiences that enhance their match relationships."
Child & Family Service (CFS) is a family-centered, full-service non-profit dedicated to strengthening families and fostering the healthy development of children. Gift certificates will be distributed to families island-wide through CFS's Festival of Hope for Families event. CFS President & CEO, Karen Tan, said "This event will provide essential items like food and support services to more than 600 families in need from the community. The gift cards to local restaurants provided by Grove Farm will not only help feed those who are hungry, but will also help support our local eateries as well."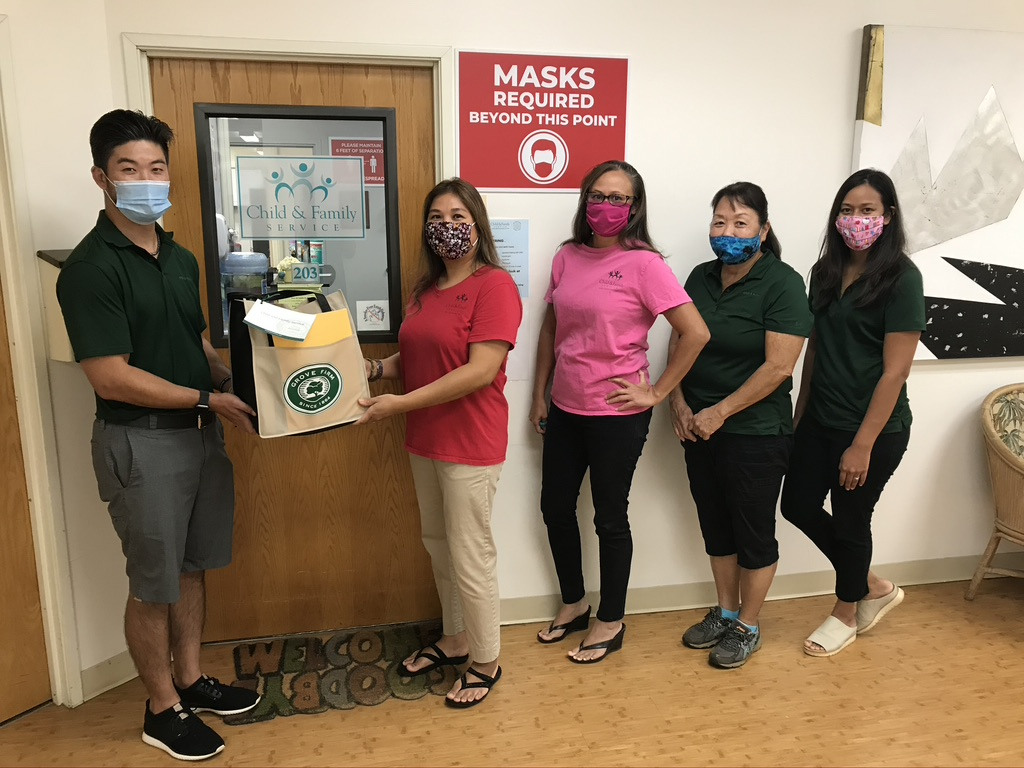 Kaua'i's Agency on Elderly Affairs plans, supports and advocates for programs to promote the well-being of Kaua'i's kupuna. Executive of the Kaua'i Agency on Elderly Affairs, Kealoha Takahashi, and RSVP Director Donna Lynn Loo accepted the donation of gift certificates. According to Kealoha and Donna, their agency has over 800 kupuna living alone. Their staff will determine who would most benefit from the gift certificates.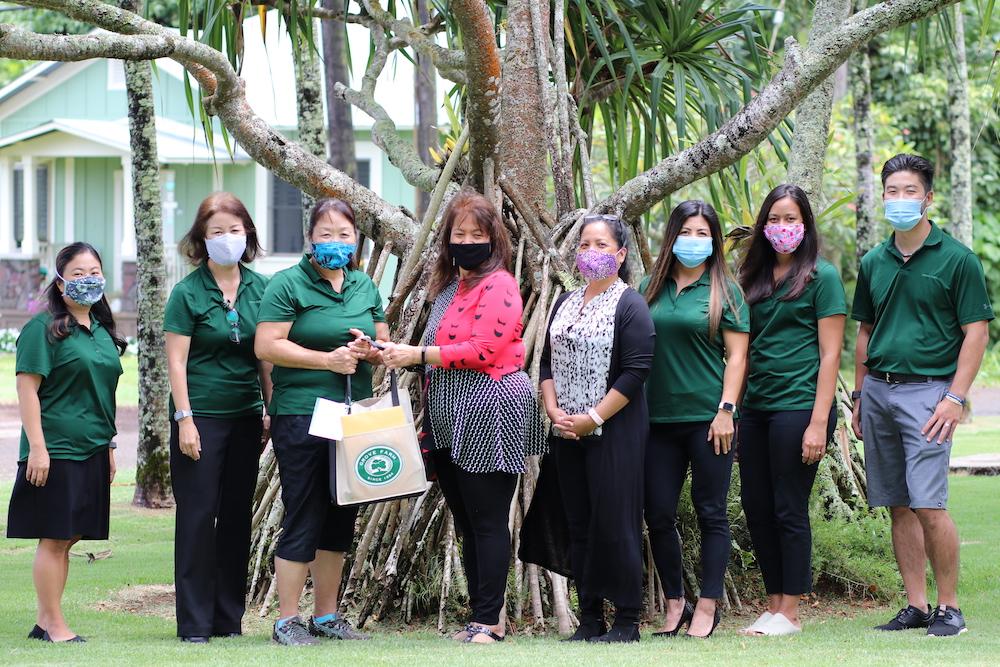 Kaua'i Habitat for Humanity received gift certificates that the Grove Farm Foundation purchased from HPM Building Supply and to westside eateries. Like Grove Farm, Habitat for Humanity strives to build communities. Milani Pimental, Executive Director of Habitat said "Your gift is so meaningful to our homeowners. You are helping Kaua'i residents empower themselves to not only build homes, but build wealth, and build a better future." Leona Sa McDermott, Board President said Grove Farm is enabling families to "continue the cycle of generosity and give back to the community to help others."
HPM Building Supply, founded in 1921, serves the home improvement market and building industry statewide through its seven locations across Hawaii' Island, O'ahu and Kaua'i. "HPM is committed to helping our communities build better and live better," said Jason Fujimoto, HPM's current President & CEO. "Now more than ever, as we recover from the economic impacts of the COVID-19 pandemic, we applaud Grove Farm's partnership with Kauai Habitat for Humanity. We believe that affordable housing is the catalyst for families to create a brighter future."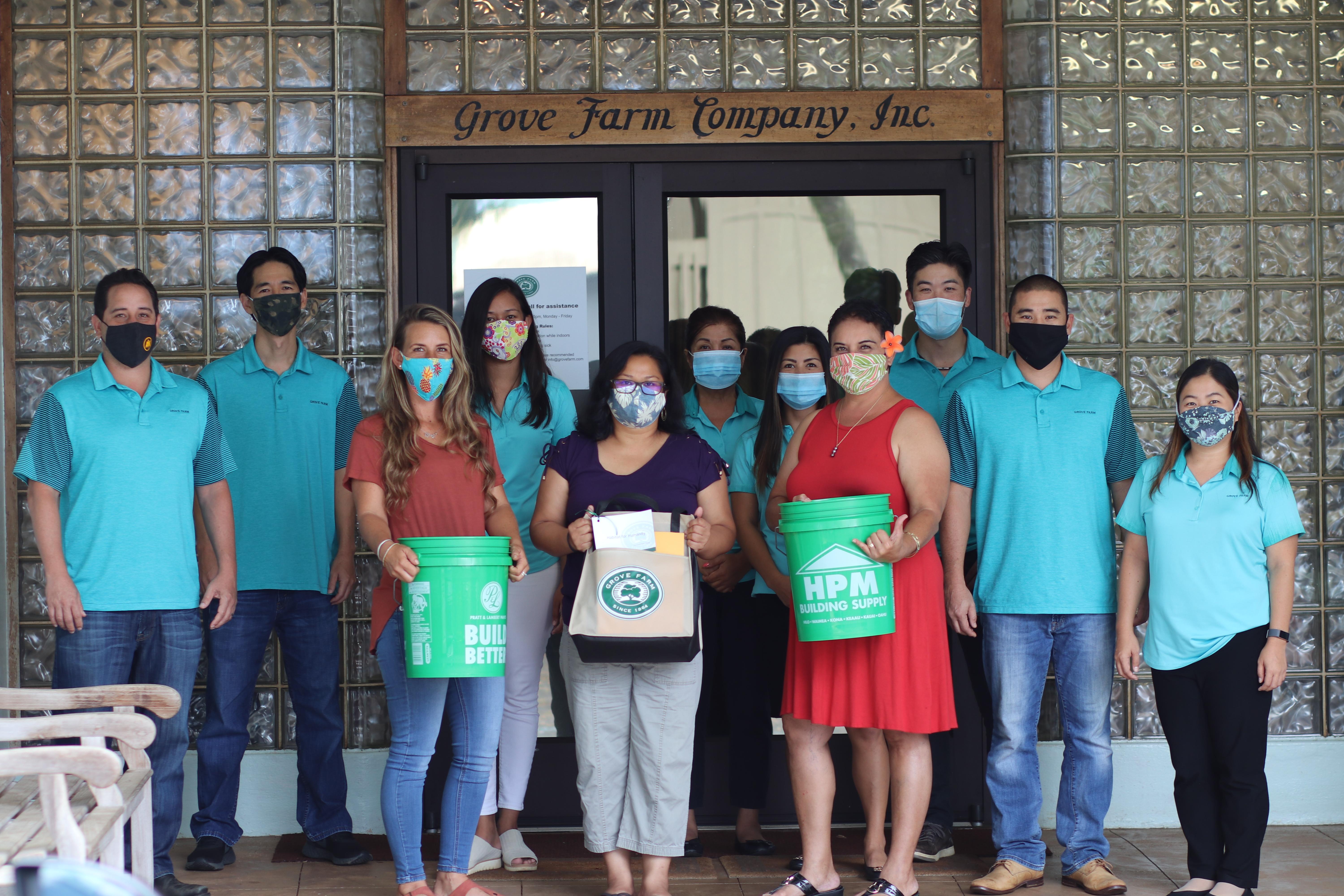 Kaua'i Hospice certainly provides "A special kind of caring" as they ensure the highest quality of life for individuals and families facing life-threatening illnesses and provide bereavement support to individuals. Tricia Yamashita, Executive Director, and Jojo Kawamura, Development Liaison, said that while the patients may not be able to dine in at restaurants, their caregivers and families welcome the gift certificates as they too need support during this difficult period.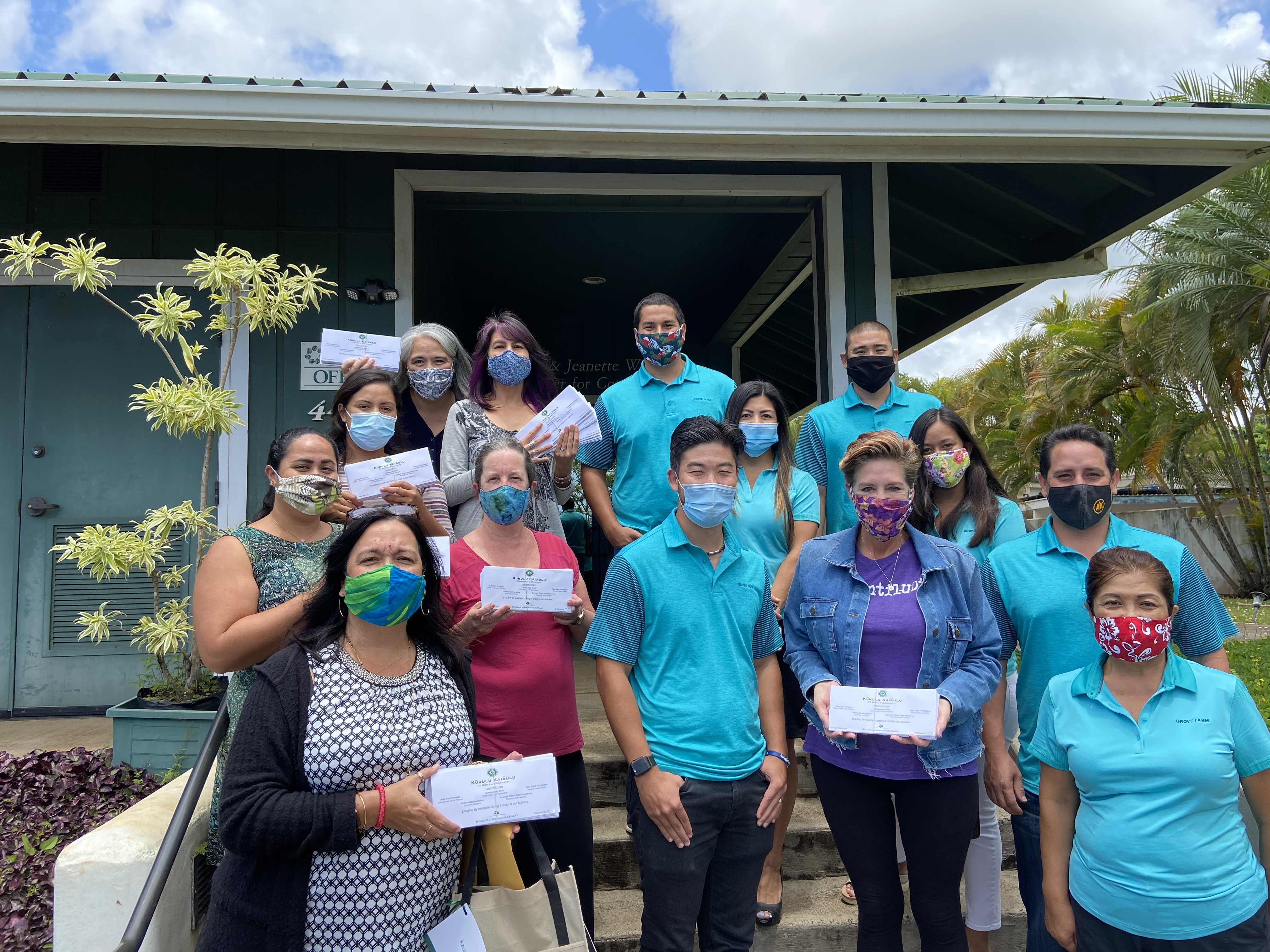 It is Grove Farm's hope that individuals who receive the gift certificates will redeem them at the local businesses and continue to support them long after this pandemic is over. The local eateries included: Pono Market in Kapa'a, Waipouli Deli and Restaurant, Fish Express, Tip Top Motel and Café, Dani's Restaurant, Daddy O's, Hanalima Bakery, Mama Lucy's, Mark's Place, and from the westside of Kaua'i, Gina's Anykine Grinds Café and Wranglers Restaurant. We appreciate these restaurants who worked with us to create hundreds of gift certificates for the Community Wins! Program. Here are the local eateries we purchased gift certificates from:
Robbie Kubota, whose grandparents founded Pono Market in 1968, takes to heart his grandparents' teachings that "the customer is part of our Ohana." Robbie said his grandparents believed that if you "treat the customer how you would like to be treated and they will keep coming back." This is exactly what we hope will happen when recipients of the gift certificates redeem them at these local establishments – they will keep coming back.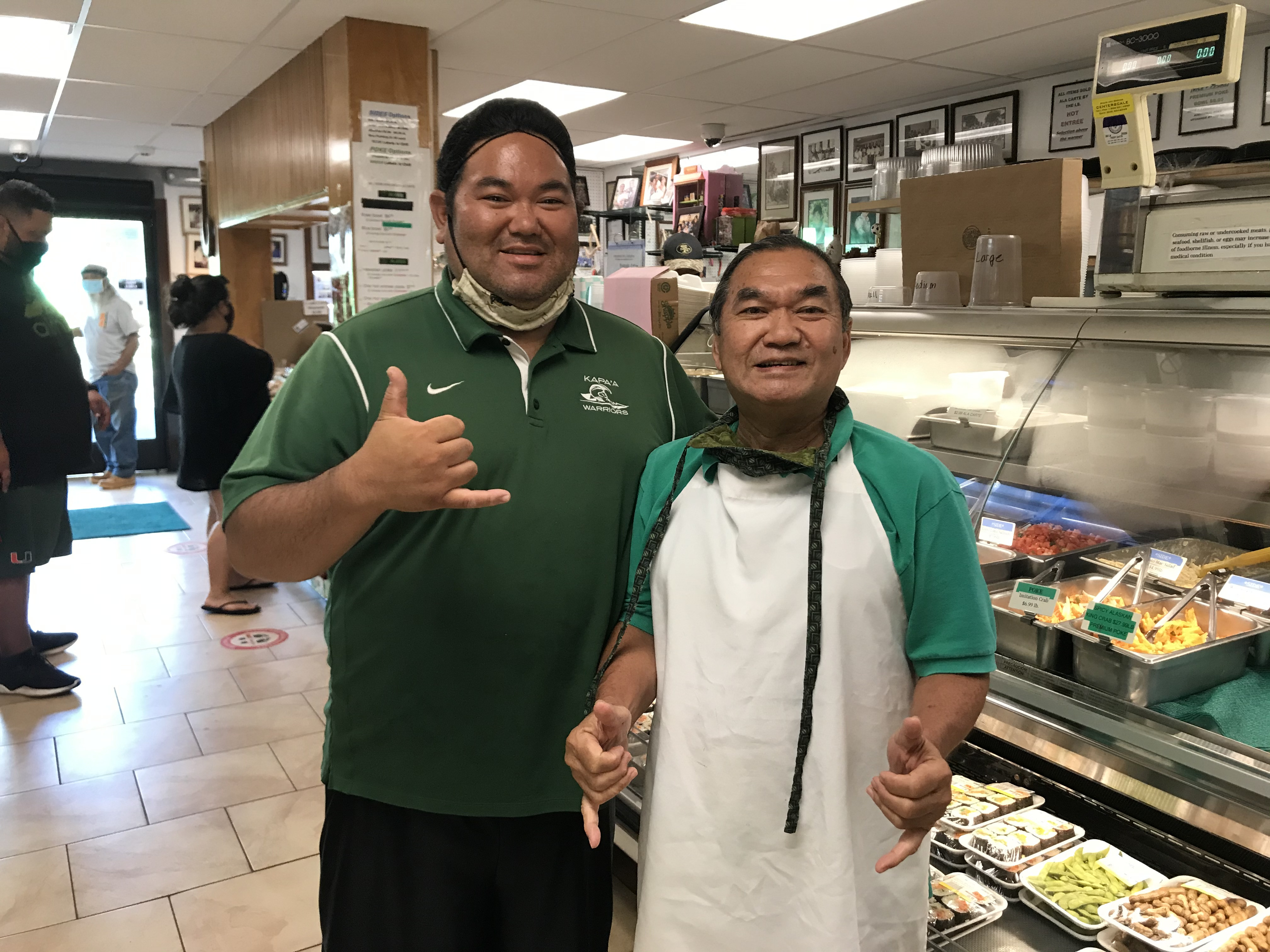 Established in 1916 by Jonathan Ota's great grandfather, Tip Top Motel and Café has been serving the Kaua'i Community for over 100 years and continues to do so throughout this pandemic.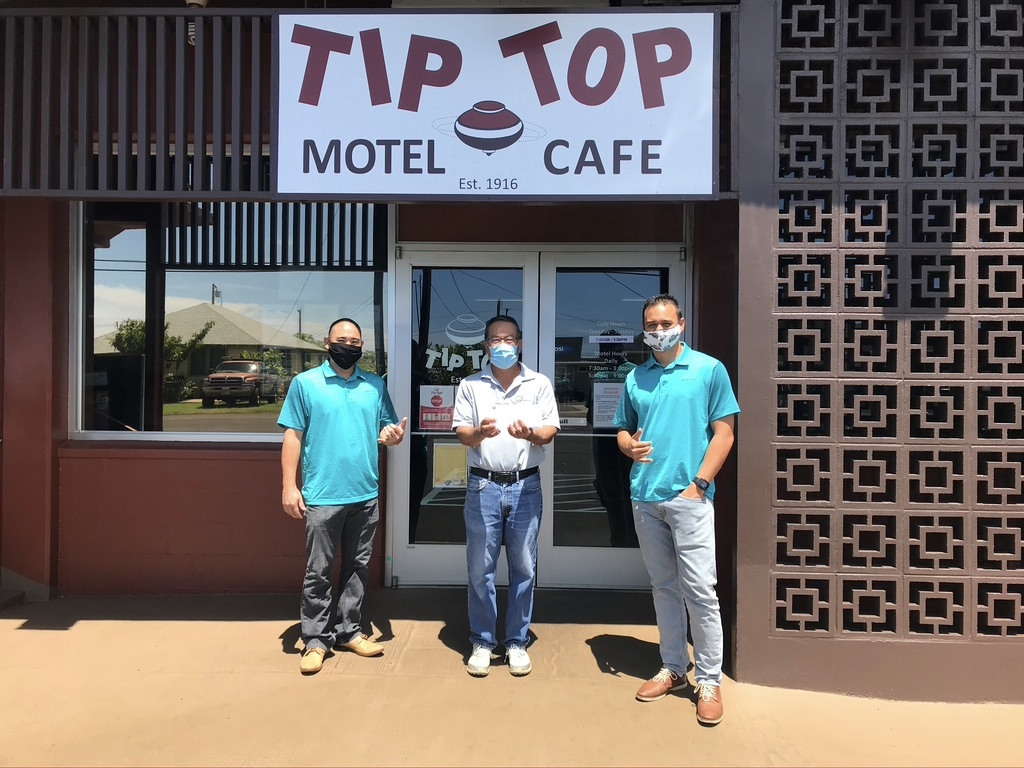 Dani's Restaurant located on Rice Street in Līhu'e has been serving breakfast and lunch since 1982 when Tsutao and Harriet Morioka aimed to create a "local feel" restaurant. Their son, Danny, and his wife Julie, have been running the restaurant since 2013. Dani's continues to give back to local sports teams and organizations, and with the recent pandemic, they provided kupuna meals free of charge.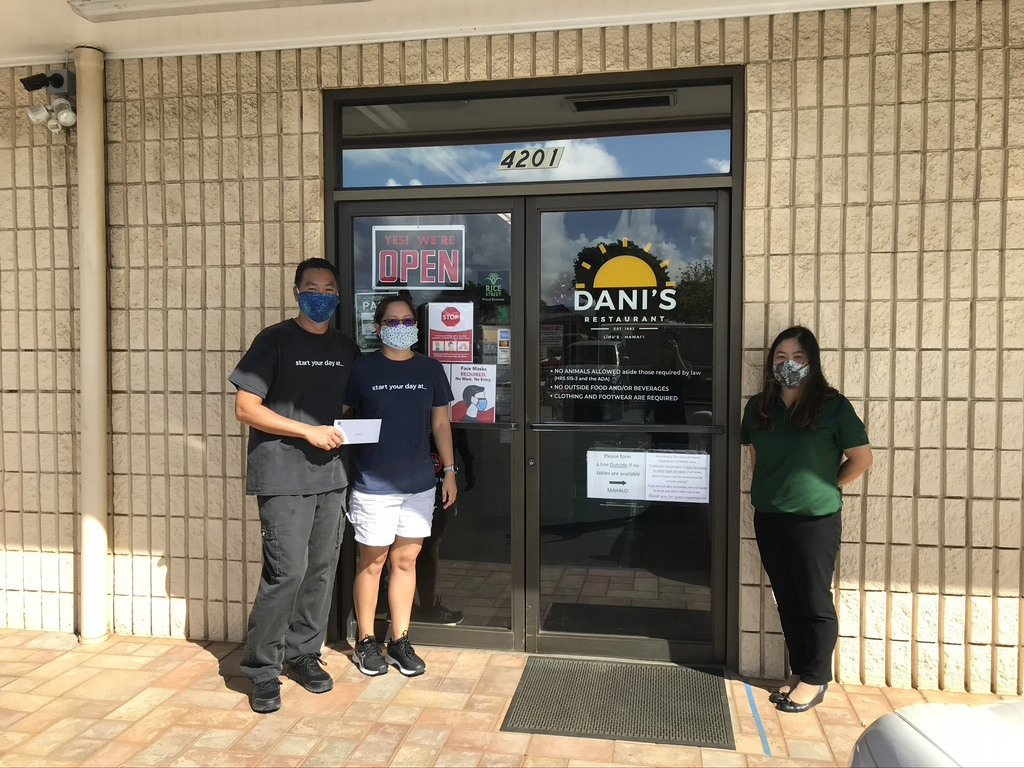 A local favorite on Kaua'i's east side, Waipouli Deli and Restaurant has been serving homestyle cooking since 1977. The mother-daughter duo of Sachiko and Mina Ikehara have been very supportive of our Grove Farm Educational Modules program in preparing meals for students.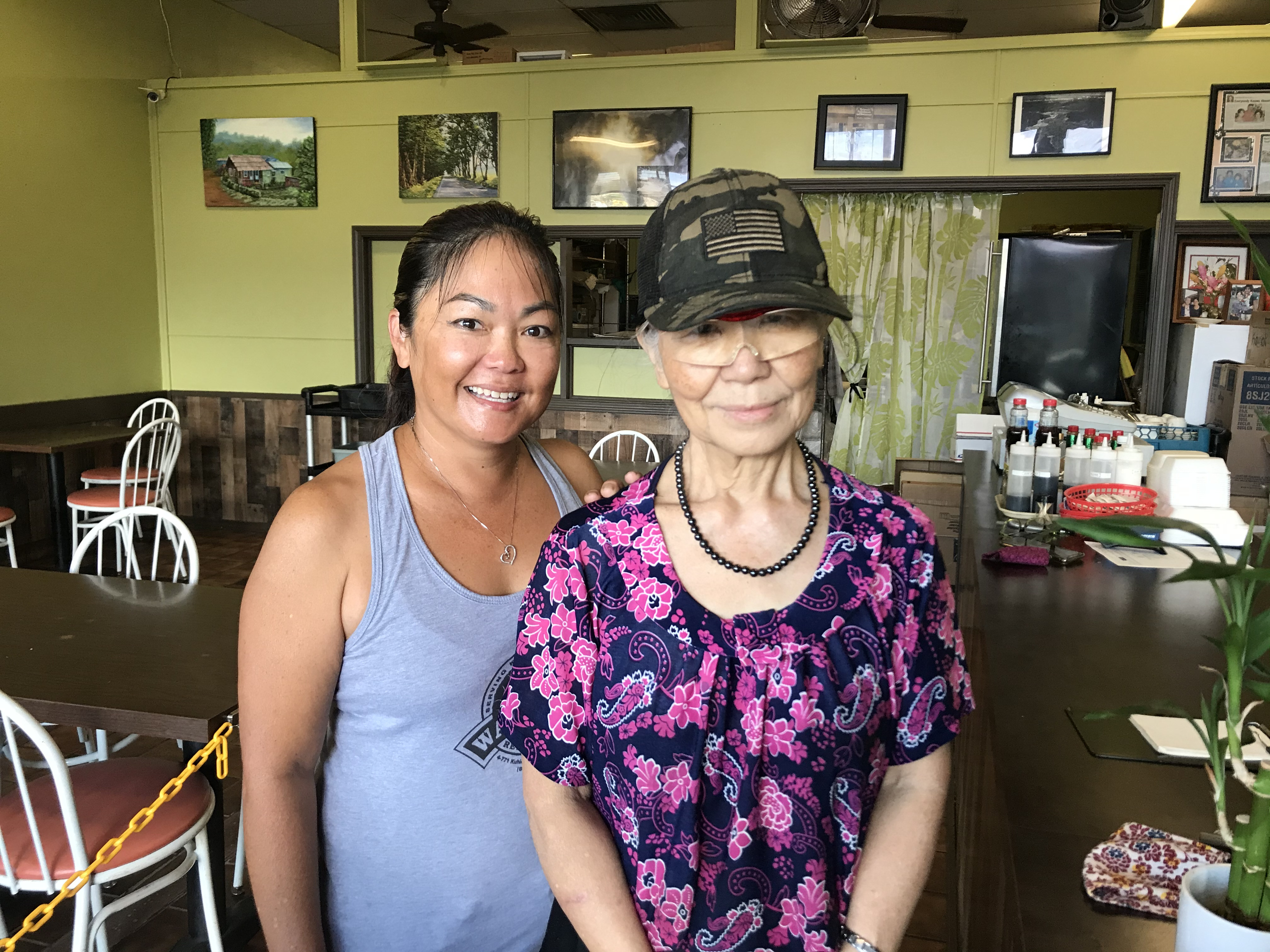 Calvin and Eva Tamagawa became the new proprietors of Fish Express in December 2019, then the pandemic hit. According to Calvin, "Covid-19 has impacted our normal business – down 65% from prior." They made adjustments to their menu and offered kupuna discounts. Fish Express never closed during the pandemic and has maintained all of their employees.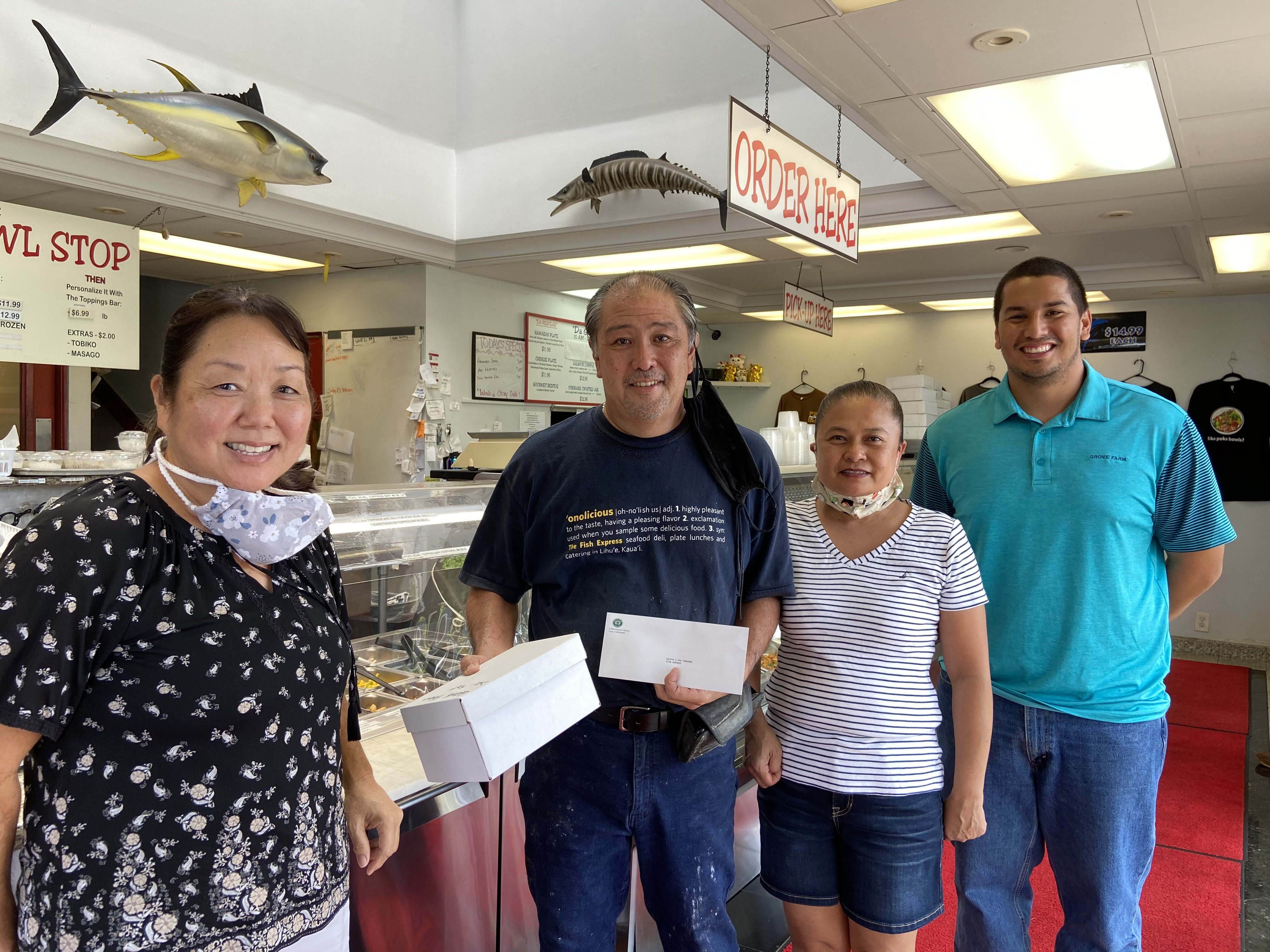 Daddy O's in Rice Shopping Center serves breakfast, lunch, and does catering. During this pandemic, Harry and Carol Shigekane adjusted their menu to include local favorites like steamed manapua, pork shumai and bentos. Unique items, like their broasted chicken and stuffed French toast, are still being served.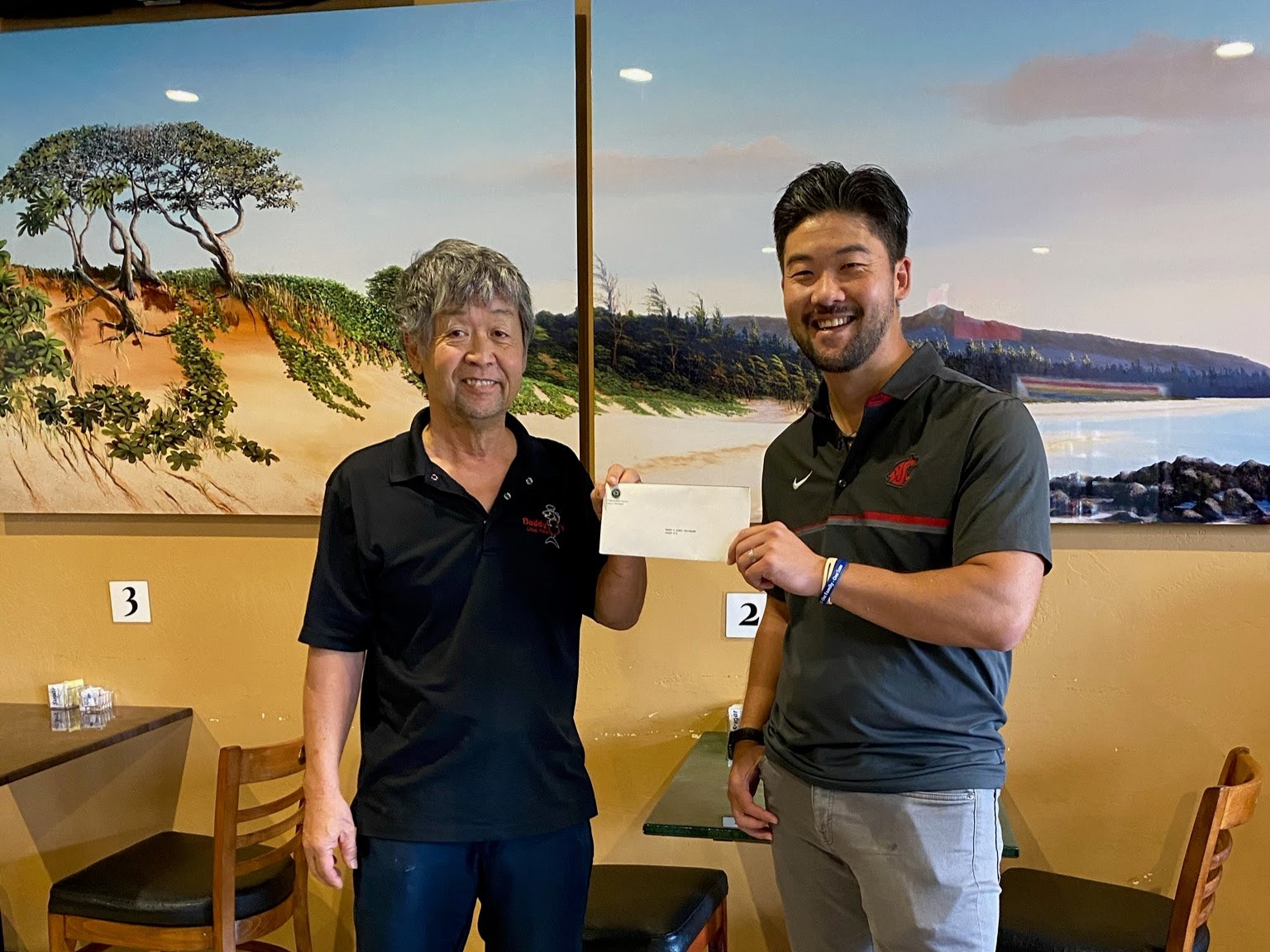 In order to abide by social distancing practices, Rose Iloreta, owner of Mama Lucy's has removed all dine-in tables and has carefully marked off where to wait in line for her take-out Filipino dishes.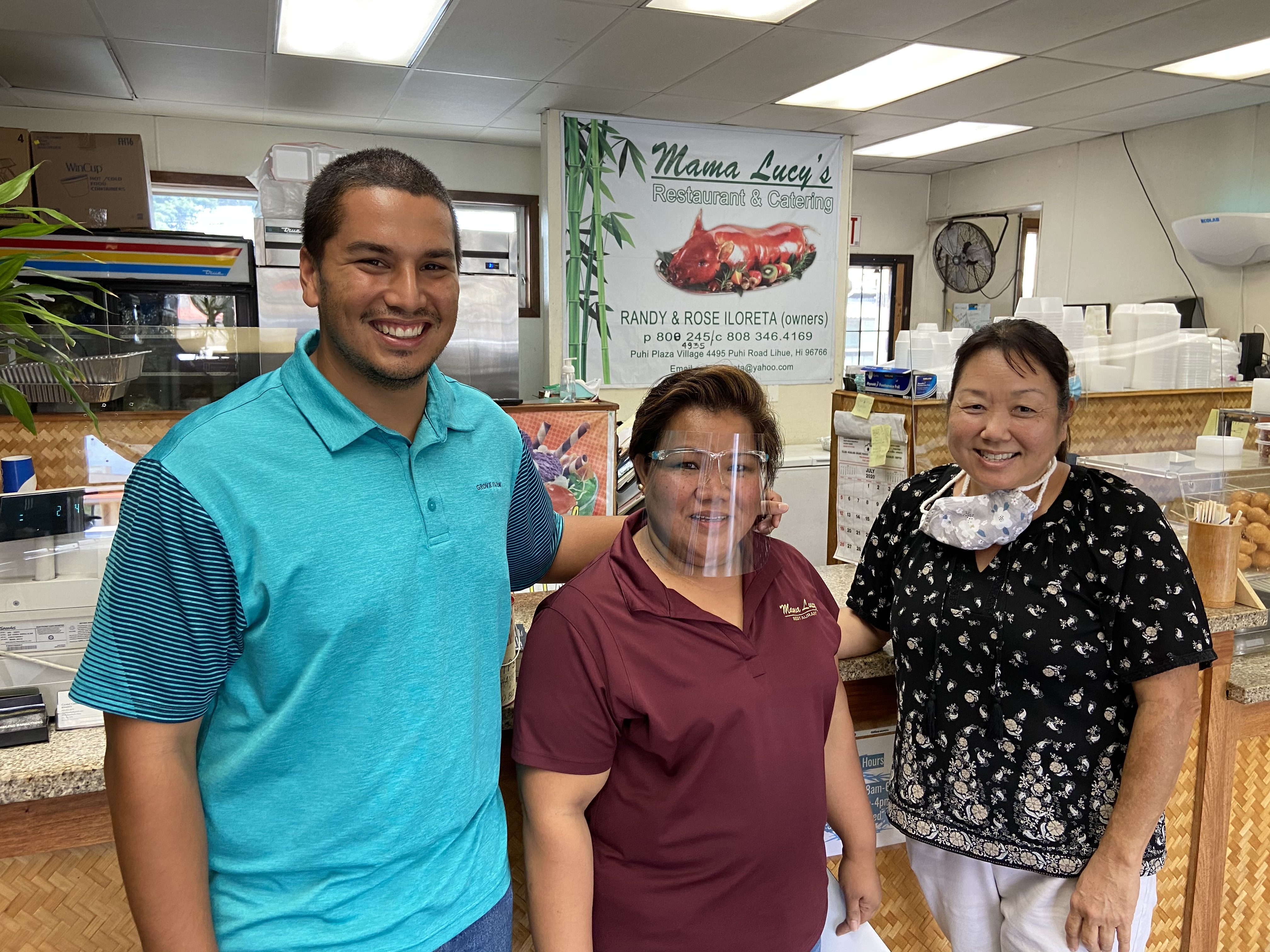 Wranglers Steakhouse in Waimea had been a fixture on Kaua'i's westside since 1984. A family-owned and operated business, led by Colleen Faye and her daughter Marissa, the steakhouse was closed for a while as the pandemic dramatically impacted their business. Wrangler's has since reopened with changes to allow social distancing and with modified hours of operation.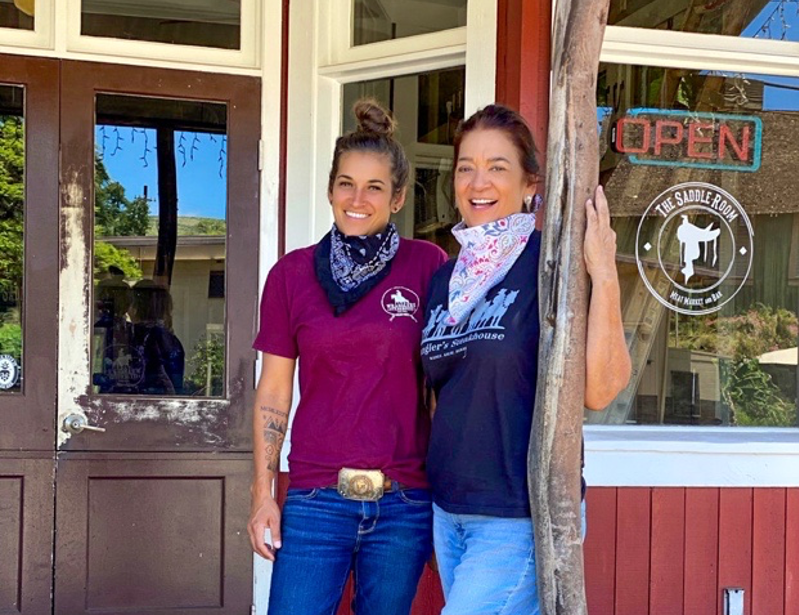 Sweet or savory pastries, bentos, breakfast trays, large orders for office functions, school excursions, butter cookies, or hot off the grill plates -- Derek and Aika Drenske of Hanalima Bakery has it all! The pandemic put a strain on business as the usual school students, office workers, and construction workers dropped significantly. They continued and now also participate in Grove Farm's Puhi Park Produce, offering an assortment of pastries and breads not typically found at the bakery.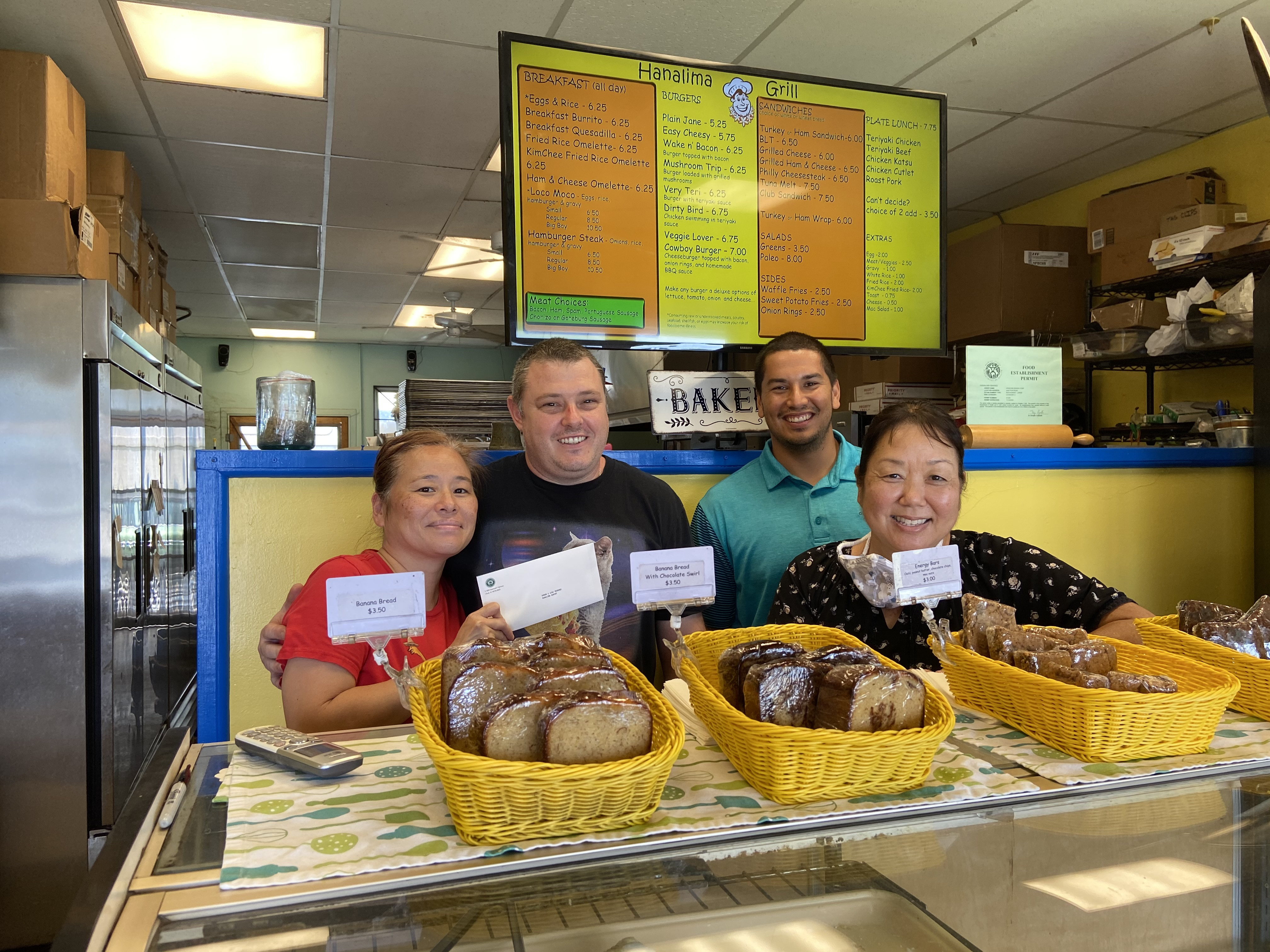 Mark's Place has been a local favorite since it opened in 1998. Led by Chef Mark Oyama, this take-out restaurant in Puhi offers gourmet plate lunches, bentos, healthy salads, sandwiches, pau hana specials, desserts – always something new and delicious – and omiyage snacks. Wendy Oyama said, "our goal has always been to support and provide for our community." True to their word, Mark and Wendy Oyama and their staff have always been there to support our community's needs.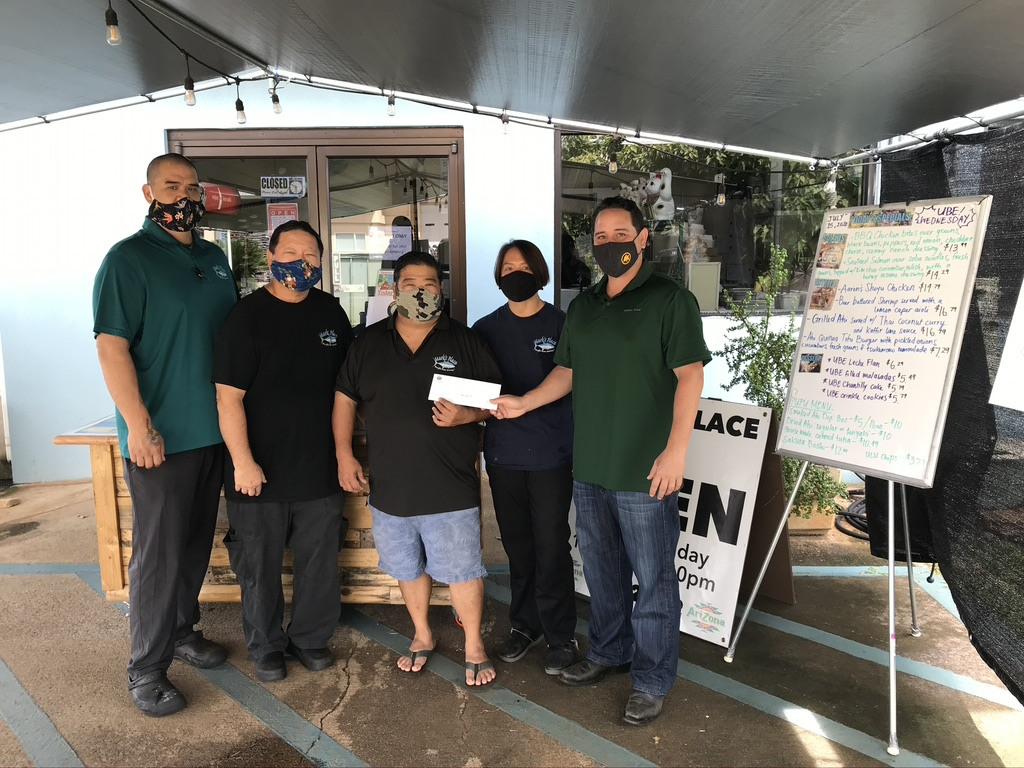 Gina Duarte serves breakfast and lunch at Gina's Anykine Grinds Café in Waimea. The restaurant is in the historic Waimea Theater building. The original snack shop and theater was owned and operated by Cookie Hinazumi and his wife – the grandparents of Grove Farm's Dave Hinazumi.

Grove Farm has launched a number of other initiatives during this coronavirus period. Kūkulu Kaiāulu – "to build a community" has always been at the core of Grove Farm's programs. When the island shutdown occurred, Grove Farm's employees sought ways to help our island. We looked first to our farmers who lost many of their venues for selling their produce. The Puhi Park Produce was initiated and provided a place for farmers, fishermen, and other vendors to market their goods while allowing the community a safe place to shop.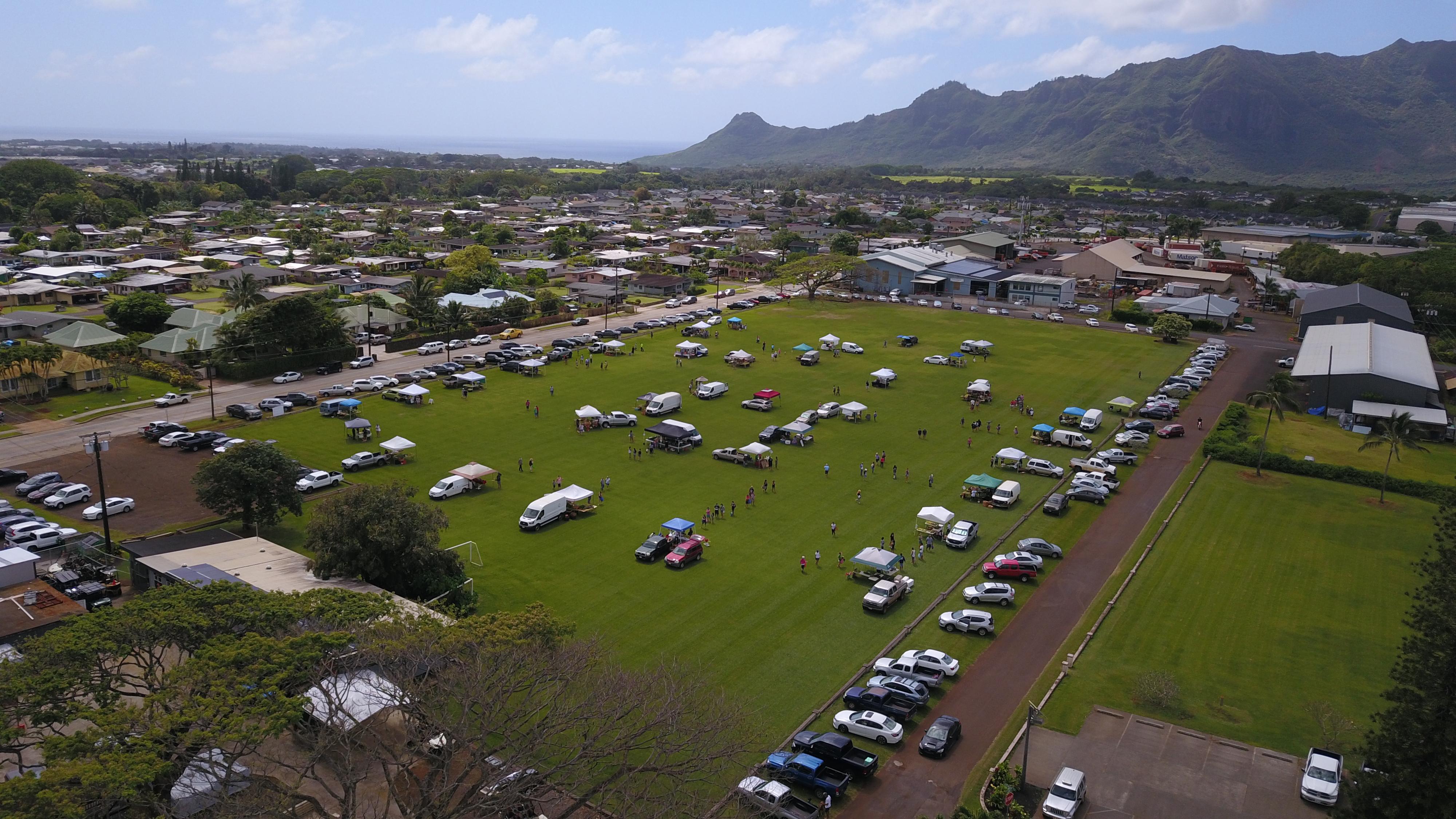 The success of Puhi Park Produce lead to a grateful farming community and our Thai Farmers Donations. Fresh produce donated by these hardworking farmers continue to be distributed to community organizations by the appreciative farmers.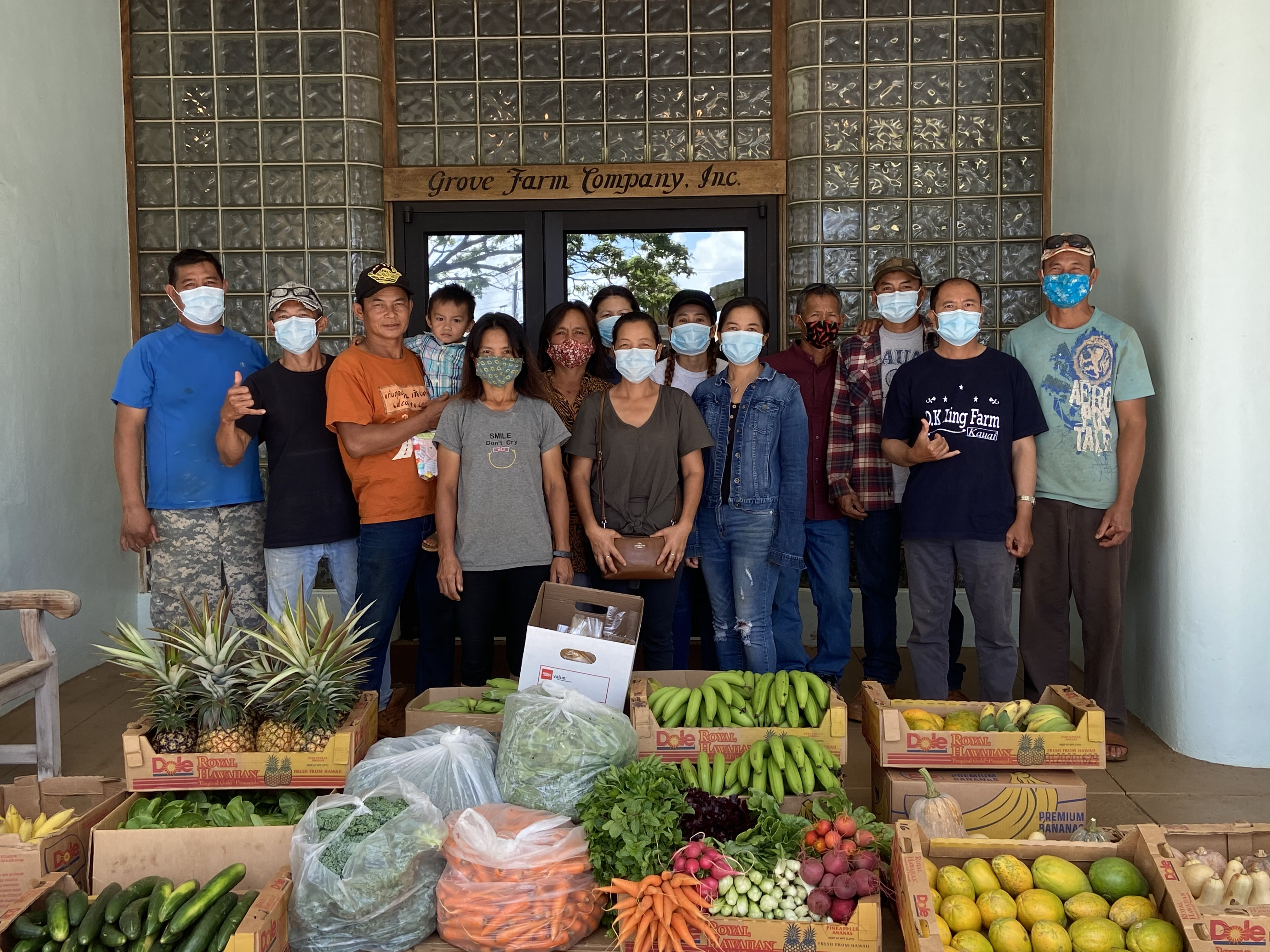 Face masks were then required, so Grove Farm purchased 15,000 face masks. With the help of our schools and the Kaua'i Police Department, the free Face Mask Distribution events were held at King Kaumuali'i Elementary School, Wilcox Elementary School, and Kōloa Elementary School.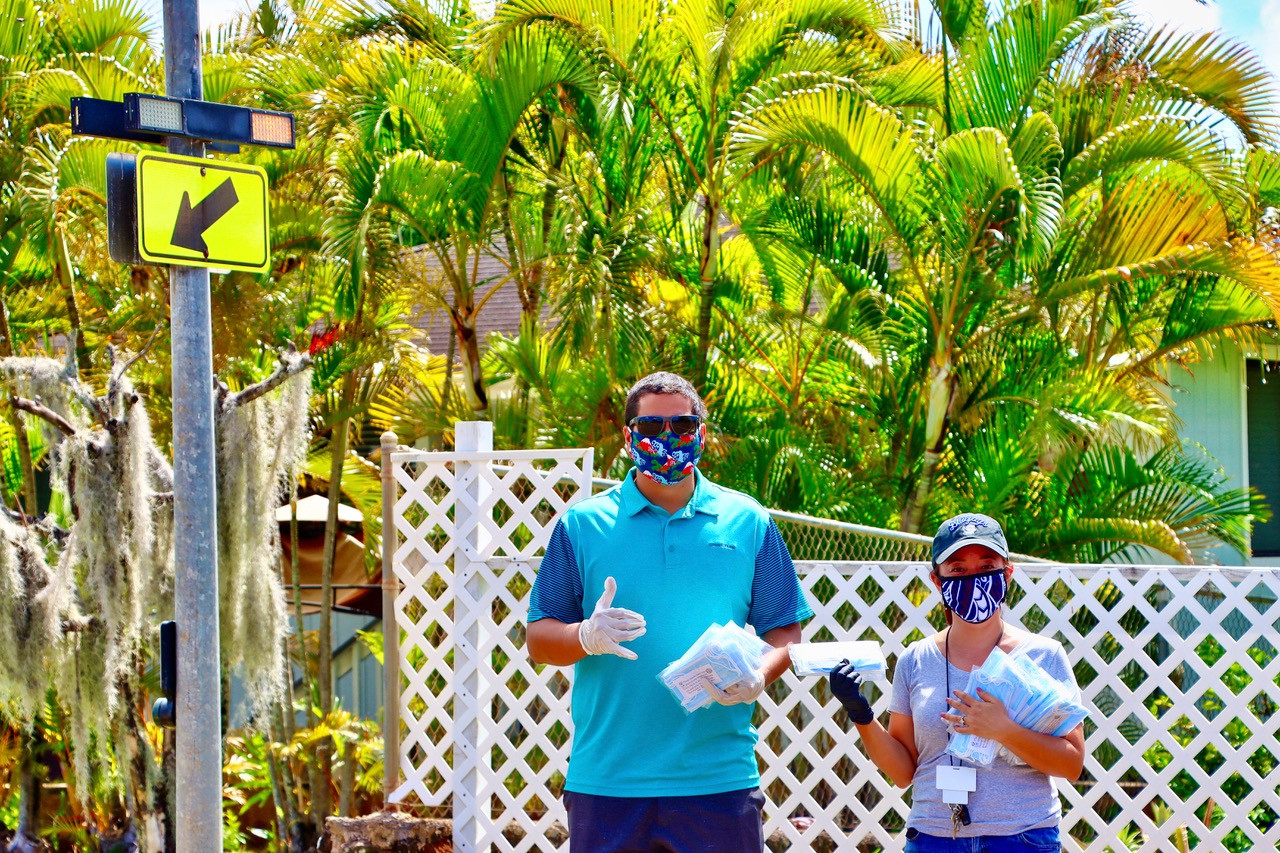 With schools set to start in August, Grove Farm purchased 28 picnic table kits for three elementary schools and one middle school so students can adhere to social distancing in an outdoor learning environment. The Picnic Table project, led by Grove Farm's 2018 Scholar and summer intern, Braden Kobayashi, was a collaborative effort with volunteers from each school and Grove Farm staff assembling the picnic tables.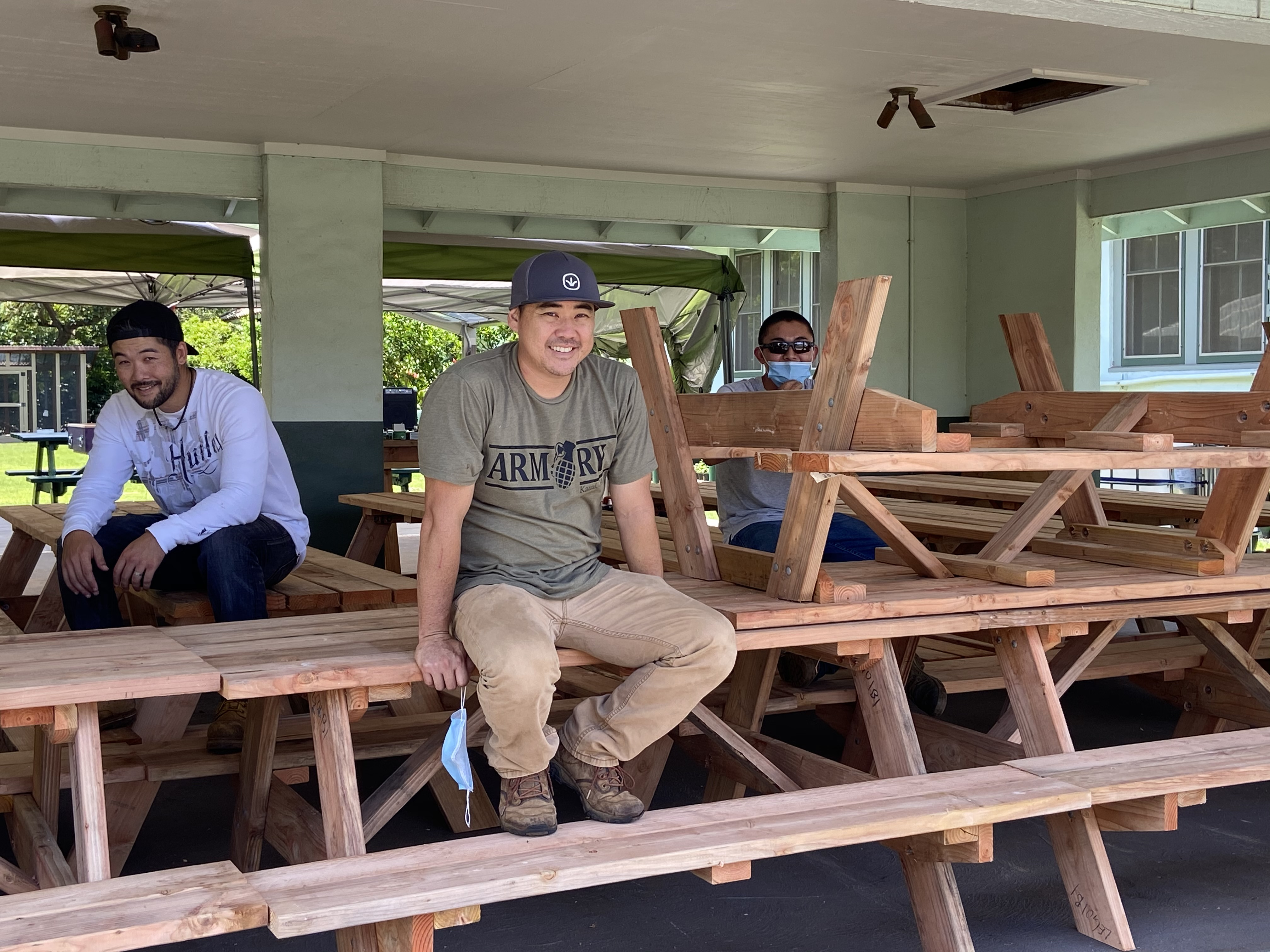 We are all in this together, and together, our entire community wins! Stay Safe!