Grove Farm Newsletter – April 2020 Edition
Managing and Maintaining Grove Farm's Water Systems
Adam Killerman

Most of us will hunker down and stay indoors during adverse weather conditions. For Adam Killerman and his crew, it means heading to the mountains to monitor water levels in ditches, streams, and reservoirs and taking necessary action, if needed.


After graduating with his degree in Tropical Agriculture, Adam worked for McBryde Sugar Plantation as an Agricultural Assistant, where he did a lot of work in irrigation. He was promoted to Crop Control Superintendent, where he created schedules for sugar cane harvesting, fertilizing, and other crop functions. He ended his 18-year career with the plantation, the last seven years as the Irrigation Superintendent. When McBryde closed its sugar operations, Adam was managing 7,000 acres of irrigated lands from Eleʻele to Kōloa to Haiku.

He recalls working under his supervisor, Jacki Urata, who gave him valuable advice about irrigation. "Don't ever assume. Do you know what happens when you assume? Always check your water." Urata always taught the value of doing a job the right way the first time, instead of being reactive and waiting until pipes explode to do something. "Those old-timers were very generous with their knowledge," Killerman said. "They were excellent teachers."


After McBryde Plantation closed down, he saw a need to keep the island's water systems maintained for the future of Kauaʻi's agriculture industry. Adam started AJAR Inc. in 1996 and has been maintaining reservoirs, ditches, and streams for companies such as Grove Farm.
The biggest job he and his 11 workers have is weed control around the waterways. It's a necessity to keep the guinea grass down because the vegetation clogs up the canals and tunnels. They also mow the walls and sides of the reservoir to make it easier to spot any leaks or potential breaches in them. The invasive Albizia tree is also a problem. "After big rains, you see Lydgate and Wailua river bring all the wood down from the mountains. Thatʻs all albizia trees." Killerman said. "I couldnʻt do this work without my employees. They work in the worst conditions and it's a constantly changing job. They do a lot and I appreciate every one of them."

AJAR also repairs water infrastructure such as irrigation lines, flumes, ditches, and they constantly monitor stream flows. Keeping a close eye on weather conditions, when a storm is imminent, Adam's crew will lower the water levels in reservoirs and clears waterways of any blockages. Even when itʻs storming, they have to open and close gates as necessary to keep water at a controlled level. "We're out there always watching to bring the amount of water we need," he said. "We make sure we're not wasting water either. Today, we're only using a third of what sugar used. We aren't taking much in comparison."

These water systems built by the plantations are an essential part of building a sustainable Kauaʻi. Farmers can't farm without water. If the number of farmers drop, lands will become drier, invasive species will overtake the fallow lands, and the island could see a spike in brush fires. In times of storms, highways would become even more flooded, causing erosion and roads becoming dismantled. "Once you abandon a ditch or stream, in six months to a year, it will be gone forever," Killerman said. "You will never get it back. The future of agriculture is in these systems. And, the replacement costs of rebuilding these water systems is in the hundred of millions of dollars."



A high flume located in the upper Lihuʻe area

AJAR Employees repairing a flume built in the early 1920's.
The value of Adam and the entire AJAR Inc. team was clearly evident this past weekend. With the heavy deluge of rain on Friday night and early Saturday morning, our ditches, flumes, waterways, and reservoirs quickly filled up. A couple of our larger reservoirs saw their water heights increase by 10' in just a couple of hours – resulting from the staggering amount of intense rainfall in a short period of time.

Each of our reservoirs has a spillway, carefully engineered to handle any excess water that may fill the reservoirs. At Kapaia Reservoir, the water levels rose and the spillway effectively did its job. The water then flowed into the adjacent pasture lands precisely as designed.
In recent years, we have noticed that many invasive albizia trees have fallen due to their weak properties, which stress the need to remove and control this harmful species. Kauaʻi is fortunate that Green Energy Kauaʻi is harvesting thousands of acres of albizia for their biomass feedstock to produce electricity in the Haiku area near the Halfway Bridge. We benefit from this renewable energy source plus the environment benefits by removing this invasive plant.


---

In this photo from Saturday (3/28) morning, you can see the white tree trunks of albizia contributing to the blockage under the Wailua River bridge. These downed trees frequently cause blockages along streams, ditches, and rivers.

Clogged waterways caused by dead leaves, branches, and downed trees create blockages and results in landslides.
---
We salute our AJAR Inc. team for their outstanding work. Due to their efforts, the critical surface water source – the Kapaia Reservoir – was fully operationalon Saturday, continuing to provide about 20% of the island's drinking water. Remember to hydrate as a recommendation to combat the COVID-19 effects!
---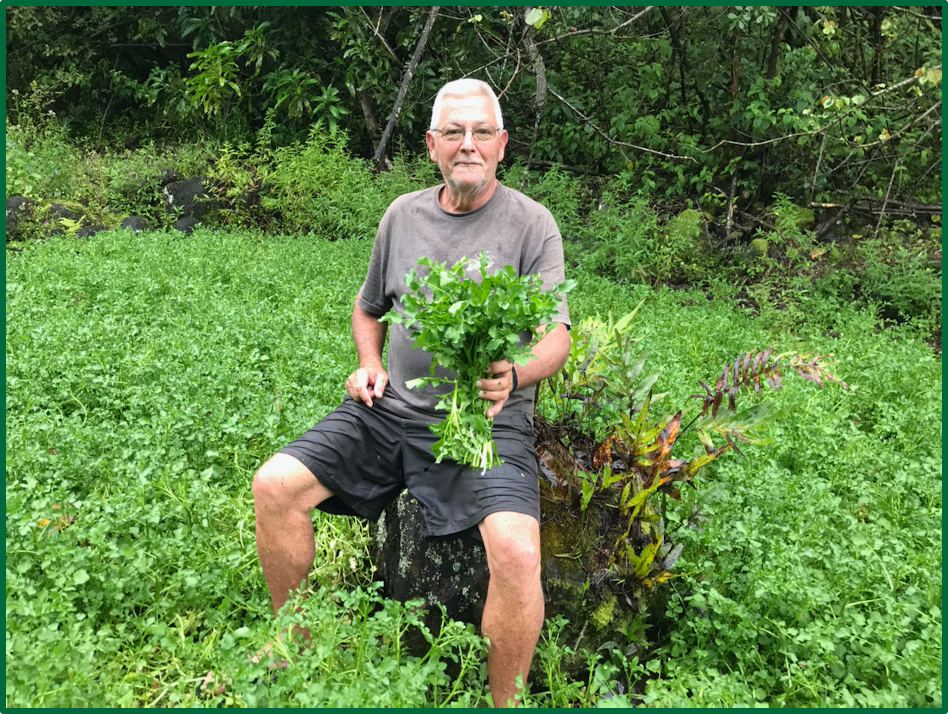 The Watercress Man – Bruce Jacintho
Fresh spring water and the warmth of the Haiku sunshine provide optimal conditions for watercress. Bruce Jacintho has carefully tended watercress patches on Grove Farm's mauka lands for the last sixteen years. Its history, however, extends well over a hundred years.

Bruce explains that watercress patches need a constant flow of fresh spring water. To create these patches, Chinese immigrant laborers built moss-rock walls, which formed the enclosures that channel the fresh water. Along with other tributaries, this water eventually makes its way to the Hulēʻia Stream...