Eat Local – Support Local Eateries
With Kaua'i's COVID-19 procedures in place, we want to stress the need to support local eateries. As you know, take out is still "good to go!" While many of the national food chains have extensive financial resources and can survive this tough economic period, the same may not be the case for many long-time local cafes and food places. We urge everyone to "Eat Local" and to patronize your favorite local restaurants! By doing so, we will be able to continue to enjoy our favorite local food dishes for years to come after this health crisis is behind us. Please kōkua our local food establishments.
HANALIMA BAKERY

Are you looking for something sweet or savory? Hanalima Bakery in Puhi continues to create their famous assortment of butter cookies and hot out-of-the oven crab rolls and Portuguese sausage rolls. Derek and Aika of Hanalima Bakeryremain open -- offering their complete menu to go – including hot off the grill choices, spam musubis, and prepared bentos.

Phone orders and walk-ins are welcome from 6:00 a.m. – 1:00 p.m., Monday through Friday. Please check out Hanalima Bakery's complete menu and phone-in your order to go at (808) 246-8816. Gift cards are also available.
---
DANI'S RESTAURANT
Thank you to Dani's Restaurant on Rice Street for offering complimentary take-out pancake breakfasts for kupuna 65 and older from 6:00 a.m. to 8:00 a.m. You may also order off of Dani's regular menu.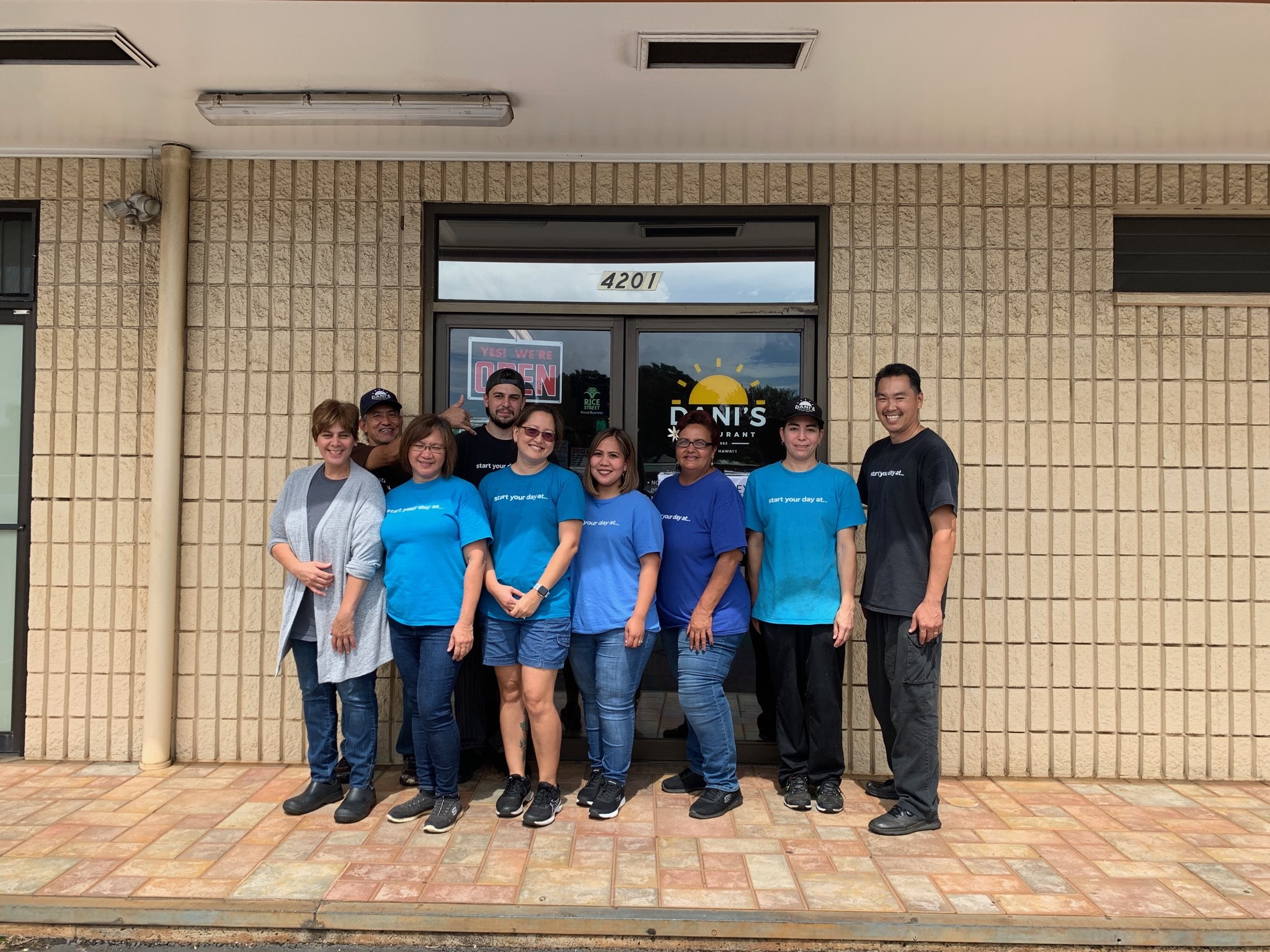 Please phone (808) 245-4991 from Dani's parking lot and ask for a Manager. Dani's staff will take your order and deliver your food to your vehicle.
---
TIP TOP CAFÉ
Founded in November 1916 by Denjiro Ota, Tip Top Café & Bakery has been serving Kaua'i's residents for over 100 years. In light of the COVID-19 guidelines, Tip Top is offering a phone-in and take-out service. Tip Top's breakfast is served all day from 7:00 a.m. to 1:30 p.m. with lunch from 11:00 a.m. to 1:30 p.m.

Please call (808) 245-2333 to place your order for their famous pancakes, or if you are really hungry, try the Tip Top Yokozuna Bento.
---
MARK'S PLACE
Mark Oyama and his friendly staff has been serving "ono" local favorites since 1998. Hearty portions for sure, your selection include local plate lunches, bentos, healthy salads, sandwiches, wraps and amazing desserts. Open from 10:00 a.m. until 8:00 p.m., Monday through Friday. Call ahead at (808) 245-2522 to place your order and you'll be helped at their front door. Visit Mark's Place website to see their daily specials.
---
FISH EXPRESS
Fish Express is offering kupuna to place your orders in advance, call when you arrive in their parking lot, and your order will be delivered to you – with a 5% discount! Contact Calvin at (808) 482-4175 with your order – including their ono poke choices and inquire about Fish Express' daily specials. Fish Express opens at 10:00 a.m. but doors are open earlier.

---
PONO MARKET
Located in Kapaa town, Pono Market originally started as a meat market in 1968 where Kenneth & Robert Kubota's grandparents, who were hog farmers, sold their pork. In the 1990s, Robert's parents started selling Hawaiian food plates and have expanded Pono Market to the well-known establishment it is today.
Please call Robert Kubota, Store Manager, at (808) 652-1503 or call the store at (808) 822-7100 to place your order, or walk into their store to see what's available. Pono Market's poke and hot food items are available from 9:00 a.m. until they run out.

---
These are just a few of our island's restaurants who need your patronage. Look around and you will see a multitude of local eateries in your neighborhood – Mama Lucy's, Waipouli Restaurant – fixtures in our island's communities that would truly appreciate your support.